Texas smoked pulled pork. That's not something you think of when you think of Texas right? I'm smoking a pork shoulder low and slow, with a pepper based Texas style rub over hickory and applewood wood.
Normally when you think of smoked pulled pork you think of a typical sweet with some heat. A North Carolina style pulled pork.
Today I'm trying something a little different. I'm going with a central Texas, pepper based rub for the best smoked pork but I've ever had!
Smoked low and slow to make some amazing pulled pork sandwiches. It even makes great leftover taquitos, fries, pulled pork cheese fries and even these nachos!
What makes a smoked pulled pork texas style?
After doing some research on how to smoke my pork shoulder (or Boston butt), I read through Aaron Franklin's Meat Smoking Manifesto.
I highly recommend picking up this book if you're into making your own barbecue. I found that he seasons pulled pork a little different.
A central Texas style rub starts with 1 part salt, 1 part pepper. I decided to take some inspiration from the man who has barbecue nailed down and take my own take on it!
If you want a true pulled pork Texas-style, leave it at that. I added a little bit extra spices like cayenne, paprika, and a hint of sugar jut to make it my -own.
Want to know the best part? You can grab my exact rub over on my shop, just look for the red Savory Pork Booty BBQ Rub label!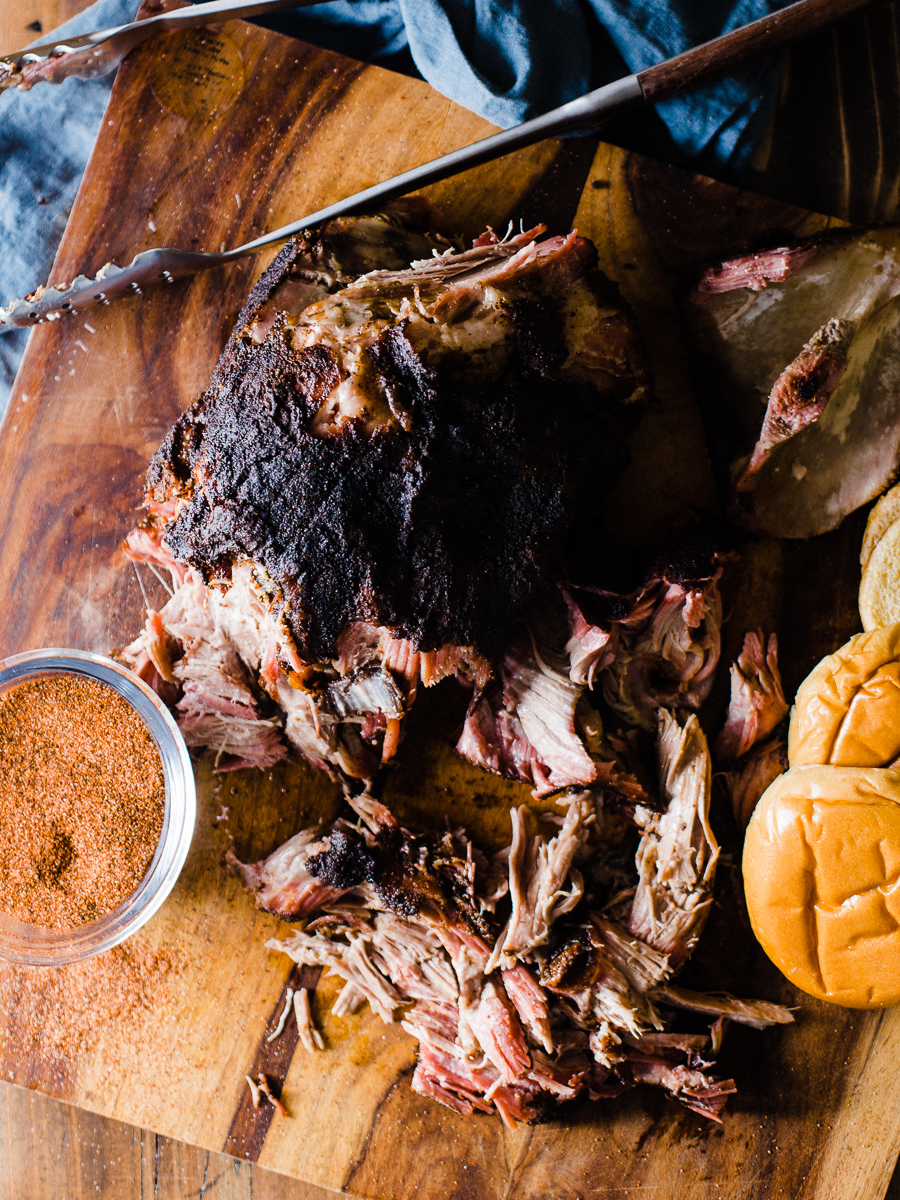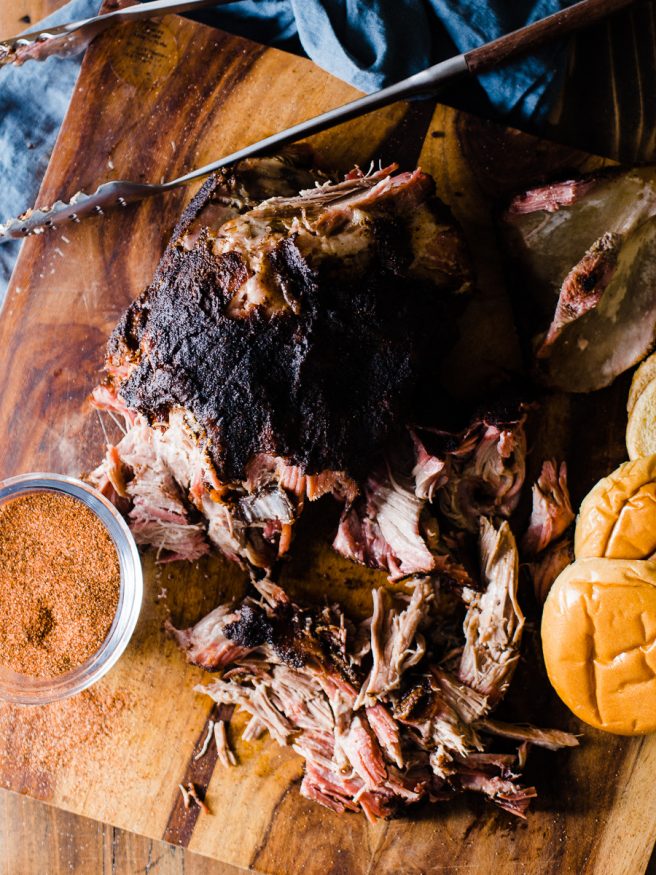 Smoking a pork shoulder is hard to mess up. The fat content is so high that you don't need to worry too much about drying it out. And It's near impossible to over cooked since you're serving it pulled or shredded.
Trimming a pork butt is optional, but I like to trim down the fat cap as much as possible. This gets more of your rub on the meat rather than the fat.
Again, with the high fat content throughout a pork butt/shoulder, drying it out is near impossible.
How to Cook Smoked Pulled Pork
Steps not to miss are as follows:
Trim the fat: Pork should and pork butt already have a high fat content. There is no need to leave a layer of fat on, unless you're completely worried about protecting your meat from a hot zone. But Pork butts are really hard to mess up. So trim as much fat as possible so that the meat takes on the smoke and rub flavor
Bind and rub: Add a thin layer of mustard, oil or apple cider vinegar and apply a liberal portion of your rub. Go easy on the binder. too much and you'll risk ruining your bark.
Start the smoke: 235F is my sweet spot. Everyone has a preference from the standard 225, all the way up to hot and fast 350F.
Spritz your meat: Let it rid for the first 90 minutes without looking. Then every 45-60 minutes spritz with liquid. You can do water, a 50/50 water/Apple Cider Vinegar mix. You can do apple juice or a combination of any in between.
Wrap it up: once it hits the stall around 160-165, it's time to make a decision to wrap. See below for more info
Pull, Rest and Pull: Once its probe tender, meaning you can puncture it with your probe and it feel like warm butter, its time to pull (around 195-205F). Let it rest until it comes back down to around 165F then its ready to pull apart
Season and eat: I like to add a bit more of my Texas Style Rub, with 1 part BBQ sauce to 2 parts Apple cider vinegar. Totally optional, but so good!
How long to smoke?
The one thing you'll need to focus on is timing. Smoking a pork shoulder takes about one and a half hours per pound of meat. Allow for at least 30 minutes of rest time.
I like to shoot for getting my pull pork done an hour before serving. And if it's done early, you can always keep it wrapped in foil and placed in a cooler. It will hold its temperature for a few hours.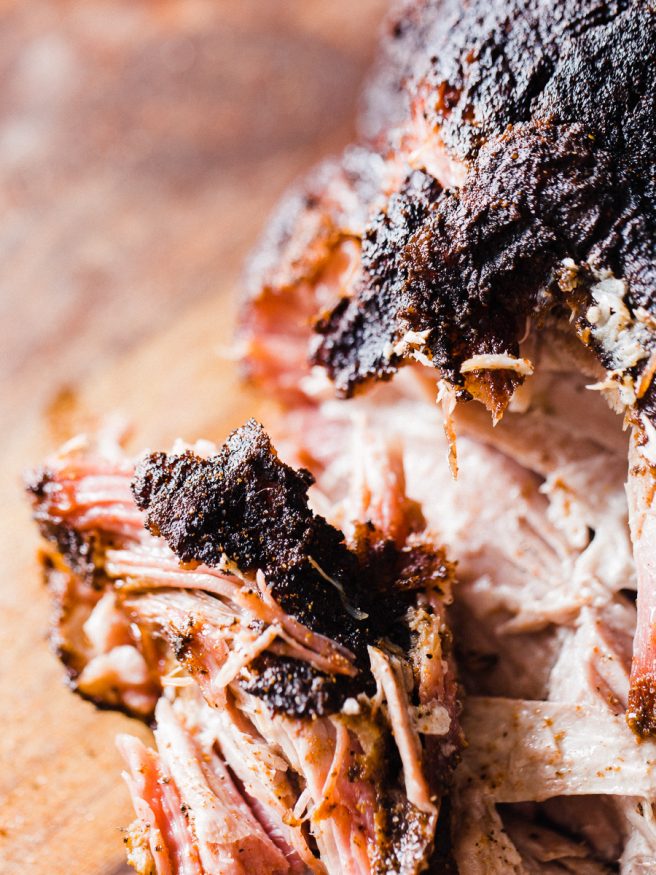 As far as a binder goes, this is optional, but I recommend it. Using yellow mustard, olive oil, mayo (I've seen Worcestershire too on briskets) works to help get a good coating of rub to your smoked meat.
One thing not to get too caught up what you're using as a binder. Its not doing much for flavor.
It's just a way to get your rub to stick to help develop a good bark.
Do you really need to wrap pulled pork?
On topic of bark – who here is on the wrap in foil team?
I've seen a lot of conversation on both sides of the table. Some say wrapping will give you mushy bark, others will say not wrapping, makes it too crunchy and smoky.
And, I've done it a few ways. I've wrapped in butcher paper, tried tin foil. I even tried pulled pork placed it in a tin pan covered to give it a braise half way into the cook.
Ugh.. I sound like Sam I Am..
Don't want to over think it? Go the whole cook unwrapped and try spritzing/mopping.
Each way gives a different result, and each is just as delicious!
Let it rest
The key to a good result on any bbq is resting. Your meat has been contracting for a long time in that smokey heat. Give it some time to relax. Additionally, I've noticed anytime I've rushed pulling i have a hard time getting it to pull well.
When I allow it to rest for at least 45-60 minutes it pulls without hesitation every time.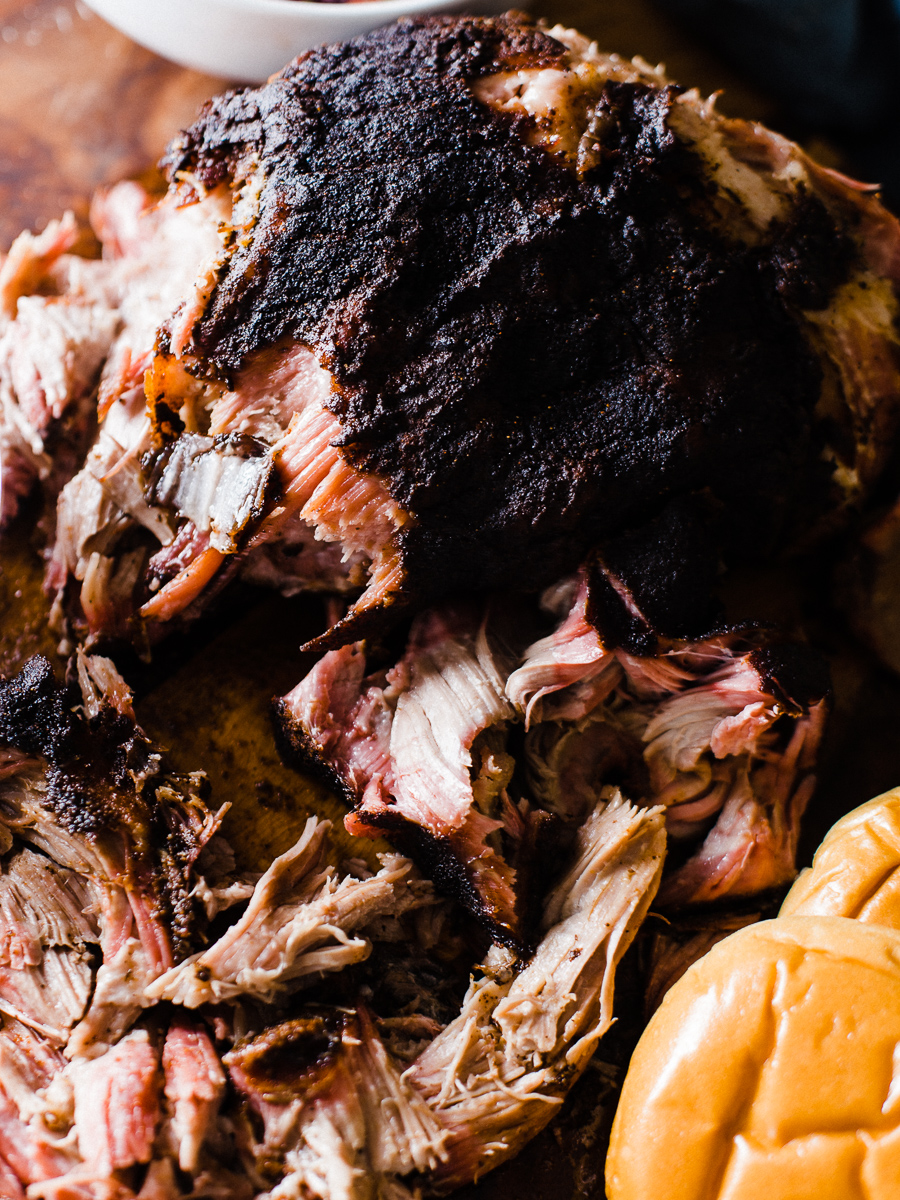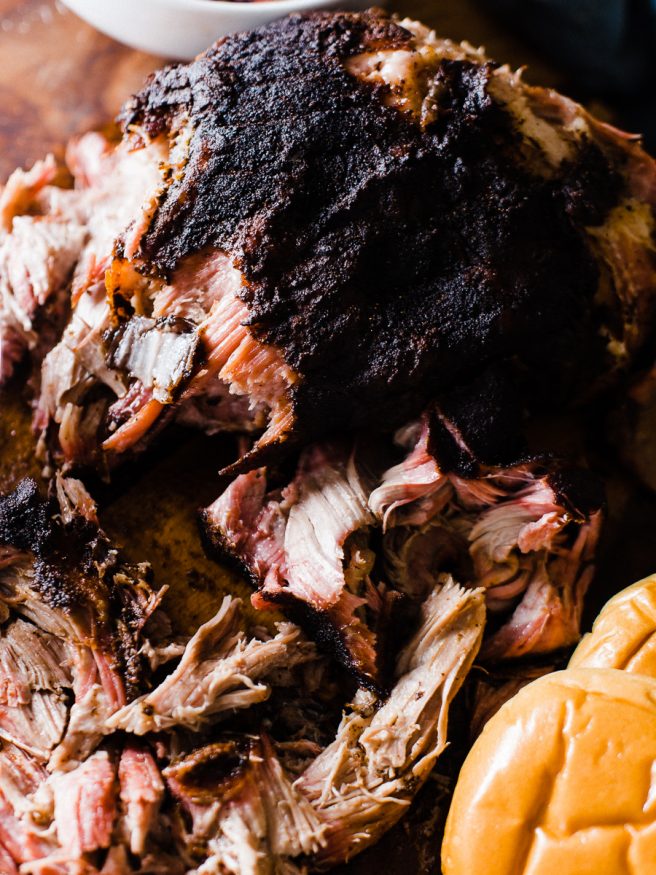 Method of smoking your pork
Hot and fast? Wood chips on a grill? Pellet or wood smoker? What to choose?!
Here's a simple truth – like cameras, the best pit to smoke on is the one you have.
Have a few grills? I put it in this order: stick burner > water smoker (weber smokey mountain > charcoal pit > pellet smoker > grill with wood chips.
Don't get me wrong – I have no hate for a pellet smoker. it's convenient and hard to mess anything up. I'll cook my pork butt at around 235(ish) for about 4-5 hours on my Traeger Pro Series 34 smoker. This gets a solid outcome every time.
What wood to use:
Pork tends to do best with a more mild flavored smoke. Stay away from mesquite, but any of the following is good to go:
Apple Wood
Cherry Wood
Hickory
Oak
Maple Wood
My preferred blend is equal parts hickory and apple wood, then a chunk of pecan. Sometimes I'll add cherry for a little color.
Apple wood and hickory is tried and true when it comes to smoking pork, in my opinion.
Best equipment to smoke a pulled pork
Recently I've been smoking on a weber smokey mountain. The flavor is much closer to something you'd expect from authentic barbecue.
If you're a stick burning pro, I envy you but that is always the way to go in my booked.
But don't sleep on a pellet grill. No matter what people say about the easy bake oven, you always get a consistent product, and its a great way to get started in the world of smoking without risking dinner.
Wrapping up (pun intended)
Regardless of your method of cooking, you'll want to spritz with a Apple Cider Vinegar/apple juice concoction. Plus, I love doing this not so much for moisture, but to add a little flavor to the bark. A+++++++ would recommend!
And after about 4 hours, the bark should be set. You can tell by running your finger against the bark and it will not come off. If you're fixing to wrap now is the time.
If you're a thermometer junkie the internal temperature will be around 160 (AKA the stall). The pork butt will take on as much smoke as it can and is time to wrap.
If you choose to go bare for the entire cook be sure to continue spritzing your pork shoulder along the way
You can even raise your temperature a little higher to expedite the process. I continued cooking at 275 and had everything done at the 8-9 hour mark for a 7 pound pork butt.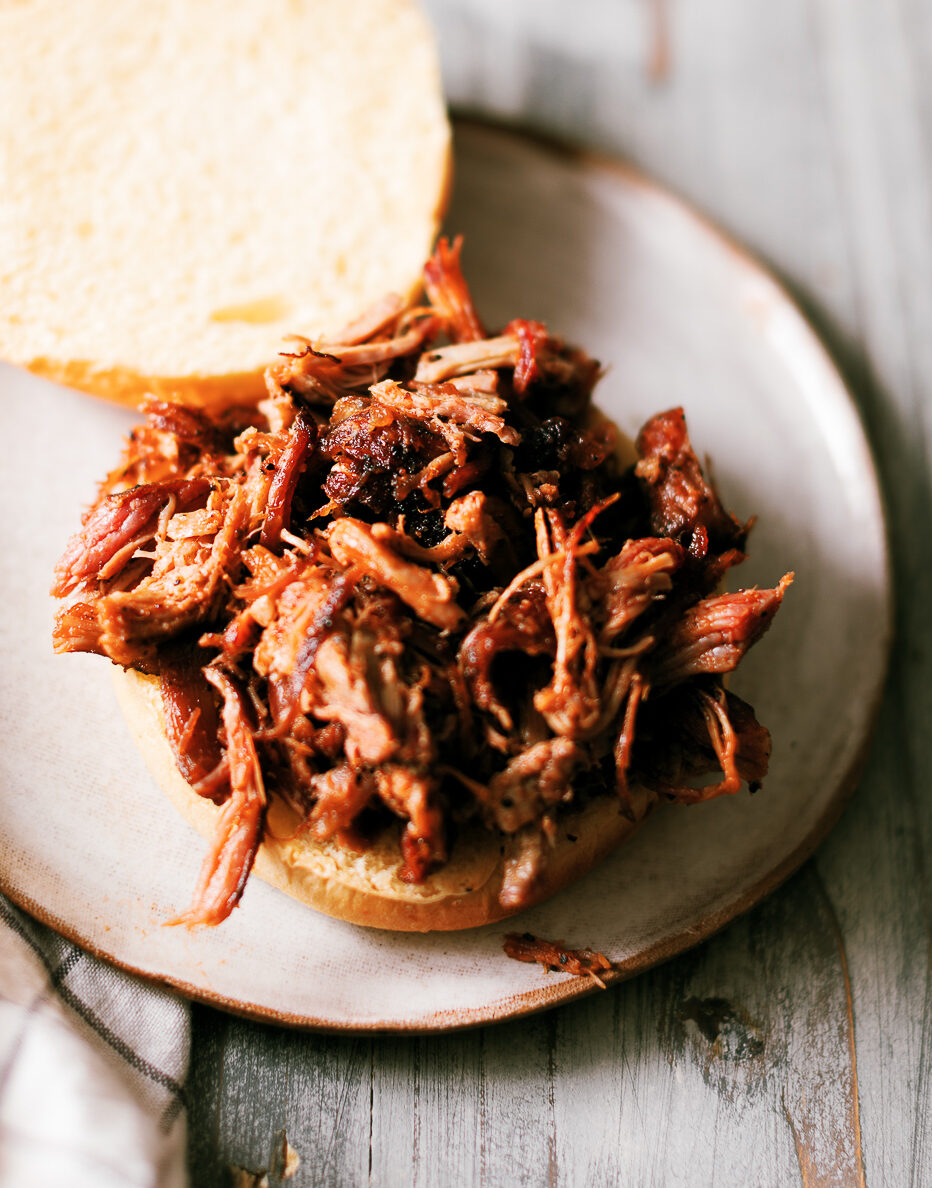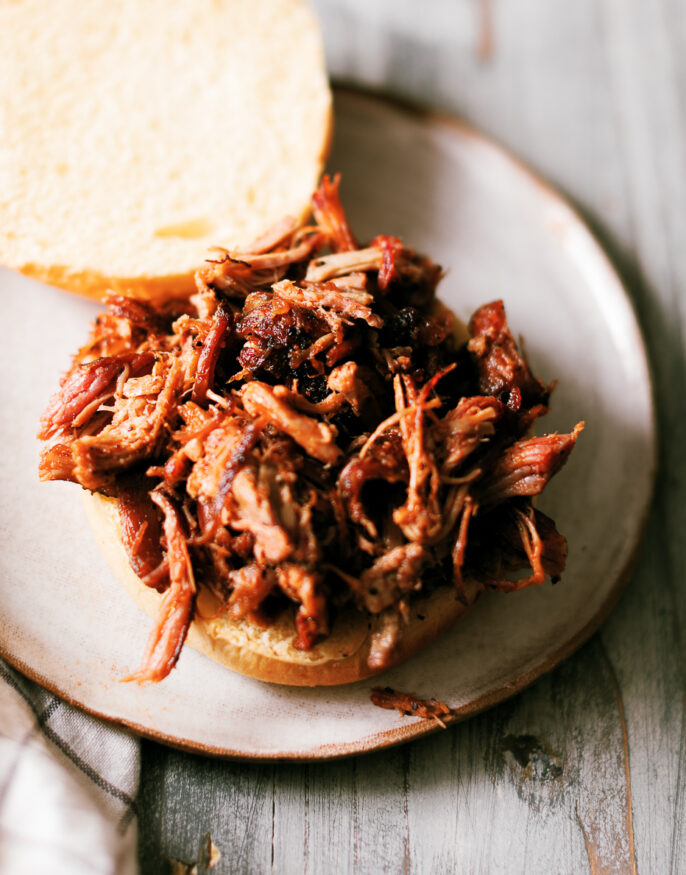 What temperature is smoked pulled pork done?
Ultimately you're cooking your pork but for as long as it needs for it to be done. You'll looking for an internal temperately ranging anywhere from 195-205.
It will probe like warm butter. The payoff that any backyard pitmaster will want to see is that blade bone to easily pulling out from the pork butt.
I've found between 203-205 is the sweet spot for this.
And if you're going with my rub, you'll have a nice dark bark, similar to a texas style smoked brisket. This rub has a good pepper flavor, with a hint of sweetness and all sorts of juice from the pork.
Stay tuned for some more low and slow barbecue recipes this summer!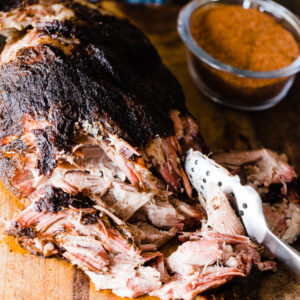 Texas Style Pulled Pork
Smoked Pulled Porked Shoulder butt cooked low and slow over apple and hickory wood with a Texas style rub pulled pork recipe that is out of this world!
Print Recipe
TEXAS STYLE PORK RUB
1/2

cup

kosher salt

USE KOSHER, NOT TABLE SALT

1/2

cup

ground black pepper

1/3

cup

paprika

2

tbsp

granulated garlic

2

tbsp

granulated onion

2

tbsp

cayenne pepper

omit if you don't want it spicy

1

tbsp

celery salt
Prepare your pork butt. trimming any excess fat leaving about 1/4 inch of fat on the fat cap side. Trim off any unwanted glands or cartlilage as well. Pat dry with a paper towel, then spread a light coat of mustard.

With your rub ingredients combined, liberally coat your pork butt. You shouldn't see anything but your rub on the pork.

Preheat your smoker anywhere from 235 depending on the speed of your cook Place your pork butt, fat side up on the grates. Close the smoker and don't peek for about 2 hours. Spritz every hour after the 2 hour mark.

At around the 4-5 hour mark start probing for temperature. When you get to about 160, it's time to wrap. Taking a couple 18×30 sheets of aluminum foil. Remove your pork butt from the grates with a towel and place on the foil fat side down; spritz one more time. Wrap as tightly as possible so that you don't lose any of that bark. Double wrap so that the foil doesn't tear on the grates.

At this point your pork butt has taken all the smoke its going to get. You can either leave the temperature at 235, or increase to around 275 to speed up the process. Place the pork butt fat side down onto the grate and close. Probe for tenderness and temperature at the 7 or 8 hour mark until the internal temperature is around 200-205. If you can easily pull the blade from the meat, you're ready to take off the grill.

Keep wrapped and let rest off the grill for about 30-45 minutes. Pull the blade bone out, and pull the meat apart by hand or with a pork pulling claw. Add a little BBQ sauce mixed with apple cider vinegar and mix it into the meat along with a little more of that rub seasoning. Serve on a bun with sauce and pickles and enjoy!
Wood tip: I use a 30/70 blend of apple to hickory pellets in my pellet grill.
If your pulled pork is done earlier than you desire, keep wrapped in foil, and place in a cooler, packed with paper. This will hold the temperature for at least 2-3 hours!
Calories:
425
kcal
|
Carbohydrates:
23
g
|
Protein:
46
g
|
Fat:
17
g
|
Saturated Fat:
6
g
|
Polyunsaturated Fat:
2
g
|
Monounsaturated Fat:
7
g
|
Cholesterol:
148
mg
|
Sodium:
2569
mg
|
Potassium:
1067
mg
|
Fiber:
5
g
|
Sugar:
11
g
|
Vitamin A:
2269
IU
|
Vitamin C:
3
mg
|
Calcium:
115
mg
|
Iron:
5
mg