Slow Cooker Pulled Pork Taquitos
Slow Cooker pulled pork, is a great way to get your fix in during the colder weather season's when you're not quite ready to bring out the smoker. Adding in a little twist by turning said slow cooker pulled pork into a taquito? Count me in!
I'm a pulled pork addict. Which is why for the life of my I couldn't understand why I don't have any pulled pork recipes on the blog yet. Stay tuned later for some smoked pulled pork too.
Today, I'm sharing how I make pulled pork in the slow cooker. I'm using a mesquite recipe, then adding a little chipotle and smoked paprika to give it a nice flavor, that will really compliment it for use in taquitos.
It's good universal pulled pork recipe, but when you're looking to changed it up a little, try adding them in corn tortillas, rolling it up and frying them. Pulled pork taquitos have a amazing flavor and goes together really well!
What's also great about this recipe, is it works great as a meal prep. You can cook up a good amount of these (depending on the size of your pork shoulder) and when you're done, freeze up what you wont be eating that night.
They heat up perfectly int he oven at 350 for at about 15 minutes!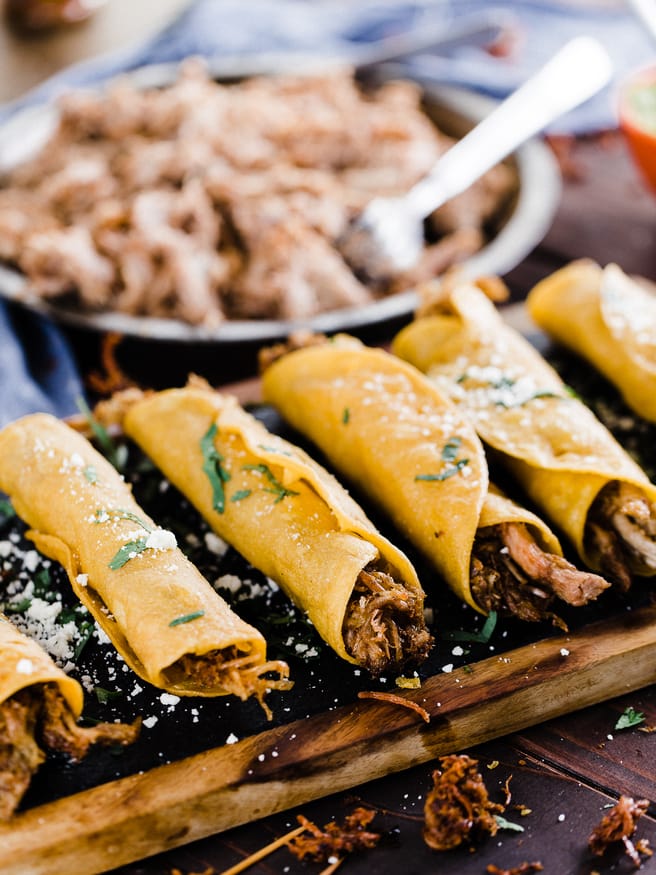 Be sure to check back in a couple months, I'll be sharing a smoked pulled pork that will also work well in taquitos.. maybe even tacos?
Slow Cooker Pulled Pork Taquitos
Print Recipe
Ingredients
Mesquite Rub
1

tbsp

smoked paprika

1

tbsp

chipotle powder

1

tsp

cumin

1

tsp

brown sugar

1/2

tsp

garlic powder

1/2

tsp`

onion powder

1/2

tsp

dried rosemary

1/2

tsp

marjoram

1/2

tsp

salt

1/2

tsp

black pepper

1/2

tsp

ground mustard
3

lbs

pork shoulder

10-15

count

corn tortillas
Instructions
In a mixing bowl, combine smoked paprika, chipotle powder, cumin, brown sugar, garlic powder, onion powder, dried rosemary, marjoram, salt, pepper, and ground mustard.

Rub mequite seasoning over pork shoulder (reserving about 1 tsp). Set it in the crock pot and cook on low for 6-8 hours. Remove from crock pot and let rest for about 15 minute. Pull apart with a fork in a bowl, sprinkling remaining mesquite seasoning.

Heat up tortillas in the microwave for about 15-20 seconds to make them plyable. add about two spoon fulls into a tortilla and roll up. Use toothpicks to keep them closed.

In a medium sized pan or skilled add enough vegetable oil to make it about 2-3 inches high. Heat to about 300-350. Place 2-3 taquitos in the oil and cook for about 3-5 minutes, until tortillas are golden brown. Set taquitos on a cooling rack to drain oil.

Serve with salsa, sour cream and guacamole. Enjoy!
Notes
To freeze: place remaining taquitos in an air tight container and place in the freezer (up to 6 months). To re-heat place on a baking sheet and cook in the oven at 350 for 12-15 minutes.