Tequila lime shrimp fajitas are an amazing way to add a little punch to your fajitas. Throw it in a rice bowl and you've got something amazing.
But then to top things off try a little spicy avocado crema and life is good.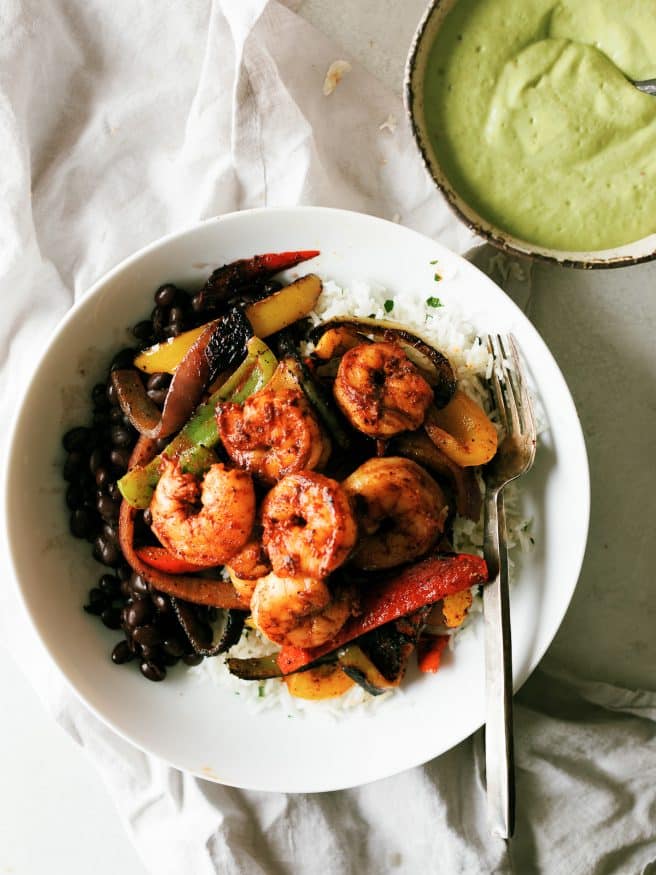 Normally when I make my shrimp fajitas I like to make them in a sheet pan. But this time around i wanted them to really get a nice char.
And with the wind being a little crazy right now, grilling isn't an option.
So I got my cast iron as hot as possible and with a little fajita seasoning and tequila I let the stove do its job.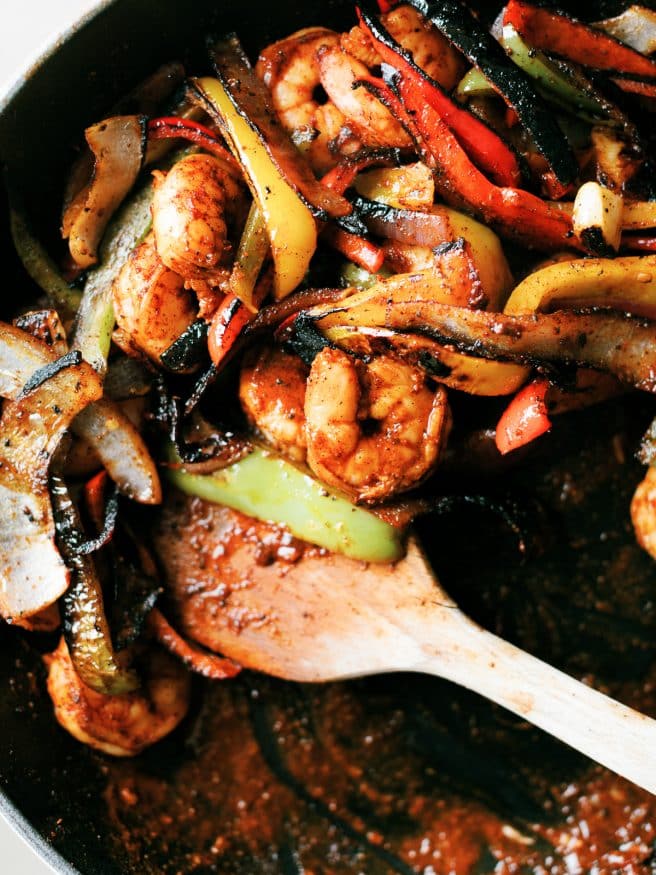 My wife loves when I make rice bowls. My favorite type of rice for Mexican style dishes when I'm not making spanish rice is basmati. Then I'll add a little salt, butter and cilantro and lime.
Its simple easy and quick. Just the way weekend meals should be!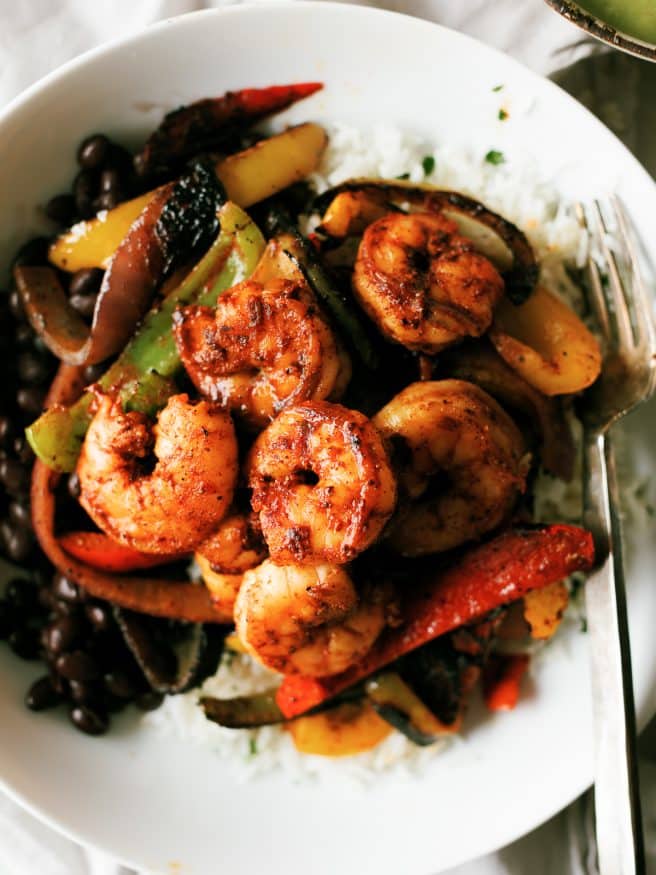 And to add a little kick I made a spicy avocado cream inspired by my favorite peruvian restuarant that makes a killer aji sauce. Same flavor profile, but with a creamier texture from the avocado. Its killer!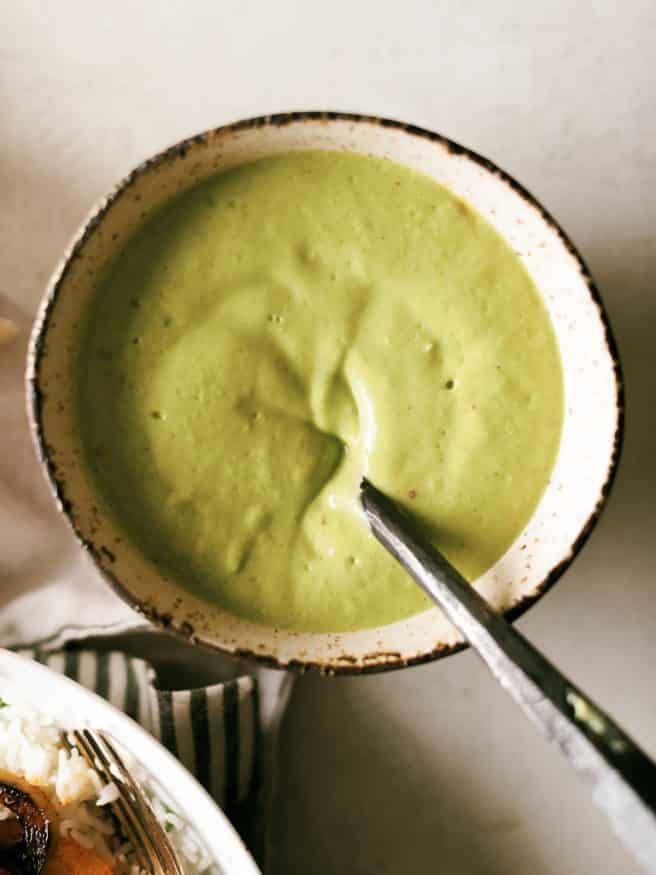 The tequila lime shrimp fajitas is a solid fajita that isn't spicy.
But once combined with the spicy avocado sauce – that has three Serrano peppers – It'll hit that spicy craving for the heat lovers, while keeping it chill for the rest of the family that isn't ready for that fire just yet.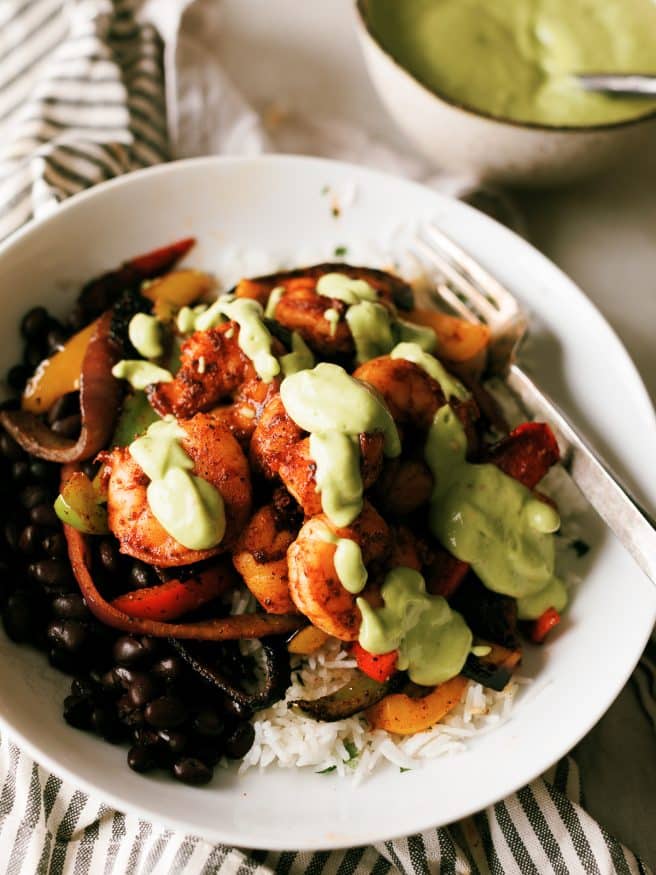 If you're and if you rather have this in a wrap check out my grilled fajitas wrap – its right up your alley. But bring the avocado sauce with you!
Tequila Lime Shrimp Fajitas Bowl
Shrimp Fajitas on a rice bowl with a little tequila and lime to jazz things up. Topped with an optional spicy avocado crema that will make your taste buds dance!
Print Recipe
1

lbs

shrimp

4

bell peppers

1

red onion

2

ox

tequila
FOR THE FAJITA SEASONING
2

tbsp

chili powder

1/2

tbsp

cumin

1/2

tbsp

chipotle seasoning

1/2

tbsp

smoked paprika

1/2

tbsp

oregano

2

tsp

garlic powder

1

tsp

salt
RICE BOWL
1

cup

basmati rice

2

cups

water

1

can

black beans

1/4

cup

cilantro

chopped
For the Avocado Crema, place all ingredients in a blender and blend until smooth. store in the refrigerator until ready to serve

For the fajita seasoning combine all ingredients in a bowl and mix until evenly incorporated.

Add rice with water in a rice cooker and begin to cook. When it is down add in lime, a pinch of salt and chopped cilantro (2 tbsp butter optional)

Chop bell peppers and onions and mix in half of the fajita seasoning, then mix the other half with the shrimp. In a large skillet preheated on high, add 2-3 tbsp olive oil, then add in shrimp and vegetables and stirring every 3-5 minutes to let it get a nice char.

add in 2 ounces of tequila and a squeeze of lime and let it cook down for about 5 minutes. set aside

Heat up a can of beans in a pot and serve fajitas over a 1/2 cup or so of rice, a few spoonful of beans and a healthy dollop of that avocado crema. Enjoy!
Sodium:
2227
mg
|
Calcium:
268
mg
|
Vitamin C:
171
mg
|
Vitamin A:
5608
IU
|
Sugar:
8
g
|
Fiber:
15
g
|
Potassium:
1091
mg
|
Cholesterol:
292
mg
|
Calories:
624
kcal
|
Saturated Fat:
3
g
|
Fat:
21
g
|
Protein:
36
g
|
Carbohydrates:
73
g
|
Iron:
7
mg