Sheet Pan recipes isn't really a thing I've been trying out in the house until this week. But this shrimp fajita recipe is a perfect candidate and with the new addition our of daughter to the family this week, I've been a zombie. I'll take any shortcut in the kitchen where I can get it right now!
We came home from the hospital on Sunday with our little girl Kenzie and Brayden all under one roof for the first time. We've been working on getting back to a routine, and for me keeping the blog going is a routine I've needed to force myself into this week.
It's funny though, last time we had a newborn in the house my primary role was diaper duty, this time around its making sure the whole family is fed! Meals have to keep coming, and so shall the blog!
I could not believe how much of a time saver throwing all the shrimp fajita ingredients on a cookie sheet! Along with using a a mandolin to cut time into preparing the veggies, I had dinner on the table in around 30 minutes – including shooting photos!
For the fajita seasoning, I based it off of my chicken fajita seasoning, altering the ratios a bit to crank up the heat because we were craving spicy. These were done in the oven in about 15 minutes, and were super delicious!!
As our family continues to grow, I'm definitely starting to see the advantage of time saving tricks like this and its definitely a great thing to add to your arsenal when cooking for the family!
If spicy shrimp fajitas aren't your jam, this is an easy recipe to substitute protein.  If you're looking to lower the heat, cut the red pepper flakes and reduce the cayenne pepper in half as well.
SUGGESTED SIDE:
Make this super quick and easy spanish rice as a side. Throw all the ingredients in a rice cooker and your set!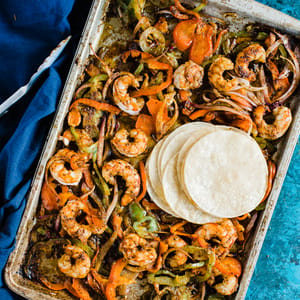 Sheet Pan Spicy Shrimp Fajitas
Print Recipe
For The Fajita Seasoning
1

tbsp

chili powder

1

tbsp

corn starch

1

tsp

salt

1

tsp

brown sugar

1

tsp

smoked paprika

1

tsp

ground cayenne pepper

1/2

tsp

cumin

1/2

tsp

ground black pepper

1/2

tsp

oregano

1/2

tsp

onion powder

1/2

tsp

garlic powder
For the Fajitas
1

lb

shrimp

1

large

green bellpepper

1

large

red bell pepper

1/2

medium

red onion

2

tbsp

olive oil
Preheat oven to 375°F. While the oven is preheating, mix your fajita seasoning, shell your shrimp and slice your peppers and onions.

Place peppers onion, and shrimp evenly on a a medium sized sheet pan (16x11 or thereabouts). Coat with fajita seasoning, and drizzle with oil; mix well.

Place sheet pan in the oven for 12-15 minutes, until shrimp is opaque and peppers are tender. Serve with tortillas and your favorite sides and enjoy!