Spicy Slow Cooker chili that can be made in a crockpot or in the oven low and slow. Added heat from serrano and jalapeno peppers and yes - this chili had beans in it!
If you're just getting into the world of making chili, consider this the gateway recipe.
This chili is loaded with flavor, comes out thick and flavorful every time, and is always a crowd pleaser.
My spicy chili recipe is great for throwing in the slow cooker early in the morning. Takes about 15 minutes to prepare, and by the time everyone is home from their day you have a wonderful batch of spicy chili on the table.
It's SOLID chili recipe that I make regularly throughout the year, and the family absolutely loves it!
So lets get into the crux of how this chili is made, what's in it, and what you'll need to get started.
How to make spicy crock pot chili
Now when I think slow cooker, I think tossing it all in the crock pot and setting and forgetting. But sometimes you miss out on a dimension of flavor.
To make this crock pot chili, here's what I like to do:
Brown the meat: Whether you're using ground beef or whole pieces of beef, browning the meat first is crucial for developing flavor and texture. Heat up a skillet on medium-high heat, add a little oil if necessary, and brown the meat until it's fully cooked. Make sure to drain any excess grease to prevent your chili from becoming greasy.
Season the meat: Once the meat is browned and drained, you can add some diced onions, garlic, and jalapeno to the skillet. Sauté the vegetables for a few minutes until they're fragrant and softened. Then, sprinkle some chili seasoning over the meat and vegetables, and stir to combine. This will infuse the meat with even more flavor.
Add the meat to the crock pot: Once the meat is seasoned, transfer it to the crock pot. Make sure to scrape all of the flavorful bits from the bottom of the skillet and add them to the crock pot as well.
Thicken the chili: Now it's time to add your thickening agent. You can use canned beans, cornmeal, or masa harina (a type of corn flour). If you're using beans, make sure to drain and blended them before adding them to the crock pot. If you're using cornmeal or masa harina, mix it with a little water first to make a slurry, and then add it to the crock pot. This will help thicken the chili as it cooks.
Add the remaining ingredients: Finally, it's time to add the rest of the ingredients. This can include diced tomatoes, tomato sauce, spices, and if you're feeling the burn – some freshly cut chili peppers. Make sure to stir everything together so that all of the flavors are evenly distributed.
Cook low and slow: Set your crock pot to low heat and let the chili cook for 6-8 hours, or until the beef is tender and the flavors have melded together. Make sure to stir the chili occasionally to prevent it from sticking to the bottom of the crock pot.
Don't have a crock pot? Dutch oven cooked at 325 works just as well too! (see my youtube video… )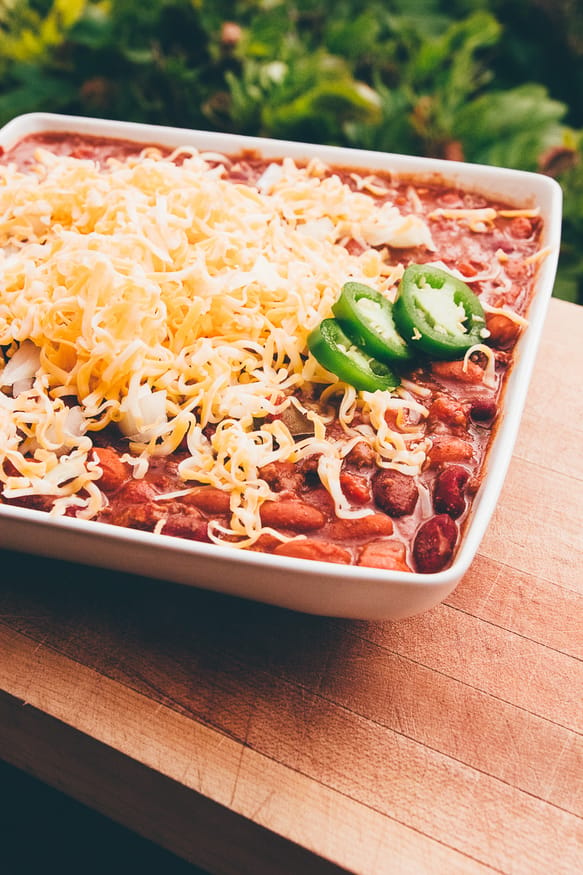 Do Beans belong in chili?
Before you go "THATS NOT CHILI! THATS STEW!"
Here me out. Chili comes in all shapes and forms.
Yes, I am well aware of the controversy surrounding the addition of beans in chili is almost as heated as the debate over pineapple on pizza. Some people just can't handle the thought of beans mingling with their meaty chili, while others embrace the legume-laden dish with open arms (and spoons).
While you may argue that the original chili recipe from Texas, the birthplace of chili, doesn't include beans.
And yes I get it. Texas born chili aficionados believe that chili should be all about the meat and spices, and adding beans just muddles the flavors.
But from this SoCal native bean-in-chili loving guy that puts lots of words in a post where all you want to do is just get to the darn recipe, here's my take…
Beans add texture, flavor, and nutritional value to the dish. Plus, beans have been a staple ingredient in chili for decades, so why mess with a good thing?
In the end, it's all a matter of personal preference. Whether you like your chili with or without beans, one thing is for sure: there's nothing like a warm bowl of chili on a cold day to warm the soul (and the stomach).
Some like there chili beanless, some like it with beans. And I love each equally – when pouring in a bowl and devouring with the family? This is it for me!
If you want to go beanless, this recipe will still work, but I'd suggest doubling the amount of meat
This is a dish I'll make for potlucks and is always gone at the end of the day. I would never claim this 'AWARD WINNING SPICY CHILI' but if you want a solid chili recipe that can please others (and hey build on it my friend. make this your own!) this is it!
The Chili Seasoning
My spice mix for chili needs the following:
chili powder
coriander
cumin
cayenne pepper
garlic powder
onion powder
oregano
How to make your chili spicy
It's a solid base chili seasoning, and we're going to crank up the heat by adding chili peppers to the chili. I love the flavor of serrano, jalapeno is a good starter, and sometimes I'll add a fresh cayenne or habanero in as well.
It's all up to you on what you prefer and what your friend and family can tolerate on the Scoville unit scale.
And just a warning.
You're dealing with chili peppers and the capsaicin (it's what makes peppers hot. I googled this, I'm no doctor) will stay in your fingers for awhile. So if you were to say, oh i don't know, put your contacts in after handling the jalapenos? You're going to have a bad time.
I've never done that. Not once. Not never…
Equipment For Crock Pot Chili
A Crock pot
Obviously you need a crock pot or another means of slow cooking for this recipe. As it is written, this spicy crock pot chili yields about 16 servings which will last us the week in the fridge.
so to accommodate I recommend using use a 6 qt Crock Pot for this. If you have a 4 qt, I would suggest adjusting the serving size between 8-10. Same would apply if you're going with a Dutch oven
A Dutch Oven
As seen in the video, I enjoy cooking chili in the Dutch oven as well. I can brown the meat, drain and still have bits of that cooked on flavor left in the bottom of the Dutch oven.
And it goes right in the oven at 325 while it cooks. That is a downside. You have the oven running all day which isn't ideal for summer.
Or if you have a pellet smoker, like a , can set it to 325 and place your Dutch oven inside your !
You can cook on the stove top, but heat management become an issue since the heat source isn't enveloping the Dutch oven. You'll risk burning the bottom if you don't baby sit it all day
Instant Pot
Love it or hate it, the instant pot pressure cooking has its place. And being able to sear your food, then bring it down to a slow cook and walk away from it all in one device is where it stands out.
You can follow the exact steps in this recipe, just set your IP to sear while browning, then set it to slow cook and let it ride for the rest of the day.
Don't want to wait all day? Set the instant pot to the Chili/Beans setting and cook them for 20 minutes, and let the pressure release.
And if you want to combine the two, check out the new instant pot dutch oven. its the best of both worlds!
How to make chili thicker
I've seen masa used, potato flakes, and even a corn starch slurry. They're all well and good, but I'm a fan of using beans that have been pureed.
I think for this recipe in itself it makes the most sense. Maybe a chili con carne recipe or something along those lines may work better with masa or potato flakes.
Beans are a good thickening agent for chili because they contain a high amount of starch and fiber.
When beans are cooked in the chili, the starch and fiber break down and release into the liquid, creating a thick and hearty texture.
In addition to their thickening properties, beans also add flavor, nutrients, and protein to the chili.
So.. There's that.
If you want to use a heartier meatier chili check out my latest Chipotle Chuck Wagon Chili
Garnishes for that spicy chili!
Garnishes are up to you but there some staples that you can't miss
Cheese: I like using fresh shredded cheddar, sometimes a Colby jack, or a mozzarella cheddar mix is good too. the cheesier the better.
Onions: Some don't like it but you have to had them out when serving. I'll use fresh chopped white onion, but red works too and has a bit more flavor in my opinion.
Sour Cream: I'm not personally a fan, but know others who will put sour cream in chili so to each their own!
More peppers: Some love the burn, so have some fresh chopped jalapeno on hand to serve!
Cornbread: If there is cornbread on hand, break some up and top it over your chili. You wont be disappointed
Corn chips: I LOVE Frito chili pie. Either top over the chili, or place it in the bowl before pouring on your chili. It's the best!
And save some spicy chili for leftovers, because they're going to make a great topping for carne asada fries
Spicy Crock Pot Chili
Spicy Slow Cooker chili that can be made in a crockpot or in the oven low and slow. Added heat from serrano and jalapeno peppers and yes – this chili had beans in it!
Print Recipe
Ingredients
Chili Seasoning
4

tbsp

chili powder

1

tbsp

ground coriander

1

tbsp

ground cumin

1

tsp

ground cayenne pepper

1 1/2

tsp

garlic powder

1

tsp

onion powder

1

tsp

oregano
Chili Ingredients
2 1/2

lbs

ground beef

15% or lower

1/2

medium

yellow onion

2

cloves

garlic

2

large

jalapeno

1

tbsp

salt

30

oz

canned diced tomatoes

32

oz

pinto bean

32

oz

Kidney Beans
Garnish
4-6

oz

grated cheese

1/2

medium

yellow onion

1-2

large

jalapenos
Instructions
Add all the chili seasoning spices together and mix.

Chop the onion, jalapeno and the garlic for the meat.

Take about a cup of kidney beans and a cup of pinto beans and put them in a blender. Blend for 2 minutes; set aside.

In a cast iron skillet, Brown the ground beef over medium heat for about 5 minutes and drain.

Stir in about 3 tbsp of the chili seasoning, 2 tsp of salt, and the onion, garlic and half of the jalapenos.

Cook for about 2 minutes, chopping up the meat into small pieces.

Add the meat mixture, tomatoes, and beans into crock pot and stir together. Add bean paste

Now add the bean paste, 2-3 more tbsp of chili seasoning and remaining chopped jalapeno

Cook for about 4-6 hours in the crock pot on low.

Set heat on crock pot to warm about 30 minutes prior to serving. add the remaining 2 tsp of salt slowly, tasting as you go until you get the flavor that you want.

Top with garnishes and enjoy!!!
Nutrition
Calories:
385
kcal
|
Carbohydrates:
33
g
|
Protein:
25
g
|
Fat:
18
g
|
Saturated Fat:
7
g
|
Cholesterol:
58
mg
|
Sodium:
640
mg
|
Potassium:
844
mg
|
Fiber:
11
g
|
Sugar:
2
g
|
Vitamin A:
805
IU
|
Vitamin C:
10
mg
|
Calcium:
138
mg
|
Iron:
5.5
mg