Spicy Turkey Habanero Crock Pot Chili
We had our annual thanksgiving potluck at work earlier this week, and the question everyone asked was "Derek, are you bringing your chili?!" It's become expected every year that I bring it now. This time around I wanted to change it up a little. My spicy crock pot chili is spicy. But it could be spicier, and we have some dietary restrictions at work so I decided to use some Turkey and crank up the heat with some habanero and alter the spices a little. It was such a hit I had to post it! If you can handle the heat, then this is the spicy chili recipe for you!
As I was driving this chili to work, sitting next to me in the crock pot, my eyes were watering and I was sneezing from the habanero pepper. This crock pot chili is ridiculously spicy, and super delicious! As you eat it you get disappointed at first and think "ehh it could be spicier" then the next thing you know, the habanero creeps up on you and you're sweating and mouth is on fire. At least for me. One of the guys at work, who can tolerate ghost pepper topped it off with some more habanero and had no problem eating it. I'm too much of a sissy to handle that!
And if you're skeptical about the use of turkey in the recipe don't be. You can't tell the difference either way, it's healthier, and if you're trying to make some excuse to use turkey, here you go! You could even just replace this with some leftover turkey from thanksgiving. Sure.. why not?!
Prep Tips
Keeping it Spicy
I've learned that when slow cooking, there's something that happens to peppers when cooked for a long time. They tend to break down, and you lose a lot of spice. So what I suggest is using half of the habanero at the beginning for flavor, then at the end stir in the rest for the heat. That seems to be a winner every time I do that when slow cooking spicy dishes.
Cook Tips
Low vs High Crock Pot Heat
I prefer to cook this low and slow, it lets the beans and tomotoes break down really nicely. If you're in a time crunch, cut the time in half and cook on high. Again add the other half of habanero in before serving to keep the heat nice and high!
On To The Recipe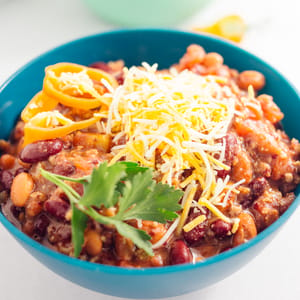 Spicy Turkey Habenero Crock Pot Chili
Print Recipe
Ingredients
Chili Spice
4

tbsp

chili powder

1 1/2

tbsp

ground coriander

1

tbsp

salt

1

tbsp

ground cumin

1

tsp

garlic powder

1

tsp

onion powder

1

tsp

oregano

1/2

tsp

ground cayenne pepper
Chili Ingredients
2

lbs

ground turkey

1

small

yellow onion

2

clove

garlic

1

whole

habenero pepper

30

oz

canned diced tomatoes

32

oz

Pinto Beans

32

oz

Kidney Beans
Instructions
Mix all the Chili Spice ingredients together. With a toddler spoon. It really helps blend it together!

Brown the ground turkey, chopping it up with a mixing spoon while it browns to break it down; drain as much fluid as possible.

Chop the onion and mince your garlic.

Moving the turkey aside, brown the onion and garlic in the same pan/skillet (optional: add a tbsp of olive oil while cooking down the onion and garlic)

Thinly slice and chop about half of a habenero pepper

Mix the habenero along with about 3 tbsp of Chili Spice into the meat and onion; set aside.

take 16 oz of kidney beans (drain can almost completely) and blend for 1-2 minutes until you can a bean paste.

Place the meat in a 6qt crock pot and set the temp to low..

Add the remaining kidney beans, bean paste, pinto beans and diced tomatoes.

Top off with another 3 tbsp of chili spice

Cook for about 5-6 hours on low, or 3 hours on high. Taste it in the last hour, and add more chili spice to taste.

In the last 20-30 minutes add the remaining habenero pepper (chopped up) into the chili to bring the heat! Enjoy!