Yesterday, I decided to make us some Shepherd's Pie to begin celebrating our St. Patrick's Day Week. Yes it's a big deal in this Irish/Italian household. So I decided to go back and look up my go-to Gordon Ramsay Shepherd's Pie recipe, to begin cooking. I'm glad I did, because it was due for a much needed overhaul!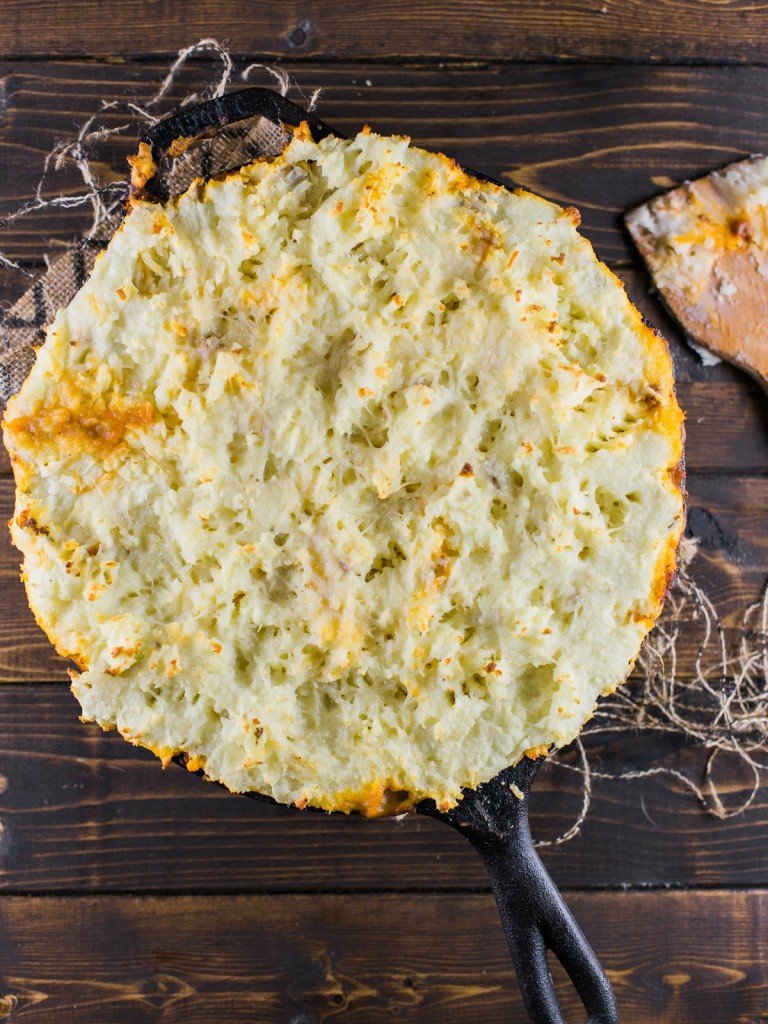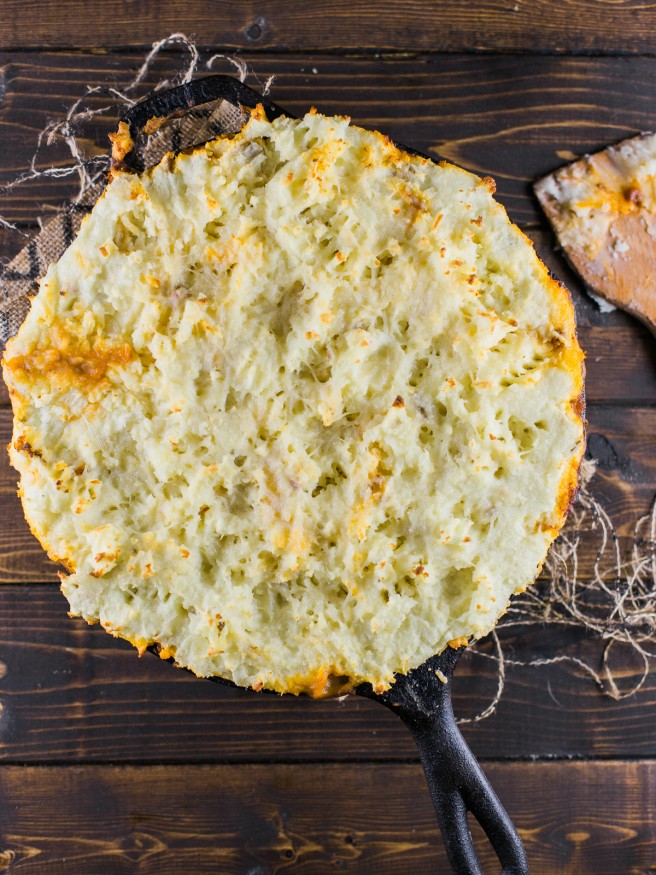 I've officially come up on my one year anniversary of starting this blog, and I figured it was only fair to revamp some of my beginning posts, because I'll be honest with you, I hadn't a clue to what I was doing, and after following the initial recipe and seeing the photos, I figured it was worth giving it a little face lift.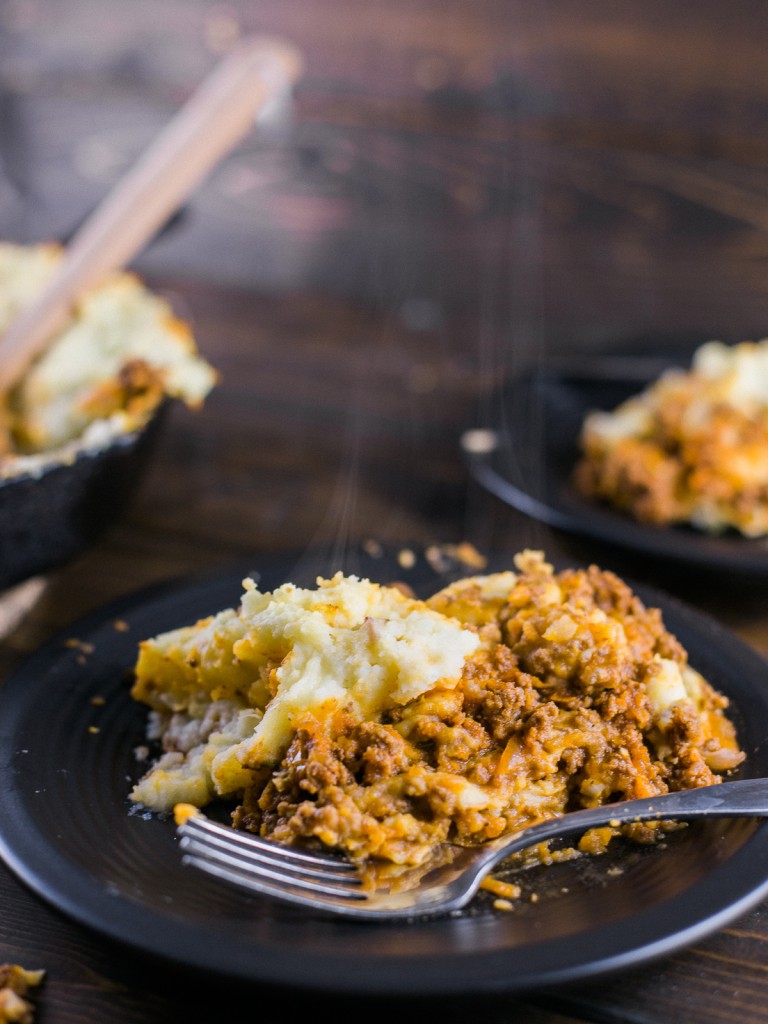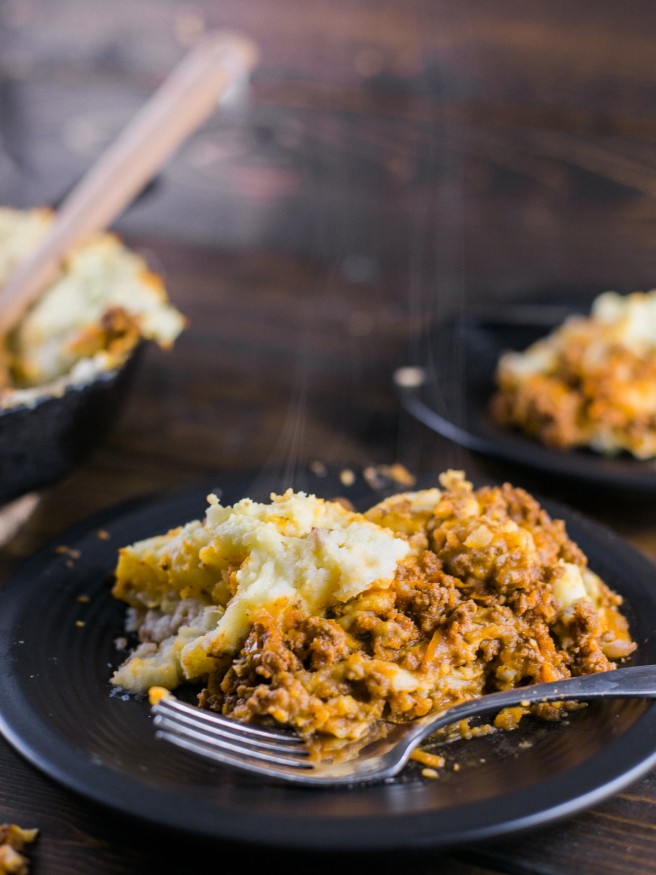 This Shepherd's Pie recipe is inspired by the defacto Shepherd's Pie made by Gordon Ramsay. Made similar the way Chef Ramsay makes his in technique, but with some slight variances, that has really been a hit in our home for years now. Every time we eat this Shepherd's Pie, it just hits the spot. Ultimate comfort food!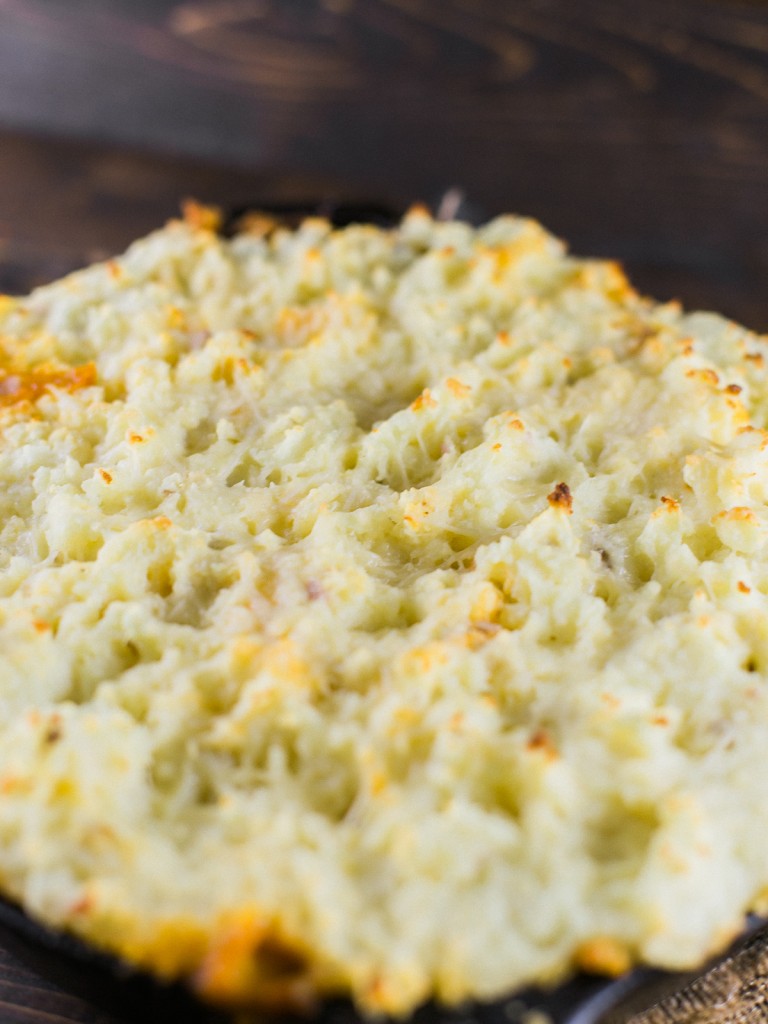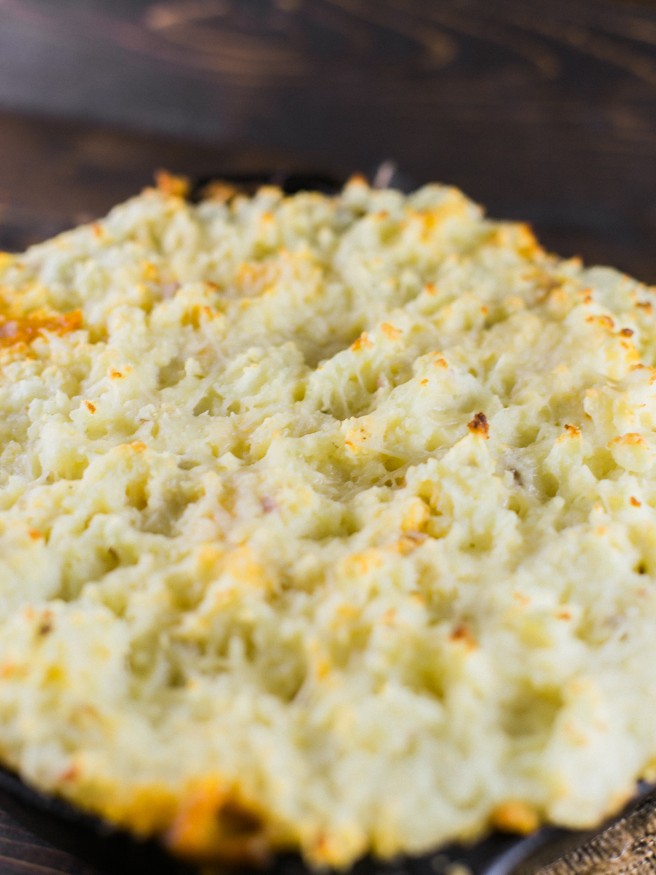 Let's just appreciate that beautiful potato topping right there. BEAUTIFUL golden brown tips and the texture is amazing, it has a little crunch on the outside, and soft and fluffy on the inside, almost like a twice baked potato. It almost makes me feel bad for what I had to do next.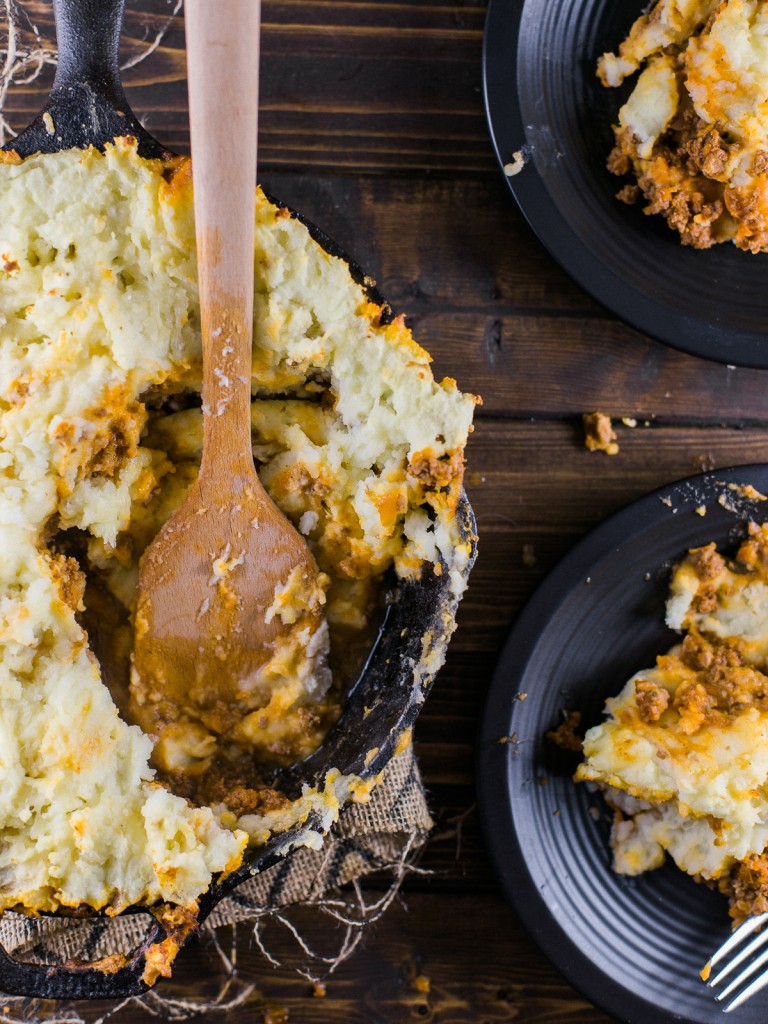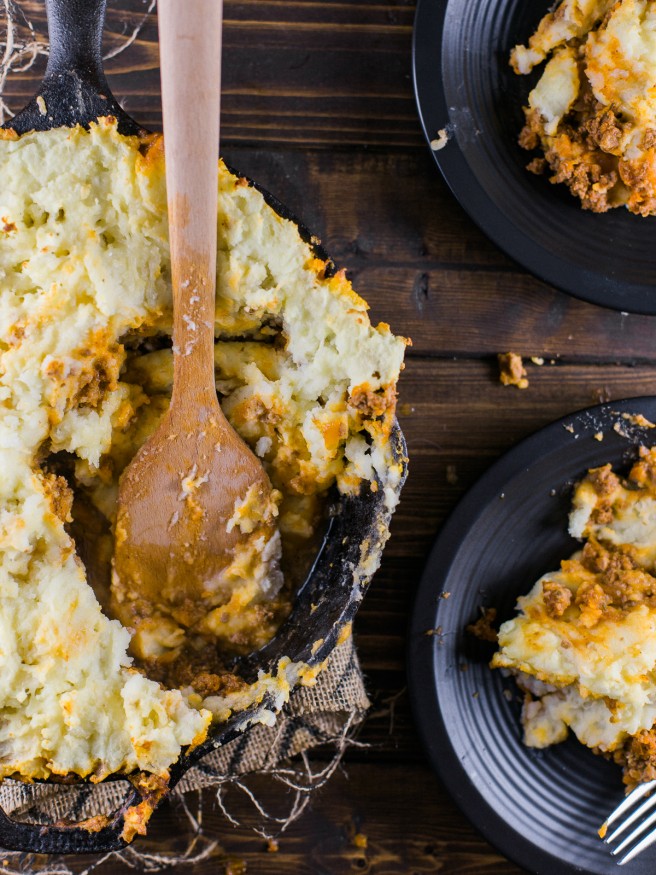 Sure, this rustic dish, definitely isn't the pretties thing to look at, but what it lacks for in fancy looks, it makes up for with bold flavors. the Worcestershire, red wine and fresh herbs come out brilliantly in the ground beef mince.
Cooking Tips
Lamb or Beef?
Technically, the way I prepared this makes it a Cottage Pie, since I like to use ground beef. A true Shepherd's Pie uses ground lamb, but depending on cost and personal taste you make want to go with beef!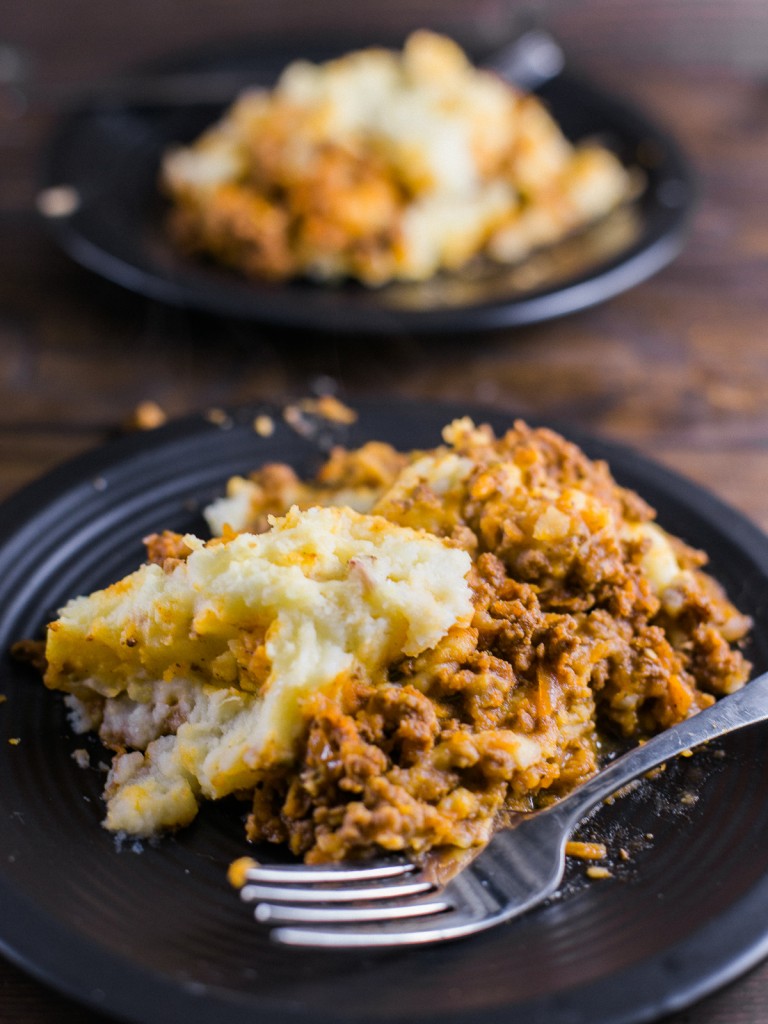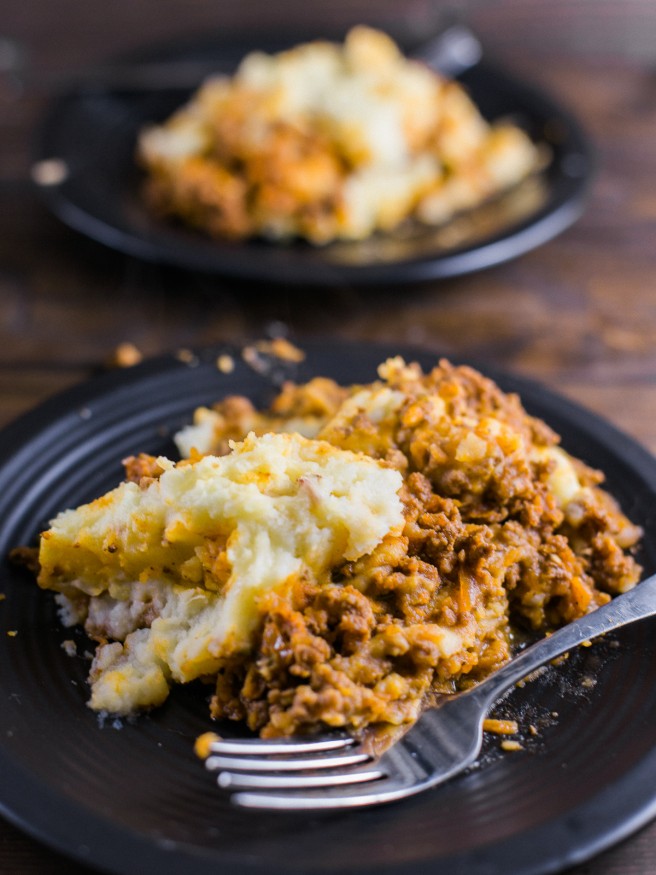 The Potatoes
I like to make more than less when it comes to the potatoes for this Shepherd's Pie recipe. Potatoes are cheap, and depending on the type of pan you're baking it in, or how much potatoes you like, it can get a little tricky trying to eyeball the right amount to put on top of the mince. So when in doubt, peel another potato and add it to to pot!
Shepherd's Pie Gordon Ramsay Style - REVISITED
Print Recipe
2

tbsp

olive oil

1.5

lbs

ground lamb

Ground beef substituted is fine

2

cloves

garlic

1

large

yellow onion

1

large

carrot

2

sprigs

fresh rosemary

2

sprigs

fresh thyme

2

tbsp

Worcestershire sauce

1

cup

chicken stock

1

cup

red wine

get a bottle that is cheap and dry enough to cook with, but good enough to drink the rest.

6

oz

tomato paste
Peel and chop your potatoes into about 1 inch cubes; P

Throw them in a pot and fill water till it's about 2 inches higher than your potatoes and bring the water to a boil; about 20-30 minutes.

In a cast iron skillet on medium heat, begin browning your meat

While the meat is browning, mince the thyme and rosemary and garlic. Preheat your oven at 425 at this point as well.

Once your meat is browned (about 5 minutes or so) drain as much juice as possible. The key to a good Shepherd's pie is keeping the grease down to a minimum. Grate your onion and carrot into the mince. and stir and cook on medium for about 2 minutes.

Stir in your tomato paste, garlic, Worcestershire sauce; about 1 minute.

Add red wine, fresh thyme, rosemary, salt and pepper. Let this cook down for about 2 minutes.

Add the chicken stock and let this cook down for about 15 minutes. You should have reduced the volume by about 50 percent(ish)

While the mince is cooking down, your potatoes should be ready. Check with a fork, it should easily go through without any resistance. Drain and place in a bowl.

Mash the potatoes, then add egg, butter. Add milk in about 1/4 cup at a time until its at the right consistency.

Mix in about 4 oz of freshly grated Parmesan, granulated garlic, salt and pepper

You should have a super thick potato mash. This is important because it helps with spreading, and will make for a better pie. Note: If i know the whole batch is going in 1 meal i'll keep this in a cast iron skillet. It looks a lot more authentic to me in a skillet.

With a spatula, spread the potato mash evenly across the skillet covering all your mince. Then, with a fork, fluff the top of the potatoes, and top with the remaining Parmesan. This will give you golden brown bits on top!

Bake for about 15 minute, or until the mash is a beautiful golden brown. Enjoy!