Gordon Ramsay's Shepherds Pie
Gordon Ramsay's shepherd's pie is a great baseline shepherd's pie to begin with. The ground meat filling is so robust and savory with a mashed potatoes topping that is baked to perfection.
Gordon Ramsay's shepherd's pie is a great baseline shepherd's pie to begin with. The ground meat filling is so robust and savory with a mashed potatoes topping that is baked to perfection.
There aren't many meals that my Irish wife demands, but when it comes to potato filled food – Shepherd's pie is on the top of the list of recipes I have to make on a regular basis.
What is Shepherd's pie
Shepherd's pie is a classic British/north European recipe that was made with a simple filling of cooked minced lamb or mutton cooked with onions and carrots, and topped with mashed potatoes.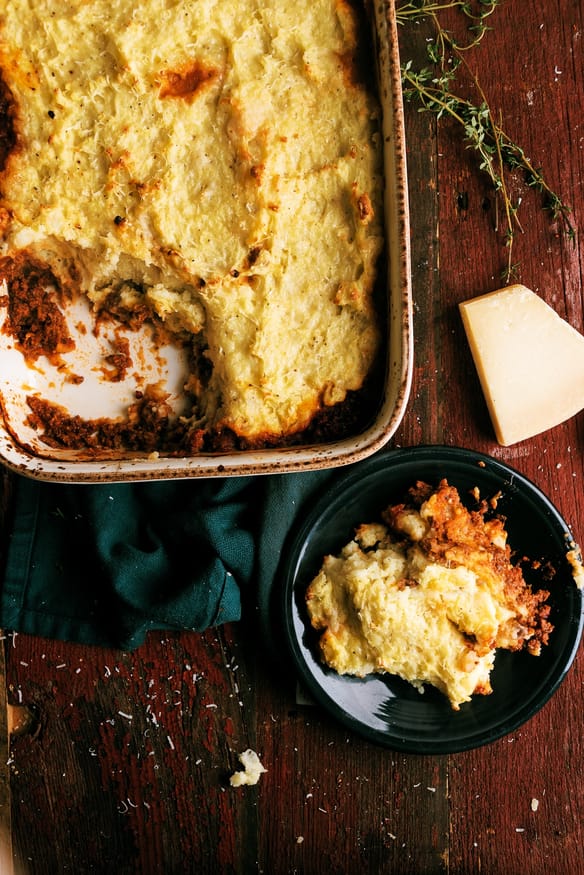 The recipe evolved to include a wider variety of ingredients, such as peas, corn, and gravy, and different meats such as beef, as well as variations in the spices and herbs used.
It became popular in the 19th century as an affordable meal to feed working-class families. It is still as popular as ever as a comfort food that if you haven't tried you definitely need to!
Why Gordon Ramsay's shepherds pie recipe?
This Shepherd's Pie recipe is inspired by the defacto Shepherd's Pie made by Gordon Ramsay. Made similar the way Chef Ramsay makes his in technique, but with some slight variances.
The use of fresh thyme and rosemary along with the richness of a wine infused gravy for the minced lamb (or ground beef if you prefer) Really ads a depth to it that is second to none.
And it has been a hit in our home for years now and has become a meal I have to make around St. Patricks Day.
Ingredients For Shepherd's pie
Here's what you'll need for Shepherds Pie:
For the filling:
Ground lamb or beef: provides the protein and richness to the dish.
Onion: adds flavor and texture to the filling.
Garlic: enhances the savory taste of the dish.
Carrots: provides sweetness and texture to the filling.
Frozen peas: adds a pop of color and freshness to the filling.
Tomato paste: gives the filling a slightly sweet and tangy taste.
Worcestershire sauce: adds a savory and slightly tangy taste to the filling.
Dried thyme: a fragrant herb that pairs well with lamb or beef.
Dried rosemary: a pungent herb that complements the savory flavors in the dish.
Salt and pepper: enhances the overall taste of the dish.
Beef or chicken broth: provides moisture and depth of flavor to the filling.
For the mashed potato topping:
Potatoes: provides the creamy and fluffy topping to the dish.
Milk: adds richness and creaminess to the mashed potatoes.
Unsalted butter: enhances the flavor and texture of the mashed potatoes.
Salt and pepper: enhances the overall taste of the mashed potatoes.
Egg yolk: gives the mashed potatoes a richer flavor and creamier texture, while also acting as a binder.
Parmesan cheese: Adds a nuttiness to the flavor, as well as helps to give the potatoes a golden brown color
Gordon ramsays shepherds pie techniques you must follow
There are a few techniques that I follow that I feel really makes this dish stand out
Grating the carrot and onions
When following this recipe, grating the carrots and onion, allows for those aromatic items to just be absorbed into the filling.
It almost just melts into the filling by the time its done cooking. It almost reminds me of how slivers of garlic disappear into a good marinara sauce.
Adding Egg into your mashed potatoes
If you want to take your mashed potatoes to the next level, you can add an egg yolk to create a creamier and richer texture.
The egg yolk acts as an emulsifier that binds the fats in the mashed potatoes and makes them velvety smooth.
Plus, it adds a subtle richness that'll have you coming back for seconds.
Do you have to use lamb in Shepherd's pie?
Do you want to set the internet ablaze and get people up in arms in the comment section? Use ground beef and call it Shepherd's pie.
There's always one "THAT'S COTTAGE PIE!!!! 🤬🤬🤬"
Look. technically, yes if you want to call it Shepherd's pie, you have to use ground lamb.
It's there any difference between cottage pie and shepherd's pie other than the meat used?
nope.
So yes. Use Ground beef in your Shepherd's pie, if ground lamb isn't your cup of tea (it definitely isn't mine)
And I'll let you call it Shepherd's pie all day.
Heck, tag @dadwithapan on IG with your Shepherd's pie with ground beef and I'll scream it at the rooftops with you!
How to Make shepherd's pie
There's a few steps to making this recipe
Prepare your mince.
Start with cooking up your ground lamb or beef. If you're going with ground land add a little oil to add some fat, since lamb is on the lean side,
if you're using ground beef, be sure to drain the fat from the pan before moving on the the next step.
this is also a good time to get your water boiling for the potatoes 😉
Add your aromatics
Be sure to grate the carrot and onions into your ground meat and let it cook down along with the tomato paste and Worcestershire sauce. Then add in your thyme, rosemary and red wine and let it cook down for about 5 minutes.
Add in your broth and let this simmer for about 7-10 minutes and set it aside.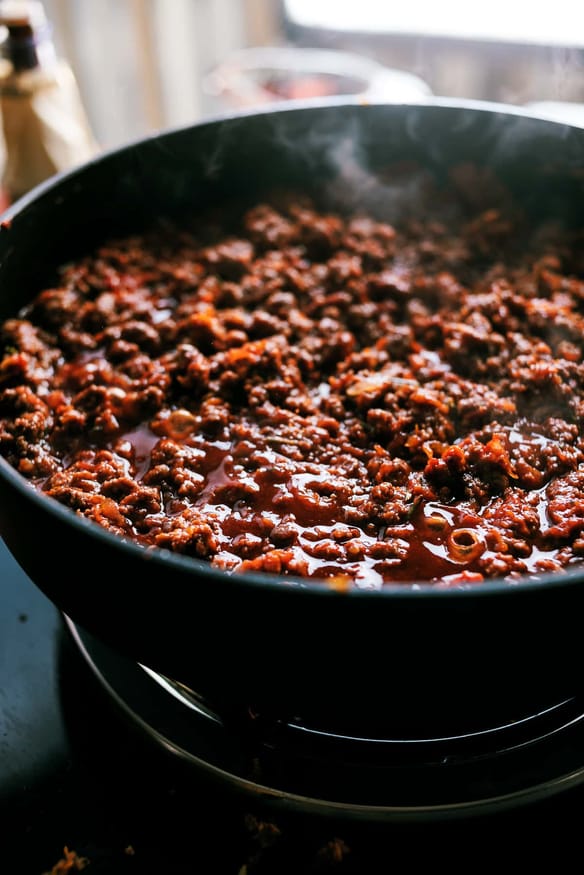 Prepare your potatoes
peel and chop your potatoes into smaller chunks so they boil faster, and add to the pot of boiling water and let them boil for about 15-20 minutes, until you can poke a fork through the potatoes easily.
Mash your potatoes with a fork, or if you want them super smooth, use a potato ricer. I'm not picky on this part and actually prefer them chunky, so feel free to experiment here
Stir in your butter, milk egg and seasoning to your potatoes. Your potatoes should be creamy, but thick at the same time.
Meaning if you take a scoop of the mashed potato on a spoon, they should not fall off of the spoon when you turn the spoon upside down.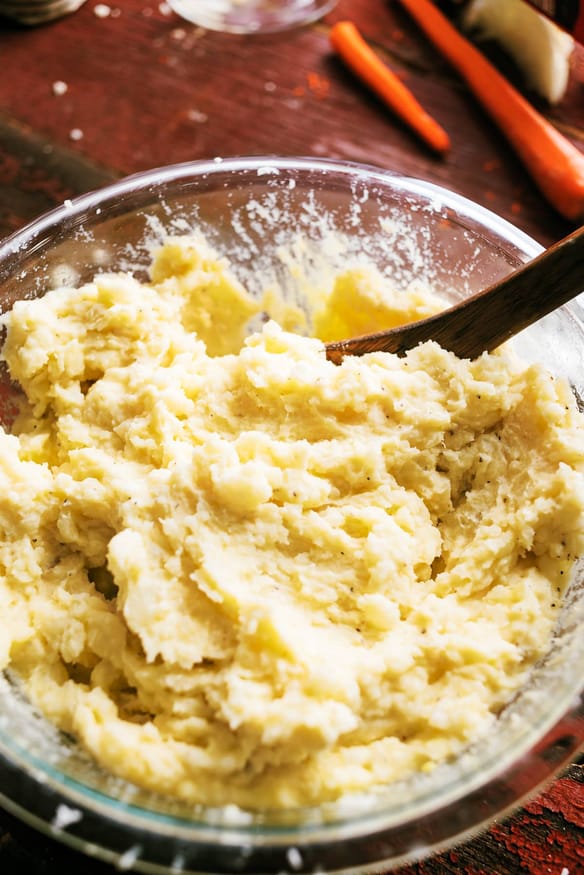 Add to a baking dish and bake
This is where think can get a little messy and that's ok.
Spread the filling on the bottom of the dish evenly, and add your peas and carrots if desired.
Spread the mashed potato on top of the filling.
If it gets some of the filling mixed into it while trying to spread, don't lose your cool – just call it rustic! 😉
Fluff the top of the potatoes with a fork, and add parmesan cheese.
Bake at 425 F for about 15 minutes until golden brown at the peaks of your potatoes. And dinner is served!
Gordon Ramsay's shepherd's pie is the ultimate comfort food. If you're looking for a good side-dish for this recipe try these:
Shepherd's Pie Gordon Ramsay Style – REVISITED
Gordon Ramsay's shepherd's pie is a great baseline shepherd's pie to begin with. The ground meat filling is so robust and savory with a mashed potatoes topping that is baked to perfection.
Print Recipe
Ingredients
2

tbsp

olive oil

1.5

lbs

ground lamb

Ground beef substituted is fine

2

cloves

garlic

1

large

yellow onion

1

large

carrot

2

sprigs

fresh rosemary

2

sprigs

fresh thyme

2

tbsp

Worcestershire sauce

1

cup

chicken stock

1

cup

red wine

get a bottle that is cheap and dry enough to cook with, but good enough to drink the rest.

6

oz

tomato paste
Potato Mash
6

medium

potatoes

1/2

cup

whole milk

8

tbsp

melted butter

2

whole

egg yolks

5

oz

fresh grated parmesan

1

tsp

granulated garlic

optional

2

tsp

salt

not needed if using garlic salt

1

tsp

pepper
Instructions
Peel and chop your potatoes into about 1 inch cubes

Throw them in a pot and fill water till it's about 2 inches higher than your potatoes and bring the water to a boil; about 20-30 minutes.

In a cast iron skillet on medium heat, begin browning your meat

While the meat is browning, mince the thyme and rosemary and garlic. Preheat your oven at 425 at this point as well.

Once your meat is browned (about 5 minutes or so) drain as much juice as possible. The key to a good Shepherd's pie is keeping the grease down to a minimum. Grate your onion and carrot into the mince. and stir and cook on medium for about 2 minutes.

Stir in your tomato paste, garlic, Worcestershire sauce; about 1 minute.

Add red wine, fresh thyme, rosemary, salt and pepper. Let this cook down for about 2 minutes.

Add the chicken stock and let this cook down for about 15 minutes. You should have reduced the volume by about 50 percent(ish)

While the mince is cooking down, your potatoes should be ready. Check with a fork, it should easily go through without any resistance. Drain and place in a bowl.

Mash the potatoes, then add egg, butter. Add milk in about 1/4 cup at a time until its at the right consistency.

Mix in about 4 oz of freshly grated Parmesan, granulated garlic, salt and pepper

You should have a super thick potato mash. This is important because it helps with spreading, and will make for a better pie. Note: If i know the whole batch is going in 1 meal i'll keep this in a cast iron skillet. It looks a lot more authentic to me in a skillet.

With a spatula, spread the potato mash evenly across the skillet covering all your mince. Then, with a fork, fluff the top of the potatoes, and top with the remaining Parmesan. This will give you golden brown bits on top!

Bake for about 15 minute, or until the mash is a beautiful golden brown. Enjoy!
Nutrition
Calories:
854
kcal
|
Carbohydrates:
26
g
|
Protein:
44
g
|
Fat:
59
g
|
Saturated Fat:
25
g
|
Polyunsaturated Fat:
5
g
|
Monounsaturated Fat:
24
g
|
Cholesterol:
166
mg
|
Sodium:
2445
mg
|
Potassium:
1265
mg
|
Fiber:
3
g
|
Sugar:
11
g
|
Vitamin A:
4057
IU
|
Vitamin C:
16
mg
|
Calcium:
433
mg
|
Iron:
5
mg