Baked feta pasta with chicken that's been grilled to perfection, with tomato and asparagus. It's a take on that TikTok trend that blew up, is insanely simple to make, and has loads of fresh and vibrant flavors going on.
Unless you've been living under a rock, you by now have seen this viral recipe all over social media. I had to give it a try and put my own take on it.
So to put my own spin on it, I added some grilled chicken and asparagus to make this a well balanced meal!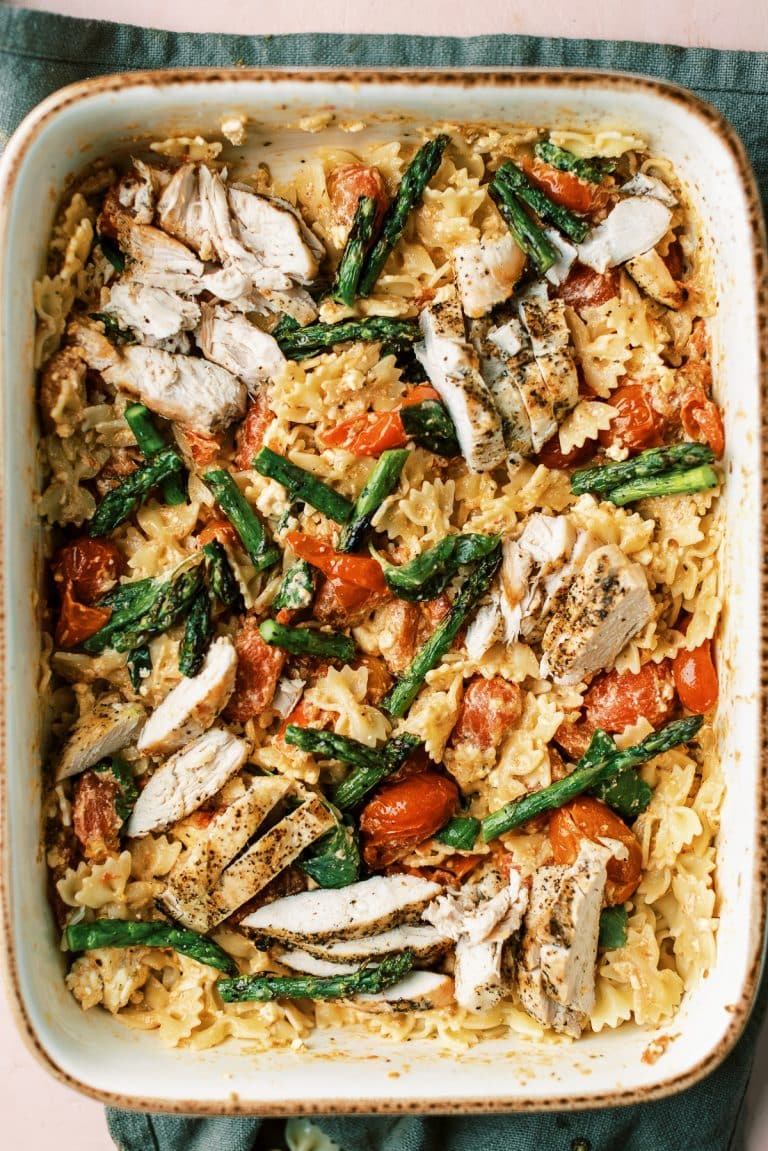 Ingredients to make Baked Feta Pasta with Chicken
My wife sent me this video on IG reels and it was similar to this. cherry tomatoes baked in olive oil with feta cheese. Then fresh basil and cooked pasta is added at the end.
It looks great on its own. But I feel like its missing some greens and a good protein to round it out. Adding some grilled chicken and asparagus is great option to make this a well balanced meal!
To make my version You'll need:
Olive Oil
Feta Cheese
Cherry Tomatoes
Garlic Cloves
Oregano
Your favorite pasta
Fresh Basil
Asparagus
Chicken
Not an asparagus fan? Try broccolini. Never heard of broccolini? Check out this recipe to get an idea of what it can be used for.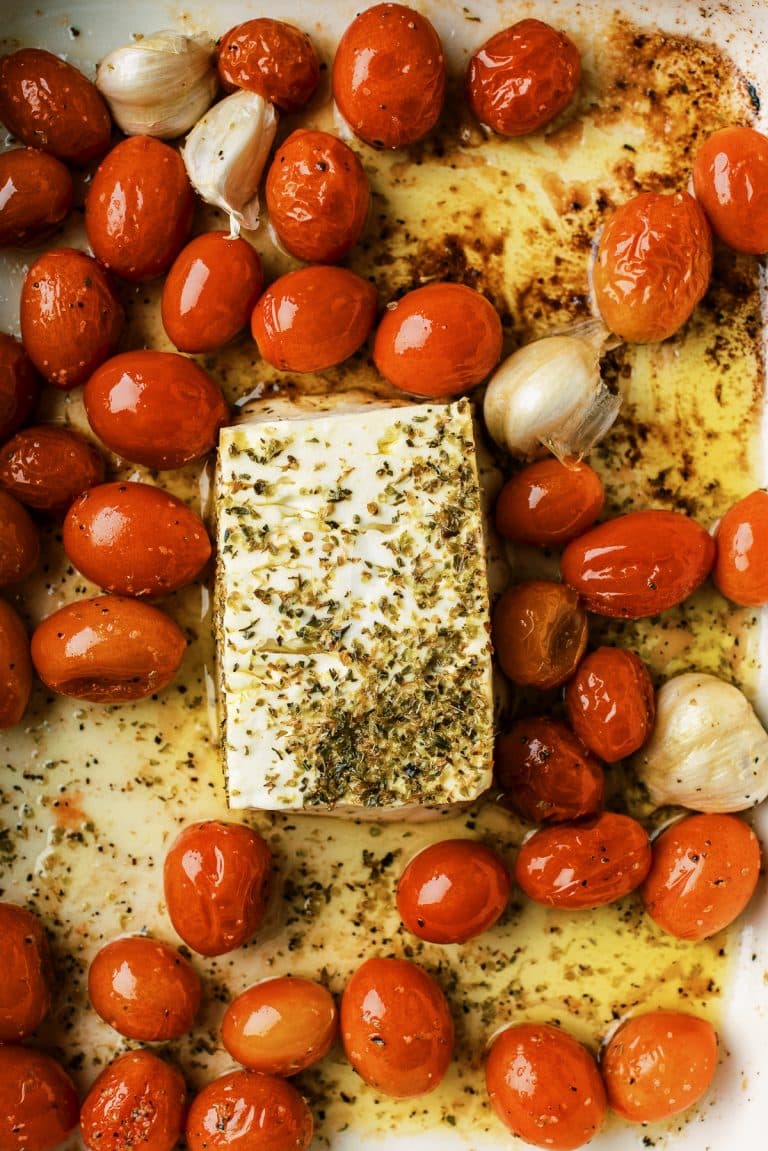 How To make baked feta pasta with chicken
There's a couple main components to this. Baking, Boiling, Grilling.
The Baking Steps
Add feta cheese, cherry tomatoes tomatoes, and garlic to a 13×9 baking dish.
Drizzle olive oil over everything in the dish then season the feta cheese with oregano.
Place in the oven preheated at 375 F and bake for 45 minutes
The Boiling Steps
Boil your water with some salt and pour in the pasta and cook to the box ingredients
The Grilling Steps
Drizzle olive oil over the asparagus and season with salt and pepper
Season the chicken breast with some salt pepper and Italian seasonings
Grill over direct heat until done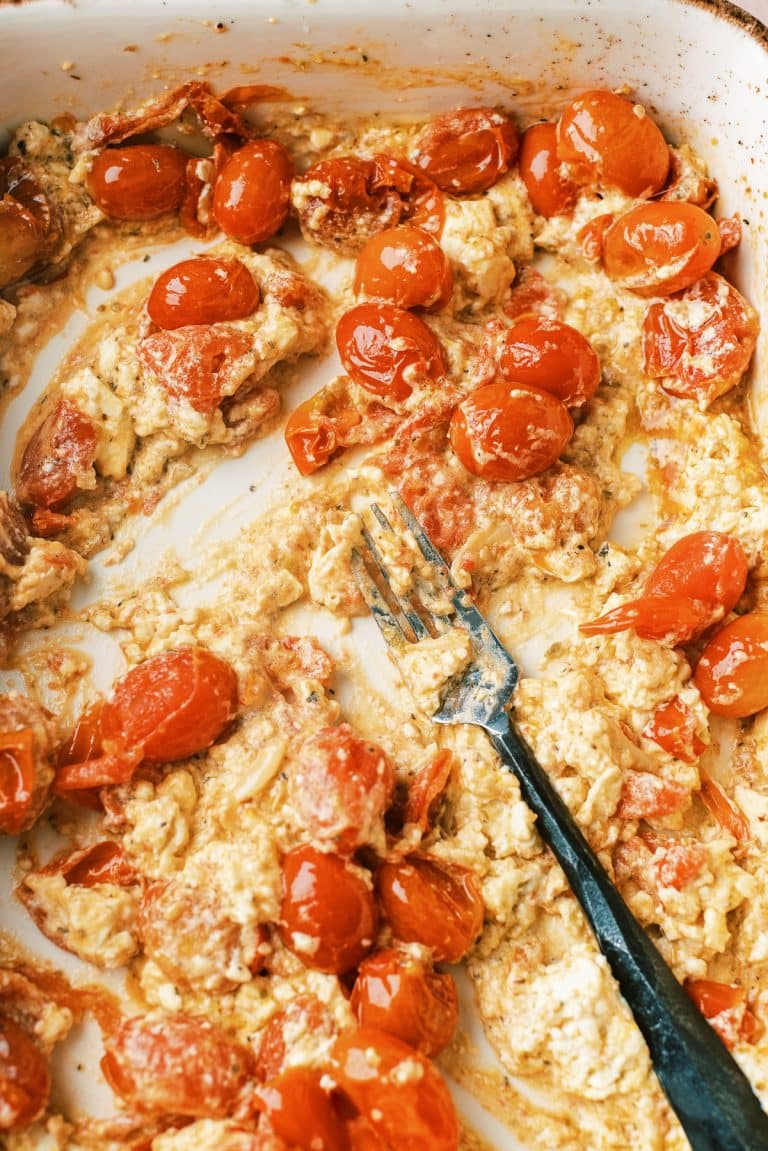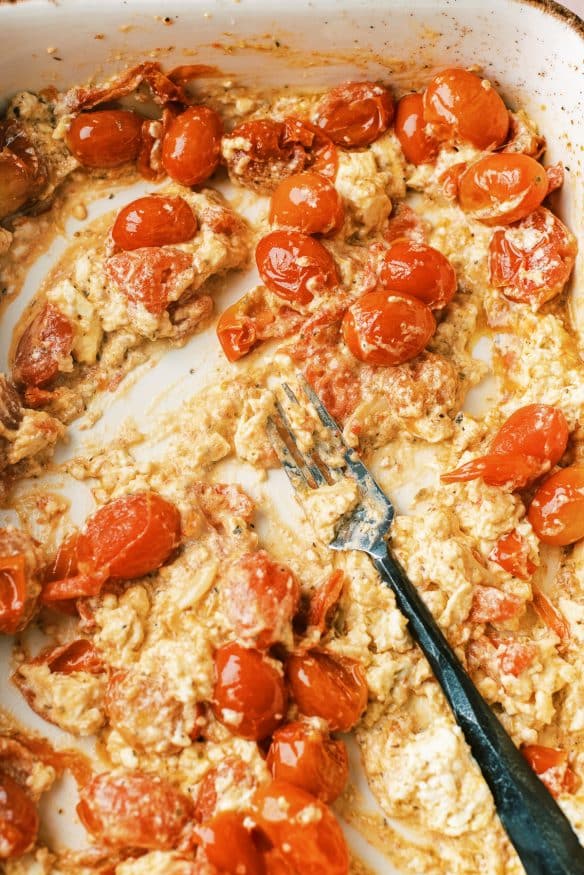 Put it all together
Last step is combining all your ingredients
Smash up the feta bake: Take a fork and smash up the feta cheese, and garlic, so it has a nice and smooth consistency. You don't need to smash up the tomatoes just lightly stir them around.
Add the pasta: Drain and stir in your pasta until its all well coated. Make sure your tomatoes are evenly placed throughout the dish so everyone gets an even amount.
Add The Veggies and Protein: Chop up your asparagus, slice the grilled chicken into bite-sized pieces and top with some fresh basil. You can stir this all in before serving if desired!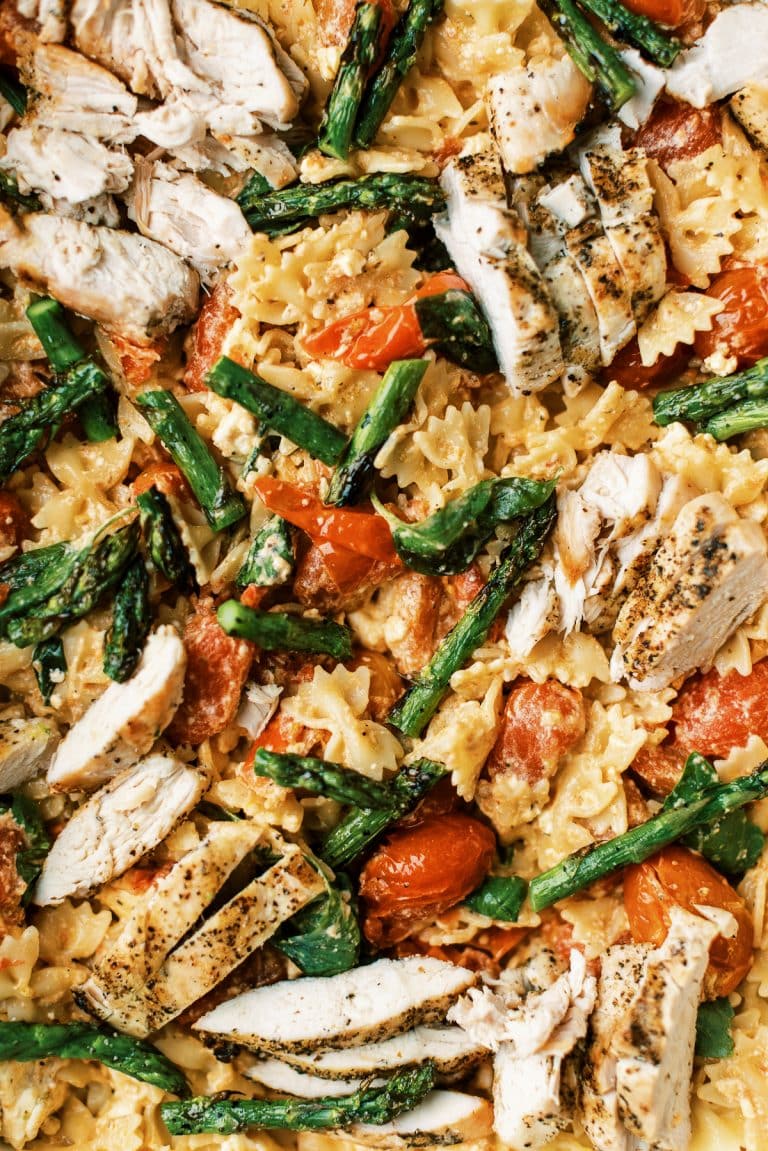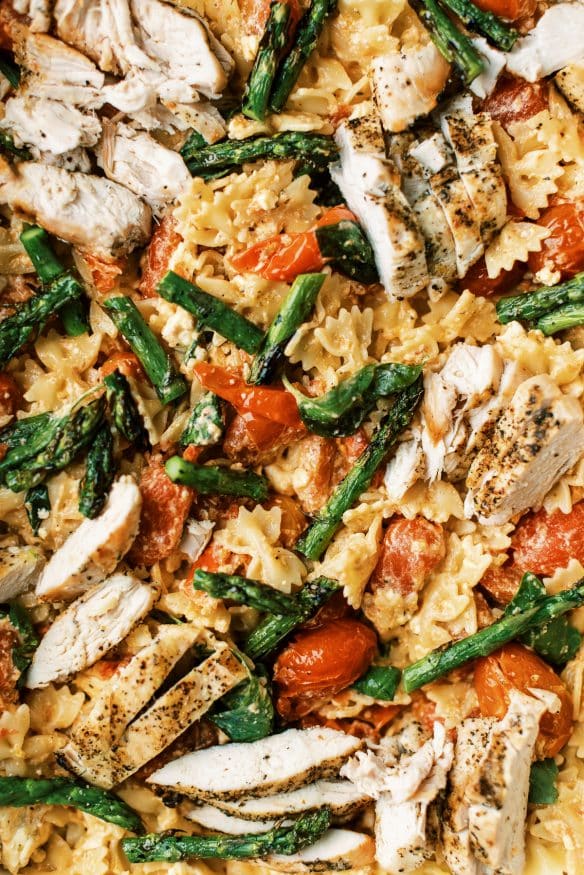 Alternate options for Baked Feta Pasta
Want to change this up a bit? Here's some suggestions:
Pasta Options
I went to farfalle pasta for this recipe just on a whim, but here's some other pasta that will be good too:
Rigatone
Penne
Rotini
Gemelli
Mayyybe a longer pasta might work like a fettucini or spaghetti, but it may make serving into equal portions a little more tricky.
Protein Options
Not a chicken fan? Give these a shot:
Beef: I would go with a thinner lean cut. A flank steak, flap meat or a New York strip would be a great option!
Shellfish: You can never go wrong with shrimp with a pasta dish. Toss a some shrimp on the grill or even try longastino to have more of a lobster taste.
Fish: Want to go full pescatarian? Give a nice grilled filet of salmon seasoned with a little lemon salt and pepper and a touch of Italian seasonings a try. Don't do salmon? Halibut is a great option too!
And if it's not prime grill season where you are, a nice hot pan with some butter and oil will give a nice sear to any protein you use.
Trendy or not, baked feta pasta with chicken, tomatoes and asparagus is such a well balance, delicious meal that you need to try.
Looking for another chicken pasta recipe? Try my one pan chicken alfredo!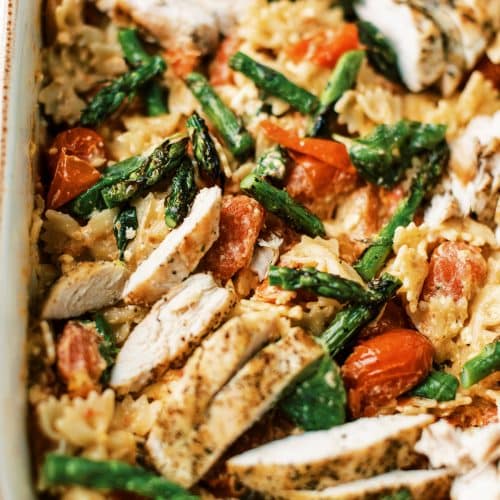 Baked Feta and Tomato Pasta with Grilled Chicken
Feta cheese, tomatoes and garlic are baked, then mashed together to make this creamy sauce, then paste and fresh basil is added.
Print Recipe
16

oz

cherry tomatoes

8

oz

feta cheese

block

1

tsp

oregano

3

cloves

garlic

3

tbsp

olive oil

8

oz

pasta

1

cup

fresh basil

6

oz

asparagus

1

chicken breast

butterflied
in a 13 by 9 baking dish, add feta cheese, tomatoes, and garlic. drizzle over olive oil and season feta with oregano. Place in the oven preheated at 375 F and bake for 45 minutes

About 20 minutes out from tomatoes and feta being done. Place a butterflied chicken breast and asparagus on a grill (or in the oven on a baking sheet) seasoned with olive oil, salt pepper and garlic powder to taste. Cut into strips when done and set aside.

Boil your favorite pasta according to directions on the box, strain and set aside until feta and tomatoes are done.

When the feta and tomatoes are done, remove garlic from outer skin, then mash the tomatoes, garlic and feta with a fork until it reaches your desired consistency

Stir in pasta along with basil leaves, add chicken and asparagus on top and serve!
Calories:
355
kcal
|
Carbohydrates:
13
g
|
Protein:
23
g
|
Fat:
24
g
|
Saturated Fat:
10
g
|
Trans Fat:
1
g
|
Cholesterol:
87
mg
|
Sodium:
1010
mg
|
Potassium:
798
mg
|
Fiber:
3
g
|
Sugar:
8
g
|
Vitamin A:
1703
IU
|
Vitamin C:
35
mg
|
Calcium:
335
mg
|
Iron:
3
mg