Nothing beats this smoked carnitas recipe. They're smoked, then braised in a citrus and pepper bath. Then crisped up on a cast iron skillet. All on my pellet grill.
It's the best way to spend a day off!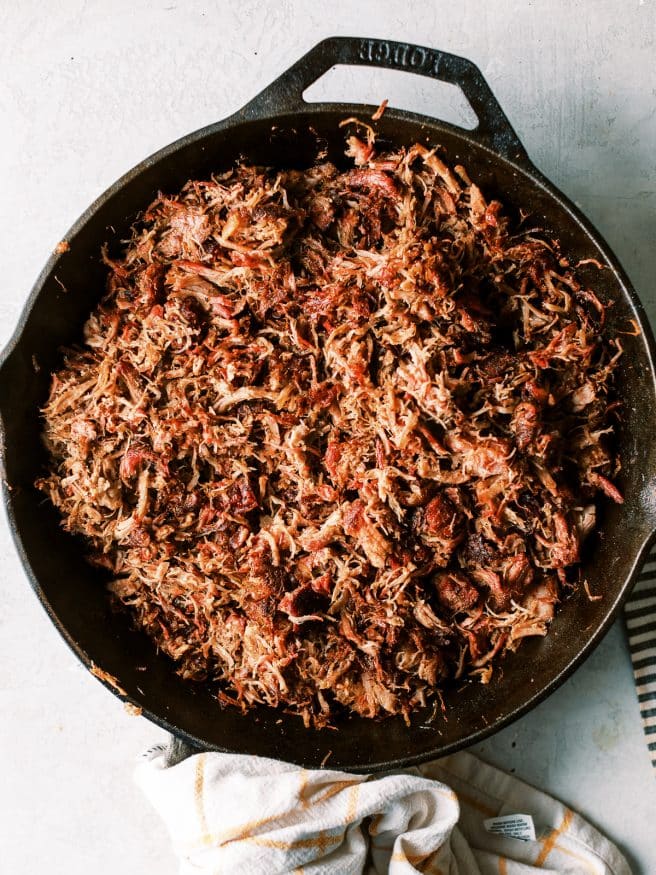 For these smoked carnitas, I used a bone in pork shoulder. You can and I might even recommend going boneless, but I went with what I had in the freezer.
I'll tell you why in a bit..
I used a rub for these carnitas, similar to my pulled pork, but added some mexican seasonings like, cumin, chili powder and paprika.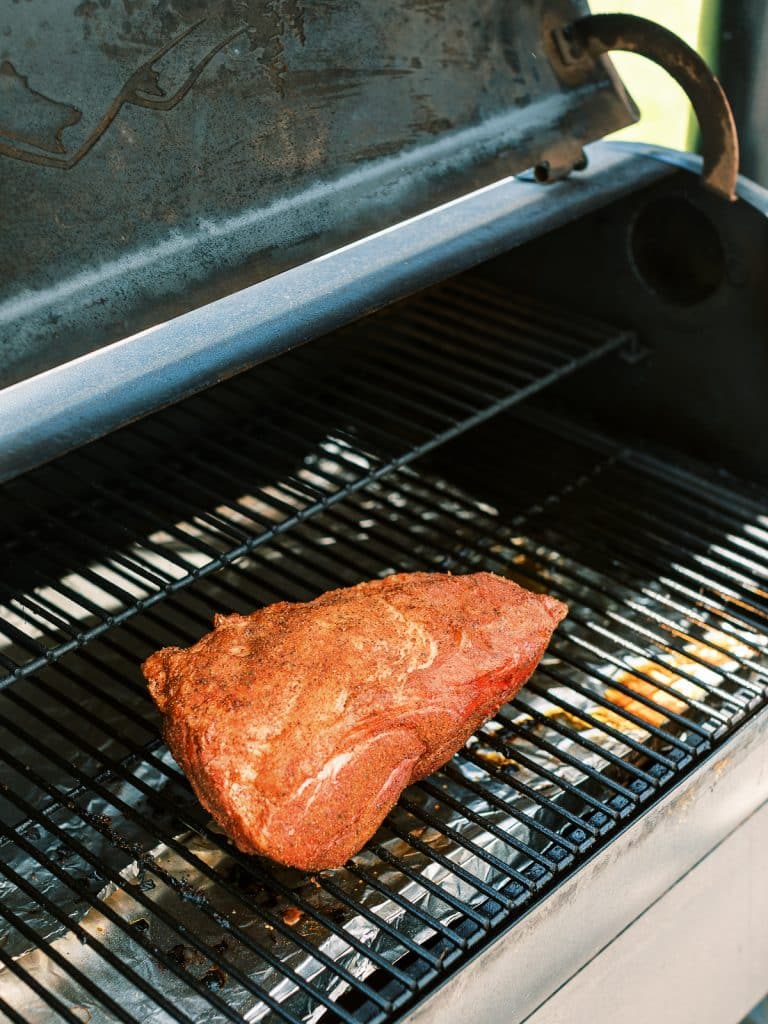 But the rub doesn't make THAT much of a difference, because you'll be braising these carnitas after the smoke period that will really give it some insane flavor!
And normally I smoke to temp or probe. But the meat will break down during the braising process.
I'll be smoking this pork shoulder for 4 hours since that is about the maximum time meat can really absorb smoke.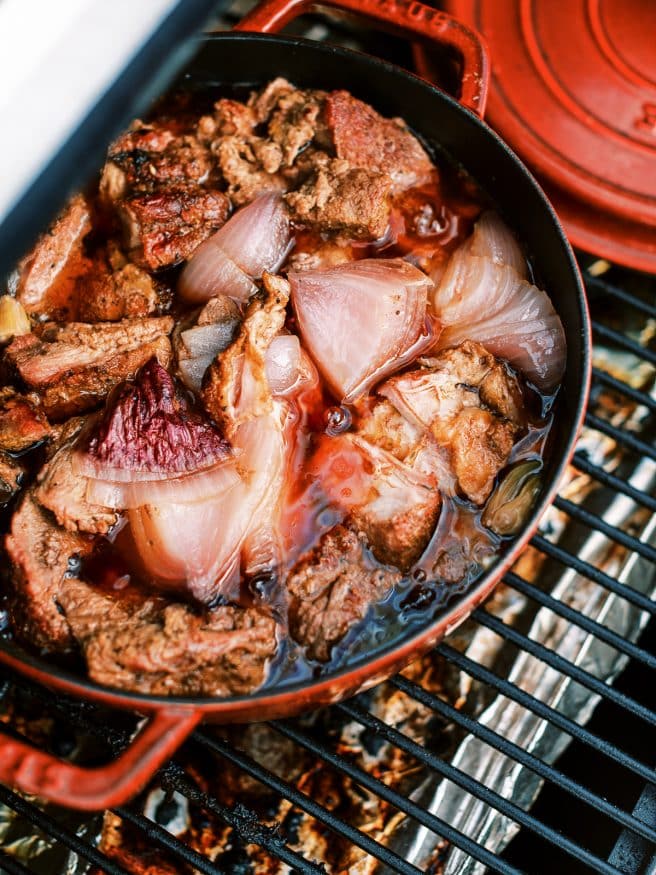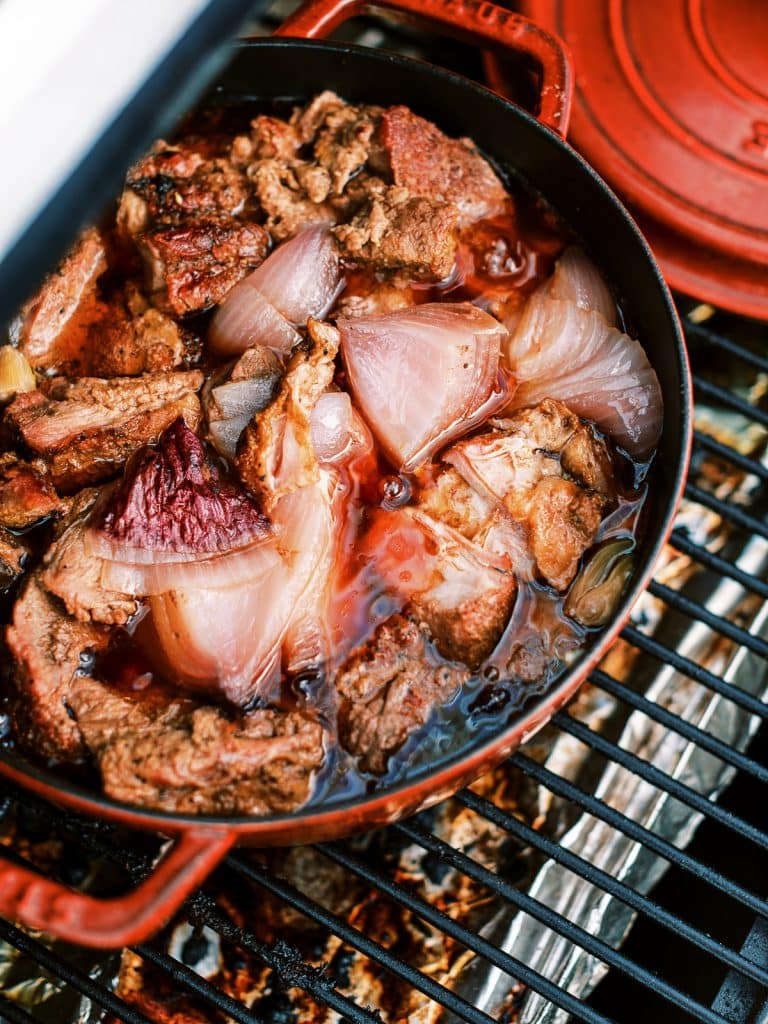 During the braise period I cut my pork shoulder into chucks so it will break down quicker and absorb as much of the flavor as possible.
This is where you may want to go boneless . I didn't have much problem at all cutting out the bone from the bone in pork shoulder.
BUT I will say this. Cutting up your shoulder before smoking would be amazing since you can really get the flavor into your smoked carnitas.
DOUBLE BUT, I think bone-in had just enough smokiness without overwhelming the carnitas so its all up to you!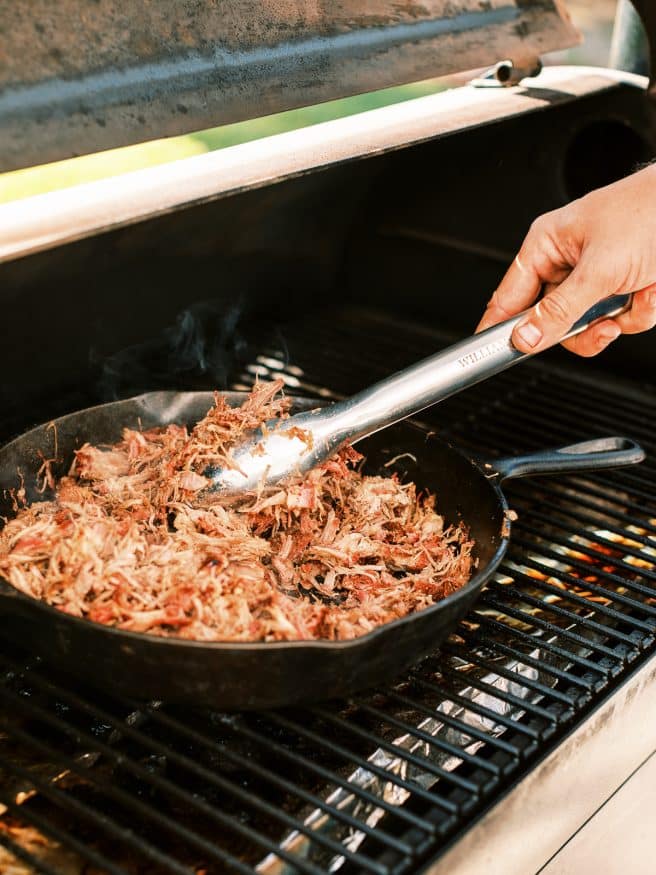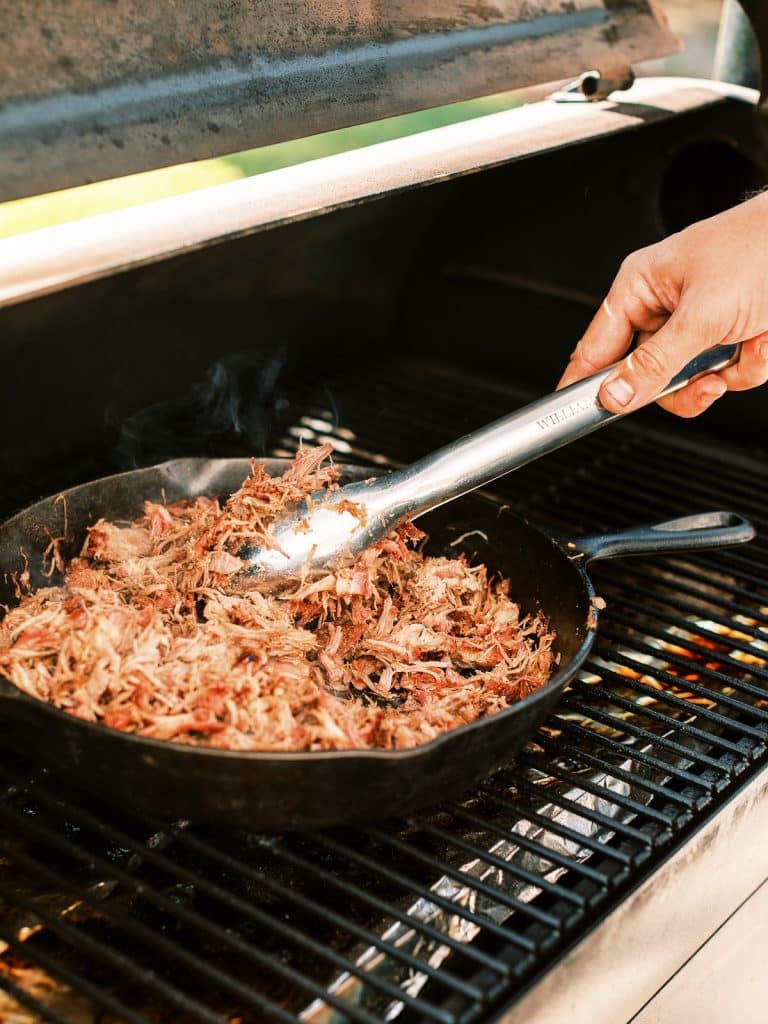 Do you need to cook this entirely on the pellet grill? Of course not. But what I enjoy about a pellet grill is how dialed in the temps are. You can smoke on low temps, braise at a medium temp, then crisp up at the high temps!
During the summer, not having to use the oven is always a a plus for me. Keepin that AC bill down is always a win!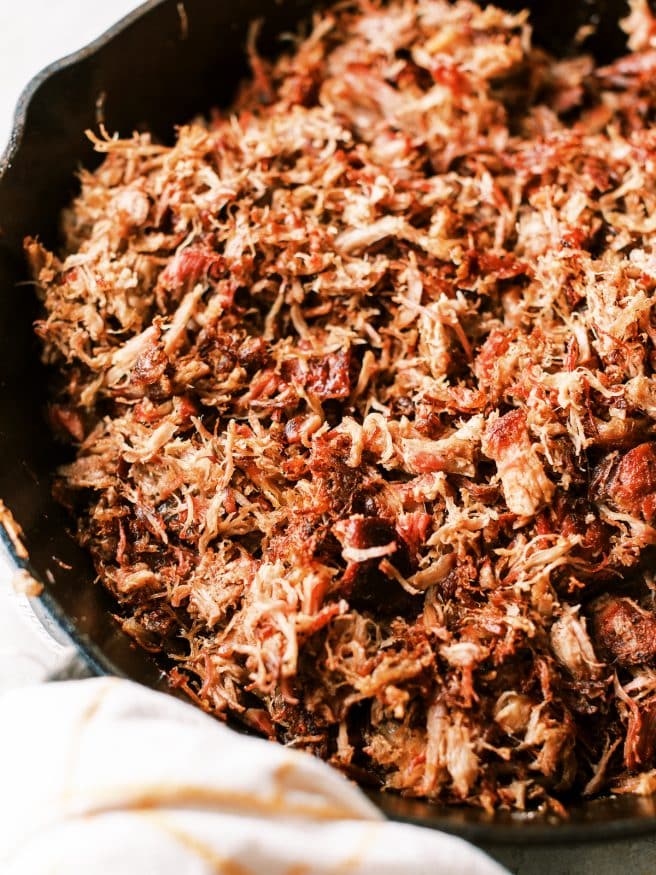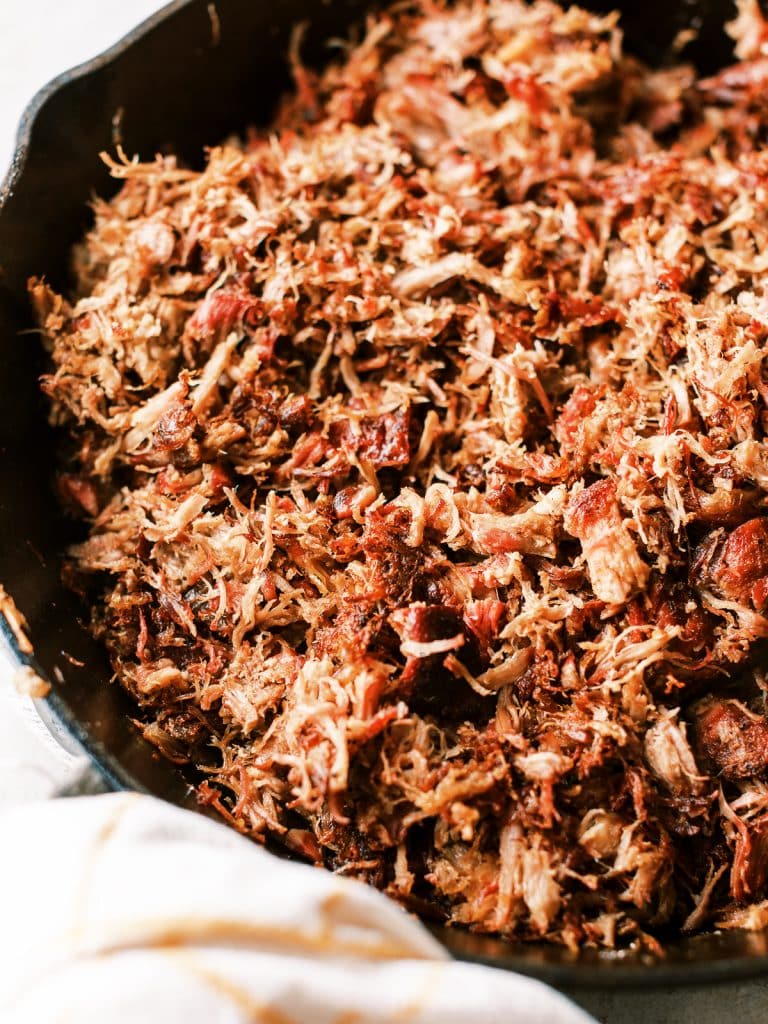 I have a Traeger that manages the temps will, if you're in the market for a pellet grill you cant go wrong with a Traeger.
Also check out Pit Boss, and REC TEC. Also stand up pellet grills. But my dream pellet grill is the Yoders YS640!
Ahhh.. one day..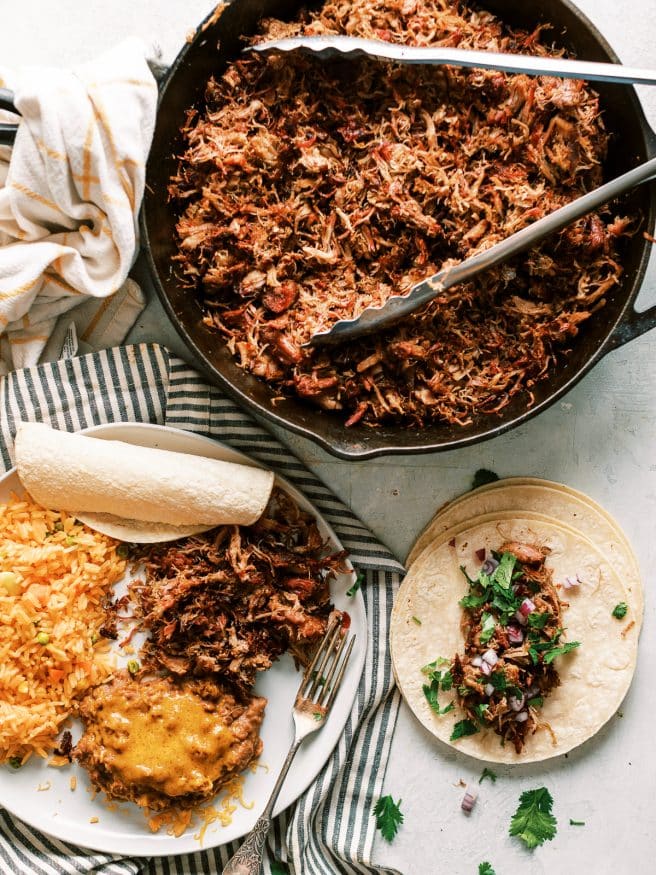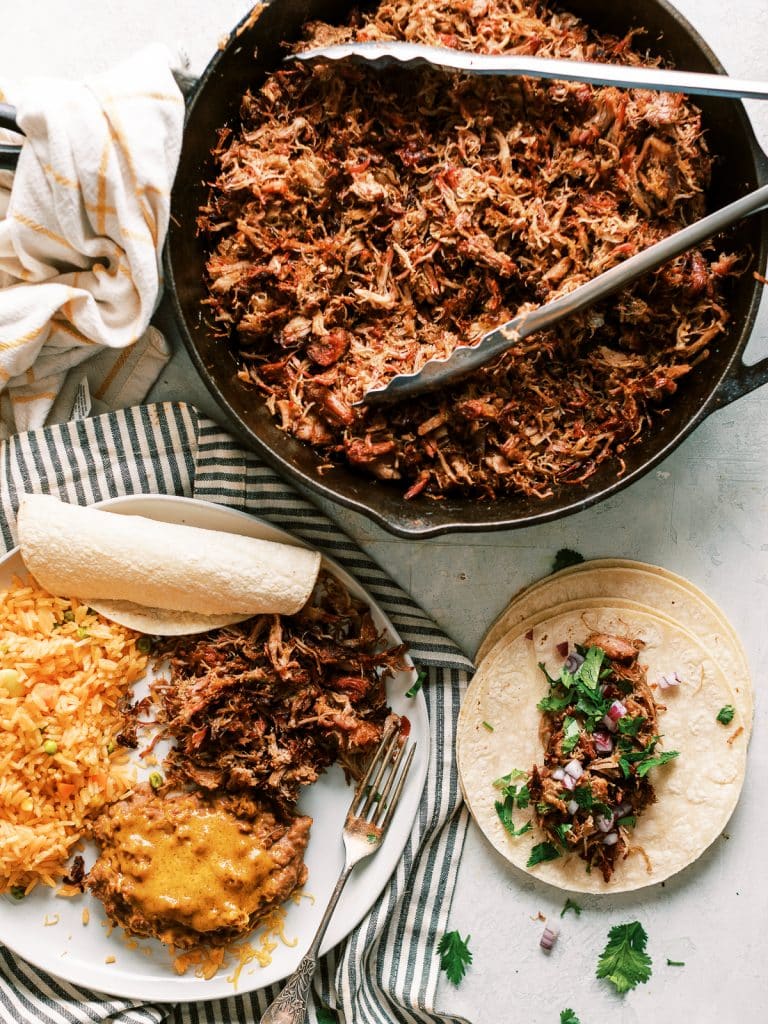 These smoked carnitas are amazing by themselves. With a side of beans rice and tortillas. It's a dinner anyone will love!
You get hit with the pork flavor up front which I think is key to a solid carnitas recipes, but you have hints of smoke, citrus and guajillo peppers on the end.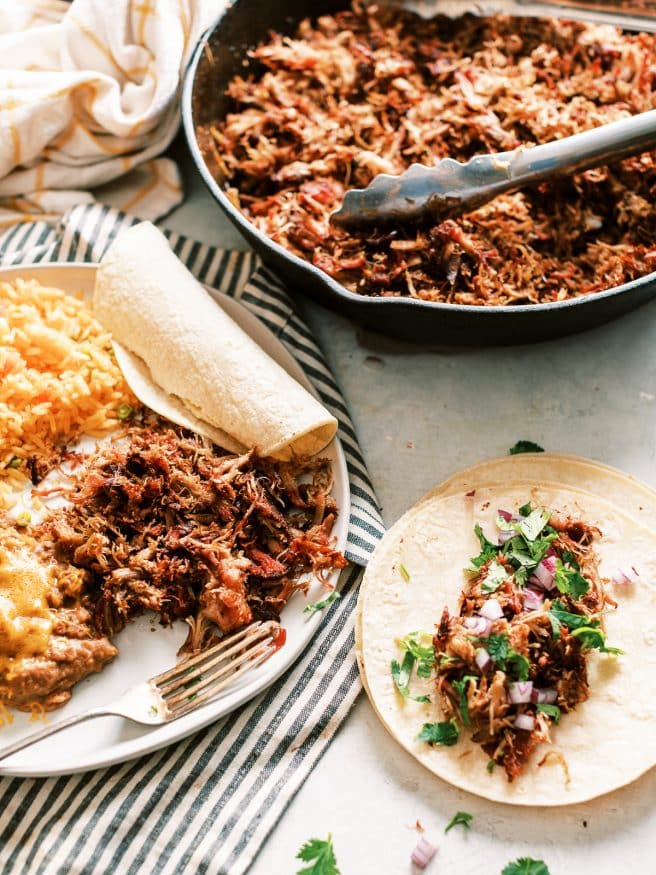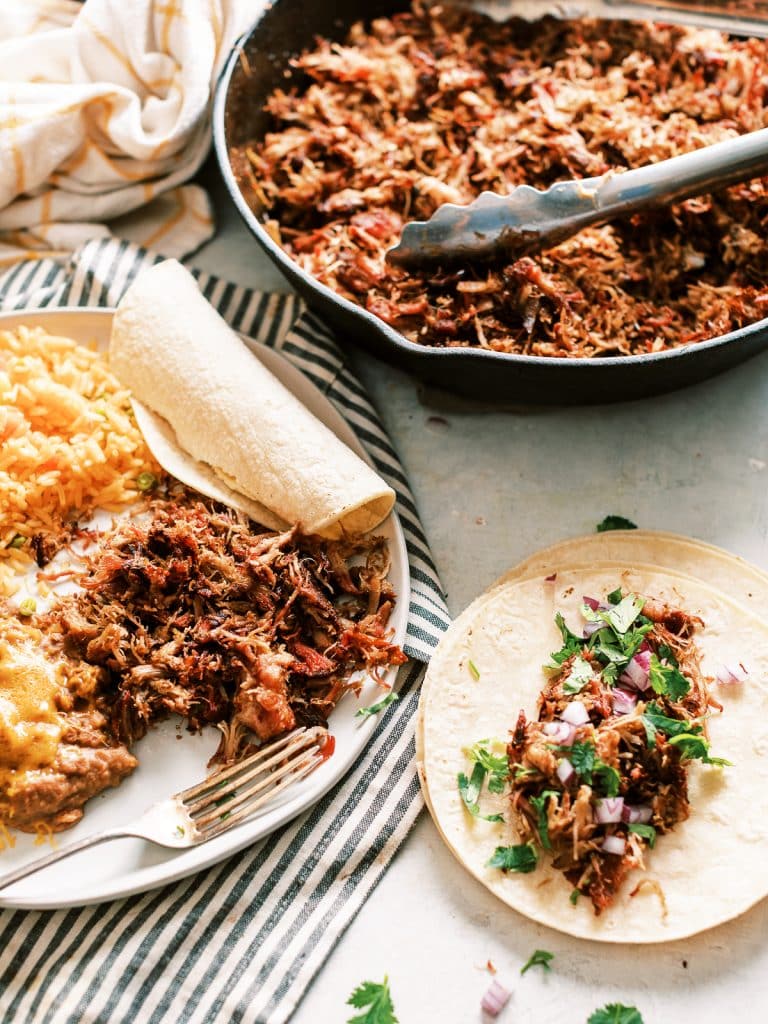 And with that crispy on the outside tender on the inside texture? My ABSOLUTE FAVORITE thing about a good smoked carnitas recipe!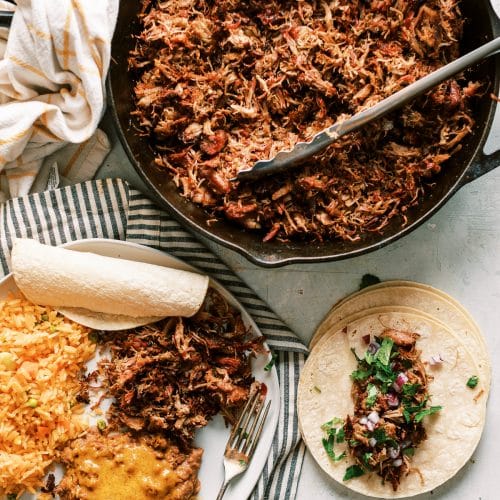 Smoked Carnitas
Pork shoulder smoked with hickory wood pellets, then braised in a mixture of fresh squeezed oranges, onion, garlic, dried guajillo pepper and mexican seasonings.
Print Recipe
Pellet Grill

Dutch oven

Cast Iron Skillet
FOR THE PORK SHOULDER
3

lb

pork shoulder

bone in or boneles

2

tbsp

kosher salt

2

tbsp

course ground pepper

2

tbsp

paprika

1

tbsp

cumin

1

tbsp

chili powder

2

tbsp

yellow mustard
FOR THE BRAISING LIQUID
3-4

dried guajillo peppers

2

oranges

1

red onion

roughly chopped

4

cloves

garlic

roughly chopped

2

bay leaves

1

tsp

salt

2

cups

water
Preheat pellet smoker to 225 F. Combine kosher salt, coarse ground pepper, paprika, chili powder and cumin into a spice shaker.

Cover your pork shoulder in a thin layer of mustard, then liberally coat in the rub seasoning. Place on the smoker and let smoke for 4 hours.

Remove pork shoulder from pellet grill and increase smoker temp to 350 F. Cut out and remove the bone, then cut into 2 inch cubes.

Place pork into a Dutch oven. Squeeze juice from oranges into Dutch oven, along with guajillo peppers, chopped onions, garlic and bay leaves. Fill with water with about 1-2 inches of room left on the top of the Dutch oven. Cover and place back on the smoker. Cook for about 3 hours.

Remove dutch oven from pellet grill and increase temperature to its highest setting and place a large cast iron skillet inside and cover. Let it heat up for about 10-15 minutes.

Remove pork from the dutch oven and place into a colander to remove any excess fluid. While your pellet grill is heating up to the high temp, now would be a good time to heat up beans and rice!

Once the pellet grill is piping hot, place pork carnitas into the skillet. Let it side and crisp up for about 5 minutes, then begin to break up and turn to crisp up more of the carnitas. Continue until you've reached your desired crispiness.

Serve with rice beans and tortillas. Garnish with onions and cilantro if you like. Makes an awesome tostada too!
Sodium:
2179
mg
|
Calcium:
52
mg
|
Vitamin C:
20
mg
|
Vitamin A:
1217
IU
|
Sugar:
4
g
|
Fiber:
2
g
|
Potassium:
516
mg
|
Cholesterol:
70
mg
|
Calories:
190
kcal
|
Saturated Fat:
3
g
|
Fat:
8
g
|
Protein:
22
g
|
Carbohydrates:
8
g
|
Iron:
2
mg