This pumpkin creme brulee recipe is a great way to switch things up for Thanksgiving dessert. It's got a little pumpkin pie vibe to it, with a hard candy shell on top giving it a creme brulee twist that is a must try!
Regardless of how your Thanksgiving will look this year, this is an awesome way to change things up for dessert. You can make it ahead the day before as well to crank out as many or as few as you'll need.
For us we'll literally only need a couple for the adults and the kids can stick to their store bought pumpkin pies!
It cooks just like a traditional creme brulee, but with a touch of pumpkin spice and pumpkin puree.
It creamier and less than a custard because of the puree, but it's to die for!
I'm also pretty sure any time creme brulee is made at home is just an excuse for someone to bust out the food torch and satisfy their inner pyro.
FYI, I'm using These mini cocottes for the pumpkin crème brûlée. They're the perfect size and I like that they come with lids so you can cover them while they sit in the fridge to set!
And with Thanksgiving around the corner this pumpkin creme brulee will definitely be something to give an add of theatrics to the night.
And if you've got some grapefruits laying around, you need to try grapefruit brulee as well.
How do I have two brulee style recipes on the blog and neither of them are an actual creme brulee.
Welp – I guess what I know what I'm doing this weekend!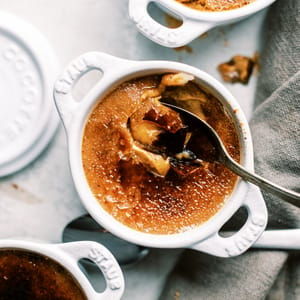 Pumpkin Crème Brûlée
Print Recipe
3

egg yolks

1/2

cup

golden brown sugar

1

cup

heavy cream

1

cup

pumpkin puree

1

tsp

pumpkin spice seasoning

1/2

cup

white sugar
In a bowl, whisk brown sugar and egg yolks until blended.

Pour in heavy cream, pumpkin puree and pumpkin spice, stir until incorporated

Pour mixture into mini cocottes, or ramekins until about 1/2 from the top. Place in a baking dish with hot water until the coquette are about halfway submerged.

Bake in a oven preheated to 325 for 35-50 minutes. Depending on the size of the cups you placed your pumpkin crème brulee in, the time will vary. Pull out of the oven when the setting is just barely moving when you jiggle it.

Place in the refrigerator covered for at least 2 hours. When you're ready to serve, liberally coat the tops of each brulee with white sugar. Heat with a torch until caramelized. Crack with a spoon and enjoy!
Calories:
1883
kcal
|
Carbohydrates:
236
g
|
Protein:
16
g
|
Fat:
103
g
|
Saturated Fat:
60
g
|
Cholesterol:
912
mg
|
Sodium:
160
mg
|
Potassium:
888
mg
|
Fiber:
7
g
|
Sugar:
215
g
|
Vitamin A:
42407
IU
|
Vitamin C:
12
mg
|
Calcium:
379
mg
|
Iron:
6
mg