Margarita shrimp lettuce wraps is a quick and easy way to make lunch something amazing. Grab some tortilla chips to scoop up some of that extra mango salsa and you've got a meal!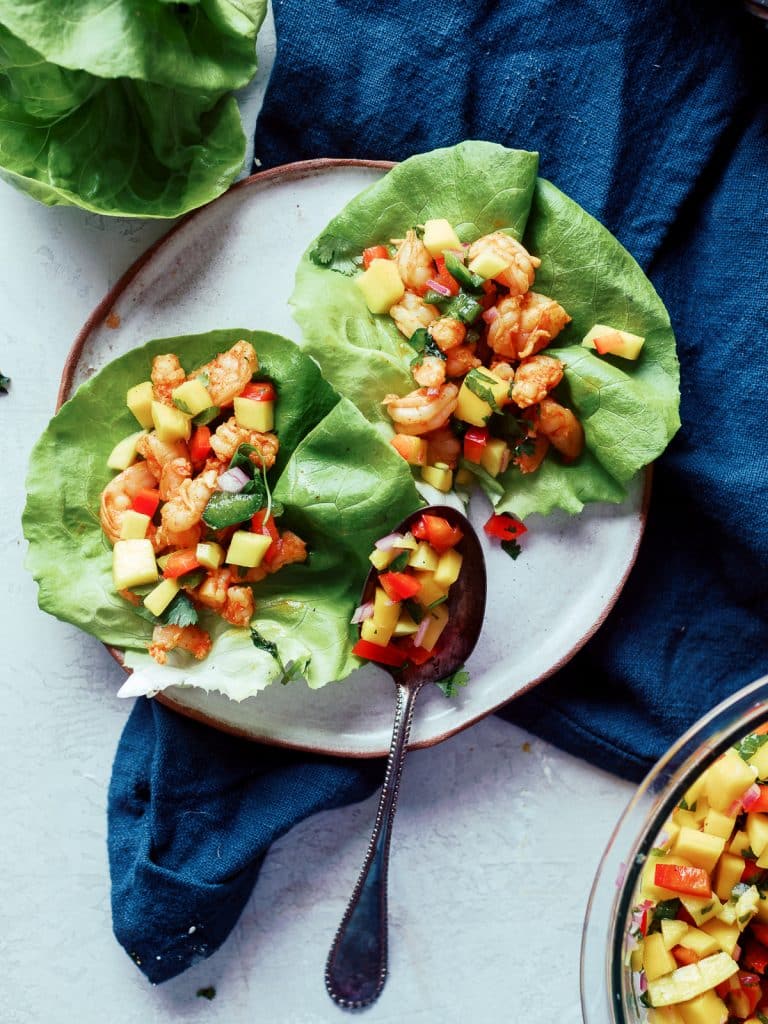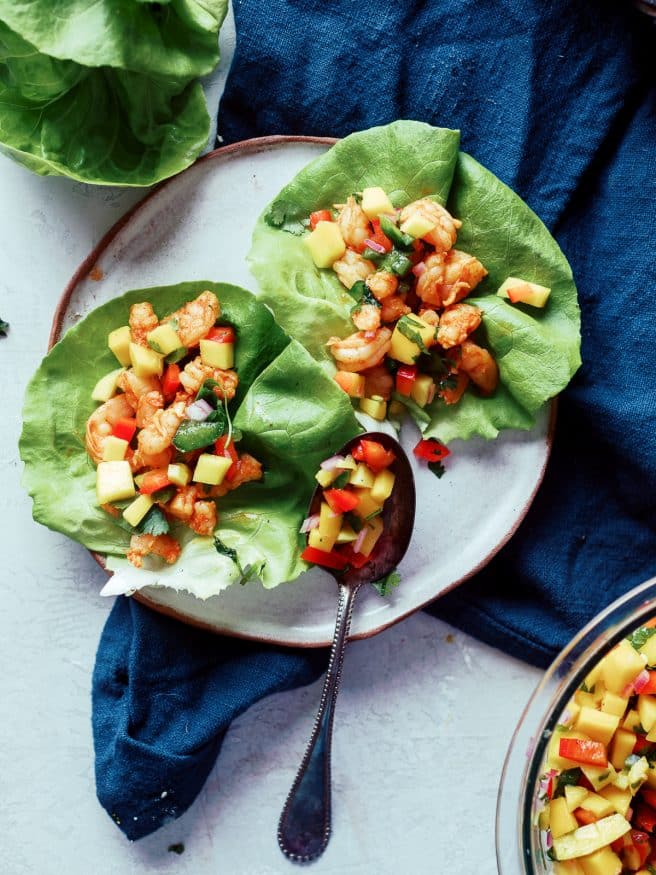 I love margarita shrimp. It's a little sweet and has a bit of heat to eat, and makes the perfect companion for a mango salsa.
Wrapped in a tortilla something a little lighter like butter lettuce and this is easily one of my top contenders for best lunch ever!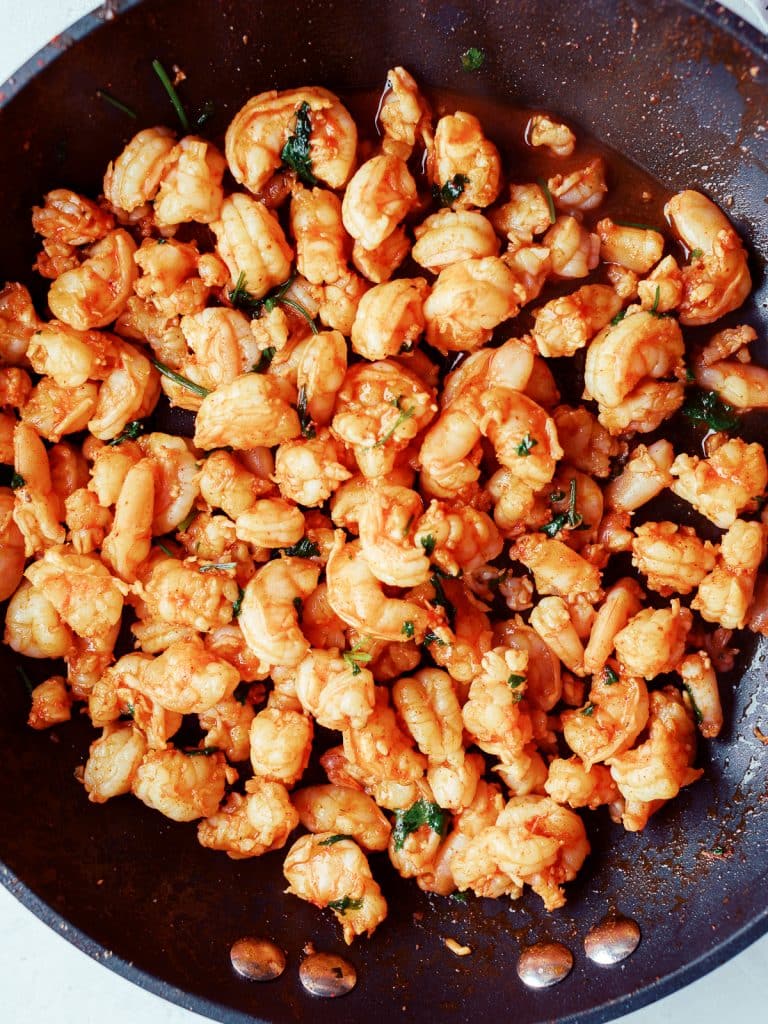 For this recipe I used 41-50 count shrimp, and gave them a light chop. This makes biting into them as lettuce wraps a lot easier.
Also, if you can get a hold of langostinos for this recipe, I HIGHLY suggest it. It's what a lot of restaurants use in lobster tacos or even lobster nachos.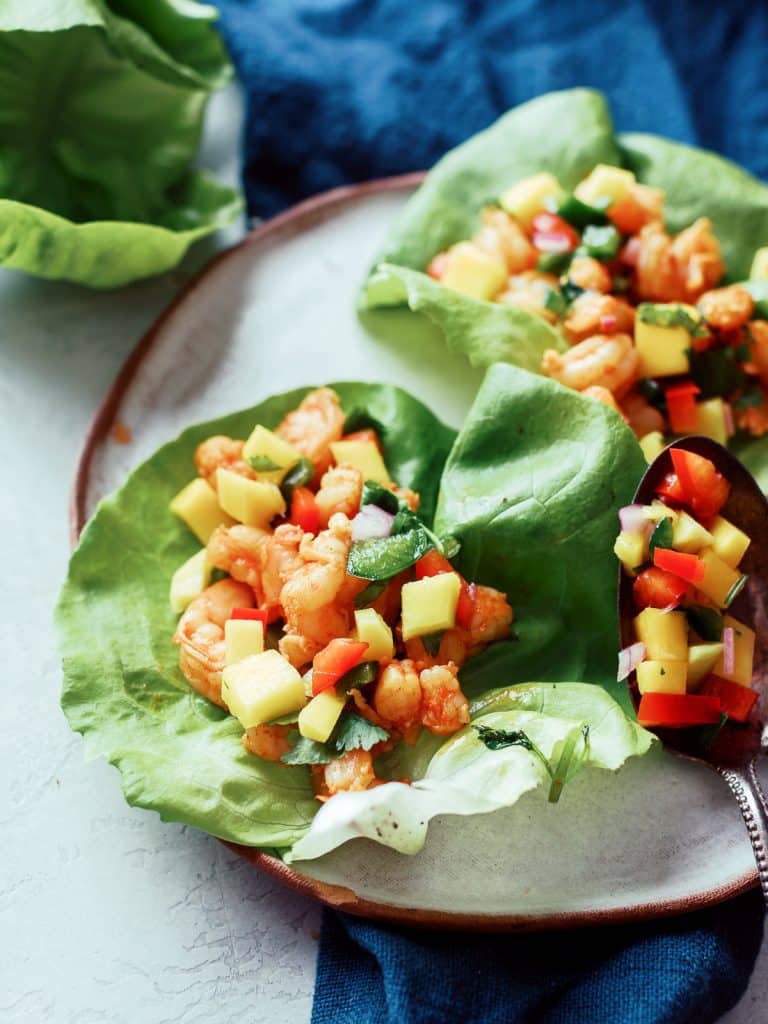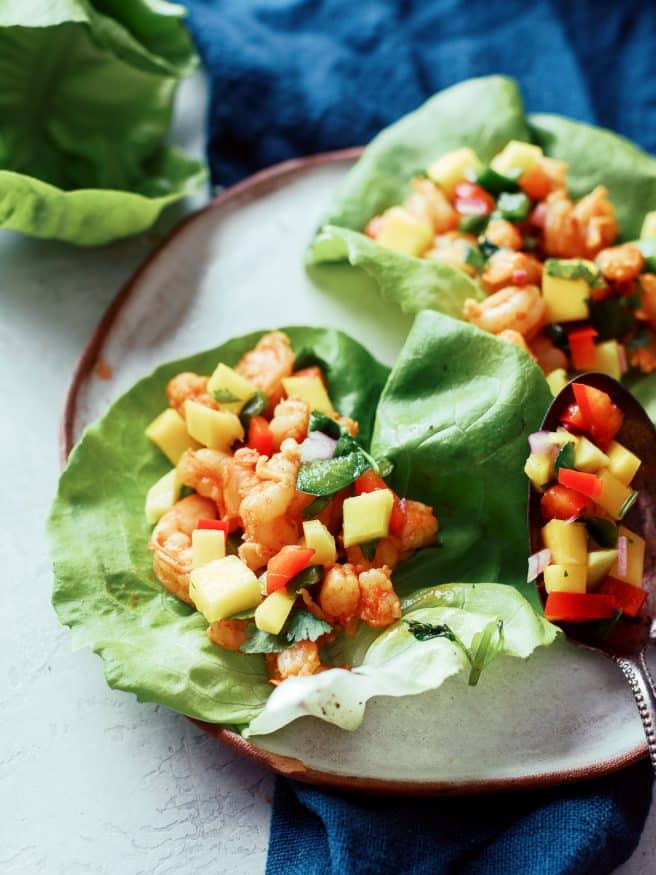 And for the mango salsa, I removed the seeds from the jalapeno, but if you're spicy fan, leave those seeds in! I normally leave seeds in, but for this recipe I just wanted to keep it light.
I also recommend making a double batch for leftover margarita shrimp lettuce wraps, or even as a margarita shrimp salad!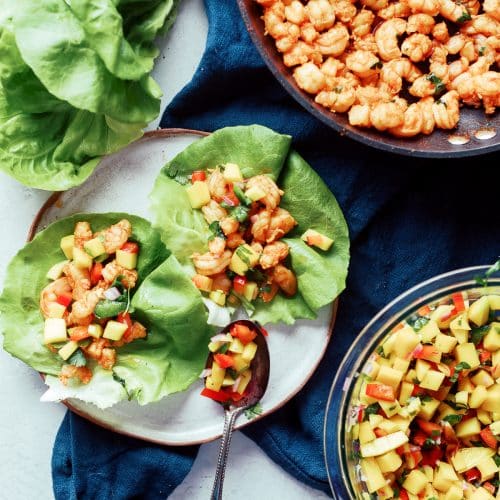 Margarita Shrimp Lettuce Wraps with Mango Salsa
Margarita shrimp for lettuce wraps served up with a beautiful mango salsa. This is an amazing lunch or dinner!
Print Recipe
FOR THE MARGARITA SHRIMP
1

lb

raw shrimp

41-50 count

1

oz

triple sec

1

oz

tequila

1

lime

juiced

1/2

tbsp

chili powder

2

tsp

paprika

1

tsp

cumin

1/2

tsp

salt

1

head

butter lettuce
FOR THE MANGO SALSA
2

mango

chopped

1/2

red bell pepper

1/2

red onion

1

jalapeno

1/4

cup

cilantro

1

lime

salt

to taste
FOR THE MANGO SALSA
Cut Your Mango in half along the side of the pit. With your halves, slice vertically, then horizontally making cubes.

Push the center of the mango from the skin side towards you so it makes all the cubs "pop" out, then with a spoon scoop out the mango and place in a bowl.

Chop red onion, red bell pepper, cilantro and jalapeno (with seeds removed) and add to the bowl. Squeeze lime juice in and stir; salt to taste.

Place in the refrigerator until ready to serve
FOR THE MARGARITA SHRIMP
Roughly chop shrimp and place in a zip top bag with triple sec, tequila and lime juice. Season with chili powder, paprika, cumin and salt. place in the refrigerator for 10 minutes.

With a pan on high heat, add 2 tbsp olive oil. Strain liquid from shrimp and place in the pan. Cook until opaque; about 5 minutes.

Serve along side butter lettuce and mango salsa for lettuce wraps. Enjoy!