This fried peanut butter and jelly sandwich is simple, yet so delicious.
Starting with the standard PB&J sandwich, pressed to look like an uncrustable, then fried to perfection.
Topped with some powdered sugar and it's a savory, sweet snack that is crisp on the outside, warm and gooey on the inside. This is the ultimate snack food!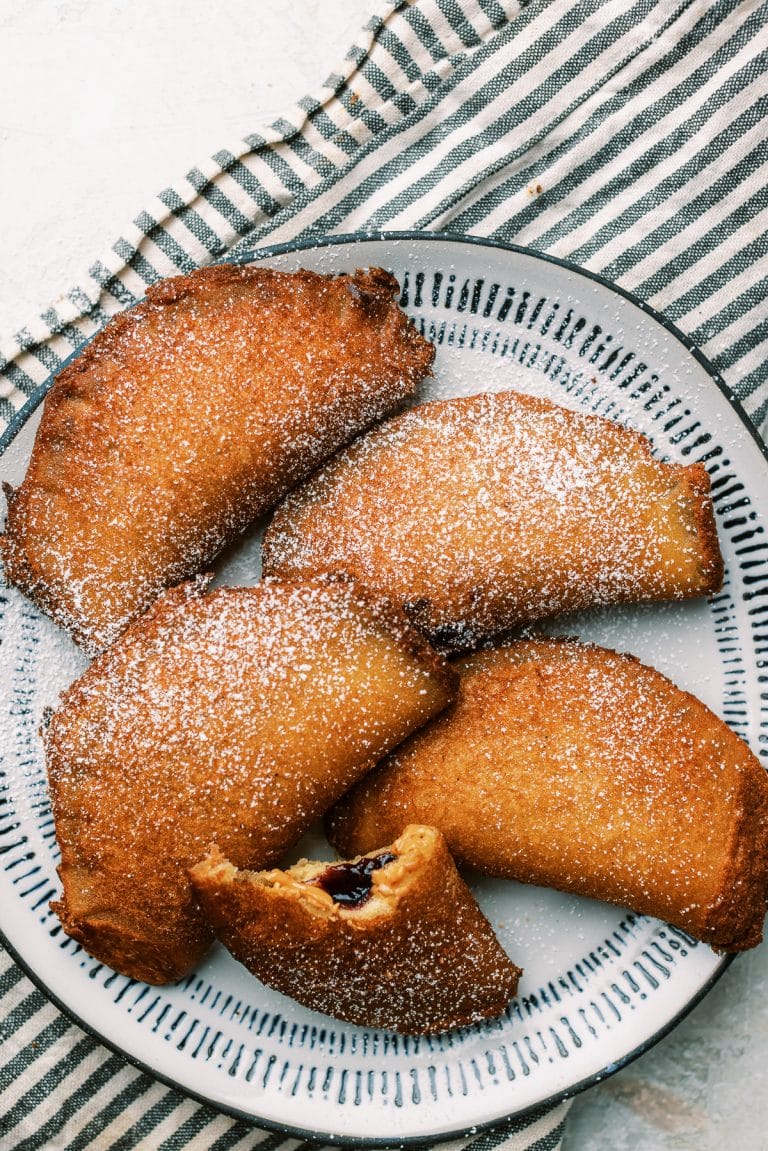 Equipment for a fried PB&J
So to put a fried peanut butter and jelly sandwich together, its not as hard as you'd think.
Roll out once slice of white bread as thin as it gets
Spread the peanut butter and jelly on each half of that clise
Crimp the sandwich shut with an empanada maker or some sort of uncrustable press
Fry until brown and serve
Or just check out my tiktok video if you need a quick rundown!
Fried Peanut Butter Jelly Sandwich Tips
For frying – you can go a couple routes. A deep fryer, a dutch, or a small frying pan/skillet. you might get away air frying, but results may vary
To press – I wound up using an empanada press, and it worked fine. I used it for my breakfast empanadas and figured this would do the trick for this idea.
But you may also have luck with an an actual sandwich press. Either one will for without a doubt.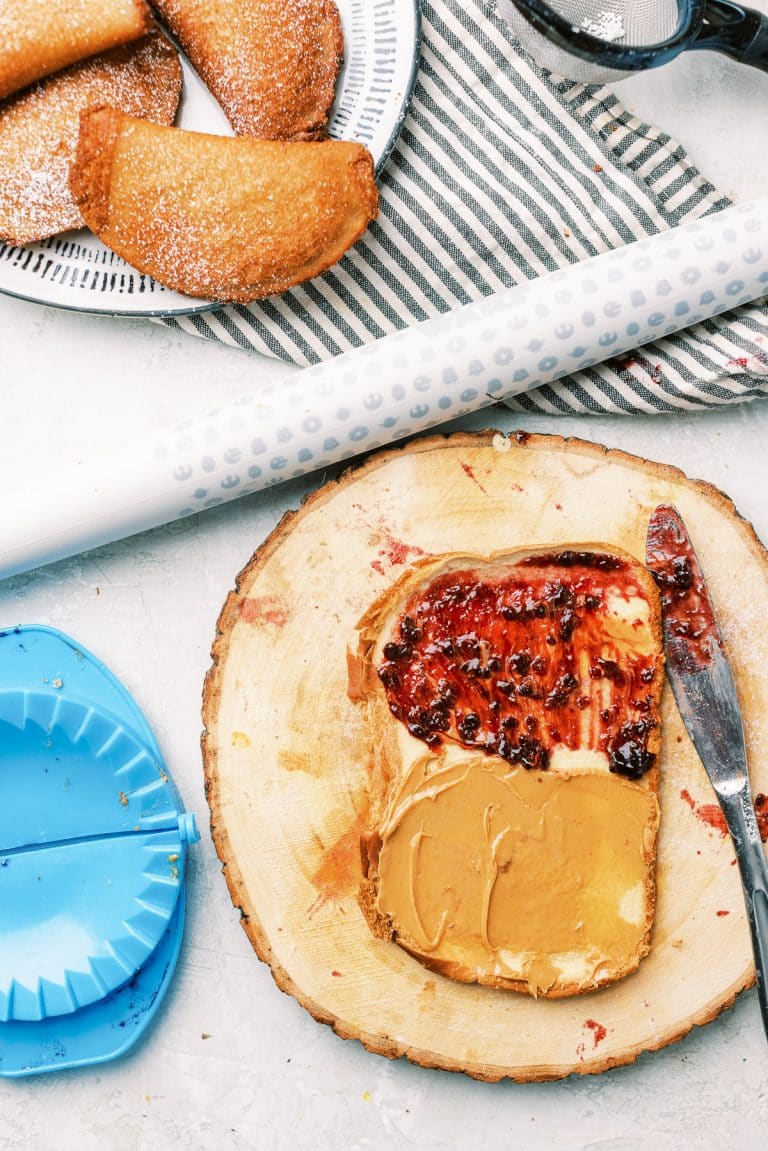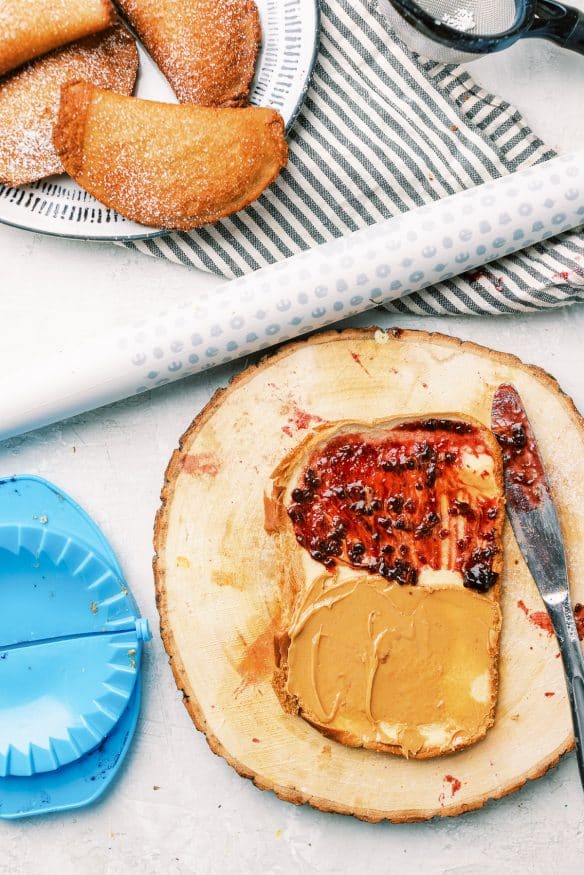 A couple notes on frying
Make sure your oil temp is ready before you begin frying. I made the mistake of not checking before my first test, and the fried peanut butter and jelly, because an oil-logged peanut butter and jelly
I'd shoot for a temperature for 350-400F for your oil. cooking oil, or even something like peanut oil will do perfectly for this.
I usually have a candy thermometer on hand to manage oil temperatures, but it doesn't pan out (#DadJoke) on shallower pans.
I highly recommend having a smalling frying thermometer on hand for shallower frying scenarios.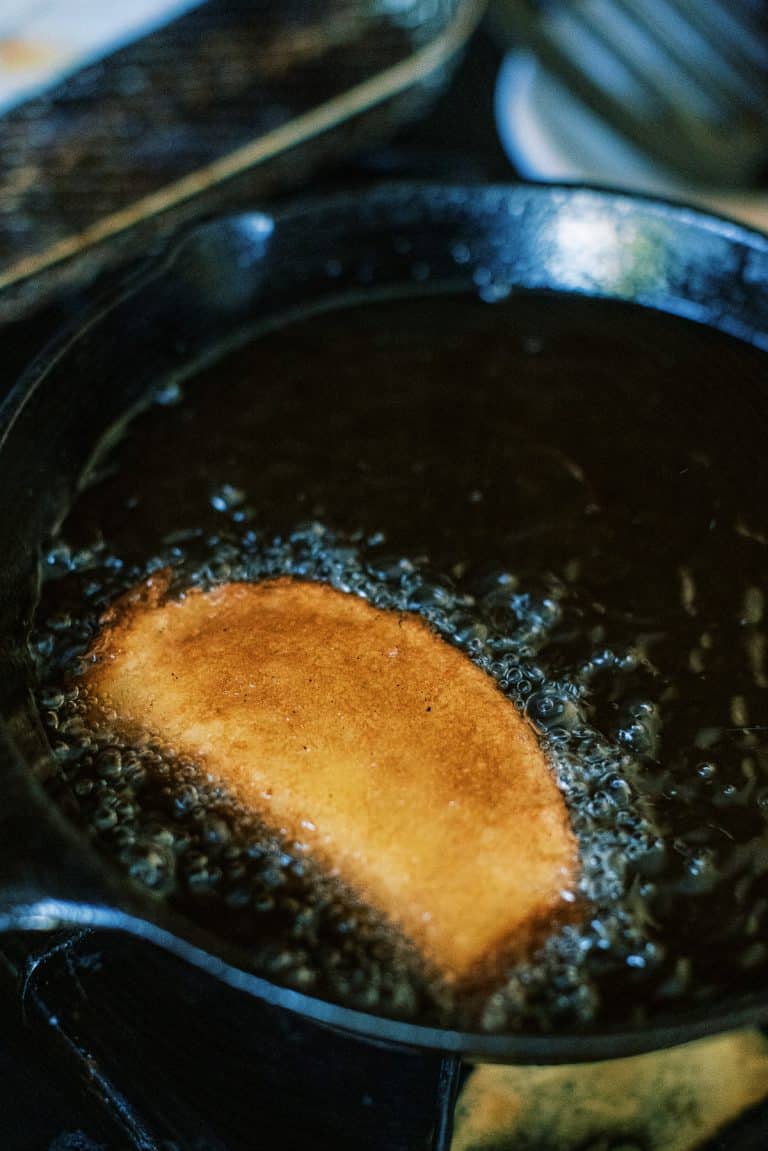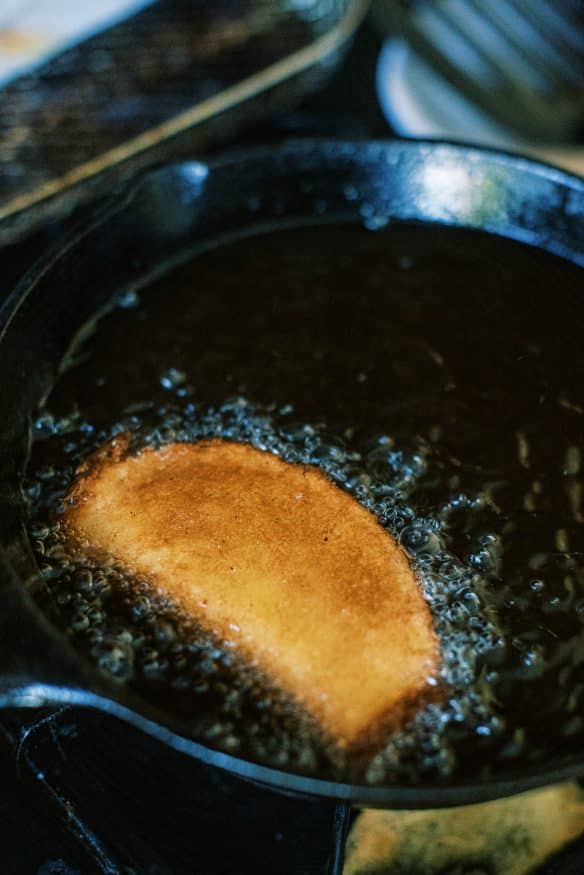 It does not take long to fry peanut butter and jelly sandwiches. If your oil is up to temp, it's going to take a 1-2 minutes MAX.
I didn't use enough oil to fully coat the PB&J, so I needed to flip half way. Just frying enough to get the sandwiches brown, and the insides will be nice and gooey.
But if you have one of those counter top deep fryers – I bet you'll be done in 60 seconds.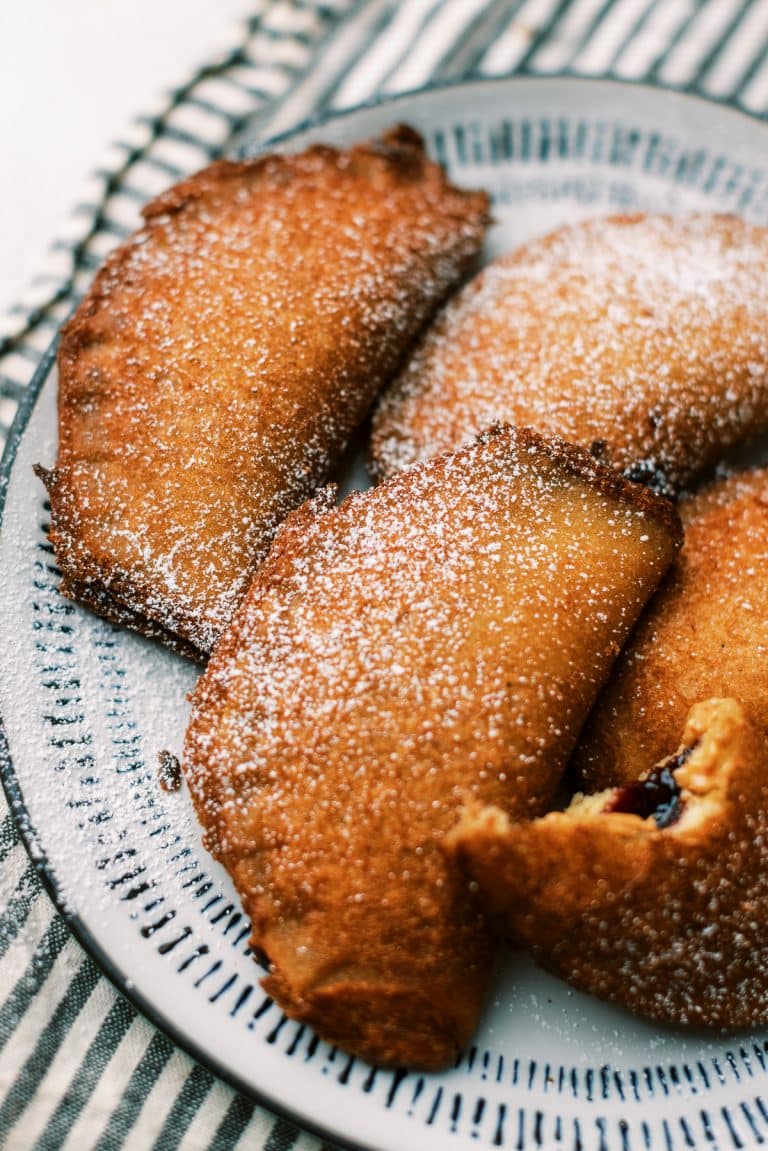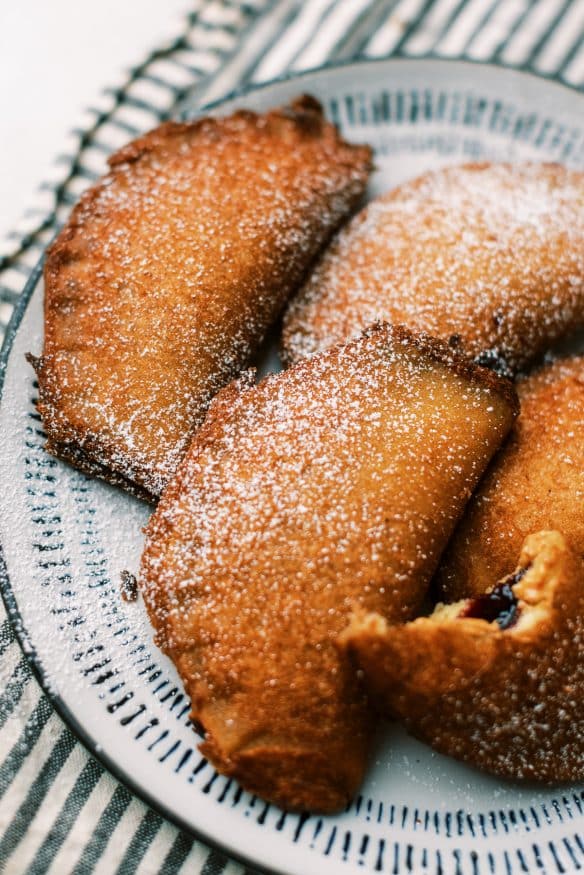 What's awesome about this it it keeps the crispiness even when cold. So if there are leftovers, these are awesome for breakfast, or even a fun lunch to pack for the kids.
But manage those kids expectations. Put a fried peanut butter and jelly sandwich in the lunch bags once, and they'll expect them again!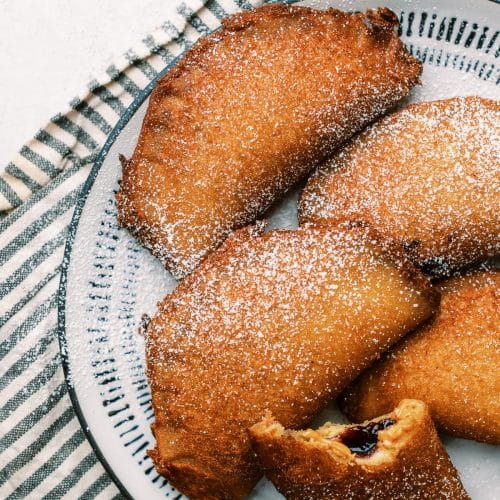 Fried Peanut Butter and Jelly Sandwich
It's crispy – savory and sweet. Fried peanut butter is a must try!
Print Recipe
4

slices

white bread

1/4

cup

peanut butter

1/4

cup

jelly

1

tbsp

powdered sugar

2

cups

cooking oil
preheat a cast iron skillet or fryer to 375 F.

Flatten your bread with a rolling pin, spread half the slice of bread with peanut butter, the other half with your favorite jelly.

Fold in half and crimp the edges. Optionally you can use a tool like an empanada press or an uncrustable maker.

Fry for about 1-2 minutes until golden brown flipping halfway if not fully submerged.

Let it cool on a wire rack for acouple minutes; sprinkle with powdered sugar and enjoy!
Calories:
290
kcal
|
Carbohydrates:
32
g
|
Protein:
6
g
|
Fat:
16
g
|
Saturated Fat:
2
g
|
Trans Fat:
1
g
|
Sodium:
204
mg
|
Potassium:
150
mg
|
Fiber:
2
g
|
Sugar:
15
g
|
Vitamin A:
1
IU
|
Vitamin C:
2
mg
|
Calcium:
76
mg
|
Iron:
1
mg