Finadene sauce is a chamorro, or guamanian condiment that is spice, tangy and out of this world. If you're into trying new things and love heat, this is a must try!
Finadene sauce is a Chamorro condiment that is spicy, tangy, and full of umami. Its a vinegar and soy sauce, that can go over a whole assortment of dishes.
Its incredibly easy to prepare. Lasts forever, and if you're into trying new things, this is something you need to put on your list!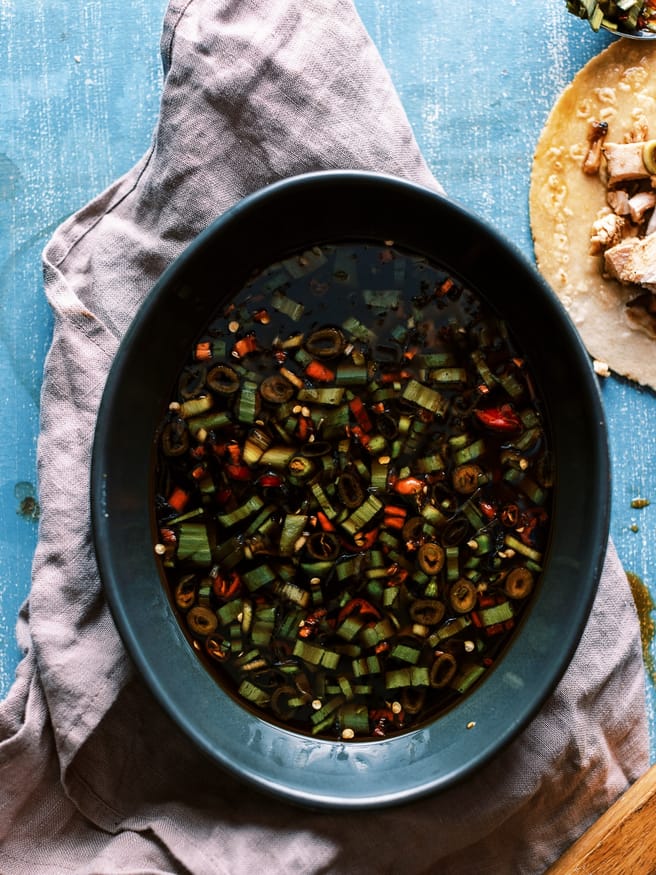 What is Chamorro/Guamanian Cuisine?
If you're not familiar with the term Chamorro, it describes a people who are from the Mariana Islands. Guam and Micronesian islands primarily.
Chamorro cuisine has various influences from Spain to the Philippines. A lot of food revolves around Coconut as well. One of my favorite dishes is a fruit salad my grandmother would make with canned coconut cubes in it.
When I think chamorro food, I think savory, spicy, and coconut. If you do a search for chamorro food you'll see dishes like:
red rice
bbq short ribs
whole roasted pork
guyuria cookies
lumpia
and many other delicious dishes. All that finadene make a perfect sauce to pour all over!
What is finadene?
Finadene (or fina'denne')is a sauce/condiment/side that I grew up eating at my Guamanian grandmothers house. It's meant to be poured over traditional Guamanian/Chamorro dishes like red rice, kelaguen, and anything else your heart desires.
The basic ingredients are simple:
Soy Sauce
Lemon Juice or Vinegar
Chile Peppers
Green Onions
You can also add white onion, I've seen other variations with tomato in it as well, but I suggest start with the basics and tweak to your liking.
What Peppers for Fina'denne' sauce?
The type of chili pepper you want is all up to you. If you want to keep this dish true to its origin and fine a guamanian chili pepper like the Guam Boonie Pepper, you'll need to probably grow them but if you do – send me some!
If not, something like a thai chili or a cayenne chili pepper will have the right amount of heat that is close to what I remember growing up.
But go ahead and add whatever pepper you'd like to make it burn to your liking!
How far ahead to make it?
You can make finadene, and eat immediately if desired. For peak freshness you'd want to enjoy 1-2 days within preparing.
Ultimately finadene sauce will last in the fridge about 2-3 weeks. But I doubt you'll have it around for that long its that good!
Since there's a good amount of acid in this dish, you'll notice a change in texture of your onions, and the brightness from the lemon will fade.
BUT – The heat will increase so there's a give and take. You can always add fresh onion and a squeeze of lemon juice to freshen it up a bit too.
And speaking of lemon.
I'd recommend a 50/50 blend of soy sauce to vinegar (in the video I show it differently, but its for illustration).
Vinegar can be used, but it's more as a backup plan that anything else.
What to use finadene for
So you've made your finadene. Now what?
Staples for this condiment for me are the following:
red rice
Grilled Fish
Tacos
Marinade for skewers
I enjoy sharing chamorro/guamanian dishes since it's not widely known. I hope you venture out and give this a shot.
If you do let me know what you thought!
Chamorro Finadene Sauce
Finadene sauce is a chamorro, or guamanian condiment that is spice, tangy and out of this world. If you're into trying new things and love heat, this is a must try!
Print Recipe
Ingredients
1

cup

lemon juice

vinegar can be substituted

1

cup

soy sauce

1

cup

green onion

6

thai chilis

2

fresno peppers
Instructions
In a bowl combine lemon juice and soy sauce, thinly slice green onions and peppers and add to the bowl.

Let it sit in the fridge for about 2-3 days before serving for best results. Cherry tomatoes and white onions can also be added if desired. Enjoy!
Nutrition
Calories:
120
kcal
|
Carbohydrates:
20
g
|
Protein:
14
g
|
Fat:
1
g
|
Saturated Fat:
1
g
|
Sodium:
6490
mg
|
Potassium:
575
mg
|
Fiber:
3
g
|
Sugar:
7
g
|
Vitamin A:
756
IU
|
Vitamin C:
95
mg
|
Calcium:
67
mg
|
Iron:
4
mg