Cacio e pepe with chicken cutlets is a sure-shot winner for a great dinner. And if you pre-bread your chicken cutlets this can be a great weeknight dinner to serve up!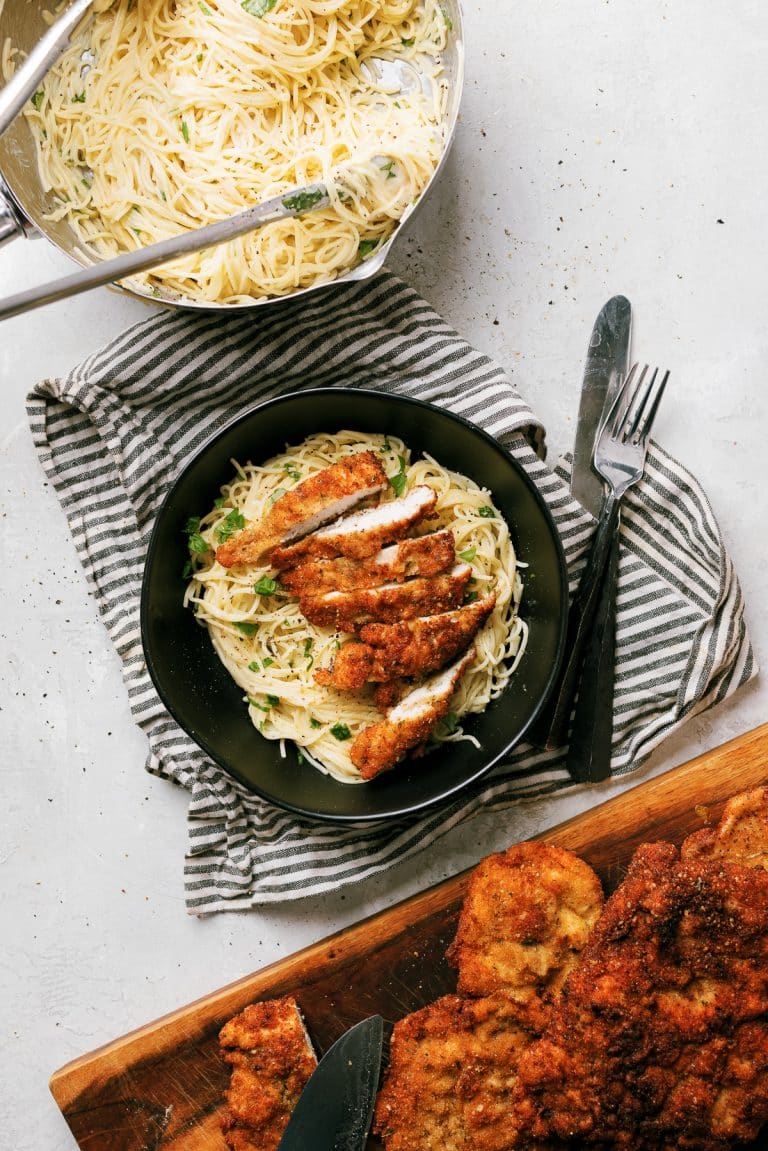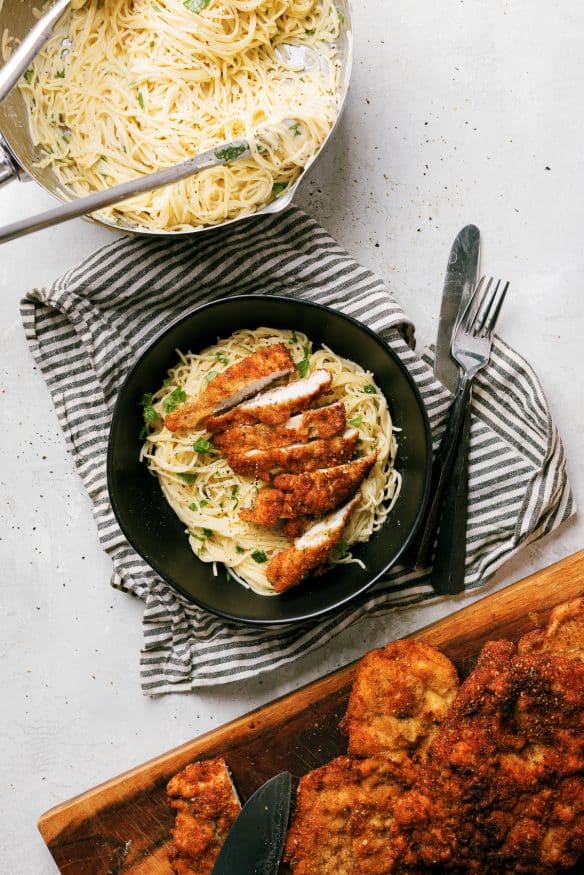 Both my kids are angel hair pasta fanatics, and while I have no problem heating up a box of pasta roni, I wanted to get a home made pasta dish put on the table.
And I mean, cacio e pepe is almost as quick and easy to make as a box of pasta roni.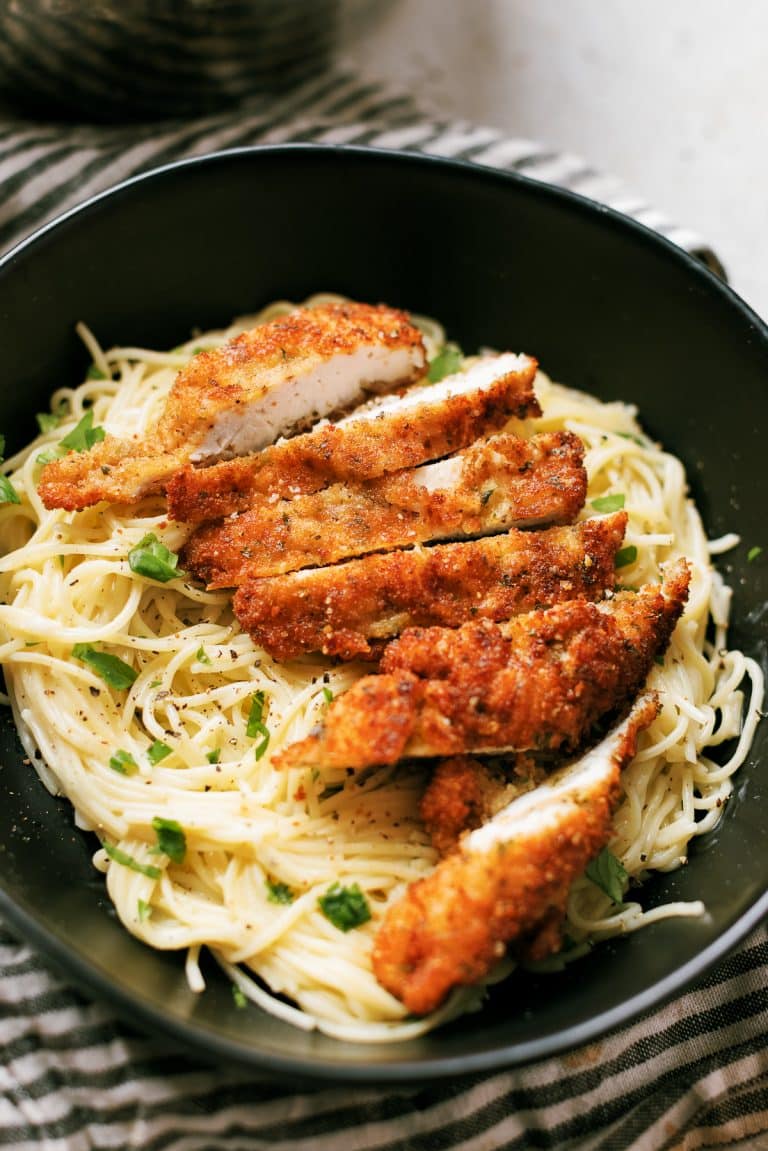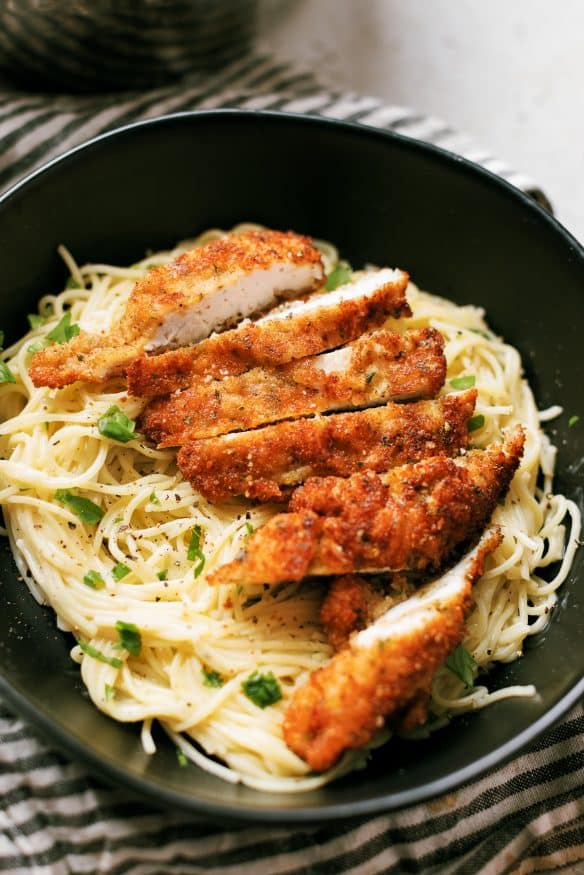 And to serve this up with some home made chicken cutlets, really turns this into a hearty well rounded meal. Only thing its missing is some veggies.
Wait. Basil is green. that's a veggie right?!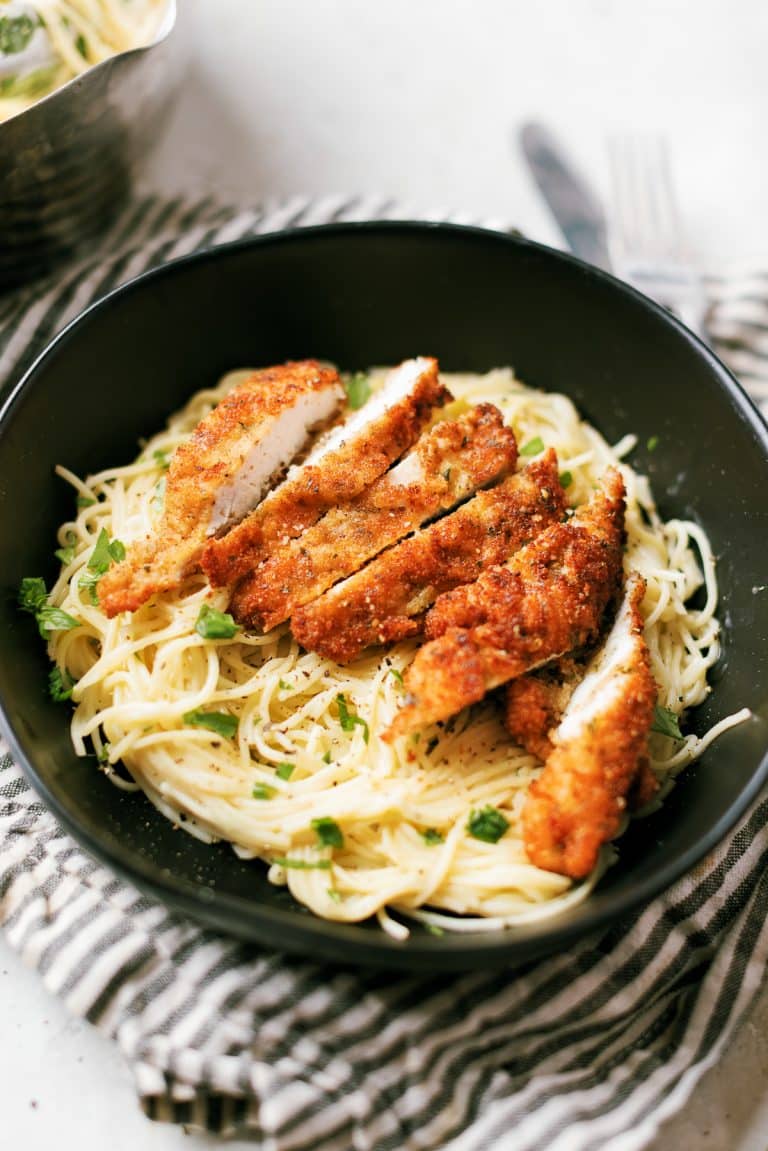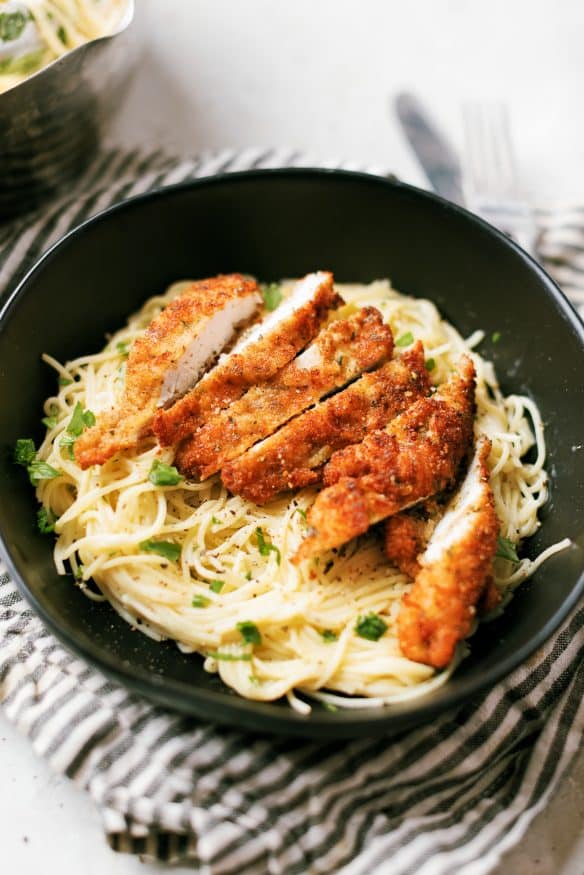 Like it said earlier, if you want to make this a quicker to make meal, prepare your chicken cutlets the night before so that they're ready to fry up.
I also like to set my oven to the lowest temp (140-160F if possible) and use as a warmer and place each chicken cutlet in there while everything else is getting prepped.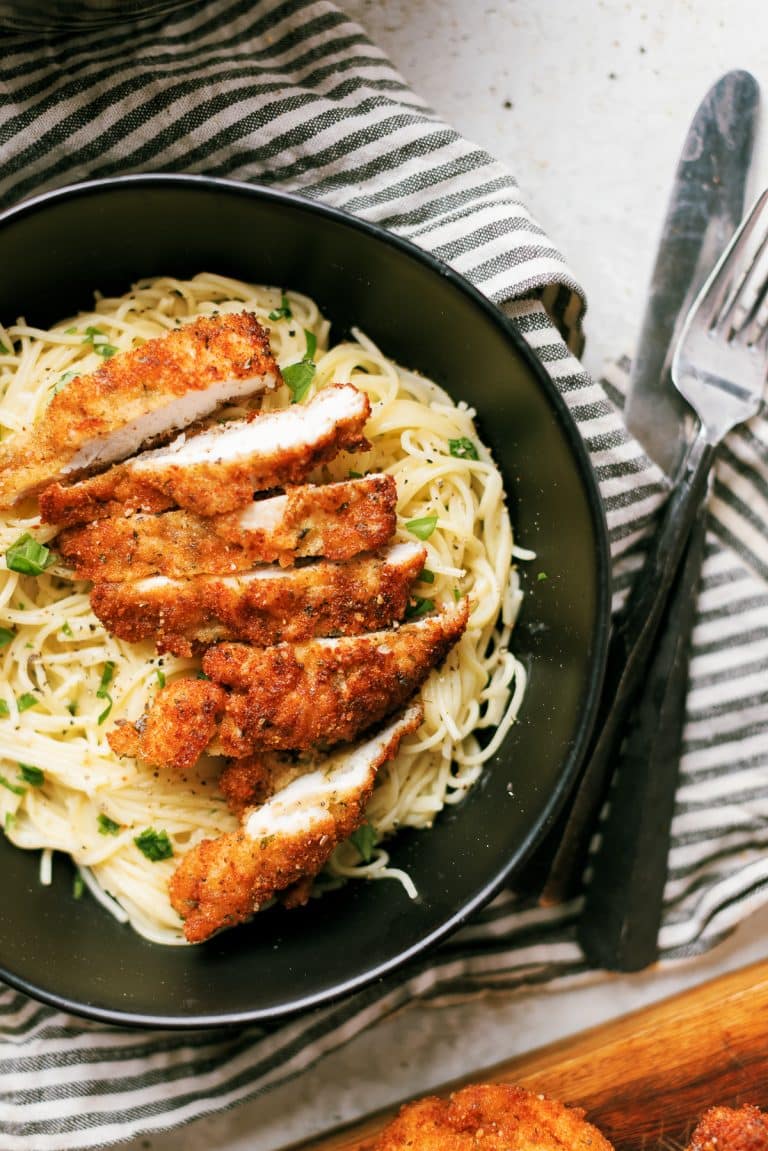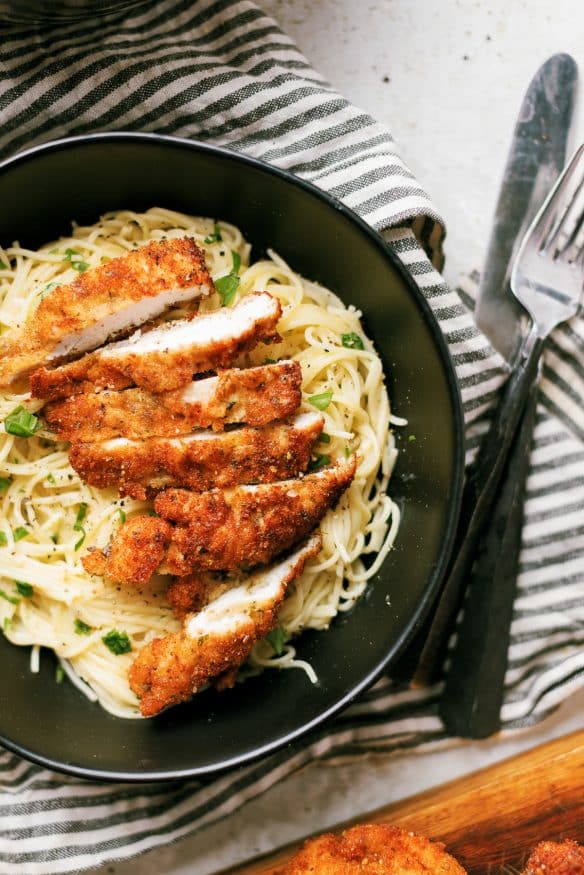 The crispy crust on the chicken cutlets with Italian seasoning, really complements the cacio e pepe. It's almost like they were meant to be eaten together all along!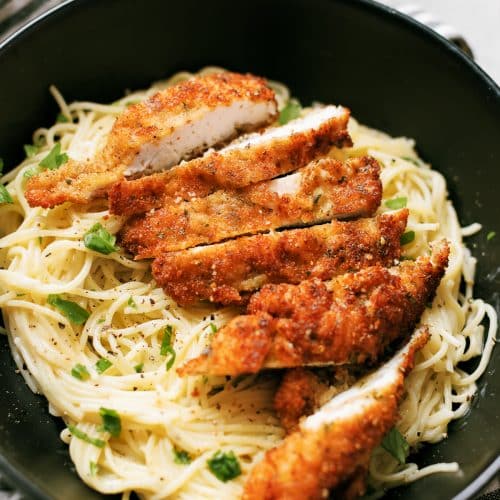 Cacio e Pepe With Chicken Cutlets
Cacio e pepe with pecorino Romano cheese topped with Italian seasoning breaded chicken cutlets – Italian comfort food at its best!
Print Recipe
FOR THE CACIO E PEPE
8

oz

pasta

4

tbsp

olive oil

4

tbsp

butter

4

oz

pecorino Romano cheese

finely grated

1

tsp

coarse ground pepper

more to taste

4

tbsp

pasta water
FOR THE CHICKEN CUTLETS
Preheat skillet with oil to 350F. butterfly and cut your chicken in half so you have 4 thinly sliced breast. Pound each so they're about 1/4 inch thick.

Place flour, eggs and Italian seasoned breading (with the parmesan cheese) in 3 separate bowls.

Thinly coat each cutlet in flour, egg wash, then bread with Italian breading. Make sure chicken cutlet is completely covered in the breading. Fry until internal temperature reaches 160F; about 5-7 minutes.

Store in oven at 160F until cacio e pepe is done.
FOR THE CACIO E PEPE
Boil a pot of water with salt and cook pasta until done; while the pasta is boiling, heat 3 tbsp. olive oil and pepper in a pan over medium heat.

Add a couple tablespoons of pasta water over to the pan with oil and pepper and add butter. Drain pasta, and place in the to pan with oil and pepper; stir in butter.

Add finely grated pecorina Romano cheese and turn off heat; stir until cheese is complete melted. season with a little more salt and pepper to taste and add some freshly chopped basil.

Portion pasta out, and top with sliced chicken cutlets; garnish with more Romano and fresh basil and enjoy!
Calories:
759
kcal
|
Carbohydrates:
26
g
|
Protein:
40
g
|
Fat:
55
g
|
Saturated Fat:
18
g
|
Trans Fat:
1
g
|
Cholesterol:
165
mg
|
Sodium:
1802
mg
|
Potassium:
720
mg
|
Fiber:
2
g
|
Sugar:
4
g
|
Vitamin A:
859
IU
|
Vitamin C:
6
mg
|
Calcium:
396
mg
|
Iron:
3
mg