Balsamic Steak and Vegetables (KETO FRIENDLY)
Balsamic steak with grilled tomatoes asparagus and any vegetables your heart desires.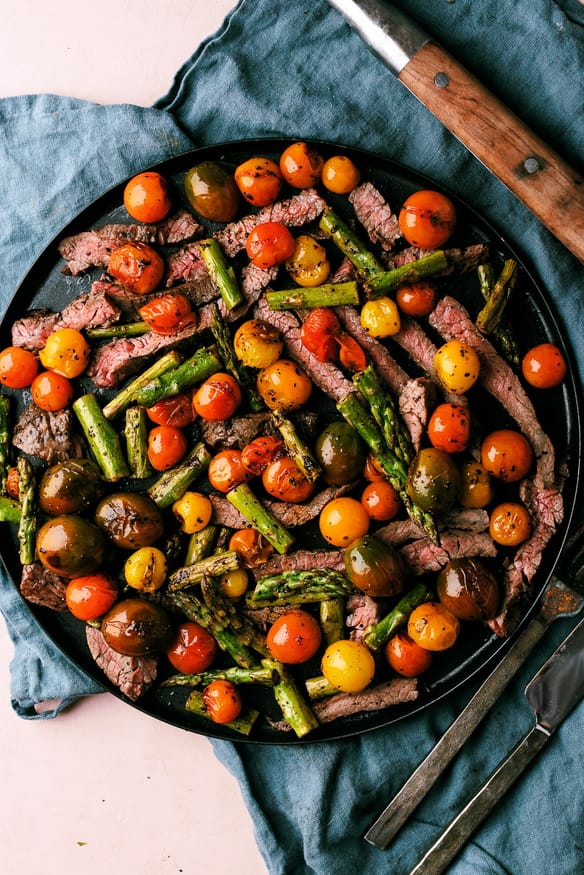 When I think of balsamic steak and vegetables, it sounds like a summer dish. But here we are, in the middle of November, with a bright and vibrant vetables sauteed in a balsamic dressing, place over a flank steak grilled to perfect.
Why? Keto.. Thats why..
Don't let the cold months hold you back. If you're feeling like a grilled dinner, make a grilled dinner? Too cold outside bust out the cast iron skillet and char away my friend! This is a light and satisfying meal that will break up the heaviness of all of our favorite fall comfort foods.
And because I love to torment myself, I went back on the keto diet, before I get out of control heading into peak of eating months, but this is darn good and don't mind the low carbs whatsoever!
And to keep the family carbo loaded, this is a perfect meal to serve along side some smashed potatoes!
So for the steak I like to go with, flank, flat iron, skirt, or flap meat. These cuts are thin, have plenty of marbling which makes for a nice juicy steak.
Give it a dry bring for a couple hours, season with my Makes Beef Better seasoning, then here's the real trick part of this.
Toss it in a 50/50 blend of olive oil/balsamic vinegar
That's it
I know this is a hard one folks. But it's SOO GOOD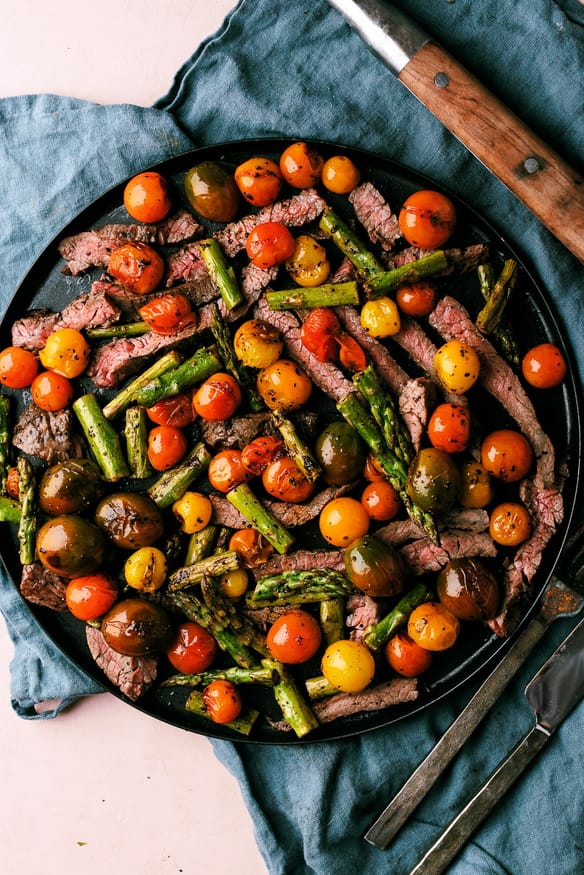 This can even be done in the oven on a single sheet pan, I'd set the oven to about 400 and let it cook for about 20 minutes or until your internal temperature is at your desired doneness. 145F is my target for medium to medium rare.
155-160F will get you closer to well done if you're not a fan of the pink center – which is what I have to shoot for on my wife's cuts.
You get a lovely combo of the tangy full flavor of the balsamic vinegar, with a nice lucious mouth feel from the fat of the olive oil and steak.
Like I said before, balsamic steak and vegetables may not be your idea of a fall/winter dish. But, if you're in the same boat as I am and trying to keep that winter coat to minimum this is the perfect low carb meal.
Balsamic Steak and Vegetables
Balsamic steak with grilled tomatoes asparagus and any vegetables your heart desires.
Print Recipe
Ingredients
2

lbs

flap meat

flank or skirt will work too

1/2

lb

asparagus

cut into 2 inch pieces

1/2

lb

cherry tomatoes

1/2

red onion

sliced *optional (not pictured)

1/3

cup

olive oil

1/3

cup

balsamic vinegar

4

cloves

garlic

1

tsp

kosher salt

1

tsp

cracked black pepper
Instructions
Preheat grill to 450, Season steak with salt an pepper

Cut asparagus into 1-2 inch pieces. place in a bowl with tomatoes and sliced red onions. Toss in olive, vinegar onion and minced garlic cloves.

Grill veggies on a vegetable tray and flap meat over direct heat – reserve any extra olive oil and vinegar from bowl.

Grill steak until internal temperature reaches desired doneness, and vegetables are nice and charred (about 15-20 minutes)

Slice steak against the grain top with charred vegetables and remaining oil and balsamic vinegar and serve
Nutrition
Calories:
520
kcal
|
Carbohydrates:
10
g
|
Protein:
51
g
|
Fat:
30
g
|
Saturated Fat:
7
g
|
Polyunsaturated Fat:
2
g
|
Monounsaturated Fat:
18
g
|
Cholesterol:
136
mg
|
Sodium:
715
mg
|
Potassium:
1068
mg
|
Fiber:
2
g
|
Sugar:
6
g
|
Vitamin A:
706
IU
|
Vitamin C:
18
mg
|
Calcium:
82
mg
|
Iron:
5
mg