This post is sponsored by California Walnuts. All opinions are my own.
This Walnut Queso Dip is a light and healthy way to get your snacking on! It's a great alternative to standard queso dip, plus it's got a beautiful creaminess to it.
Perfect for dipping or pouring over your favorite foods!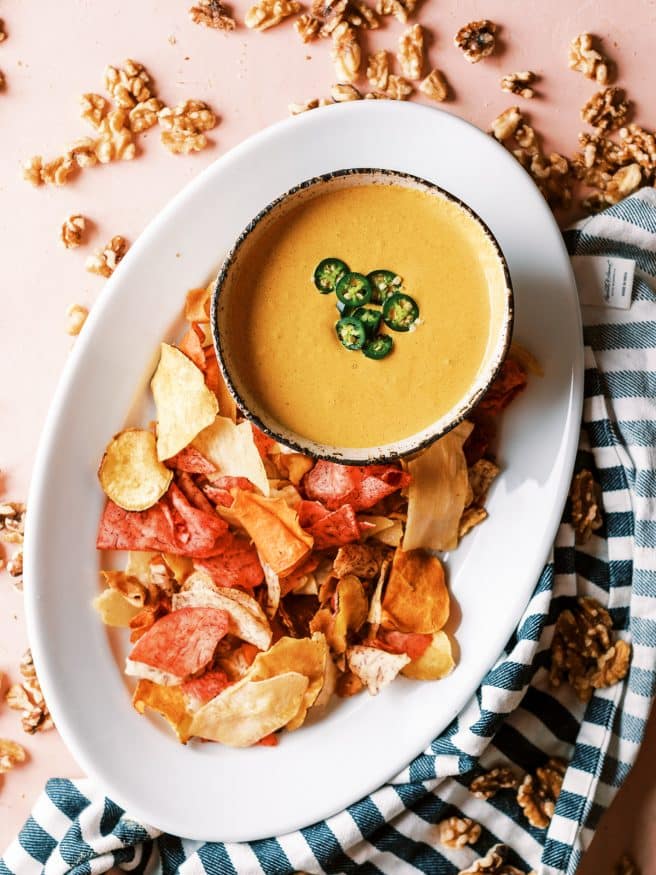 I am making my favorite easy to make queso, with one exception. There is no queso. While I love cheese, using a plant-based alternative like walnuts offers a variety of nutrition!!
This recipe is SUPER simple to make. Walnuts, water, some canned hatch chiles and a little seasoning.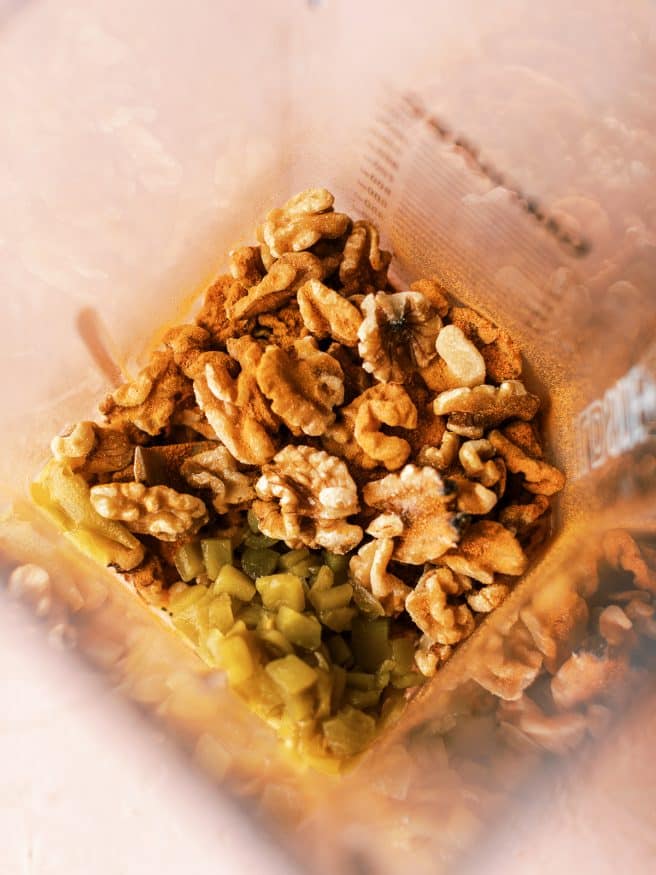 It's smooth, creamy and an amazing alternative to the cheesy stuff.
"Why would I want to replace my cheesy queso with this walnut queso?", you ask?
Well, for one, a one-ounce handful of walnuts delivers 4 grams of plant-based protein and 2 grams of fiber that will keep you feel satisfied until your next meal.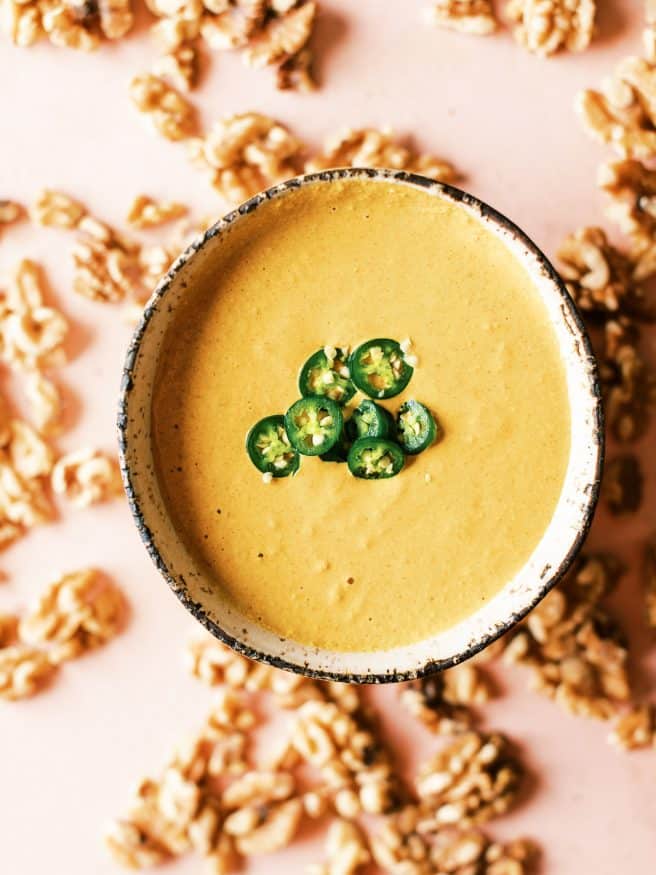 Staying satiated is a huge factor in preventing mindless snacking all day!
And if you are going to have a food that has fats in it, you may as well go for walnuts which are the only nut rich in omega-3 ALA (2.5g/oz).
"Yeah, but what's ALA?" So many questions from you today!
Alpha-linolenic acid is a type of omega-3 fatty acid that comes from foods like walnuts. There are a lot of heart and brain health benefits to adding it to your diet, and it can also help reduce inflammation!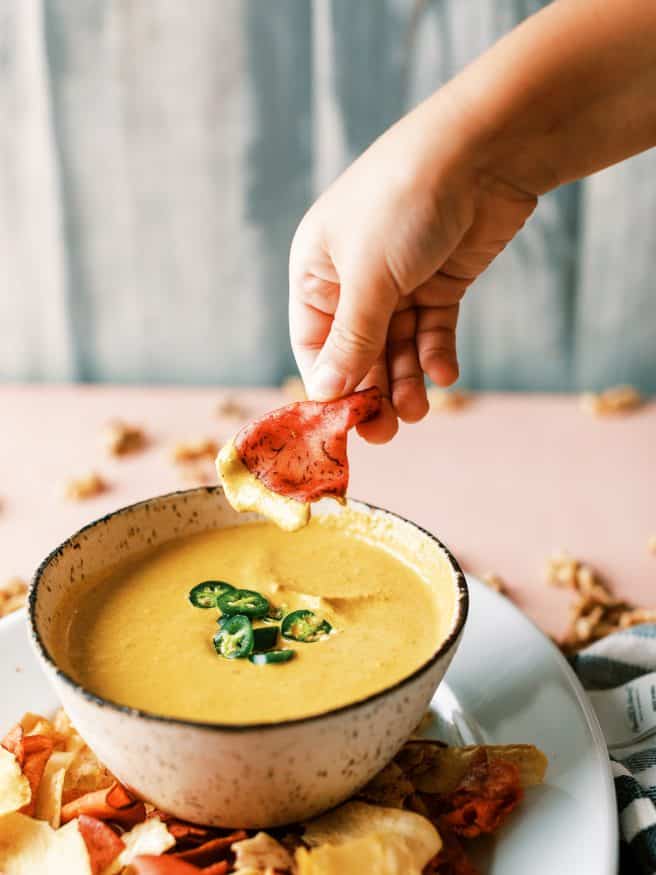 Now, while I am all about cheese-based queso, I'm always down to add some health benefits like these to my diet and still indulge.
And this walnut queso dip is just that. Indulgent. It's smooth and velvety, with a little heat from the seasoning and canned hatch chiles.
And to give it a little "pop" I threw turmeric in to give it a yellow hue. Plus, if we are going nutritious with this, you can't not add some turmeric, right?!
If you are looking for a pant-based alternative than off-the-shelf queso dip, or just something that's more nutritious, you need this recipe in your arsenal.
Grab your blender and blend away those beautiful fatty walnuts and dip your favorite chip or veggie into this walnut queso dip. Or better yet. Smother it all over some carnitas tacos.
Because why not have the best of both worlds?!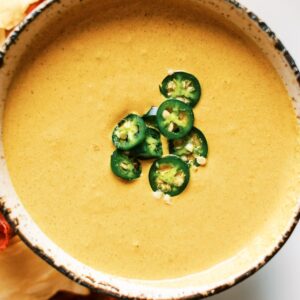 Walnut Queso Dip
This Walnut Queso Dip is a light andhealthy way to get your snacking on! It's a great alternative to standard queso dip, plus it's got a beautiful creaminess to it. 
Print Recipe
1 ¼

cup

walnuts

1 ½

cup

water

3

tbsp

diced canned green chiles

1 tbsp separated.

½

tsp

kosher salt

1

tbsp

turmeric

1

tbsp

elote seasoning

or taco seasoning if you have it
Puree walnuts, water turmeric, salt and elote (or taco seasoning) in a blender or food processer until creamy. Add more water if needed to reach your desired consistency.

Add 1 tbsp of green chiles for more heat and texture if desired. Serve warm or cold with your favorite dipping companions!
Calories:
245
kcal
|
Carbohydrates:
6
g
|
Protein:
6
g
|
Fat:
24
g
|
Saturated Fat:
2
g
|
Sodium:
297
mg
|
Potassium:
205
mg
|
Fiber:
3
g
|
Sugar:
1
g
|
Vitamin C:
1
mg
|
Calcium:
42
mg
|
Iron:
2
mg