This is the way mornings were meant to start! Sunny side up egg with sriracha ketchup, quick guacamole and bacon all in a bagel thin sandwich.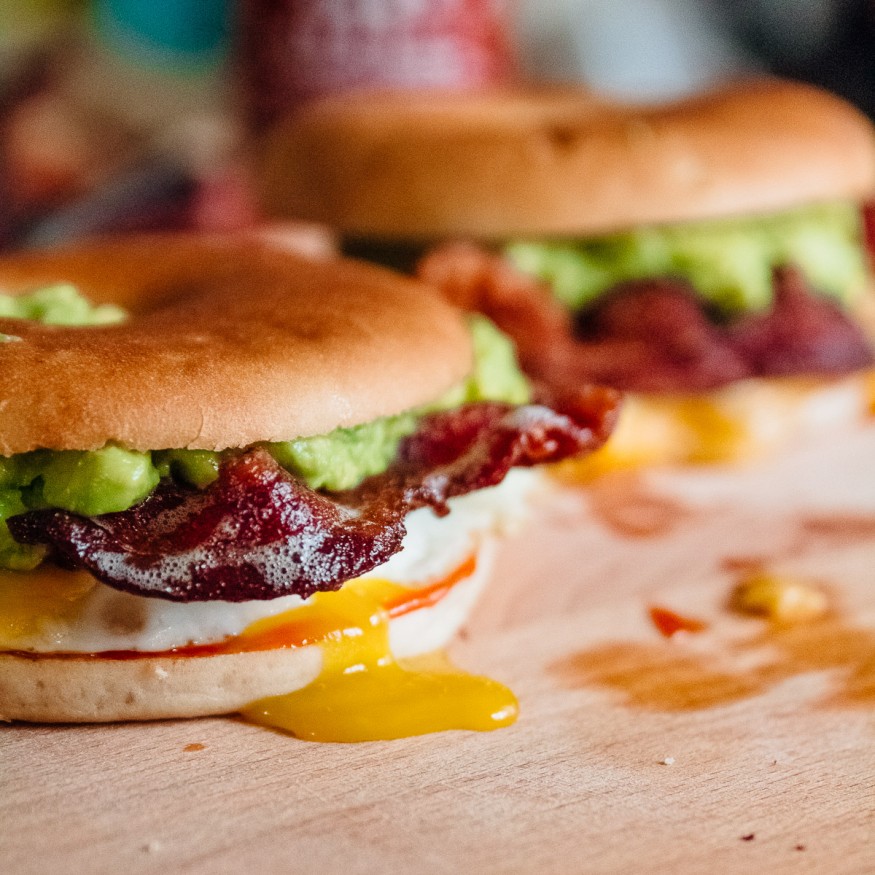 I never knew how much egg's I would go through in a week now that I have a family to cook for. I could make an 12 pack of eggs last me a week easily in my single days. Now a 12 pack is gone in 2 days in a family of three.
But have you seen the price of eggs lately? An 18 pack in California right now is about 4 dollars for store brand –  5 or 6 dollars if you want the organic/cage free stuff!
That adds up quick for breakfast. One thing I like to do to make my eggs last a little longer is to make breakfast sandwiches. Better than my breakfast waffle sandwich is this Ultimate Breakfast Bagel!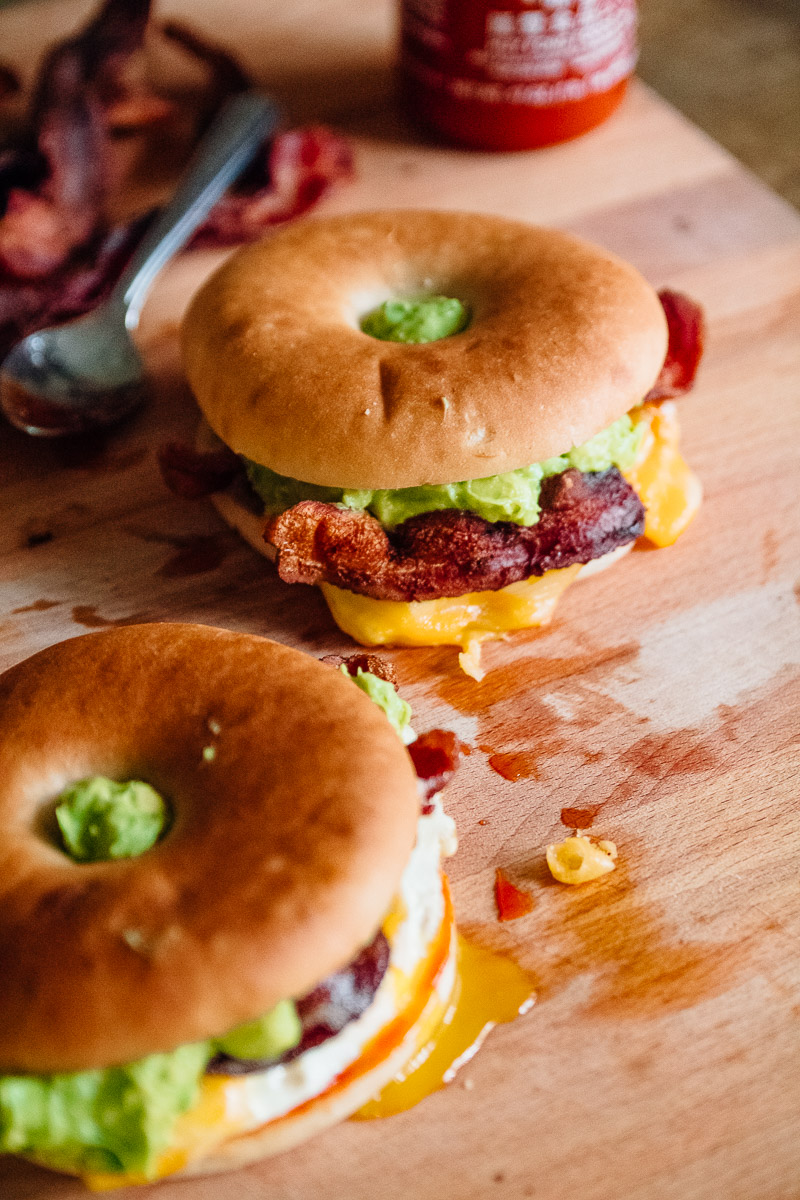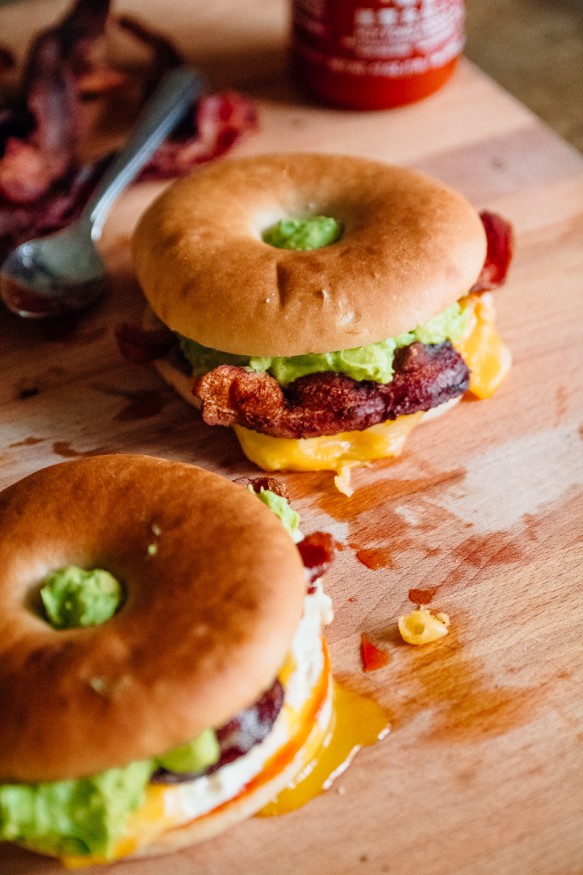 Making breakfast sandwiches cuts down our egg consumption in half, instead of 2 eggs per person, I can get away with 1 egg, and add things like bacon, avocado, tomatoes and of course cheese to make sure everyone has plenty of energy to get through the day!
Another great way to do a bagel breakfast sandwich is a French Toast Bagel Breakfast Sandwich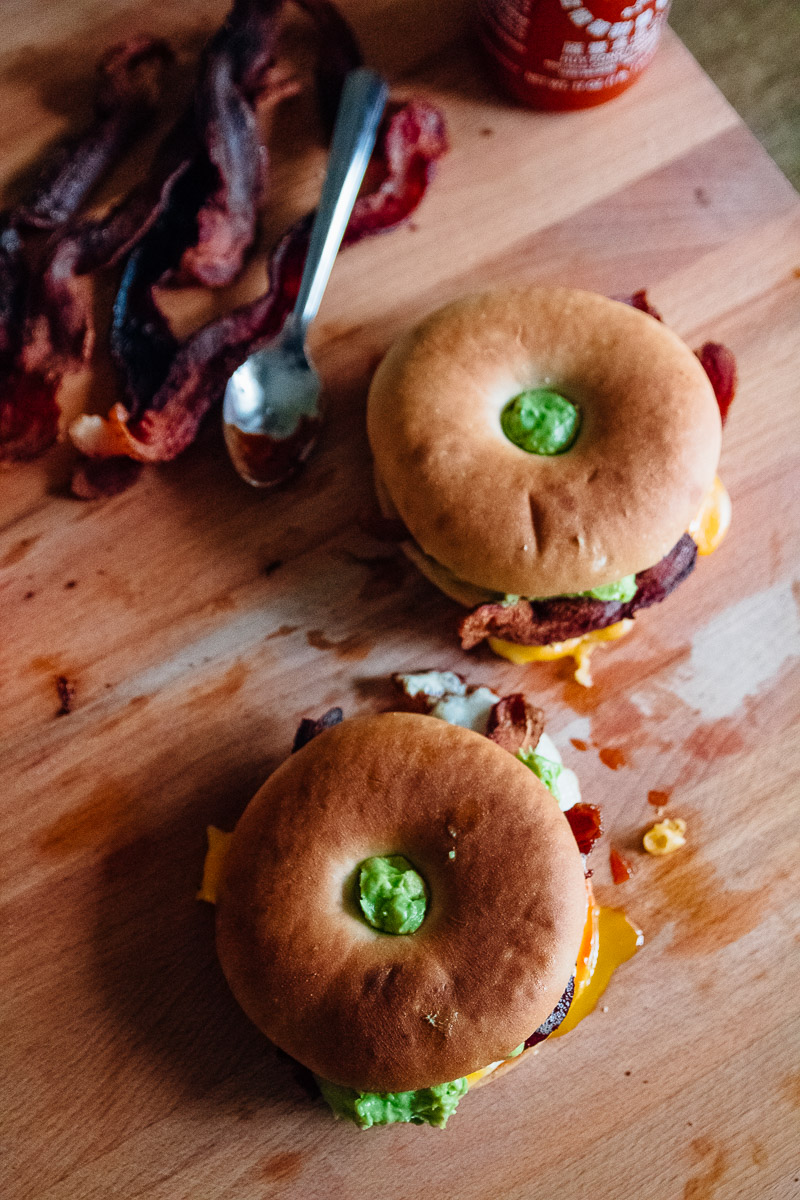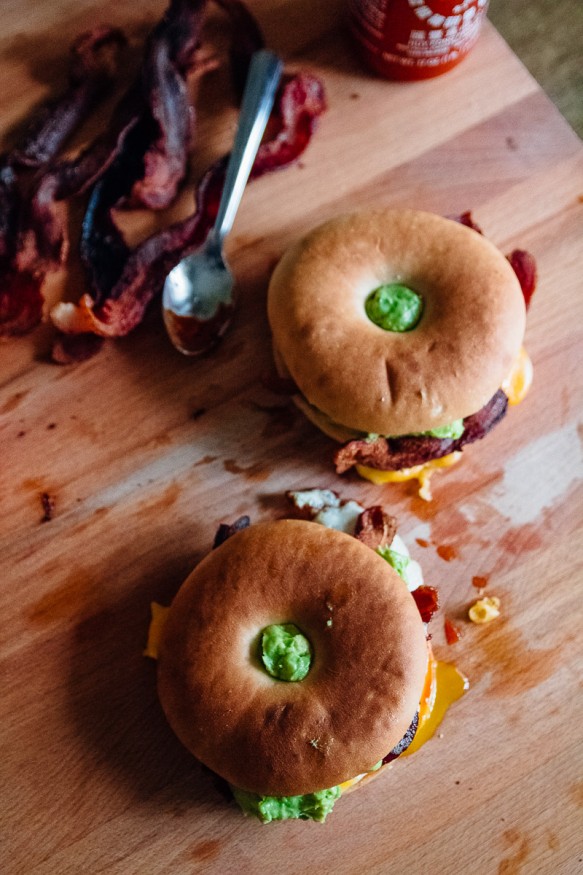 Using bagel thins, instead of regular sandwich bread also goes a long way, giving a different texture and flavor that really makes breakfast a little more special in the morning. This isn't something I make often, so when I do I like to make sure a lot of love is put into it.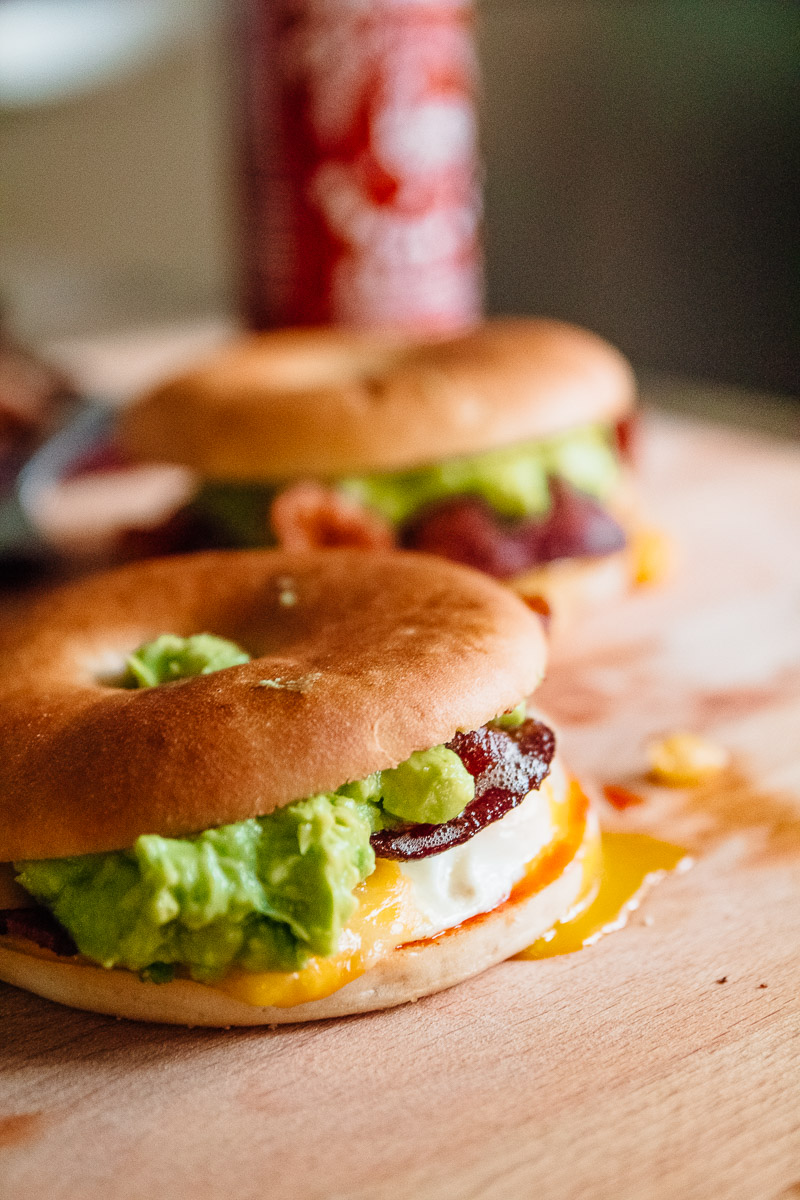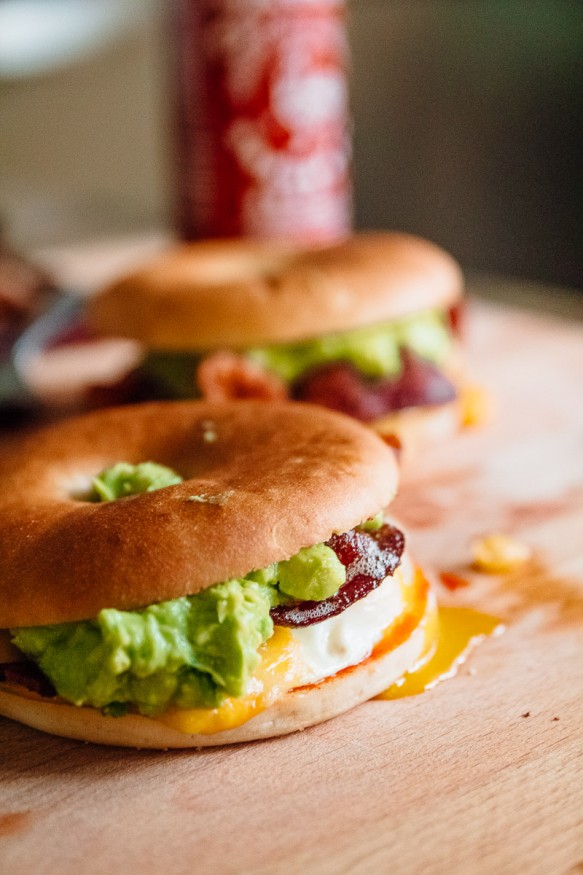 I love using sunny side up eggs for sandwiches like this! Makes them nice and gooey and oozes with yolk.
Mmm.. getting hungry again just thinking about it!
This is definitely a fork and knife sandwich. Or if you can brave it like I do, get your hands a little dirty and jump right in!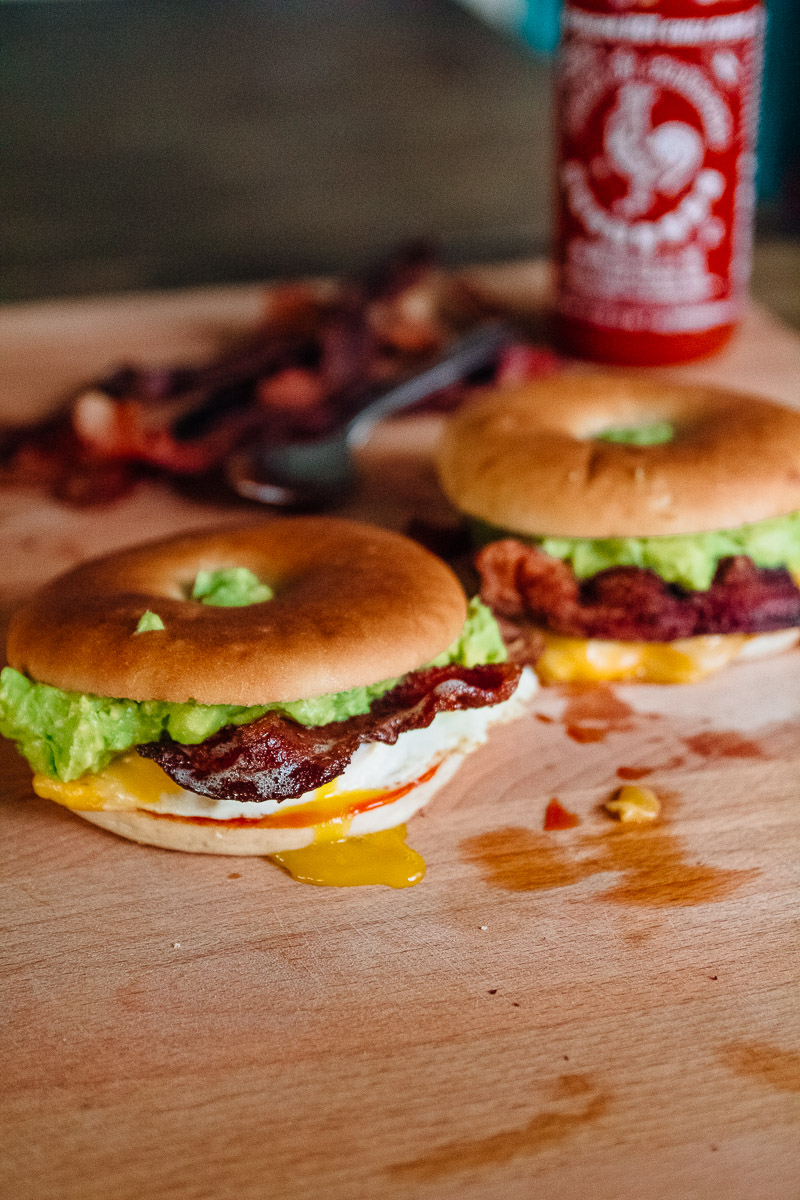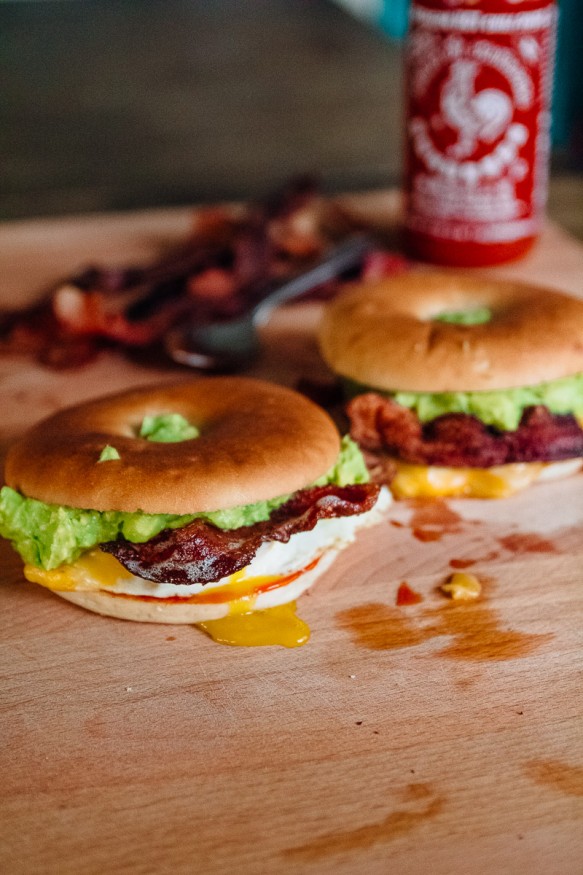 Prep
Multi-Tasking
This can be a quick breakfast to cook, if you multitask. While cooking the bacon, a lot of other prep can be done, like guacamole, sriracha ketchup, slicing cheese and even toasting the bagel thins. Anything that doesn't need to be hot can be done during this time.
Especially if you have some of this guacamole leftover from the night before. Done and done!
Cooking
Eggs
Do the eggs however you wish, but I am a huge fan of sunny side up! They're quick and easy to make, no flipping, scrambling. Just crack cover and in minutes you're good to go! Makes melting the cheese easy too since sunny side up eggs need to be covered while they cook!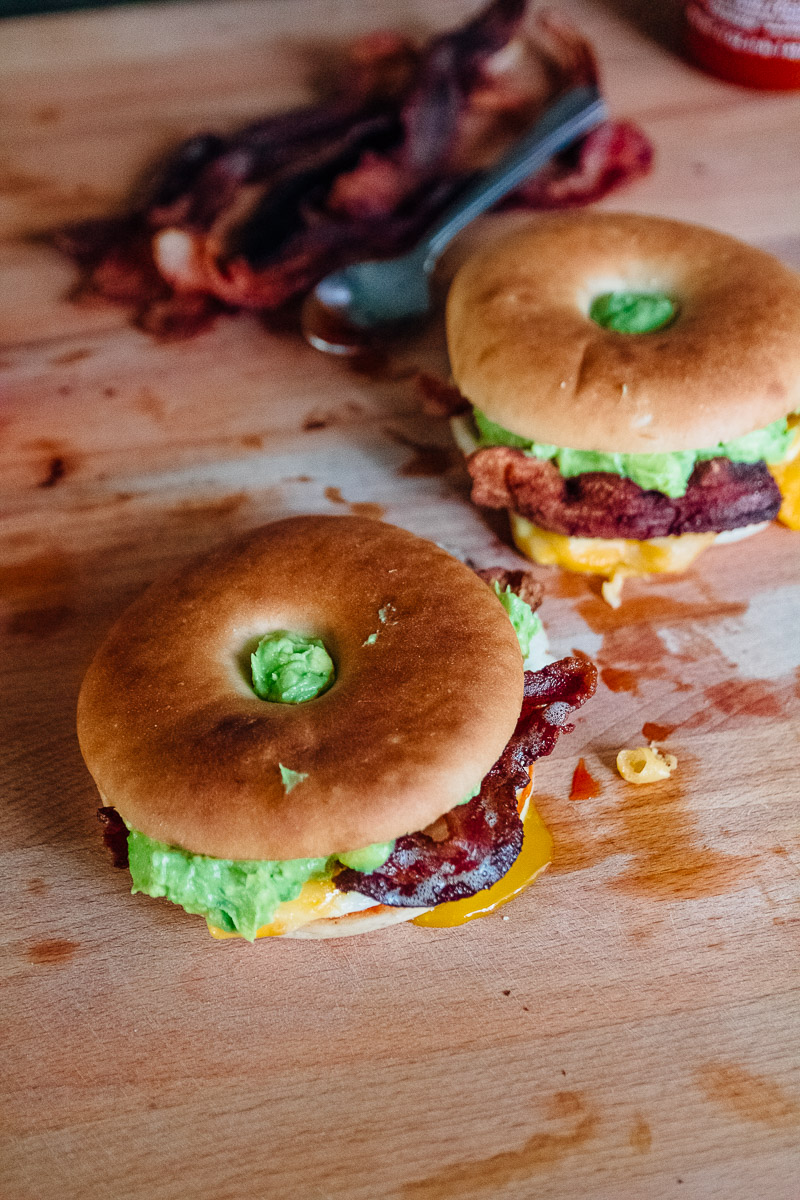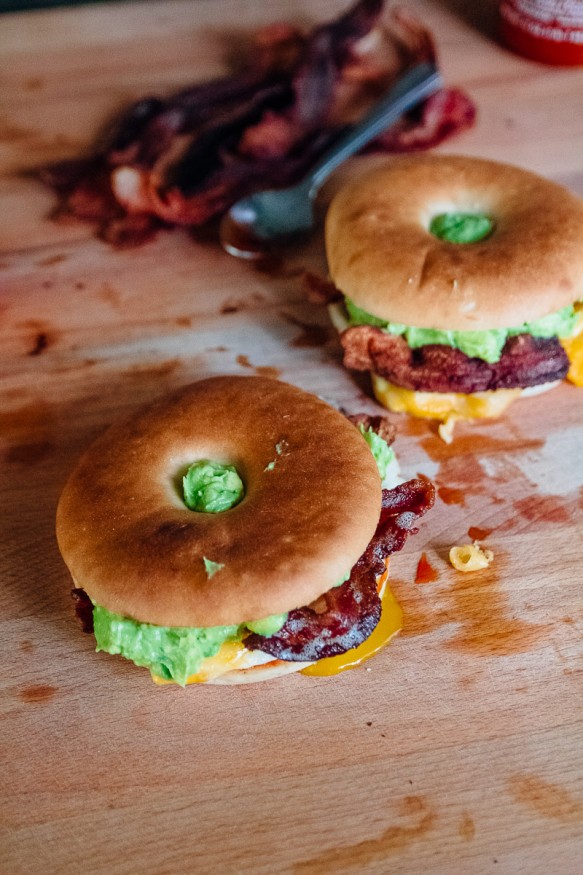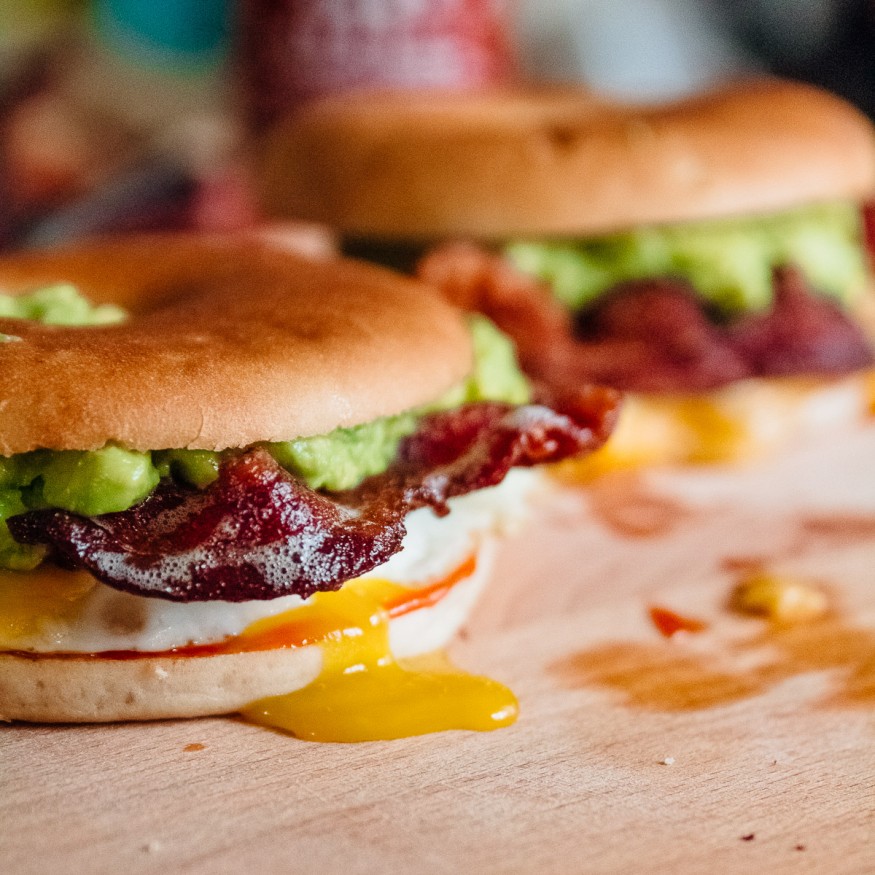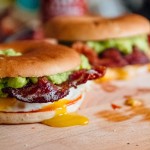 The Ultimate Breakfast Bagel
This is the way mornings were meant to start! Sunny side up egg with sriracha ketchup, quick guacamole and bacon all in a bagel thin sandwich.
Print Recipe
Quick Guacamole
1

large

haas avocados

1

tsp

salt

1/8

tsp

ground cumin

1/8

tsp

garlic powder

1

tsp

chopped cilantro

1/8

tsp

ground cayenne pepper
Sriracha Ketcup
2

tbsp

ketchup

1

tsp

sriracha sauce
Begin cooking your bacon. While that is happening mix in the avocado, cilantro and seasonings to make a quick quacamole

Add about 2 tbsp ketchup to 1 tsp sriracha to make a quick sriracha ketchup. Add more sriracha if you want more heat!

While the bacon is about halfway done, begin to cook your eggs. You'll need to grease up the pan so the eggs don't stick. I use butter normally, but I have all this amazing bacon grease. Add about 2 tbsp of it to the pan!

Break the egg white membrane to allow the egg to cook evenly

Cover and begin to toast your bagel thins.

About 1 minute into cooking the eggs, top with cheese and cover.

All your bacon and bagels should be ready! Set aside and let cool.

About 1-2 minutes into cooking your eggs should be ready. You're looking for opaque eggs, and the cheese to be all nice and melted. Split in the egg into two in the pan.

Top each bottom half of the bagel thin with the Sriracha ketchup and egg.

Add the bacon. I like to break them in half so you get a mouthful of bacon in each bite!

Top with the guacamole and the other bagel thin half and enjoy!