Thanksgiving Leftovers Sliders With Cranberry Mango Sauce
It's that time of the year once again. The best holiday of them all for a foodie: THANKSGIVING! While I'm sure you're already scrambling around looking for all the best recipes to make for thanks giving this year, I thought I'd share a recipe that you'll want to use for the day after with all those amazing thanksgiving leftovers! Thanksgiving Sliders!
These sliders have all my favorite things about thanksgiving leftovers: Turkey, Gravy, Stuffing, Hawaiian dinner rolls, and Cranberry sauce. But not just any cranberry sauce. I reduced the leftover cranberry jelly with some fresh mango to make a really delicious mango cranberry sauce that will liven up those leftovers and leave a cranberry stained smile on the whole family the day after Thanksgiving!
Even on Thanksgiving day, growing up, one of my favorite things to do was to make a sandwich with all the Thanksgiving staples on my plate. As much as I hate my food touching, Thanksgiving always has been an exception and I love mixing it all together. Except that one year someone plopped a Italian sausage soaked in marinara right on top of my mashed potatoes. Who does that?! ????????????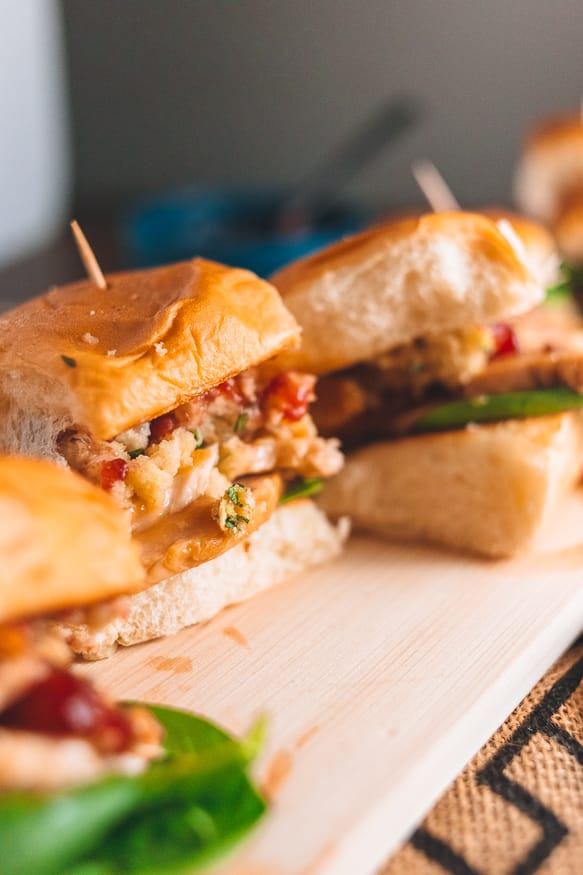 Don't be afraid to add more of those wonderful Thanksgiving leftovers in this slider, maybe some mashed potatoes, or candied yams, it may turn more into a fork and knife slider, but that's the whole fun in this recipe! But don't leave out the stuffing! That's what really gives you the feeling of thanksgiving with the beautiful flavors of a great home made – or stove top-if you have someone in your family that loves that stuff – stuffing!
The best part about this meal is, even if it isn't thanksgiving, or you don't have any Thanksgiving leftovers, It can be made so quickly using store bought ingredients, like stove-top stuffing, and pre-cooked turkey breast. Everything cooks/warms up so quickly that you'll have everything ready in well under 30 minutes. Serving it family style, and letting everyone put the sliders together themselves gets the meal served even quicker!
So however your family celebrates thanksgiving, make sure those leftovers don't just sit in the fridge and be nuked up on a plate any old way, have some fun with it, throw it into a slider and makes those thanksgiving leftovers shine!
On To The Recipe
Thanksgiving Leftovers Sliders With Cranberry Mango Sauce
Print Recipe
Ingredients
1/4

lb

turkey breast

1/2

cup

gravy

1

cup

stuffing

6

whole

hawaiian rolls

1/2

cup

arugula/spinach salad mix

3/4

cup

cranberry jelly

1

medium

Mango

1/4

cup

water
Instructions
Cut your mango along the hard pulp center, toss out the core. Score the mango slices into cubes and scoop out with a spoon; set aside.

Heat up Your stuffing, gravy, and turkey. To make things quick an easy, heat up your turkey directly in the gravy.

In a sauce pan on medium-low heat, cook down the cranberry jelly and diced mangos in water.

Simmer for about 5 minutes and set aside.

Split your hawaiian rolls into halves leaving them connected in threw rolls each. Place face down in a pan with a little butter (optional) and toast for about 2 minutes.

when the rolls are nice and toasted, place the spinach and arugula on the bun followed by turkey, stuffing, and top with the cranberry mango sauce.

cover with the top of the bun, pin down each slider with a toothpick, and separate each slider with a knife. Enjoy!