Surf N' Turf Steak and Shrimp Paleo Bowl
I love meals where I can eat endless amounts of protein and feel the least bit guilty about it. A Paleo bowl is one my my favorite ways to get the protein in and be satisfied when i'm done with the meal. All while stuffing my face.
My about-to-pop-pregnant wife has anti-cravings when she's pregnant, and its towards chicken, and steak needs to be fully cooked for her (blech!). So a steak and shrimp paleo bowl is a great meal to share since it has everything I love, and everything she loves all in one bowl/skillet/pan/whatever you're serving it in.
So let's talk about the shrimp for a second. Have you ever seen shrimp this gigantic?! They're like mini-lobster tails, and eat like them too! When I worked at the meat department back in the day. I remember when we first started selling these 6-8 count tiger prawns, which are absolutely beautiful raw (they have a green and yellow striping on the shell).
I love to butterfly these tiger prawns, and coat them with butter, garlic and lemon while they grill, its my go to shrimp seasoning for the grill. Serve them along side some drawn butter and you have a treat that is better than lobster!
This paleo bowl (shock!) was done on the grill, but can be done on the stove as well with a skillet with a good grill pan. I used a grill pan on the grill to contain the vegetables and still allow them to get some grill marks and absorb the flavor of the barbecue.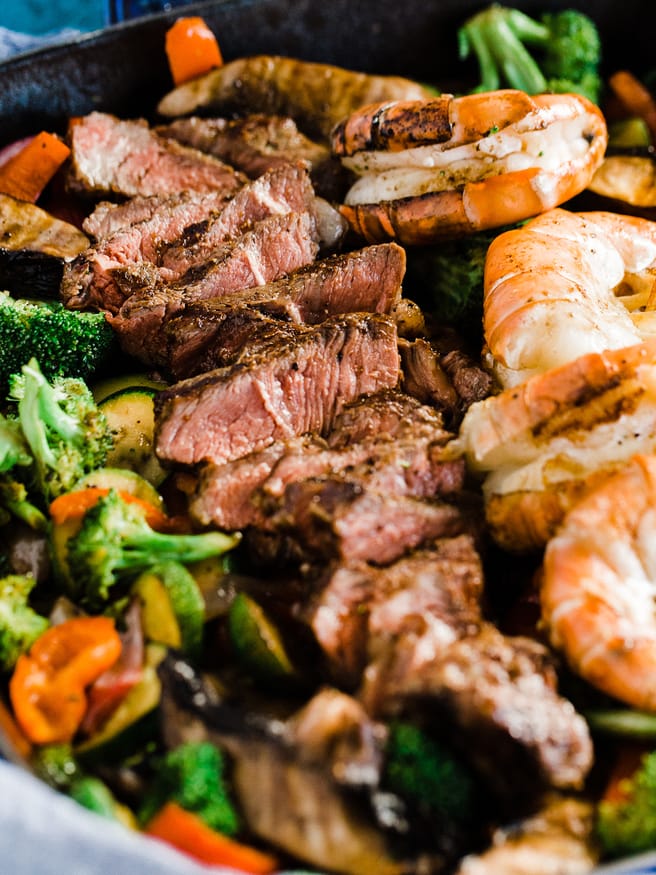 I use portabella mushroom, broccoli, bell peppers, zucchini, and a serrano pepper to spice things up on the vegetable side, then seasoned with a little butter, soy sauce, garlic and pepper. The steak, shrimp, and vegetables can all cook in about the same amount of time, which makes this a really easy weeknight meal to serve up and share with the family..
Or just devour yourself!
Surf N' Turf Steak and Shrimp Paleo Bowl
Print Recipe
Ingredients
10

ounces

boneless new york strip steak

10

ounces

6-8 count tiger prawns

1

whole

shallot

1

whole

portabella

2

small

zucchini

1

head

broccoli

2

medium

assorted bell peppers

1

medium

serrano pepper

4

tbsp

butter

separate 2 tbsp

1/2

tbsp

soy sauce

1

clove

garlic

1/2

tsp

pepper

1/2

whole

lemon
Instructions
preheat your grill to medium heat, with indirect heat in the center. Season steak with salt and pepper on both sides. Chop vegetables into bite size portions. Slice portabella mushroom into strips.

melt 2 tbsp butter with lemon and pepper in a small pan. Bring out the the grill to season shrimp.

Add all vegetables to a grill skillet with 2 tbsp butter, garlic, pepper and soy sauce. Place skillet over direct heat.

Sear steak 1 minute on each side over direct heat, then place over indirect heat along with shrimp.

Brush lemon pepper and butter mixture over shrimp and turn about every 2 minutes, brushing more butter and lemon as you see fit. Don't forget to toss the vegetables occasional as well.

Steak will take about 3-5 minutes on each side or until center temp is at least 130F (for medium rare). When the steak and shrimp is done, take everything off the grill while the steak rests for 1-2 minutes. Serve steak and shrimp over veggies and enjoy!