Steak and eggs breakfast tacos are exactly what they sound like. Steak and eggs. in a breakfast taco!
Topped with some chimichurri and a little queso fresco and you've got a amazing twist on a breakfast classic!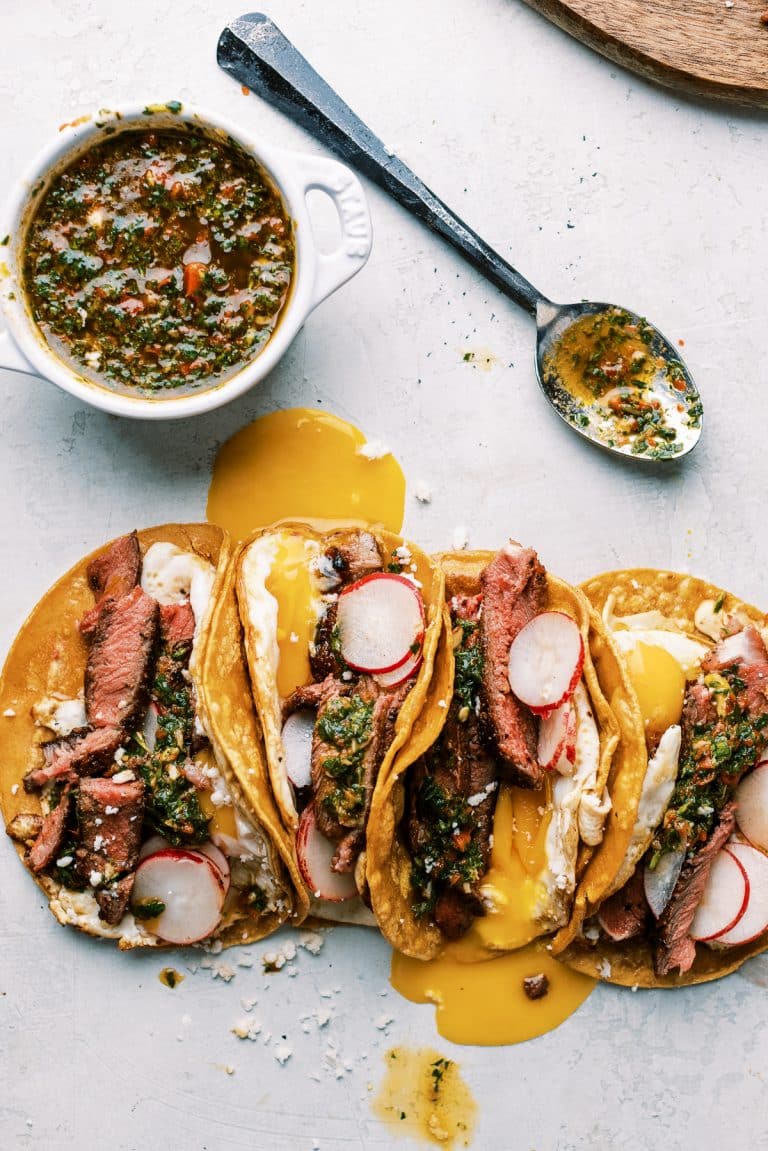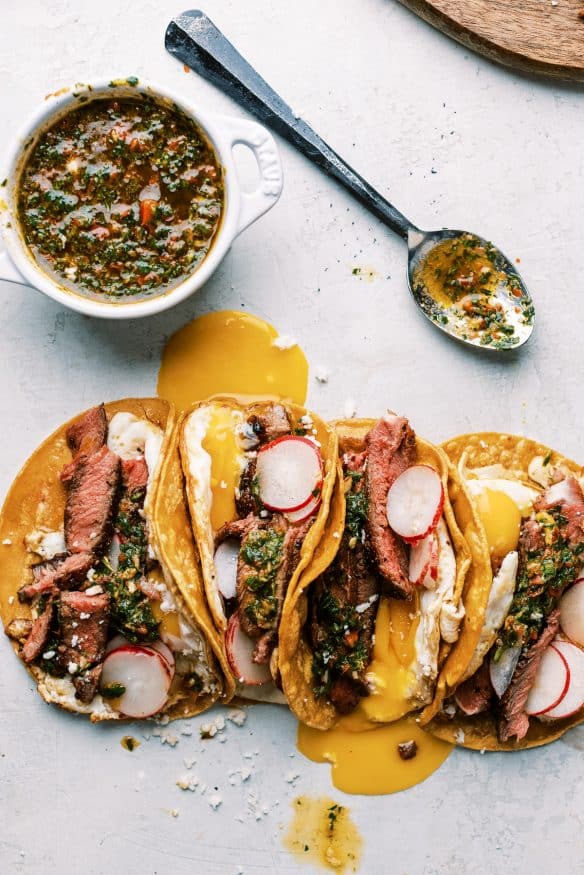 Now I'll admit, coordination on this recipe is key. If you have a blacktop griddle it will make this a lot easier to get on the table at one time.
If you can make steak and eggs, you can turn them into tacos. Even served as a "build your own" breakfast taco bar will get this on the table quickly!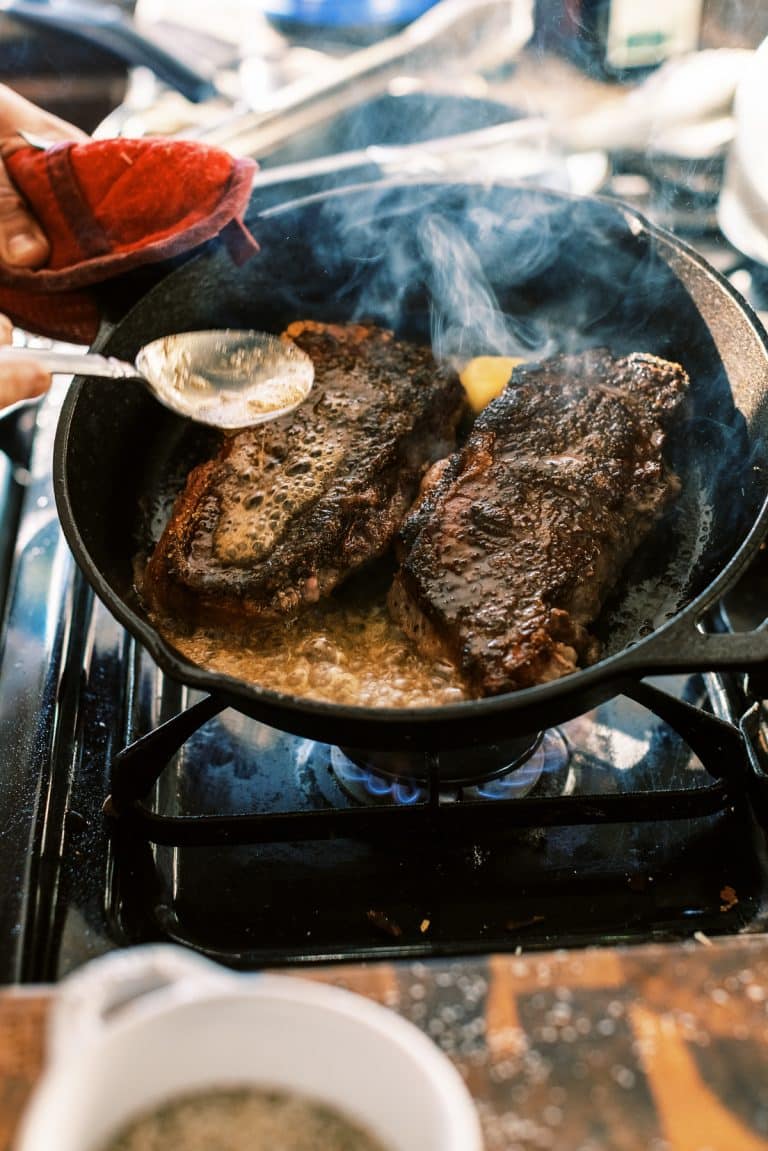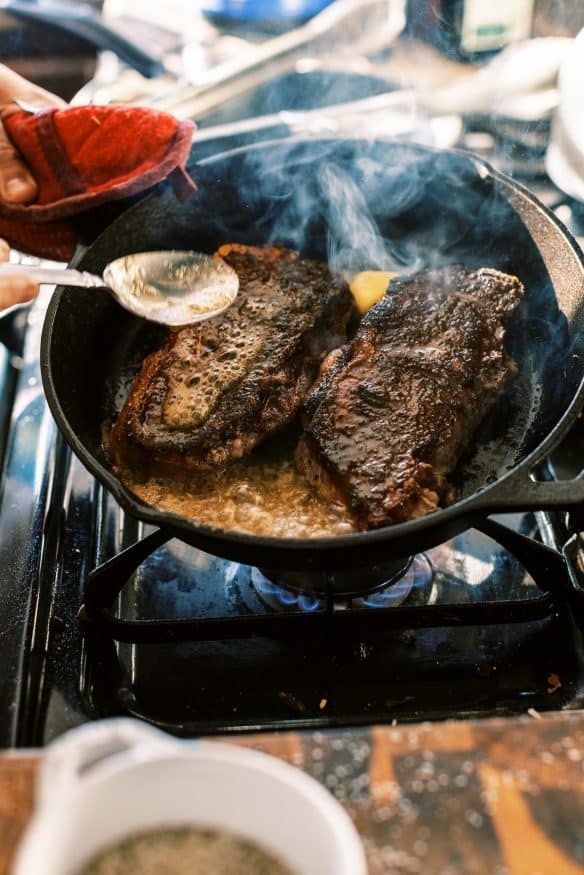 If you're using a skillet, like me, place your steaks to rest in the oven (not turned on) while you start to fry up your eggs.
And the chimmichurri can be made the night before. So a little planning ahead and using your noodle will help get a recipe like this on the table and kept warm for everyone to enjoy!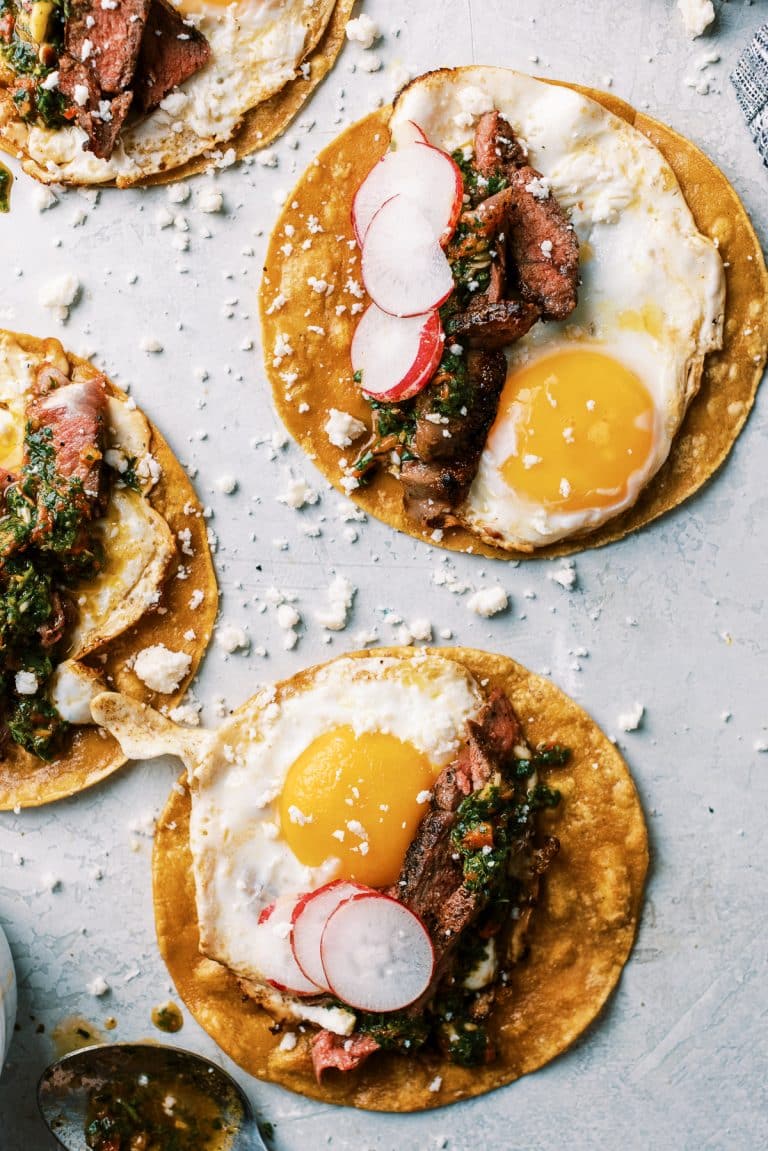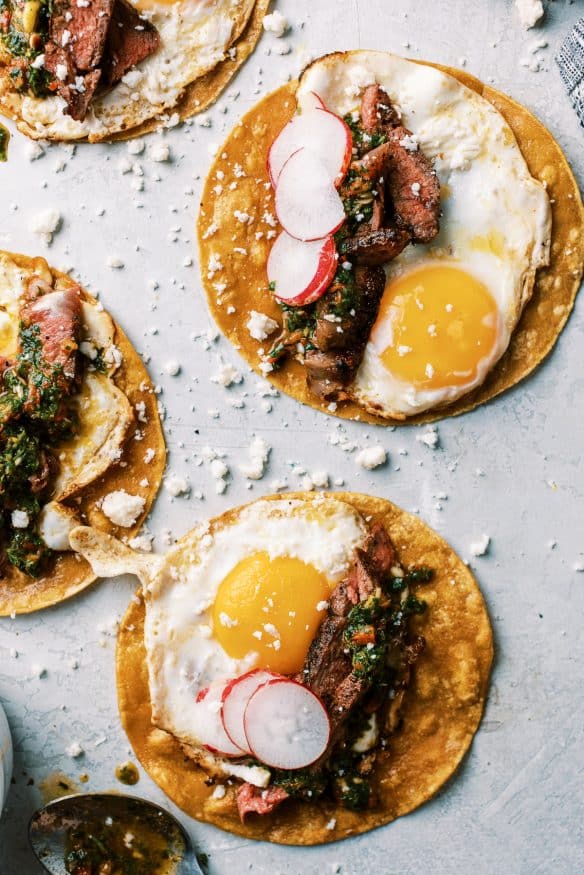 Now for the steaks, I'm seasoning with a little bit of salt pepper and garlic. 1 part salt, 1 part pepper, 1/2 part garlic powder. Easy peasy!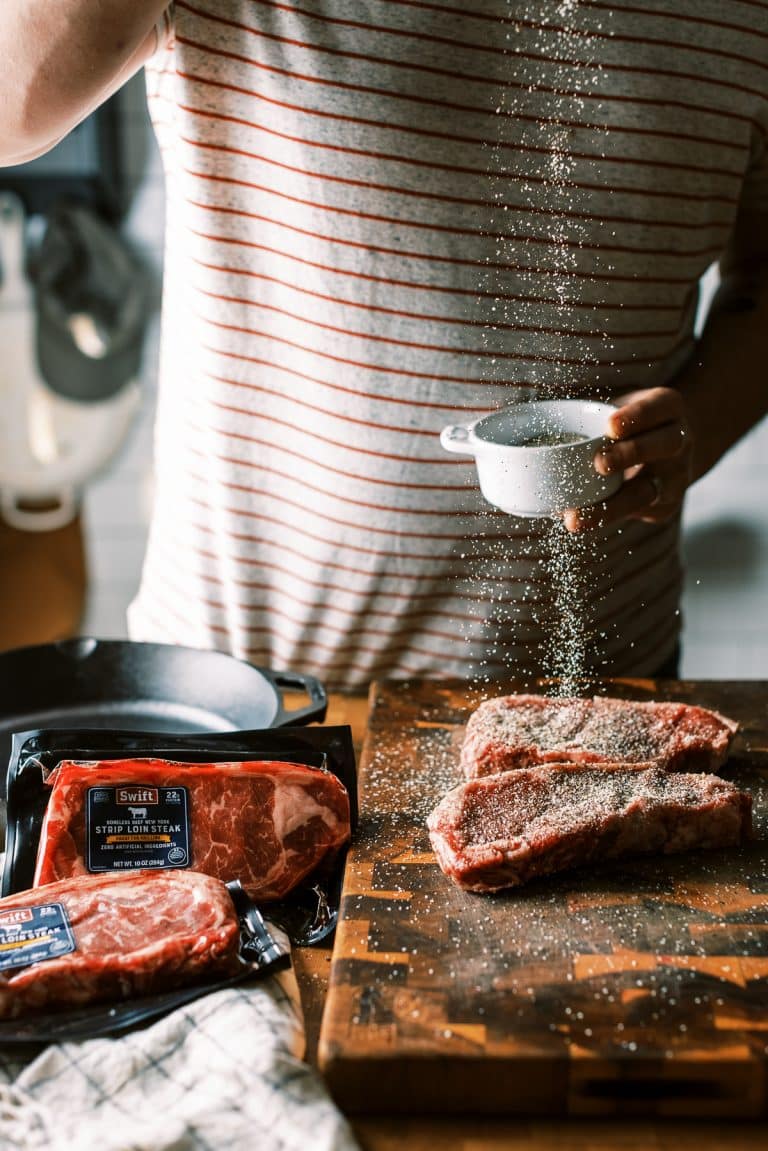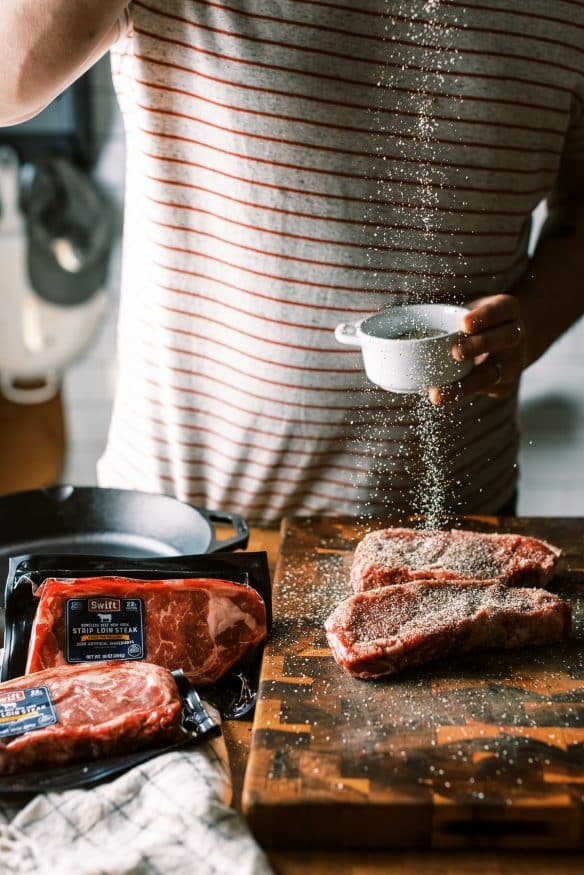 Honestly, I've never been into steak an eggs as breakfast. But turning them into breakfast tacos? I'm down for that every time!!
I may even try this again as a breakfast tostada, like my juevos rancheros tostadas – so good!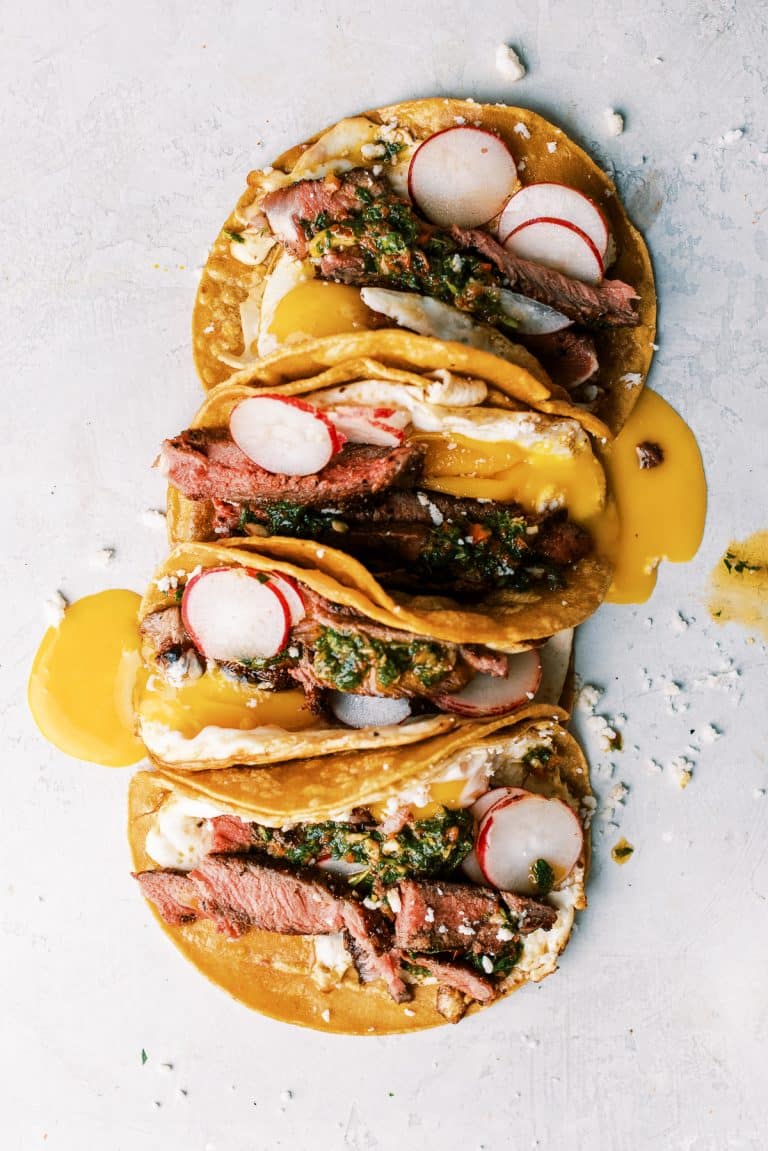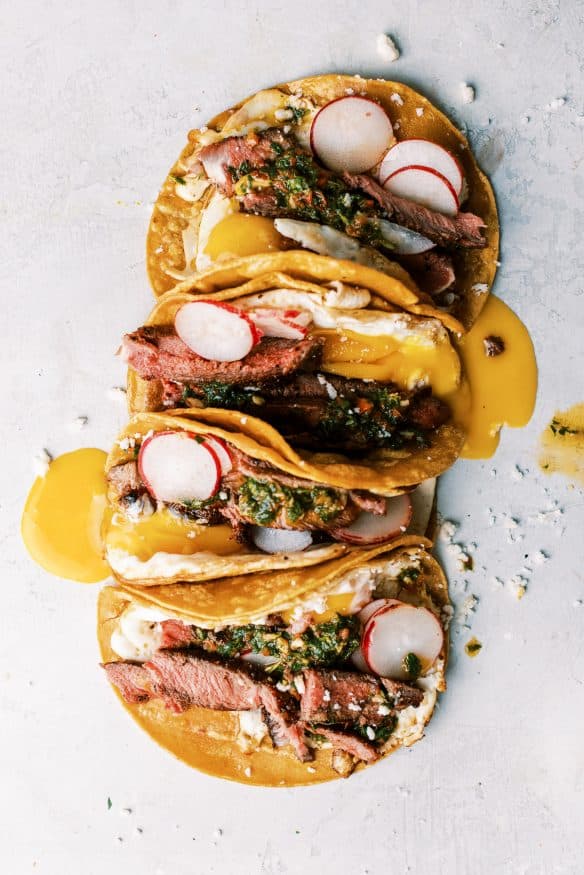 Wether you're using traditional steak and eggs in these breakfast tacos, or spicing it up with a little carne asada, these breakfast tacos are going to be out of this world!
Steak and Egg Breakfast Tacos
Steak and Egg Breakfast Tacos topped with some chimichurri and a little queso fresco and you've got a amazing twist on a breakfast classic!
Print Recipe
FOR THE CHIMICHURRI
1

cup

parsley

½

cup

cilantro

½

cup

fresh oregano

½

cup

olive oil

¼

cup

red wine vinegar

½

red bell pepper

1

garlic clove

½

tsp

kosher salt
For the chimichurri, place parsley, cilantro, oregano, olive oil, red wine vinegar, bell pepper and garlic clove and salt in a food processer. Pulse for about 30 seconds. Place in the refrigerator until ready to serve.

Coat yourNew York strips with a liberal coating of salt pepper and garlic salt. Preheat a cast iron skillet until smoking, pour in about 2 tbsp of olive oil, then place in your steak. Sear on both sides for about 3 minutes per side.

Add in butter and baste with a spoon for an additional 2-3 minutes. Cook until internal temperature is 130-135 for medium rare-medium.

While your steaks are resting, Fry eggs in a little butter and olive oil until egg white is opaque. Place into a tortilla and repeat until all tacos are made.

Cut steak into thin strips and place in tacos along with chimichurri, queso fresco and a few thinly sliced radishes. Enjoy!