Seafood Paella is such a beautiful dish.
I love everything about it, from the flavors, to being able to really give it your own creative look, and how can you not love a dish that requires a pan specifically made to make it?!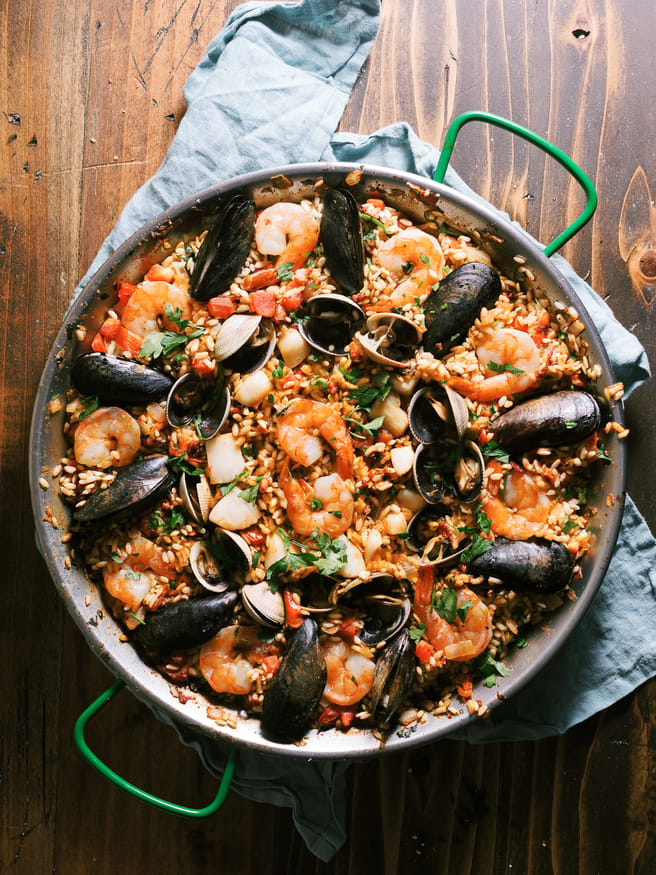 My Seafood Paella is cooked closer to spanish style, cooked with a little chorizo to add flavor and depth, along with a little serrano pepper to add some extra heat!
After browning everything I then let it simmer in Pacific Foods Organic Vegetable Broth along with my favorite seafood to make an amazing paella!
Pacific Foods has been my go-to brand for broth these days. I love the flavor that i get with their broths, and they keep the ingredients simple. Which is a major plus!
I think what I love most about making paella is you have a black canvas to assort your proteins in anyway you want. Since you use the paella pan to shake the contents, nothing really gets moved out of place.
So it makes it super fun to put together and its really the center of attention when it hits the dinner table!
For this recipe I've used a lot of my favorite shellfish: Clams, mussels, shrimp and scallops. Feel free to make this your own and add anything you want!
Spicy Seafood Paella
Print Recipe
2

tbsp

olive oil

1/4

lb

chorizo sausage

1

medium

onion

3

cloves

garlic

1/4

cup

chopped parsley

1/2

medium

serrano pepper

optional for heat

2

cups

pearl rice

bomba or calasparra preferably

1

medium

tomato

chopped

4

cups

Pacific Foods Organic Vegetable Broth

1

tsp

oregano

1

tsp

smoked paprika

1

pinch

safron threads

2

tsp

kosher salt

1

tsp

cracked pepper

1/2

lb

21-25 jumbo shrimp

peeled, deveined

1/2

lb

littleneck clams

1/2

lb

mussels

1/2

lb

sea scallops
In your paella pan, over medium heat, cook chorizo until done, then remove from pan and set aside.

In the same pan, saute onion, garlic, and Serrano peppers for about 2 minutes. Add rice and chopped tomato and stir until rice becomes toasted and fragrant; about 5 minutes

Stir in Pacific Foods Organic Vegetable broth, oregano, paprika, salt, pepper and safron. Move the pan around gently every minute or so, to allow the rice to absorb the liquid.

Add in chorizo, along with all of your seafood, let this cook for about 5-7 minutes, then give it a good shake and let simmer without touching.

Let simmer until rice becomes cooked all the way through, then take off the heat and let sit for about 5 minutes. Turn heat back up for about 30 seconds to toast the bottom, then serve. Enjoy!