If you're a fan of pork chops, you're going to love this smoked pork chops recipe. Low and slow smoked pork chops topped with a peach glaze that is out of this world!
This post is sponsored by Belcampo Meat Co.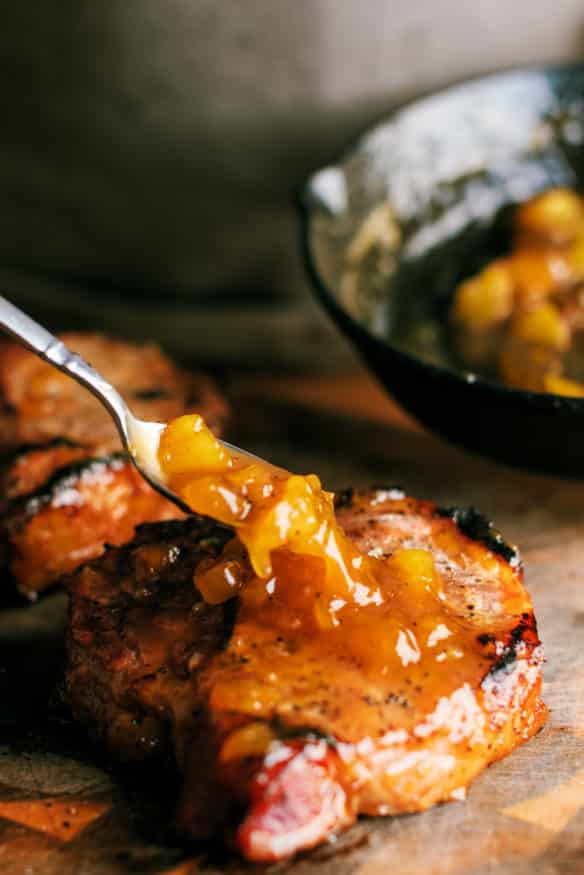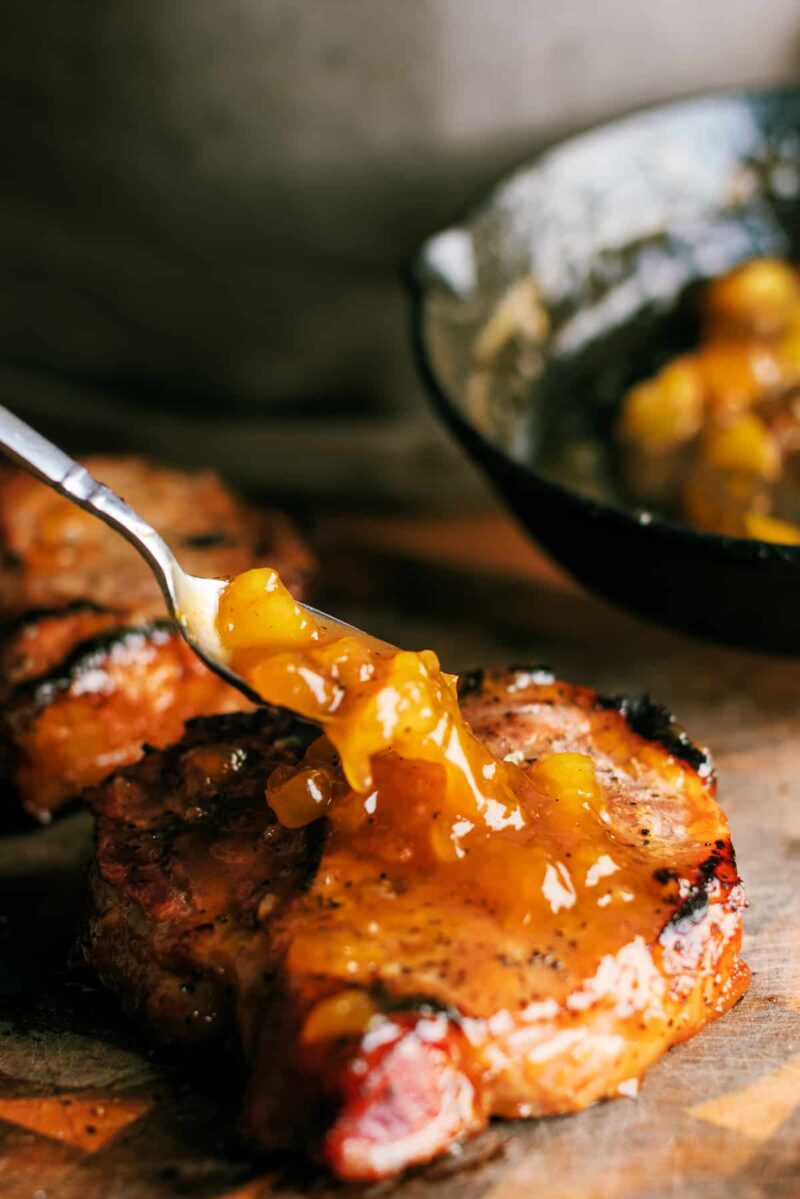 I received a shipment of an assortment of meat from Belcampo including these pork chops.
Belcampo meat is Certified Organic, Grass-Fed & Finished, Certified Humane® and Pasture-Raised. Which makes all their meat a healthier option for me to put on the table for the family.
I love that Belcampo meat is more nutrient rich (containing omega-3 fatty acids and lower fat meat).
And still has amazing flavor?! It's hard to make me look anywhere else for meat!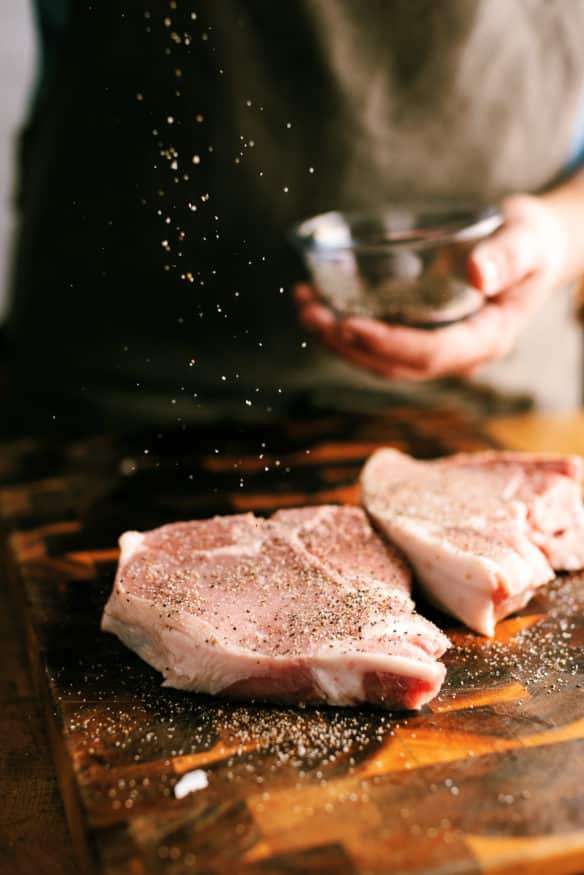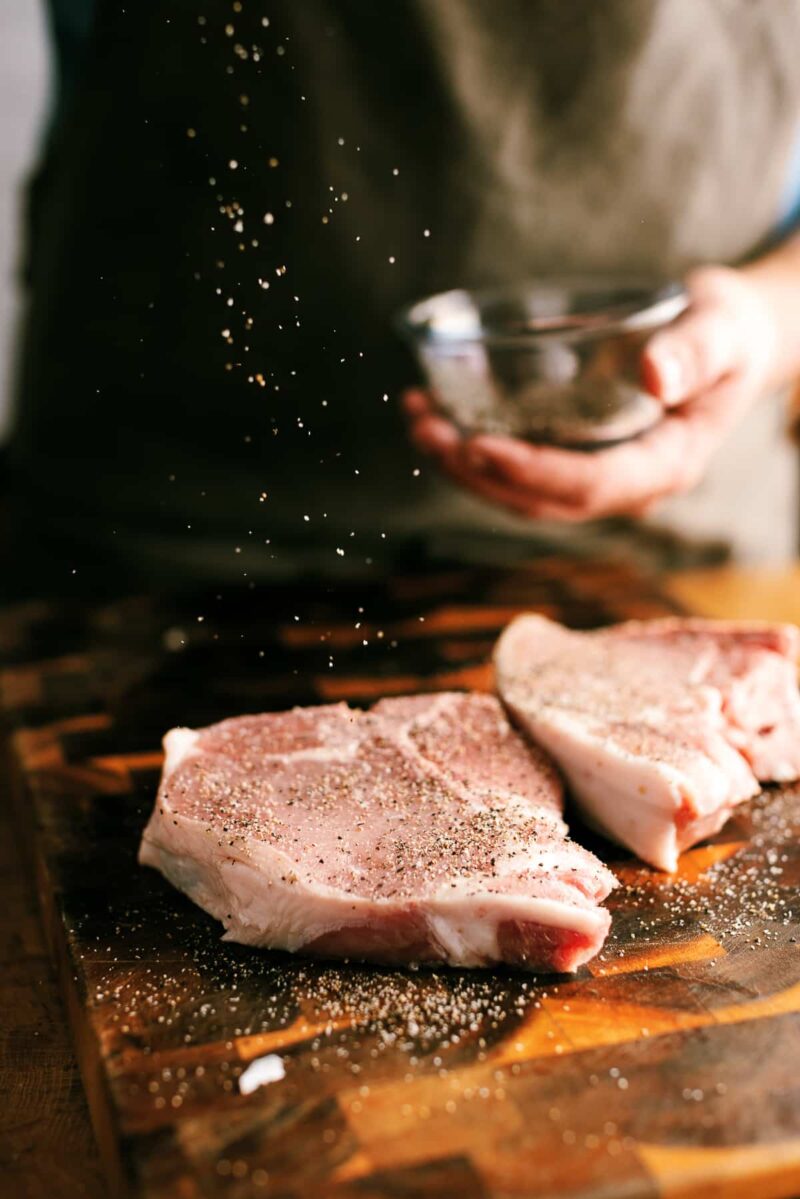 I'm going to smoke these beautiful bone-in pork chops over hickory and apple wood on my Weber Smokey Mountain today. We're only looking for an internal temperature of 145F for medium doneness (you can go up to 150-160 if medium doneness isn't your thing).
Keep the temp low so there's more time for these pork chops to soak in the smoky flavor, it'll only take an hour or two.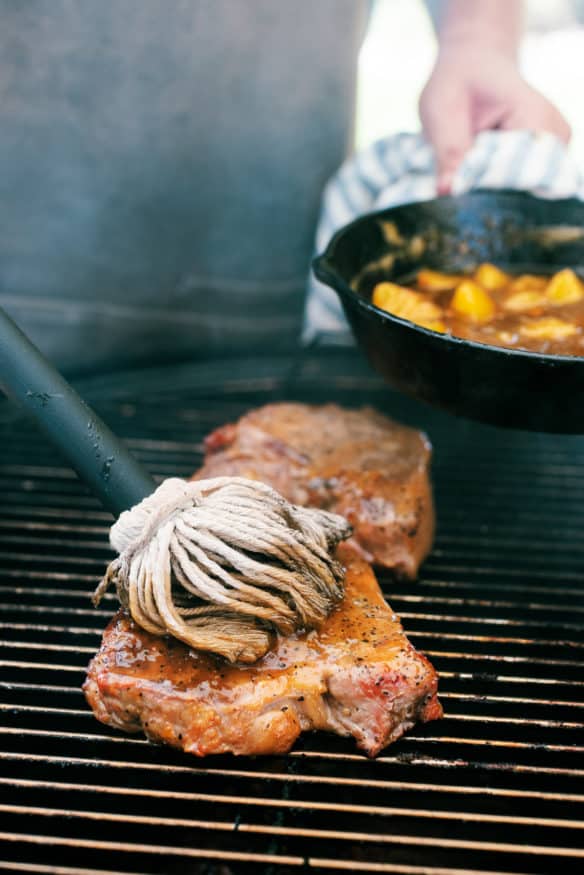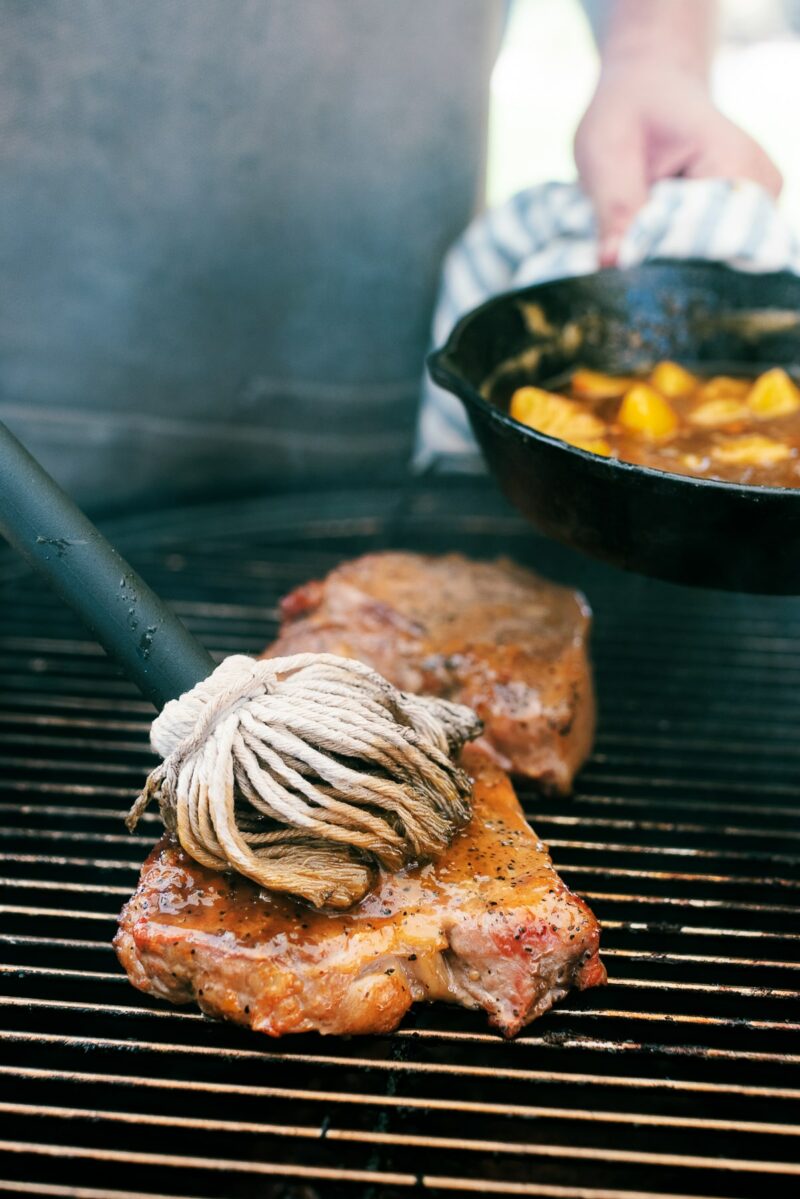 And while these pork chops are smoking low and slow, a simple peach glaze reduced sown in some butter and bourbon to tie it all together makes such a fun meal to close out summer.
Well, let's be honest. On the west coast, we easily have another 2 months left of warm weather, it's grill season year-round for me!
So grab a mop, give your smoked pork chops a kiss of that glaze while they're on the barbecue to get a nice tackiness on the end of the cook, and they're ready to slice up and serve!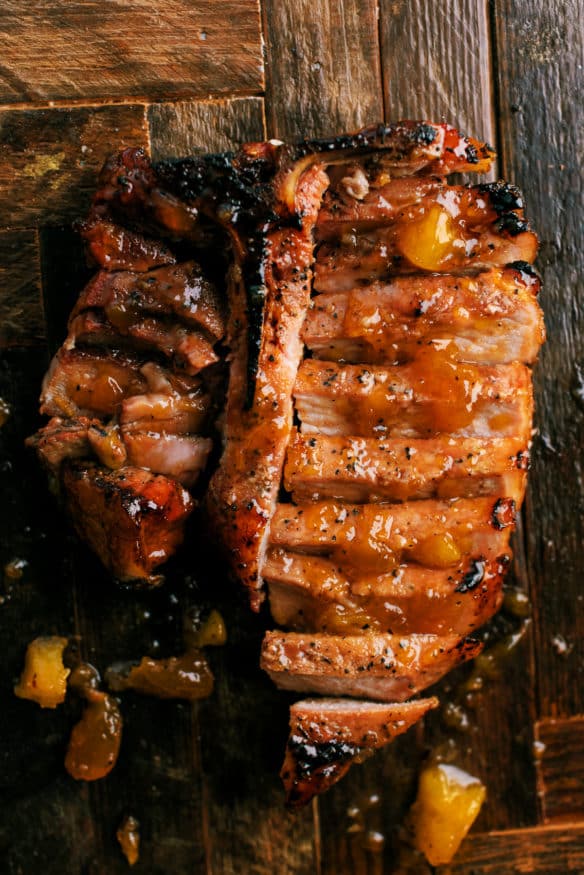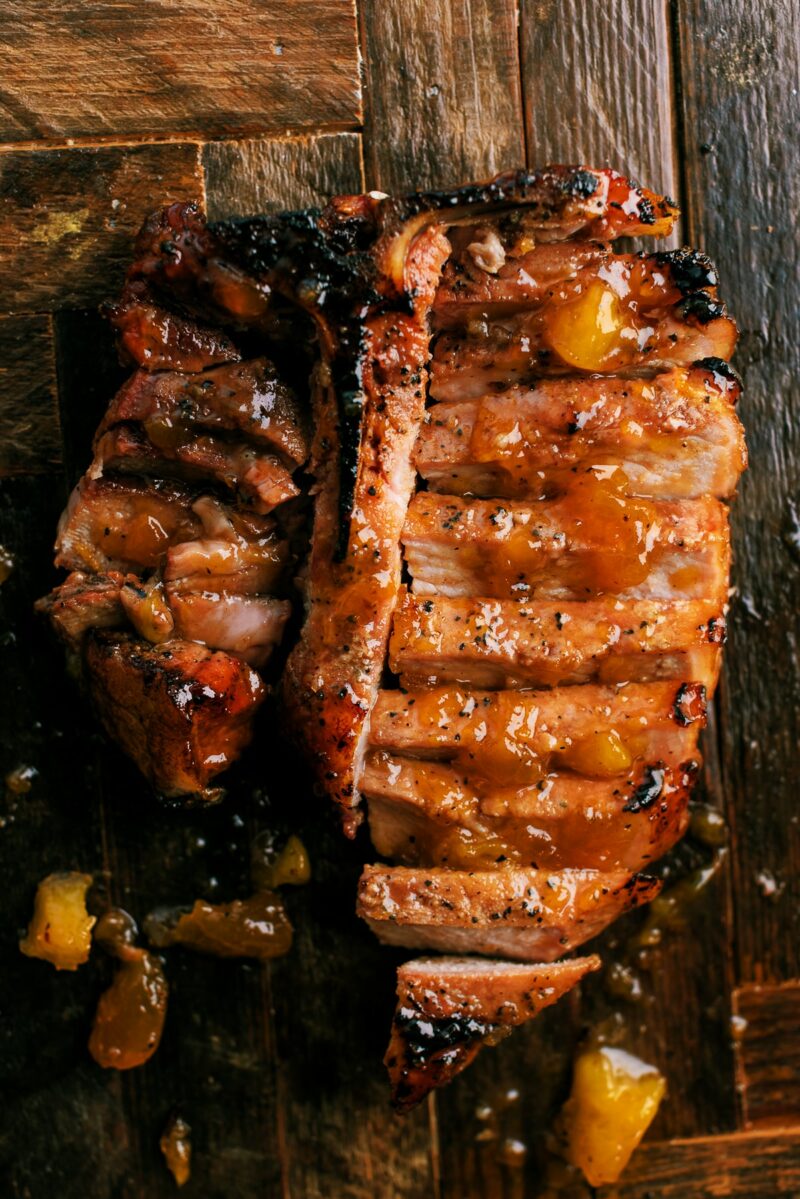 What I love most about bone-in pork chops is that they're the equivalent of a beef Porterhouse, you get that lovely pork loin, and then get treated with that tender and flavorful tenderloin that is just to die for.
They're sweet and savory, with a kiss of hickory smoke. These smoked pork chops with peach glaze will make the perfect Sunday night dinner with a side of mashed potatoes, and grilled asparagus.
And maybe a biscuit to dip into the remaining peach glaze.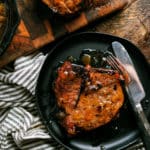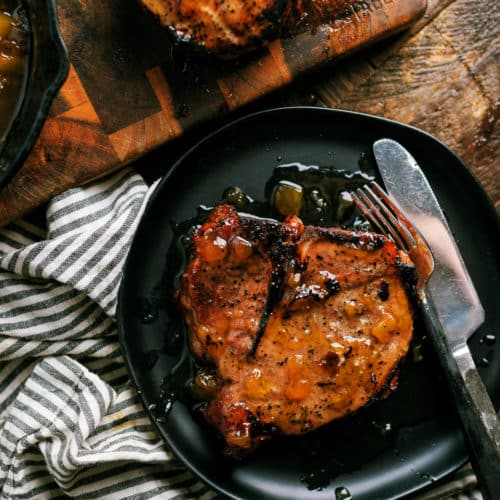 Smoked Pork Chops with Peach Glaze
Print Recipe
FOR THE PEACH GLAZE
6

oz

peach preserves

½

cup

canned peaches

2

tbsp

butter

¼

cup

coarse grain mustard

¼

tsp

red chili flakes

¼

cup

sriracha

optional

1/8

cup

bourbon
Heat smoker to 225F using your favorite heat source. I prefect charcoal with hickory and apple wood chunks.

While the barbecue is coming up to temp, season Belcampo bone-in pork chops with salt pepper and granulated garlic. When the smoker is ready, cook pork chops until 145-155F.

While the pork chops are cooking, in a skillet melt butter, add bourbon and let cook down. Stir in peach preserves, canned peaches, coarse grain mustard and sriracha, bring it to a boil, then reduce to a simmer on low heat, let simmer for about 15-20 minutes.

When the pork chops are about 15 minutes or so from coming off (about 120F) give a light coat with the peach glaze and let set. Once your pork chops read between 145-155F they're ready to pull.

Let rest for about 5 minutes, then top with some more peach glaze and serve!
Sodium:
1849
mg
|
Calcium:
39
mg
|
Vitamin C:
15
mg
|
Vitamin A:
252
IU
|
Sugar:
22
g
|
Fiber:
1
g
|
Potassium:
389
mg
|
Cholesterol:
74
mg
|
Calories:
346
kcal
|
Trans Fat:
1
g
|
Monounsaturated Fat:
5
g
|
Polyunsaturated Fat:
1
g
|
Saturated Fat:
6
g
|
Fat:
14
g
|
Protein:
19
g
|
Carbohydrates:
32
g
|
Iron:
1
mg