Skillet Fried Chicken and Waffles
Cast iron skillet fried chicken with a special buttermilk marinade and seasoning blend make these chicken and waffles something your family will beg you to make all year around!
I'll never forget my first trip to Roscoe's Chicken and Waffles out in L.A. I had heard of  chicken and waffles before but thought it was the strangest combo ever.
To my surprise, they were the best thing I had ever had. I don't eat them much but it's always a treat when I do!
The savoriness of the chicken combined with the sweet maple syrup and waffles makes an amazing combo that goes great for breakfast, lunch or dinner!
I've come up with my own version of these bad boys with a special seasoning blend, then  frying them up in the cast iron skillet. For the waffles, I used my No Butter Buttermilk Waffle recipe and topped them off with maple syrup and some strawberries.
Prepping
Get A Head Start.
This isn't the quickest recipe, but it's worth the work put in, just get a head start so you're note in the kitchen all day! The chicken needs to marinate in the buttermilk egg wash for at least 4 hours, preferably 24(ish).
What I recommend is prepping your waffle mix and chicken on the night before, maybe prep everything while cooking a super simple meal for dinner that night. Then next night, all you need to do is pull out the chicken and cook!
Chicken.
Like always, this is a perfect recipe to get a whole chicken and quarter it. You may have a little left over in a serving of 4 people, but, it'll save you money. And I've never heard of anyone complaining because they had delicious leftover fried chicken.
Get the Skillet Hot.
You'll want your oil heated to about 350°F or 177°C. I place my skillet in an oven set to 350°F for about 10-15 minutes to make sure the oil is heated to the right temp. Takes out guessing work on my end.
Cooking
Multitasking Is Your Friend.
There is a few things you need to do to get this dish cooked. So make sure you have a station set up. Get your chicken next to your pan, and get the waffle iron out next to the waffle batter. While the chicken is cooking be sure to cook the waffles, so everything is ready to eat at once!
DO NOT OVERCROWD.
Add enough chicken in so that they can be about 1 inch apart from each other. Putting too much chicken in at once will lower the oil temperature too much and will result in soggier chicken.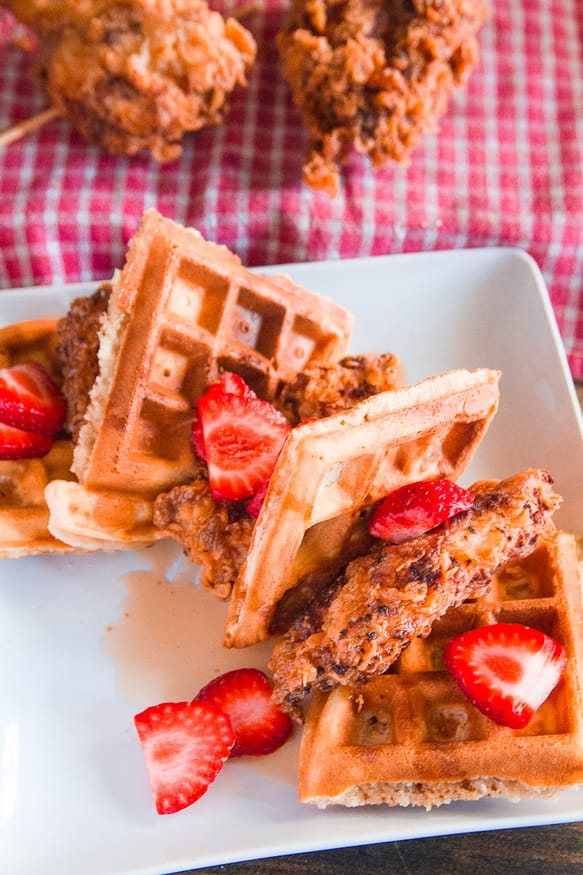 Recommended Equipment
Skillet Fried Chicken and Waffles
Cast iron skillet fried chicken with a special buttermilk marinade and seasoning blend make these chicken and waffles something your family will beg you to make all year around!
Print Recipe
Ingredients
Buttermilk Egg Wash
2

whole

eggs

2

cups

buttermilk

2

tbsp

dijon mustard

1

tbsp

nature's seasons

2

tsp

cayenne pepper

1

tsp

salt

1

tsp

garlic powder
Flour Mix
2

cups

white flour

2

tbsp

poultry seasoning

1

tbsp

nature's seasons

1

tbsp

garlic salt

1

tsp

salt
No Butter Buttermilk Waffles
1 1/4

cup

white flour

2

tsp

baking powder

1/4

tsp

salt

1

tsp

white sugar

1

cup

buttermilk

1

whole

egg

beaten

3/8

cup

vegetable oil

1/4

tbsp

vanilla extract
Toppings
4

tbsp

butter

2

cups

sliced strawberries

1

cup

maple syrup
Instructions
Buttermilk Egg Wash
To prep, get out a large bowl, and add 2 eggs,

Then stir in the buttermilk, dijon mustard, all season, cayenne and garlic powder.

If you're using a whole chicken, go ahead and quarter it. I also skinned the breasts and cut them into strips since they tend to get really big after cooking.

Add all the chicken into the mixing bowl, cover and let it sit overnight. Get the waffle batter made.
Chicken Dredge
When you're ready to cook, place a cast iron skillet with about 3 cups of vegetable oil, (or enough so that the oil is 1 inch from the top of the pan) in the oven set to 350 for about 15 minutes. While this is happening get the flour mix ingredients mixed together

Get your chicken out of the fridge and get ready to start dredging.

Add the chicken in the flour one piece at a time. Really get good thick dredge in the chicken. Turn the chicken a few times until you can't see any chicken meat.
Frying The Chicken
Take the cast iron skillet out of the oven and place on the stove at medium temperature. Add the chicken in.

Flip once during cooking, The breasts should take about 10 minutes to cook, and bone in leg meat about 15-20 minutes. You want a golden brown color to the breading. When in doubt use a thermometer to make sure the inner temp is 165°F (74°C).
Get The Waffles Made!
While The chicken is frying, mix the flour, sugar, salt and baking powder, followed by the buttermilk, vanilla extract, egg and oil to make the batter for the waffles.

Cook the waffles towards when there's about 5 minutes remaining on the chicken.
Serve!
Drain over the pan, then place on a cooling rack or paper towels (or cloth if you've ran out of paper towels!)

When you're ready serve, butter the waffles, top with chicken, strawberries, then drizzle with syrup. If you want to get fancy with presentation, I like to use a skewer and stack the waffles and chicken and let everyone tear it apart themselves!