Over the years I've really taken kindly to Red Pozole with Chicken (Pozole Rojo de pollo). If you've never had it you're really missing out on something amazing!
It's super similar to Menudo, but not as intimidating if you're not a fan of tripe. I've been playing with my recipe a little and I think I've finally perfected it!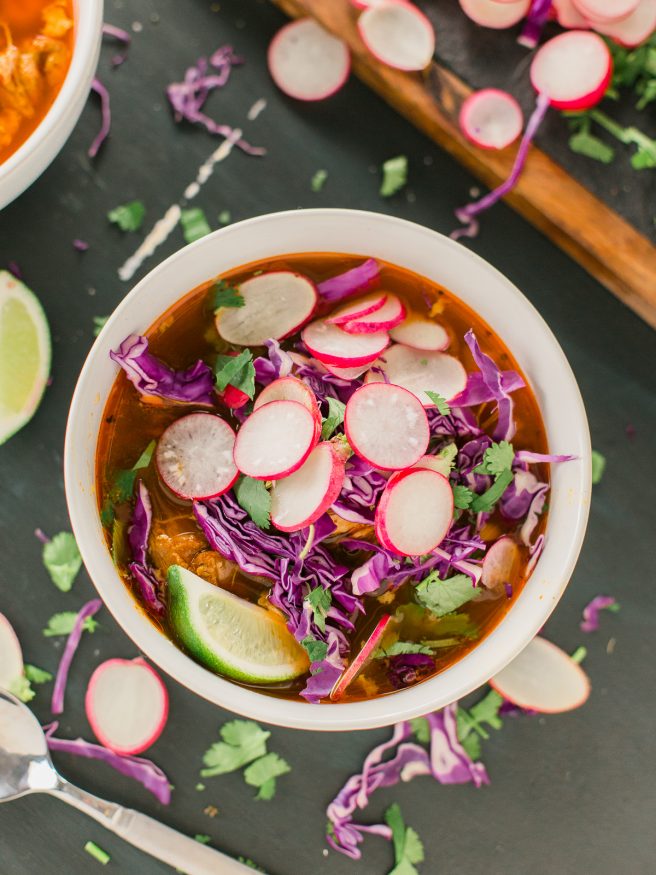 During the cold season I love cooking up a giant batch of pozole rojo because its just so comforting.
Don't get me wrong I love a good pot of chicken soup, or chicken and dumplings, but my red pozole with chicken really hits the spot for me!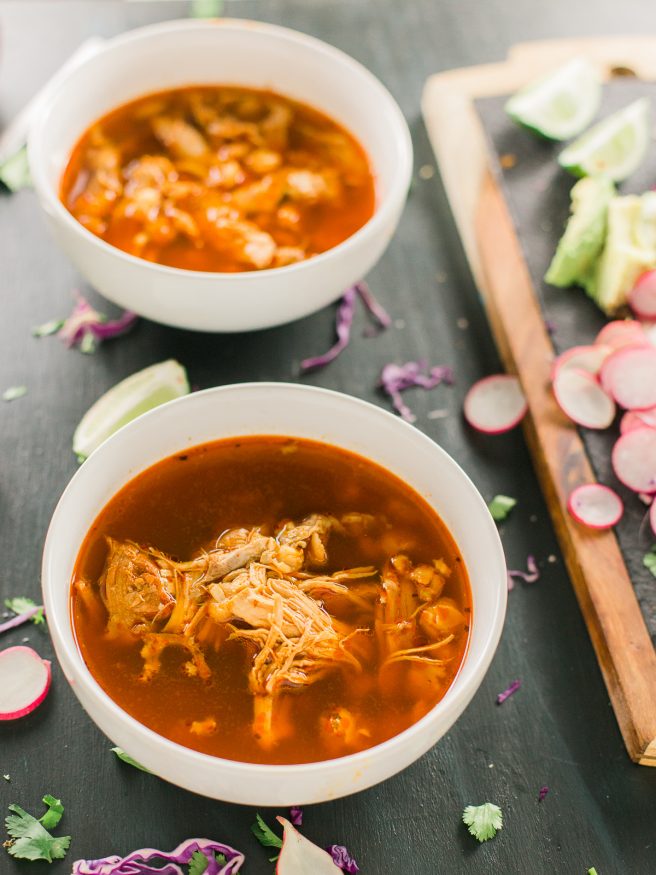 What hits the spot for me is the hominy along with the toppings that you can add to it. I love adding cabbage, cilantro, a wedge of lime, tortillas, and my personal favorite – cheese!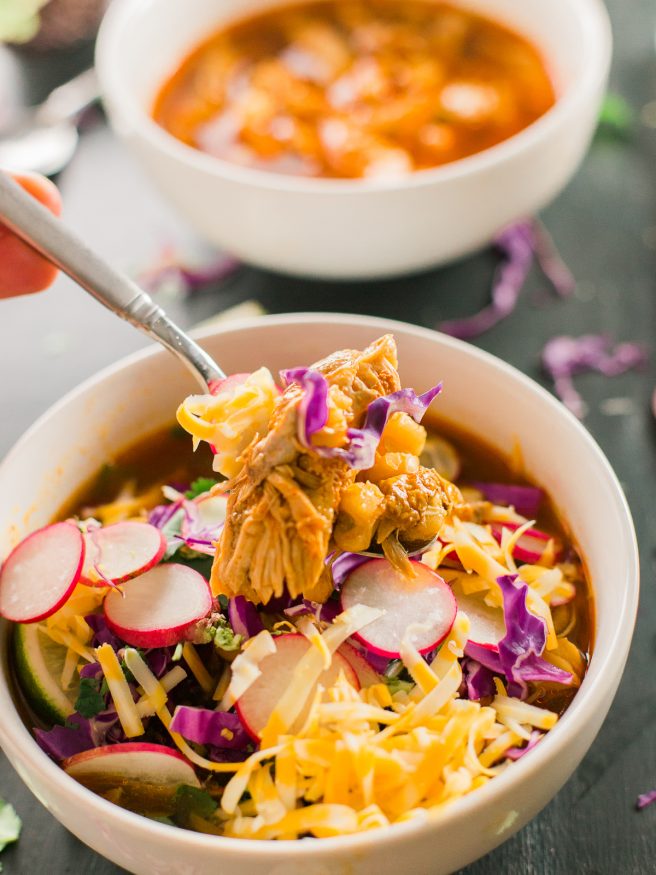 Traditionally, I believe Pozole rojo uses pork, while Pozole verde uses chicken. But, I'm not particularly crazy about pork to the point that I could eat a giant pot of Pozole with pork.
But this recipe is totally interchangeable on the protein you use. So, do you boo!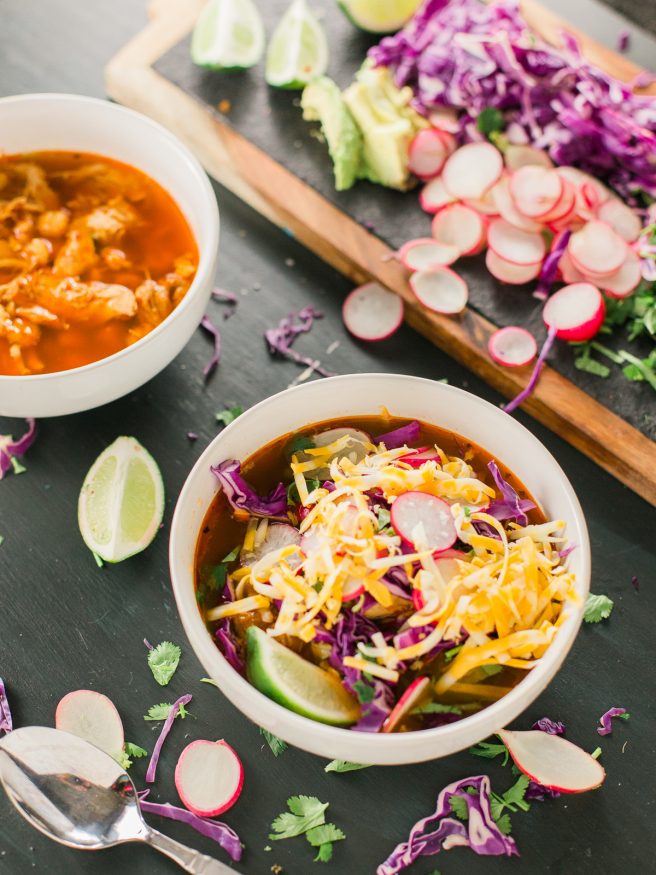 This also freezes very well, So if you're not a large family, but have plenty of freezer room, separate the Pozole Rojo into soup containers (about 1 1/2 cup per person in each container), and it'll keep for as long as 6 months in your freezer.
Just take it out the day before you eat, and stop by the grocery store on the way home to get your toppings and you've got an easy lazy dinner on the weeknight!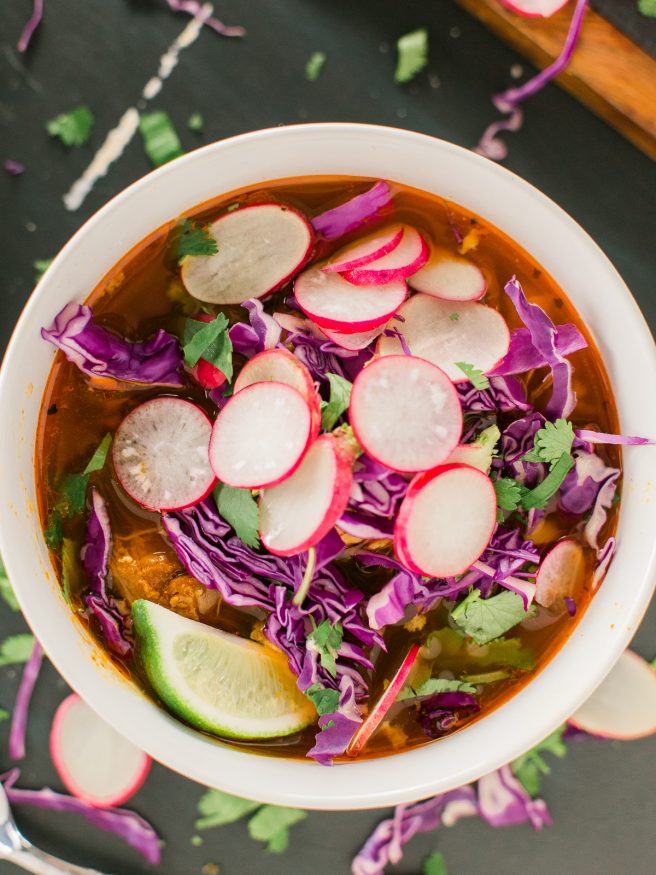 Red Pozole with Chicken (Pozole Rojo de Pollo)
Print Recipe
Pozole Base
5

whole

dried guajillo peppers

4

whole

dried ancho peppers

2

whole

dried japanese peppers

6

cloves

garlic

1

large

yellow onion

4

cups

water
Pozole
3

tbsp

olive oil

2

slices

onion

2

lbs

chicken meat

skin on, bone in for flavor, can be dark or white.

2

tbsp

salt

1

tbsp

oregano

1/2

tsp

ground cayenne pepper

1

tsp

smoked paprika

3

whole

bay leaves

105

oz

can white hominy

this is that LARGE can you see at the store

4

cups

chicken stock

8

cups

water
In a small pot, place the guajillo, ancho, and japanese peppers in 2 cups of water and boil until soft; about 5 minutes

place softened peppers with remaining water into a blender with the onion (chopped to blend easier) garlic, and remaining 2 cups of water. Blend until you have a smooth consistency. Set aside.

In a large stock pot (6 quart or larger) heat olive oil and a couple slices of onion for about 5 minutes. Remove onion and place chicken in the pot.

Add salt, pepper, oregano, cayenne pepper, paprika and bay leaves to the pot.

Pour your Pozole base into a strainer over the pot. Let the liquid freely come out of the bottom into the pot. You can help this a long with a spoon. you'll still have a lot of the base left in the strainer, but you'll want as much liquid as possible to come through into the pot.

Add hominy, chicken stock, and water to the pot. Bring to a boil, then reduce to a simmer. Let cook for about 4 hours.

Turn heat off after 4 hours, then let rest for 30 to 60 minutes. Serve with a wedge of lime, shredded red cabbage, sliced radishes, onion, cilantro, and a little tapatio, cheese or jalapenos if you like. Enjoy!