When you kids love rib eye steak as much as you do, Prime rib roast HAS to be on the dinner menu around the holidays.
Today I'm making a standing rib roast with a black truffle salt and herb rub that is the perfect way to close the curtains on the year.
This rib roast is going to be more along the lines of what you'd consider a traditional style. It's going to be slow cooked in the oven at 250 F.
Then when the internal temp reaches around 155-120 F I'll pull it, let it rest for about 10 minutes while the oven comes up to 500 F.
And while that is cooking I'm going to make a batch of my garlic and herb mashed potatoes, along side some blistered green beans.
Two easy side dishes to make but they're so delicious and pair perfectly with this prime rib dinner.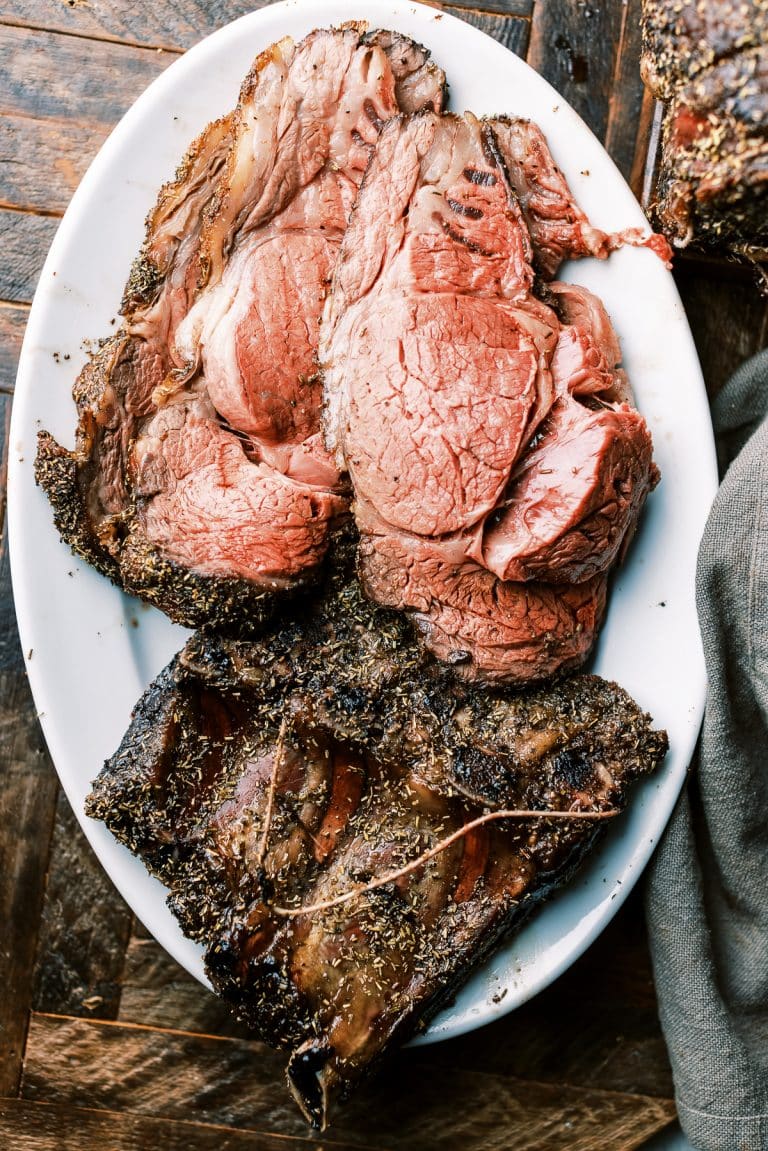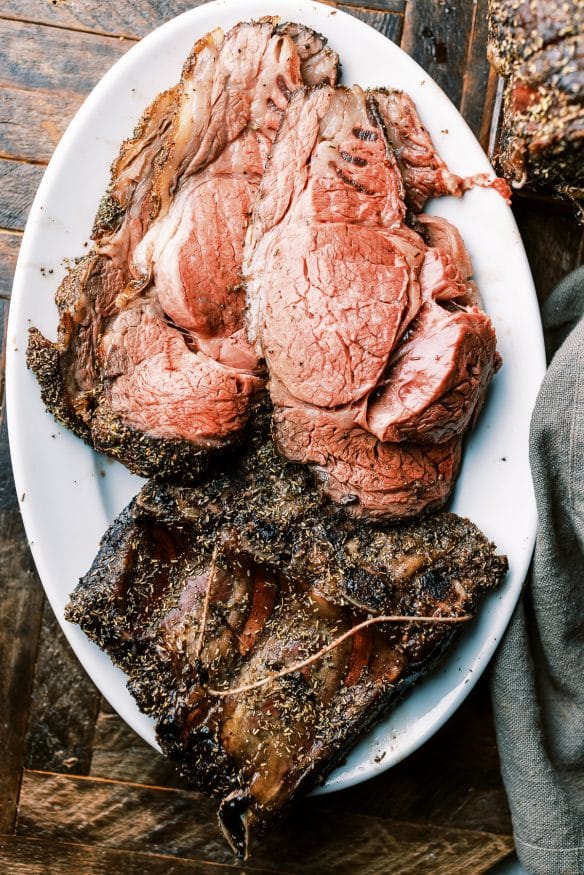 And if you're into smoked prime rib, You can follow the same instructions, and instead of using your oven just bust out the pellet smoker.
For the searing part you're either going to want to bring your rib roast back to the oven, or grill becuase you'll want to be at around 500 F to get a nice crust around the outside.
It's times like these I really with I had a Kamado Joe..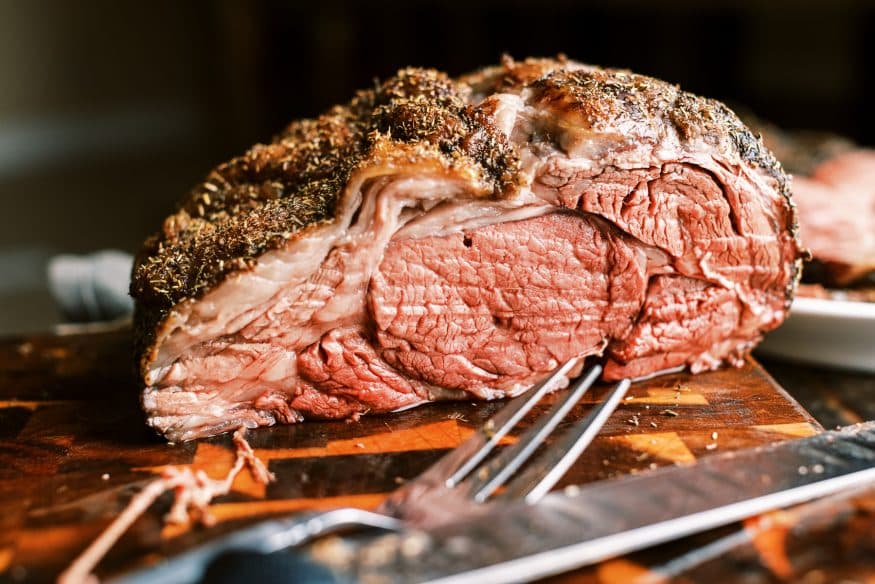 A perfectly cooked rib roast should be pink edge to edge, so really want your internal temperature.
I highly recommend using a wireless meat prob like an iGrill or Meater to get the job done.
And if you're like me, have plenty of horseradish on deck too!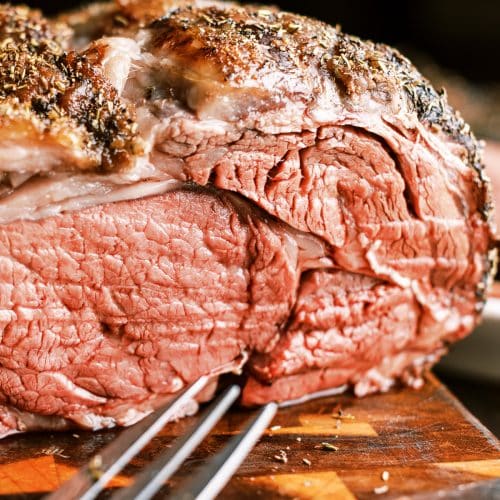 Prime Rib Roast
Prime Rib roast with a black truffle sea salt and herb rub that is so juicy tender and full of flavor you'll want to make this every year!
Print Recipe
6-8

lb

rib roast

2

tbsp

olive oil
FOR THE RUB
2

tbsp

black truffle sea salt

1

tbsp

course black pepper

1/2

tbsp

granulated garlic

1

tbsp

thyme

1

tbsp

rosemary
lather your rib roast with a thin layer of olive oil. This will help your rub stick

Liberally coat your rib roast with black truffle sea salt, black pepper, granulated garlic, thume and rosemary. Place on a sheet pan lined with a cooling rack

Place in the oven with a meat probe, then set the oven to 250 F. Cook until your internal temperature hits 118

When the internal temperature has hit 118, pull the rib roast out and let it rest for about 10 minutes. Preheat your oven to 500F and place the rib roast back in when the internal temperature rises to 125-130. Cook for 10 minutes until the internal temperature reachse 140-145 for medium doneness.

Slice into 1 to 1 1/2 inch slices and enjoy!
Calories:
1049
kcal
|
Carbohydrates:
1
g
|
Protein:
46
g
|
Fat:
94
g
|
Saturated Fat:
38
g
|
Cholesterol:
206
mg
|
Sodium:
152
mg
|
Potassium:
763
mg
|
Fiber:
1
g
|
Sugar:
1
g
|
Vitamin A:
49
IU
|
Vitamin C:
2
mg
|
Calcium:
32
mg
|
Iron:
5
mg