Pollo Asado Marinade With Beer
I am so excited the weather is warming up and it has really been getting me into the grilling kick. Pollo Asado is something I've been craving for the last couple weeks, and with Cinco De Mayo around the corner, it just seemed like the best recipe to put together this week!
This Pollo Asado marinade is quite amazing, a little spicy with citrus and a hint of beer makes it light and perfect for street tacos, fajitas or just on it's own with some beans and rice!
And if you're going to do street tacos with some pollo asado you can't NOT add some Avocado Pico De Gallo, or just some good ol' Guacamole.
Just a side note, but you may need to refrain from drinking the marinade before you get a chance to put the chicken in it. I took a taste before adding the chicken just to make sure it tasted right, and I almost wanted to add some more beer and make it a Michelada (which if you're in the market for one of those, here's a good list of some great recipes for micheladas!)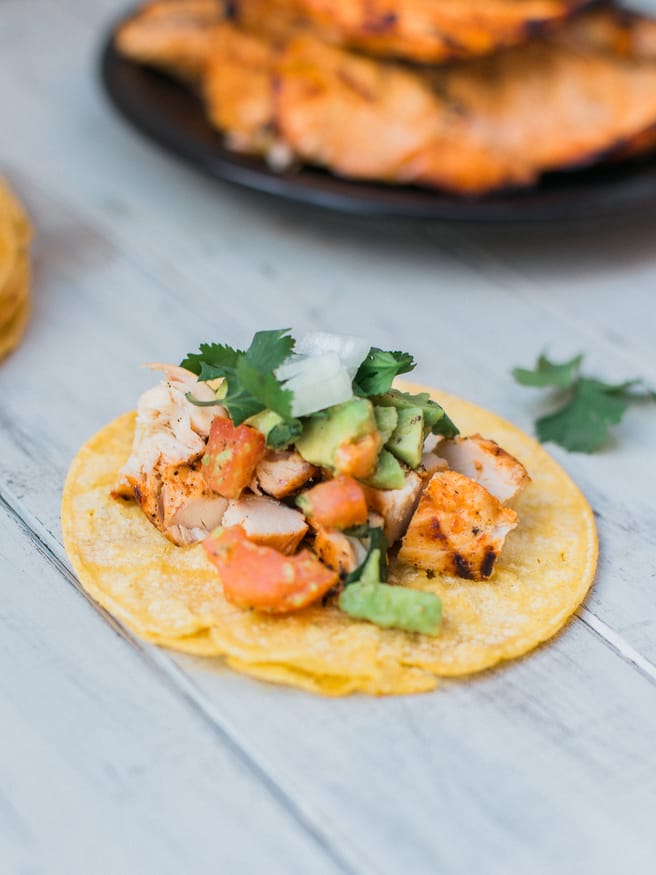 The pollo asado marinade will have the chicken ready to go in about 4 hours, but if you want more flavor, try to keep it sitting for about 8 hours or even overnight until you're ready to grill up!
I used boneless skinless breasts, then butterflied them so that I could get more surface area of the breast to take in the marinade, but this really works for any type of chicken meat, so if a grilling pack is on sale, go grab that and let it soak up this delicious marinade and grill it up for your Cinco De Mayo party!
Pollo Asado Marinade Recipe
Pollo Asado Marinade With Beer
Print Recipe
Ingredients
1

cup

water

1

whole

dried ancho peppers

2

whole

dried guajillo peppers

2

cloves

garlic

1/2

whole

jalapeno

2

tbsp

white vinegar

1

cup

green onion

2

whole

oranges

12

ounces

mexican light beer

1

tsp

cumin

1

tsp

oregano

1

tbsp

salt

3

lbs

chicken
Instructions
Boil your guajillo and ancho peppers in 1 cup water for about 5 minutes, then place in a blender with the remaining water.

Place garlic, vinegar, jalepeno, and green onion in the blender as well.

Blend for about 2 minutes until no large chunks remain.

in a large bowl squeeze orange, lemon and lime into a bowl.

place the pepper blend into the bowl along with beer, cumin, oregano, and salt.

If you're using chicken breast, butterfly them so that they're nice and even.

Place int he bowl of marinade and let sit in the fridge anywhere from 4 hours up to 24 hours. the longer you marinade the more flavor it will have!

When ready to cook, place on a grill with medium heat, about 5-7 minutes on each side until the internal temperature is 165 degrees Fahrenheit.

Cut into 1/2 cubes and serve for tacos, or however you want! Enjoy!