Paleo and Gluten Free: Cauliflower Tortillas
I'm not one to get on the Paleo and gluten free train, but like many, I've gained a good amount of weight over the holiday months that I'd like to lose. Being the Mexican food lover that I am, I NEED a good carb alternative to tortillas while I lose some weight and these Cauliflower Tortillas are where its at! So to help get the pounds off quickly, I've decided to dedicate this month to  sharing healthy and great tasting food that will help you shed your winter coat!
Coincidentally, I was contacted Personal Trainer Food and invited to try out their 28 day RECON program and sent me 4 weeks supply of their food for me to help me on my weight loss journey. One of the major guidelines they provide for adding to the diet is no carbs/sugar, which being the carb and sugar lover that I am I immediately freaked out! So far it hasn't been bad but I'll update you on that later.
I found out quickly that there's a TON of ways to use cauliflower as a replacement to certain types of breads, and I had to try my own version of cauliflower tortillas. Mixing in a blend of spices like cumin, smoked paprika and fresh cilantro I figured there was no way this was going to taste bad. I wasn't wrong!  ????
These tortillas hold up really well for street tacos, and it's a really nice alternative to tortillas if you have a similar diet you're on. If you just happen to be using the RECON program like myself, It is AMAZING with their adobo chicken, topped with a little mozzarella and my Pico De Gallo salsa. You can always use a grilled chicken recipe as well!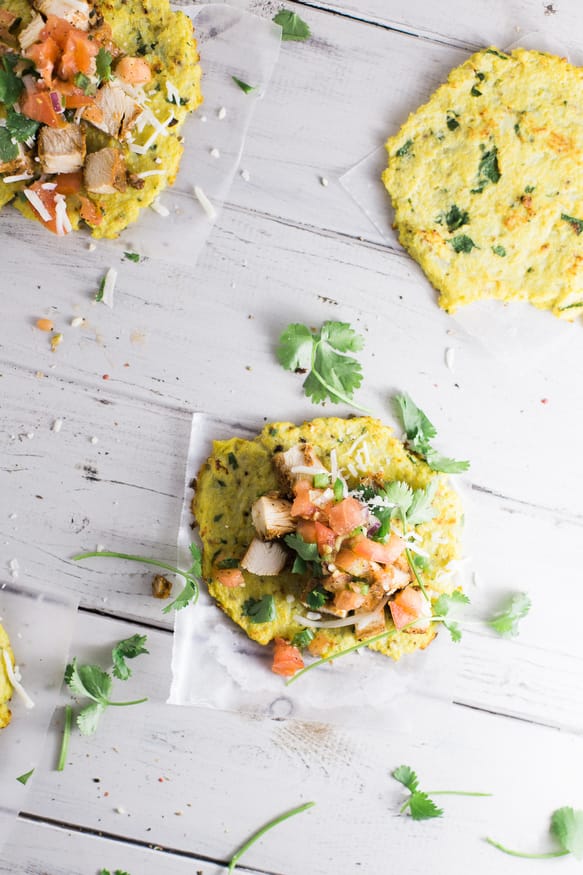 Cooking and Prep Tips
Drier the better.
One of thing things you have to do to get this recipe to come out right is get the cauliflower dry as possible after steaming. Wring it out in a dish towel, and when you think you have it dried out, keep going. It took me about 5 minutes on this step to get the water out. You really want it too look similar to Masa dough when you're done.
Make ahead
You can make a batch of this during the weekend, and keep in the fridge for 7 days easily. When you're ready to cook, re-heat on a pan with a little butter or oil and you're good to go!
Thanks again to Personal Trainer Food for supplying me with my meals this month!
Paleo and Gluten Free: Cauliflower Tortillas
Print Recipe
Ingredients
Tortillas
1

head

cauliflower

2

whole

eggs

1

tsp

cumin

1

tsp

smoked paprika

1/4

tsp

oregano

1

tbsp

chopped cilantro

1/4

tsp

salt

1/4

tsp

pepper
Taco Toppings
1

pack

Personal Trainer Adobo Chicken

2

tbsp

mozerella cheese

1/4

cup

Spicy Pico De Gallo

1/2

whole

avocado
Instructions
Preheat oven to 375F. Cut the core from your head of cauliflower and chop into smaller chunks that will fit into your blender

Blend into a fine consistency. You may need to separate this into 2 batches depending on your blender size.

Once blended, steam for 5 minutes. TIP: If you don't have a steamer big enough, you can place a colander over a stock pot filled with water about 2 inches deep and cover.

Place the steamed blended cauliflower into a dish towel and wring out as much water as you possibly can. TIP: It's going to be hot so either use a second towel to protect your hands or use oven mitts. If you're not in a hurry you can let it cool for about 15 minutes.

Once the water has been drained out it should look similar to masa dough.

Place the cauliflower "dough" into a bowl and mix in your eggs, cumin, smoked paprika, oregano, salt, pepper, and fresh chopped cilantro.

Place on a non-stick pan, or a parchment paper lined pan and take about large spoonful and flatten out until it resembles a tortilla, about 1 cm thick. Place in the oven for 10 minutes, then flip and continue cooking for 5 minutes

OPTIONAL: heat up 1 Personal Trainer Food Adobo Chicken as directed on the package, and chop into 1/2 cubes.

Place chicken on the tortillas along with toppings 1 breast should should give you about 3 tacos per person. Enjoy!