Naan Flatbread Bacon and Egg Breakfast Pizza
I LOVE NAAN! And because I can't get enough of Naan for about the past 2 years, I had to do something with it for the blog! I found the perfect way to use it. Turning it into a breakfast pizza!
I wanted to make something special for our little guy for breakfast since its his birthday today and I thought about making him a breakfast pizza.
I'm not going to lie, even though this naan flatbread smothered in cheese, bacon and topped with an egg is freaking amazing, Brayden the picky eater wasn't too stoked on it. Oh well maybe next year when his tastebuds mature..

He was super stoked at the idea of a breakfast pizza in a personal size just for him, he just wasn't took stoked about the sunny side up egg. Which I should have known better, he's a total scrambled egg little guy. Nothing I couldn't whip up real quick instead but what are you gonna do?
But this Naan Flatbread Egg and Bacon Breakfast Pizza from the adult perspective is a great way to start off the morning.
Smothered in cheese and savory bacon with the crispy on the outside, soft on the inside texture of Naan flatbread is a match I only wish I could take credit for, but they're just so made for each other its common sense!
I also used a soapstone cooking stone that we got for a wedding gift that holds a lot of heat similar to a pizza stone – it definitely helped make the crust nice and crunchy!
Its also great if you want to cook this on the grill if you're out camping or just don't feel like getting the kitchen all hot with an oven heated to 475.
In case you're looking for Naan bread, I used this brand that is easily available in my parts, there's a few ready made naan bread brands too!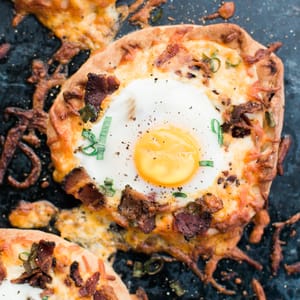 Naan Flatbread Bacon and Egg Breakfast Pizza
Print Recipe
Ingredients
4

slices

naan flatbread

4

strips

cooked bacon

1

cup

shredded cheese

4

whole

eggs

1

tbsp

sliced green onions
Instructions
Preheat your oven to 475. Prepare your naan with shredded cheese and bacon, leaving a dent in the middle of the naan for the egg to sit.

Cook for about 20-25 minutes until the egg white is opaque. Enjoy!