Homemade Sloppy Joe Sliders
This post is sponsored by

 
Sloppy Joe's are the one thing I can get Brayden to eat without a fuss any day of the week. But I can only serve this up to him for so long without wanted to make sure I know he's getting good quality ingredients.
Plus I have a little more control in trying to sneak in some vegetables along the way. Ahh, the life of a sneaky parent begins!
Using fresh ingredients along with Pacific Foods Organice Tomato Stock along with Pacific Foods Organic Tomato Sauce as my base, I'm getting great flavors in to these sloppy joe sliders and on the table in less than 30 minutes. Easy, great ingredients and flavors!
So I'm letting my beef simmer in tomato stock instead of water to really give the beef a nice flavor after it browns. When I brown beef on its own it really gets that beefy flavor that isn't so pleasant if you get a big chunk beef in the middle of a bite.
Then letting it simmer in Pacific Foods tomato sauce, Worcestershire, finely chopped onions, garlic, and bell pepper, give it that nice sloppy joe flavor everyone knows and loves.
So if you're kid is like my kid and can spot a vegetable a mile away, you really need to make sure everything is minced so that its near impossible to find. that or just lie and tell him it's candy.
Like they'll believe that.. But it's worth a shot!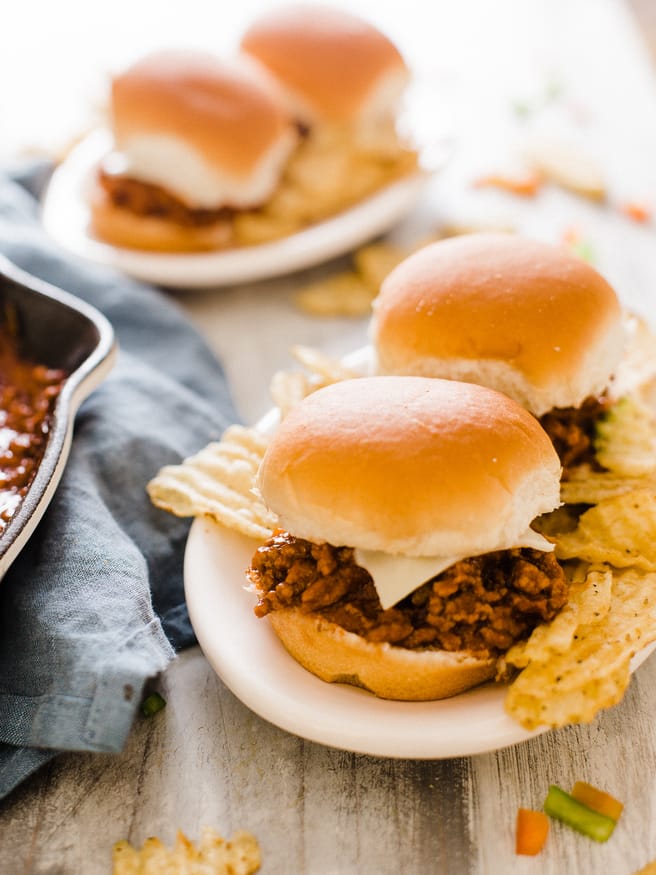 Canned Sloppy Joe mix is all well and great, but if you want to add a bit of love into your dinner for the kids pin this recipe, and serve it up on your next sloppy joe night!
Homemade Sloppy Joe Sliders
Print Recipe
Ingredients
1 1/2

lbs

ground beef

8

oz

Pacific Foods Organic Tomato Stock

1

cup

Pacific Foods Organic Tomato Sauce

1

tbsp

kosher salt

1

tsp

black pepper

1

tsp

Worcestershire sauce

1

whole

green bell pepper

1

tbsp

minced garlic

1

tsp

onion powder

1

tsp

apple cider vinegar

optional

12

whole

slider buns

6

slices

cheese

optional
Instructions
In a large skillet, brown ground beef and drain. Add garlic, bell pepper, salt, pepper, and onion powder and stir until you can start to smell the garlic.

Add Pacific Foods Organic Stock and stir with a wooden spoon, scraping from the bottom of the pan to get any of those delicious brown bits!

Stir in Pacific Foods Organic Tomato Sauce along with apple cider vinegar. Reduce heat to simmer and cook until thickened; about 15-20 minutes.

Serve on slider buns with some mozzarella cheese if you want to add some flavor. Enjoy!