Smoked sausage was one of the first things I started grilling when I was younger. They're quick and easy to cook up and have so much flavor. For this recipe, I'm adding extra pineapple salsa to give a Hawaiian vibe to these smoked sausage hoagies.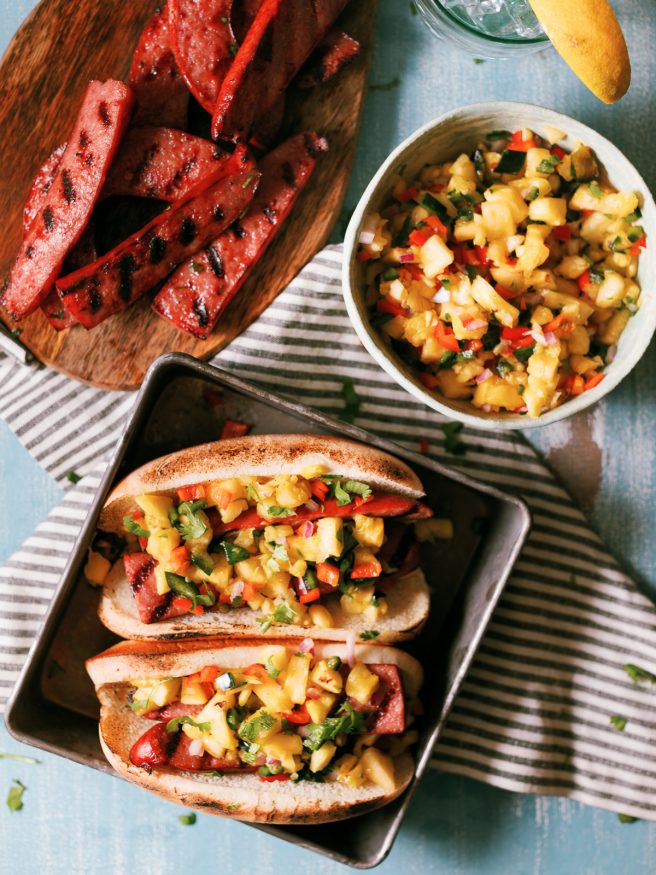 I'm grilling up Farmer John Smoked Sausage Rope for these hoagies, but you can really use any flavor or variety. I love how Farmer John products are always flavorful and high-quality. Plus, you can find them just about anywhere on the west coast, including Smart & Final, Stater Brothers Markets, Albertsons, Ralphs, Vons, and Northgate.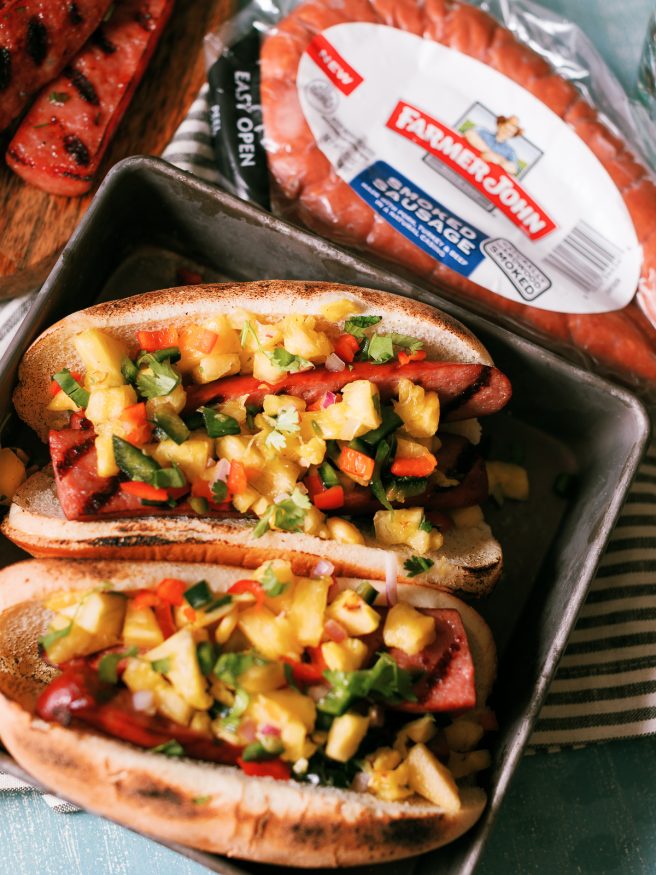 With Summer in full effect and the sun not setting till 8pm we've been spending more time outdoors, leading to more meals cooked on the grill. The last thing I want to do is spend time in the kitchen worrying about messes when I can be outside grilling and spending time with the fam.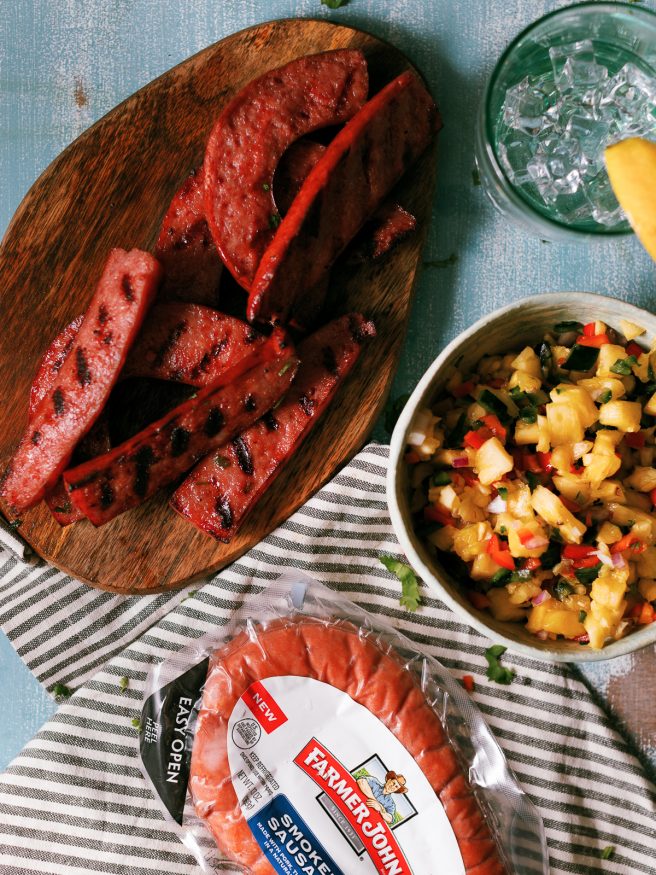 Smoked Sausage takes little effort to cook and is so forgiving, so you don't need to watch it like a hawk, which is exactly what I don't need to be doing with two children running around out back!
The smokiness from the sausage and bright, beautiful flavors from the pineapple salsa go together perfectly. While I was testing this recipe, I contemplated a condiment to add, but it just took away from the simple, yet brilliant flavors of the salsa and Farmer John Smoked Sausage just living together like they were meant to be inside that soft French roll.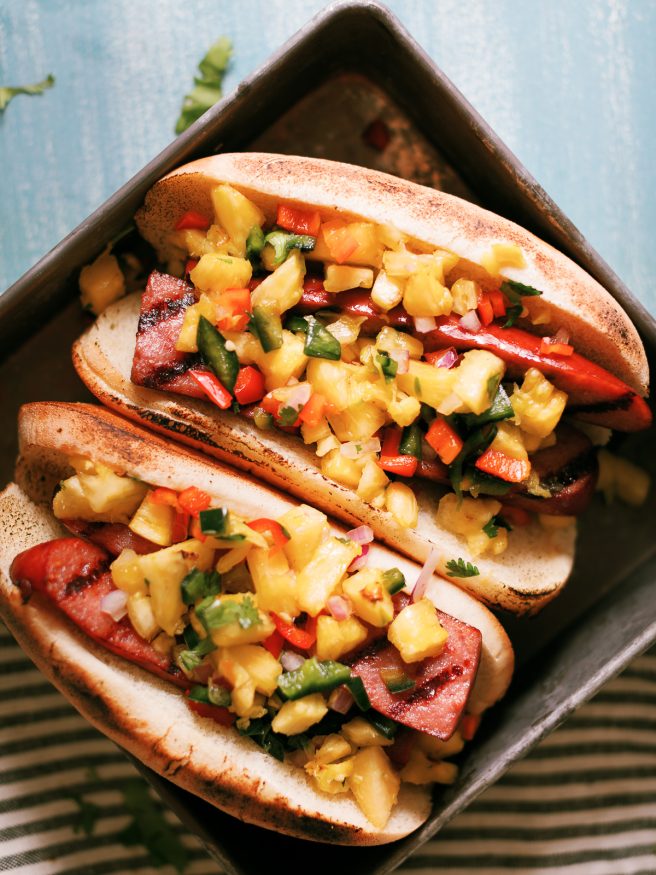 This pineapple salsa is sweet with a little heat to make this a little more "family friendly" for the younger bunch, but if you're like the wife and I and want to feel the burn, here's what I suggest:
Split the serving in two and add a jalapeno into the "NO KIDS ALLOWED" batch. It really adds some amazing flavor to an already amazing sandwich!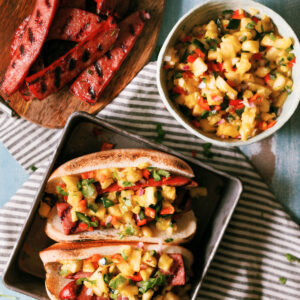 Grilled Smoked Sausage Hoagies with Pineapple Salsa
The smokiness from the sausage and bright, beautiful flavors from the pineapple
salsa go together perfectly in this awesome summer grilled sausage hoagie!



Print Recipe
FOR THE PINEAPPLE SALSA
1

lime

3

cans diced pineapple

6

small sweet red peppers

¼

cup

cilantro

1

poblano pepper

1

jalapeno

optional

½

red onion

diced
½ red onion, diced

Drain pineapple, chop onion, peppers, and place all in a bowl. Squeeze in lime juice and stir. Cover and place in the fridge.

Preheat grill to 500 with a two-zone grilling area. Cut Farmer John Smoked Sausage into 3 equal parts. Place over indirect heat. Cook for about 3 minutes on each side.

Remove sausage from indirect heat and cut in half lengthwise. Place sausage flesh side down over direct heat and sear for about 5 minutes. Optionally, grill your buns during this time.

Remove sausage from grill and place in buns. Top with pineapple salsa and serve. Enjoy!