If you live in the southwest and have never had Elote, or Mexican corn on the cob, you've been missing out on an amazing treat! This takes me back to my younger band days where we'd stop the guy on his cart walking by the garage during practice. We'd either get get those pinwheels with lemon juice and Tapatio on them or some Mexican corn on the cob!
It has such great flavors and perfect for a side dish, or snack during the summer. It's not too heavy, only using a thin layer of a mayo lime mix, and the saltiness of the Cojita cheese, along with fresh cilantro really takes it over the top! Cooking this Mexican corn on the cob on the grill, adds a nice char an flavor that everyone will love!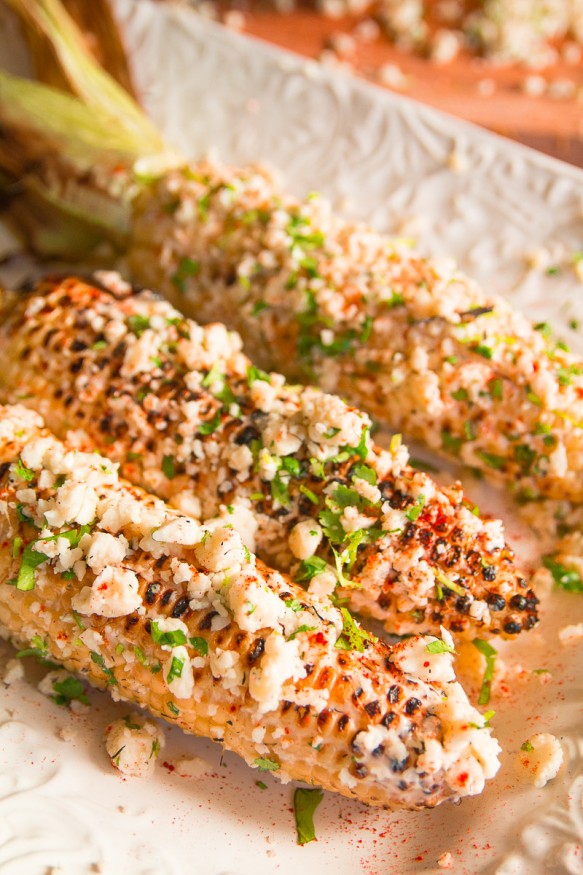 Prep
Spices
I definitely recommend using smoked paprika with this recipe. It adds so much more flavor than using regular paprika and really makes it stand out! Feel free to also top off with a little chili powder or maybe even some Tajin!
Getting The Cheese To Crumble
Normally, I can get Cojita cheese to crumble by hand fairly easily. Every now and then I seem to get a block that just doesn't want to cooperate. I find that chopping with a knife or even throwing in a Cuisinart will get the job done without any frustration.
Cooking
Cooking the Corn
I recommend leaving a thin layer of husks on the corn as well as the stalk. Leaving some of the husks will lock in some moisture and prevent the whole corn from charring up. I'll leave it on a little loose so some of the flame can get in, but protecting the majority of the corn. Leaving the stalk will make the corn easier to eat, as it acts as a natural handle to grab on to!
On To The Recipe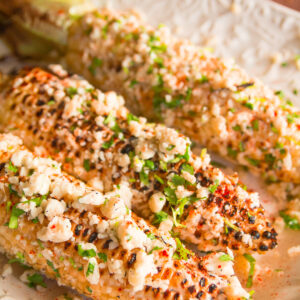 Elote - Mexican Corn On The Cob
Mexican corn on the cob on the grill with a mayo lime mixture with cumin and smoked paprika. Topped with Cojita cheese and cilantro gives it a fresh flavor that you'll love!
Print Recipe
4

ears

white or yellow corn

1/4

cup

light mayonaisse

1/2

whole

lime

1

tsp

cumin

1/2

tsp

smoked paprika

1

cup

cojita cheese

1/4

cup

cilantro
In a container mix your mayo with the lime squeezed. Add cumin and smoked paprika

Get your grill heated up. Chop the cilantro while waiting.

Crumble your cojita cheese

Husk the corn. I like to leave a few husks on to keep some of the moisture in while grilling.

Grill the corn for about 5 minutes on each side

When you're done grilling let it rest for a bit so that you can handle the corn.

When the corn is cool enough to touch, spread a thin layer of your mayo mix onto the corn.

top the corn with cojita and cilantro. I find it's easier to mix the cilantro and cojita together then roll the corn in the mixture.

Sprinkle a little more smoked paprika, chili powder or even tajin and enjoy!