I LOVE mango salsa. I was apprehensive about it at first but It's so light and full of flavor! Since I've first tried it, I love using it on about anything: burritos, nachos, tacos, sandwich wraps, burgers –  it's even delicious just eating it by the spoonful!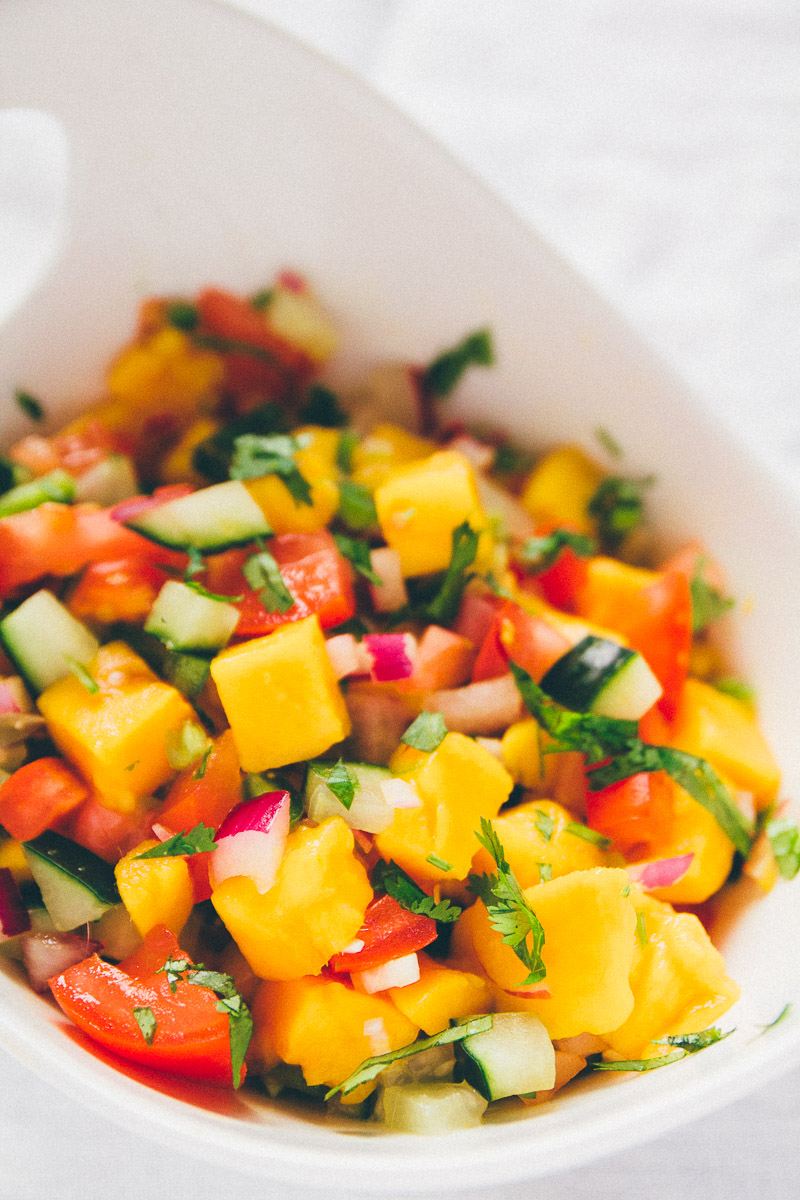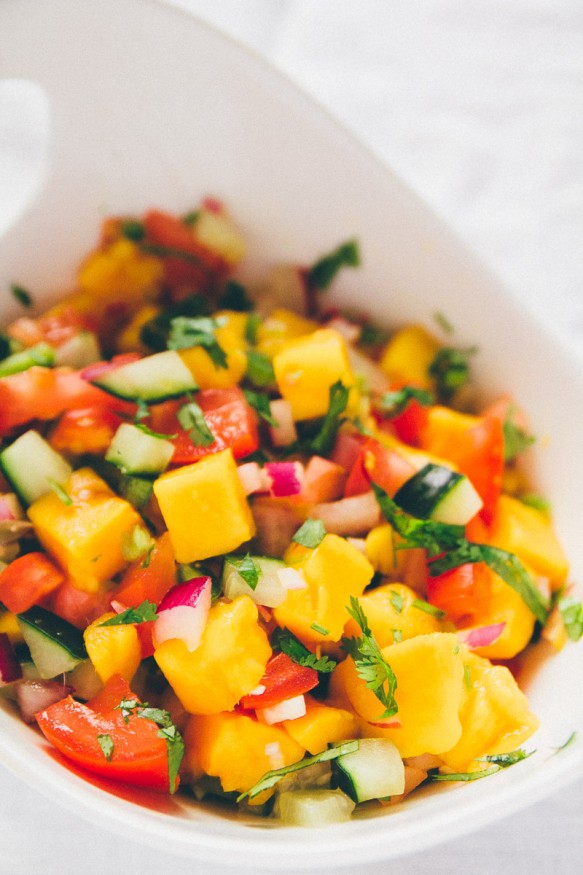 Who knew fruit other than a tomato goes great in salsa? The first time I even heard of mango salsa, my reaction was, "ummm, what? ". After trying it I was surprised that something like mango would go so well as a salsa. So I've concocted my own, and to liven things up a bit, I added some jalapeno and cucumber to it that really gives it a good bite and a mild spice that you'll love!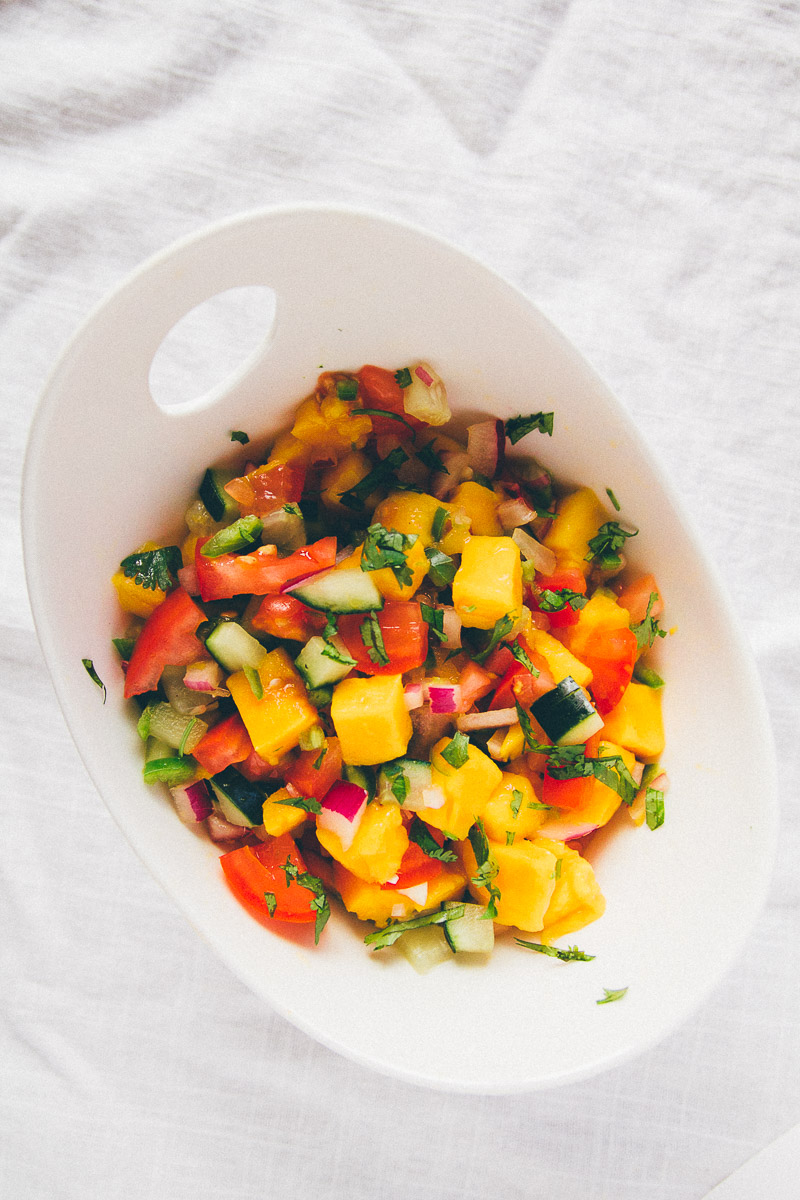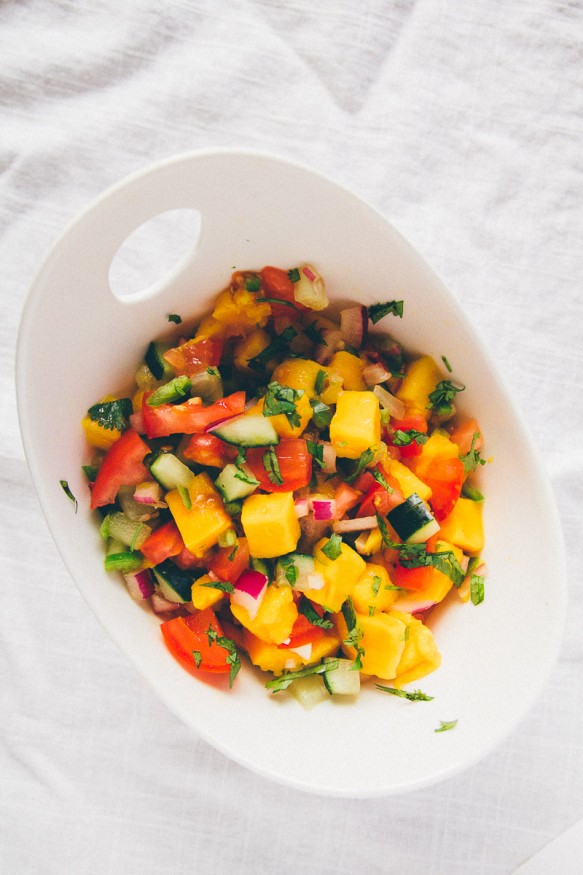 This is such a quick and easy thing to make any night. Just chop everything up, mix it altogether and serve! I love having this or my pico de gallo handy during the week because it makes a quick dinner a little more special? Don't have time to do anything for dinner? Cook up some quesadillas, with a side of beans and top it with some mango salsa!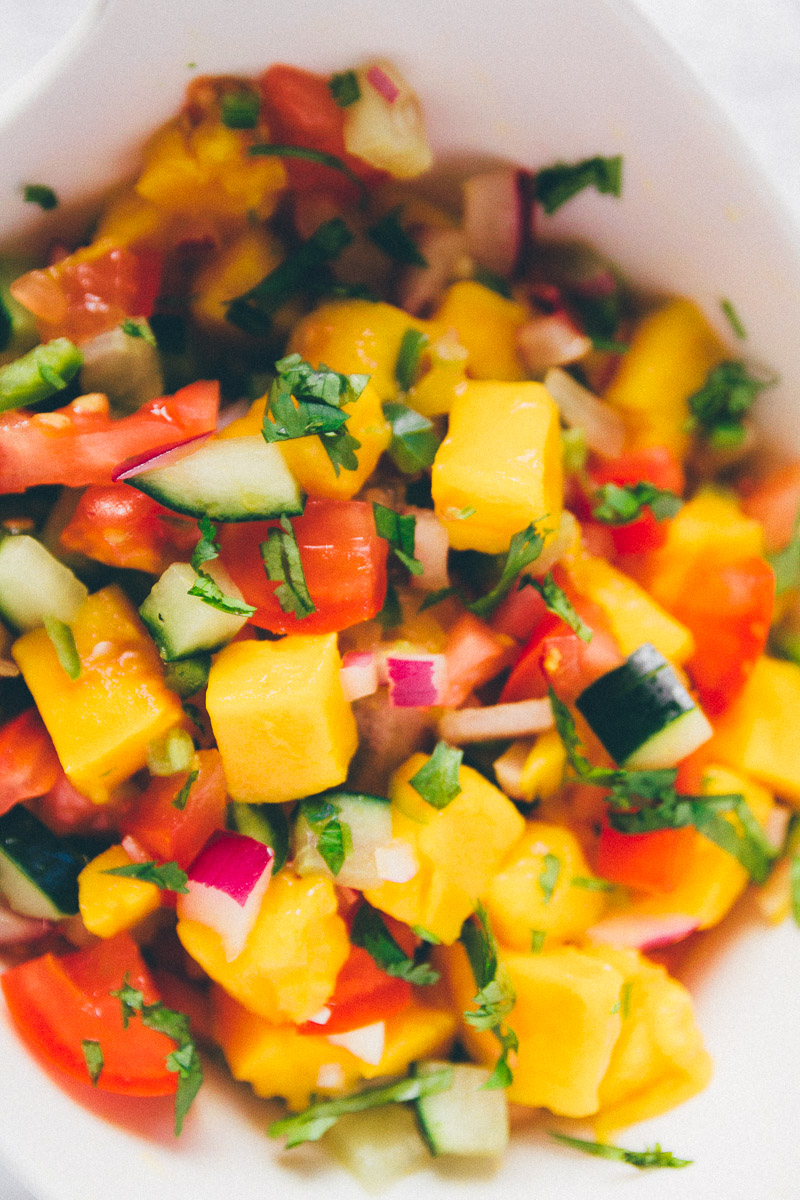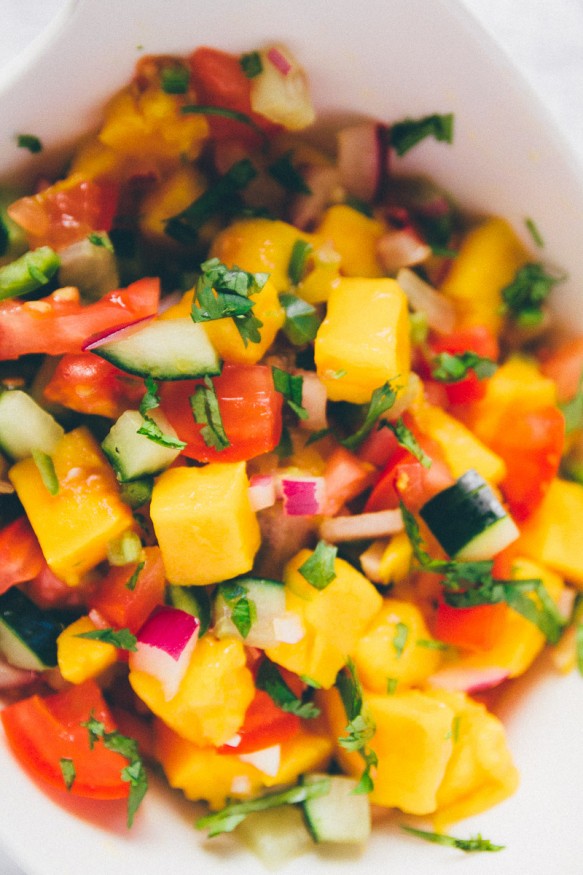 And look at all the colors! Plenty of vitamins and nutrients to counteract that greasy quesadilla right?! I mean I'm no nutritionist, but I'm pretty sure that's how it works. OK, maybe that's not how it works, but I can always dream right?!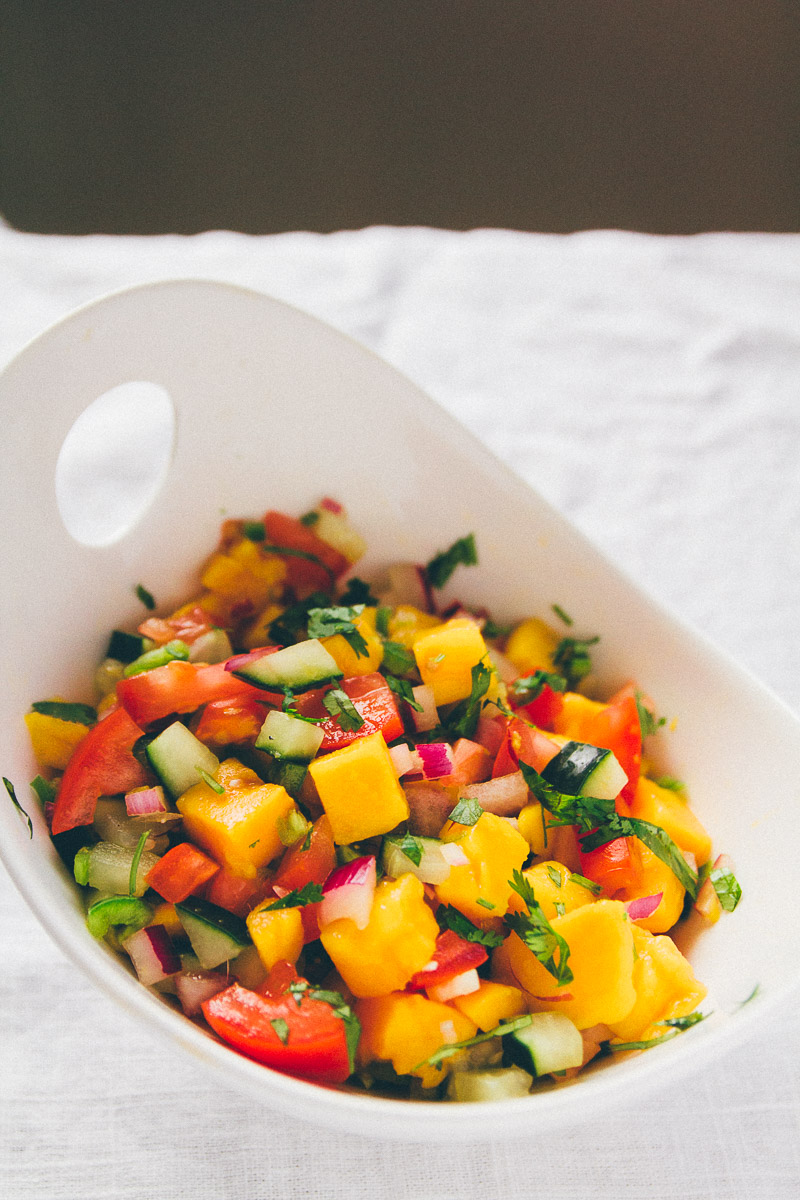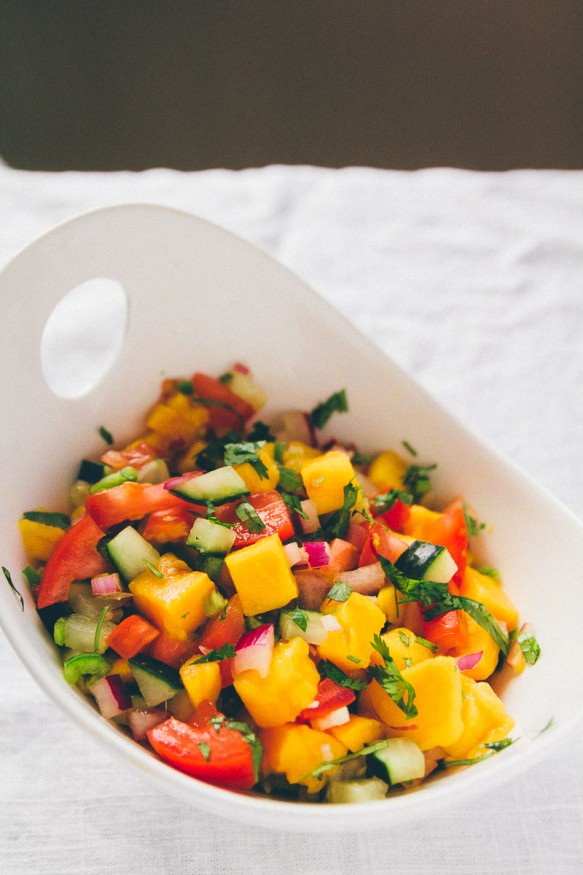 Prep
Cutting a Mango
I think the first time I tried cutting a mango I got pretty frustrated, thinking I could just cut it down the center without any problem. The fact is there is a hard center that you won't be able to cut through. You'l want to cut the mango close to the center and along this hard "pit". You can do this across 2 sides, and then get smaller spears if you want to get the full use out of 1 mango.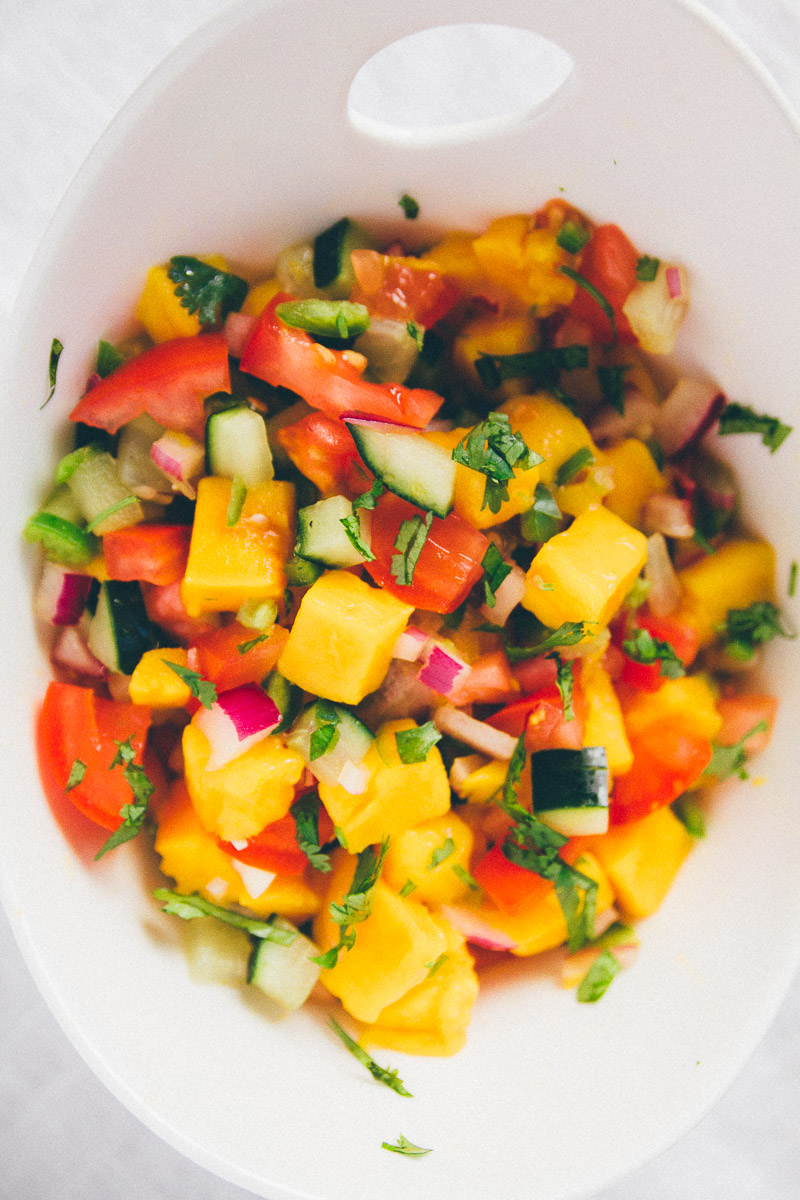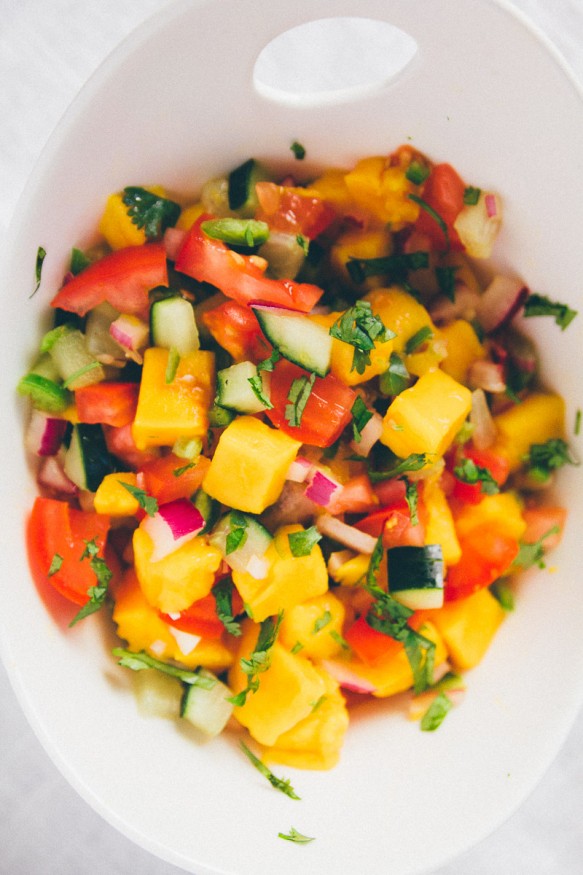 Recipes With Mango Salsa
Cucumber Mango Salsa
Easy Cucumber Mango Salsa with cucumber, jalapeno, mango and other veggies. Sweet with spicy that'll make a great topping to any dish!
Print Recipe
1

whole

Mango

1

whole

tomato

1/2

whole

lime

1/2

cup

diced cucumber

1/4

cup

diced red onion

1/4

cup

diced jalapeno

1

tbsp

chopped cilantro

1

tsp

salt
Cut Your Mango in half along the side of the pit. With your halves, slice vertically, then horizontally making cubes.

Push the center of the mango from the skin side towards you so it makes all the cubs "pop" out, then with a spoon scoop out the mango and place in a bowl.

Dice your tomato, cucumber, cilantro, jalapeno, and onion.

Add all of it into the same bowl with the mango, squeeze the lime juice, and add salt.

Mix it all together and you have a lovely cucumber mango salsa! Place in the fridge until you're read to use!