One of the best things about having a great marinara recipe is being able to re-purpose it for other recipes like using it as pizza sauce for a home made pizza. I don't have all the fancy at home pizza tools like a stone, or grill add-on (although I really want both), but I found that cooking a pizza in a cast iron skillet is a great substitute for these tools!
The heat that the skillet holds gives a even and really crispy pizza dough that has a nice crunch in every bite, and will hold up to whatever toppings you want to throw at it!
The dough recipe I provided for the skillet pizza is a super simple dough, that doesn't need a mixer or any crazy contraptions, just simple and done by hand. This is a perfect dough to make when you need something to take some aggression out when it's time for the kneading process. Just don't go too crazy with it, you'll need it for the recipe!
Prepping Tips
Make ahead
The pizza dough does need an hour to rise, but after that process is done, you can store this in the fridge for about 24 hours, or frozen up to 6 months. This plus having some left over marinara in the freezer will make this an easy meal to get going on a weekday given you've done all your weekend prep work!
Keep the sauce thin
One of the mistakes I used to make when I was new at making pizza, was using too much sauce. It doesn't take much sauce to make a pizza, and too much can sometimes result in a soggy pizza. Just a thin layer of pizza sauce will do!
Equipment Used
Size Matters
So I am a fan of thick crust. I'm that guy that will eat the left over pizza crust in the box after everyone is done eating. I have no shame. I used a 12″ skillet for this recipe but I would recommend going with an 18″ skillet if you want a more traditional pizza crust. You can feed more/have leftovers (maybe?) with a bigger skillet too!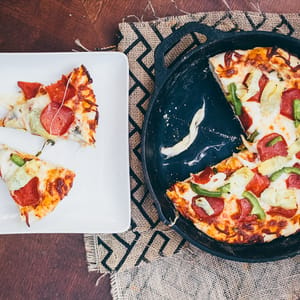 Crispy Skillet Pizza
Print Recipe
Ingredients
Pizza Dough
1

package

active yeast

1

cup

warm water

100-110F

1 1/2

tsp

salt

1 1/2

tbsp

olive oil

2 1/2

cups

flour

keep an extra 1/2 cup on the side...
Toppings
1/2

cup

marinara sauce

1/4

cup

fresh basil

1

cup

mozerella cheese

1/4

cup

pepperoni

1/4

cup

green bell pepper

optional

1/4

cup

artichoke hearts

optional
Instructions
In a mixing bowl, combine, warm water, yeast, salt and olive oil.

Mix for about 5 minutes with a fork to get the yeast activated.

Slowly stir in about half of your flour into the bowl and mix together,

Mix the remaining flour in the bowl and mix until you get a nice elastic ball. If it's too sticky add more flour, if it's too dry add a little water.

Knead the dough for about 8-10 minutes.

Roll the dough into a ball and place in a bowl that is lightly coated with a little olive oil, making sure the dough is evenly coated in the oil. Place a damp cloth on top of the bowl and let sit in a warm place for no less than an hour.

After your down has risen, go ahead and cut it in half. You can store the other half in the fridge for another batch or pizza on another night!

When you're ready to cook, preheat the oven to 500F, then begin forming the dough into a ball then flatten as much as possible by hand, rolling pin, or if you're adventurous you can try the hand-toss method.

place in the skillet and continue to flatten until it has evenly cover the skillet, leave the outer edge of the dough thicker if you're a crust fan like me!

Taking a spoon, pour the marinara in the middle of the dough then in a big spiral motion, use the spoon to spread the sauce across the dough. Add some fresh basil on top.

Top with cheese, pepperoni and any other toppings you like.

Cook for about 17 minutes, let it cool for about 5 minutes, then go ahead and serve. Enjoy!