Chicken Parmesan Sandwich Burgers is a great way to switch up a chicken parm dish or even to change up your chicken parm sandwich!
Its cheesy, crunch, swimming in marinara, and I wouldn't have it any other way.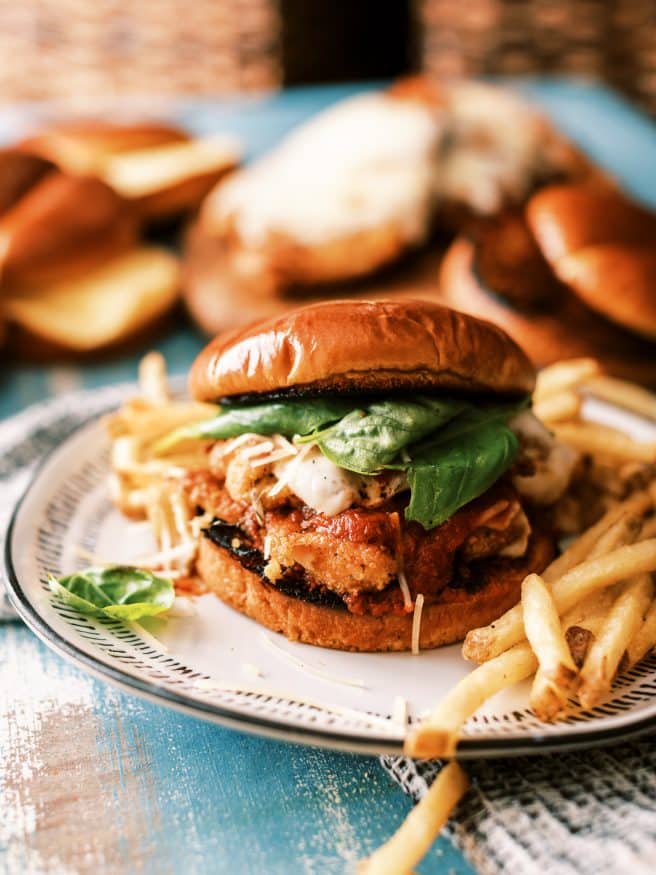 I took my chicken parmigiano recipe and altered it a bit to make it a fun family inner meal that everyone loved.
Except of course my kids just wanted the chicken parm by itself, not on a burger.
So i guess it was a fun family dinner that the wife and I loved.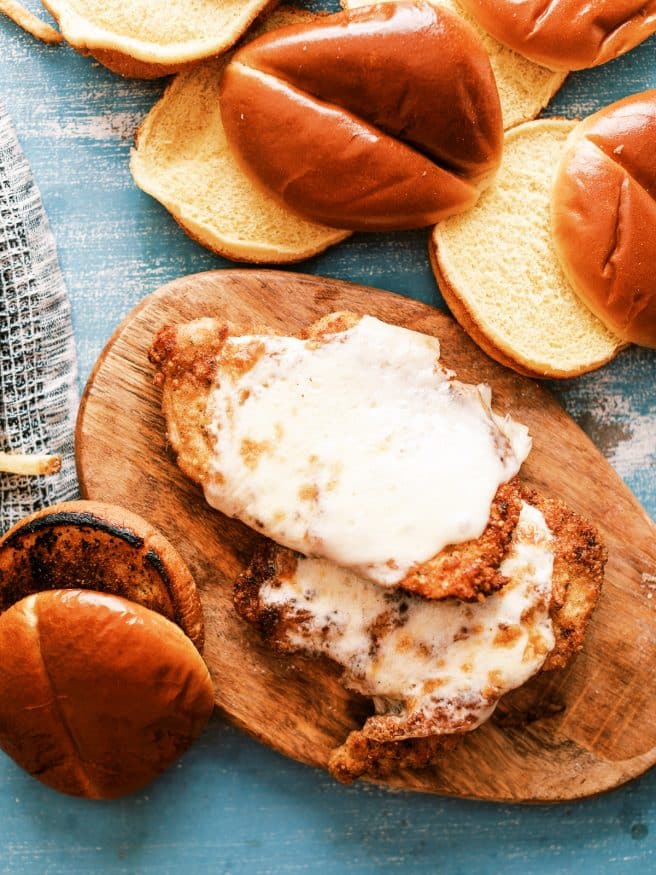 The key to making these sandwiches, is thinning out your chicken breast as much as possible.
I like to cover my chicken in wax paper, then demolish it with a small cast iron skillet. You'll want it 1/8 to 1/4 inch thickness.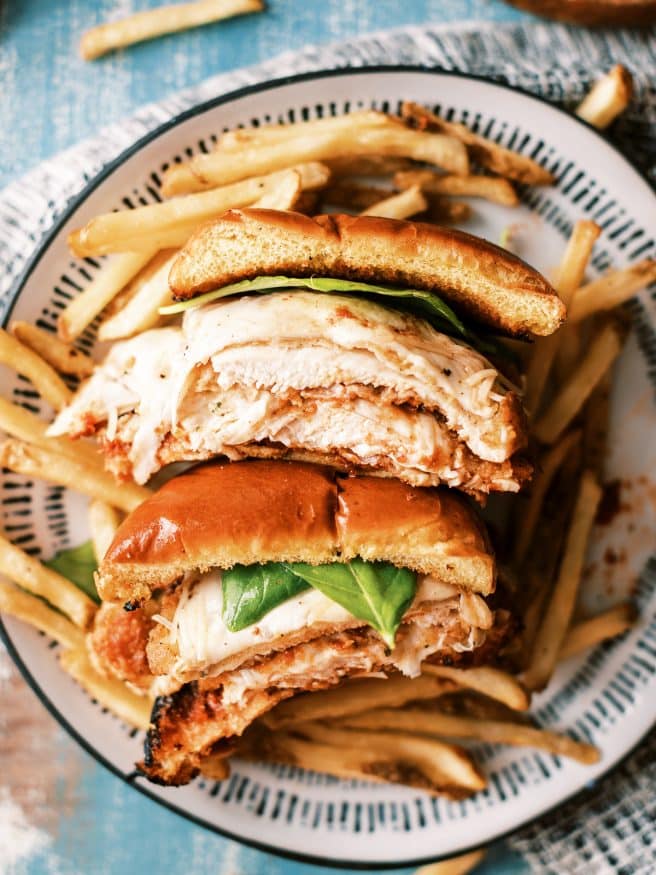 After broiling the mozzerella cheese on top, I cut these in halfso I could double up the burger, and make them taller, not wider, but thats totally up to you!
And be sure to have plenty of marinara and fresh basil to accompany these sandwiches because it really is what brings it all together!
Check out my marinara sauce recipe here, or check out my complete chicken parm and marinara recipe here!
Chicken Parmesan Sandwich Burgers
Chicken Parmesan Sandwiches in the theme of a burger. They're a delicious way to change up your chicken Parmesan and so fun to eat!
Print Recipe
FOR THE CHICKEN PARM
2

chicken breasts

1

cup

flour

1

cup

milk

1

egg

2

cups

italian bread crumbs

1/2

cup

grated parmesan cheese

1

tbsp

salt

1

tbsp

pepper

1

cup

oil

4

slices

mozzarella cheese
FOR THE BURGERS
2

cups

marinara sauce

4

buns

1/4

cup

grated parmesan cheese

1/2

cup

fresh basil
Butterfly your chicken breasts, then place in a zip-top bag. Using a mallet, or even a small pan, pound each breast until it's about 1/8 to 1/4 inch thick.

Prepare 3 separate dishes. 1 with flour, one with egg wash (whisk egg with milk), and Italian seasoned bread crumbs, with Parmesan cheese, salt and pepper in another baking dish. Coat each breast in the flour, then egg wash, then liberally coat each side of the breast in the bread crumbs.

Set oven to Broil, and heat your oil to about 350 F. When oil is up to temperature, carefully place chicken breast one at a time in the pan. Cooking about 3-5 minutes per side until internal temperature is 165 F. Place on a cooling rack.

Add fresh mozzarella on top and place in the broiler, about 5 minutes or until mozzarella is bubbly and brown. Heat up your marinara sauce in a pan.

Toast buns, add a heaping spoonful of marinara on the bun. top with a chicken breast (can be cut in half), add more parmesan cheese and basil. Serve and enjoy!
Sodium:
4118
mg
|
Calcium:
580
mg
|
Vitamin C:
12
mg
|
Vitamin A:
1350
IU
|
Sugar:
17
g
|
Fiber:
7
g
|
Potassium:
1157
mg
|
Cholesterol:
159
mg
|
Calories:
1393
kcal
|
Saturated Fat:
14
g
|
Fat:
80
g
|
Protein:
60
g
|
Carbohydrates:
109
g
|
Iron:
17
mg