The Holiday season is my carb weakness. I love breads cookies, and anything with a high carb count. This Banana Nut Cinnamon Crunch Bread is no exception to that. It's exactly how I love to wake up to to help calm my nerves on a hectic Christmas morning!
With the help of Krusteaz Cinnamon Swirl Crumb Cake & Muffin Mix. I can get this in the oven in no time. It's a great recipe to make right in the morning, or make it the night before and warm it up. For me, it's a great day after Christmas recipe that is easy to throw together while I start assembling all the toys Santa dropped off.
What I love about Krusteaz mixes, is how versatile they are. I added a couple mashed bananas to the Cinnamon Swirl Crumb Cake & Muffin Mix, then topped it with some crushed walnuts (or if you prefer, pecans) along with a little of the crumb mix on top. It's soooo good with coffee in the morning.
For us at home, I to have to make this in a 50/50 nut mix. Meaning half of the Banana Nut Cinnamon Crunch Bread is covered in in walnuts. My little guy is such a picky eater, and he's very particular about textures. Seriously, he could eat a crushed walnut separately from the Banana Bread and be on cloud nine. Put it on top? He's not touching it.
A foodie with a picky eater. Makes sense, right?
So while I need to go back to my official job for the day as "toy put-together-er" be sure to grab the recipe here: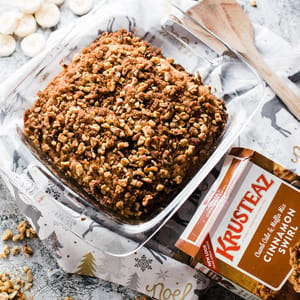 Banana Nut Cinnamon Crumb Cake
Print Recipe
Heat oven to 350°F. Lightly grease 8×8-inch pan. Mash bananas with a fork until slightly chunky. Stir together water, egg, banana, and ⅓ cup walnuts, and muffin mix until blended.

Spoon batter into lightly greased pan and spread evenly. Light swirl in half of the cinnamon toppings into batter. Sprinkle remaining batter and ⅓ cup of walnut evenly over batter

Bake for 40-45 minutes or until toothpick inserted into center comes out clean. For glass pan, add 5 minutes to bake time. Cool 5-10 minutes before cutting.