Whether they're baked, or fried, if you've never had a chicken flauta in your life prepared to be blown away! Flautas are the taquito's bigger brother, stuffed with chicken and cheese and wrapped in a flour tortilla. These things are amazing and I'll take one over a taquito any day.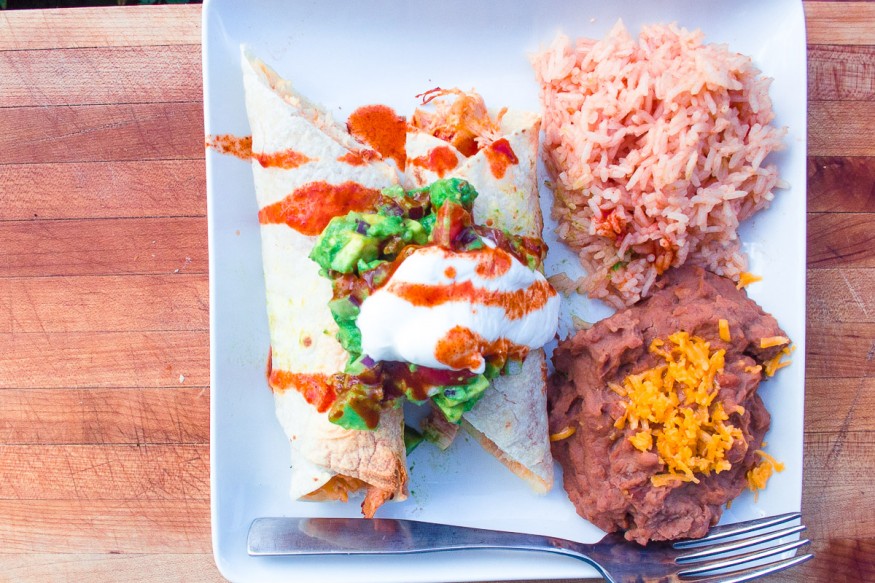 Normally these are made with regular, or even soft taco sized tortillas, but why double your prep time when you can make one large flauta and cut in in half after it's done?! Doing this, on top of slow cooking the chicken during the day in a crock pot will make a great quality dinner within 30 minutes once everyone gets home from their day.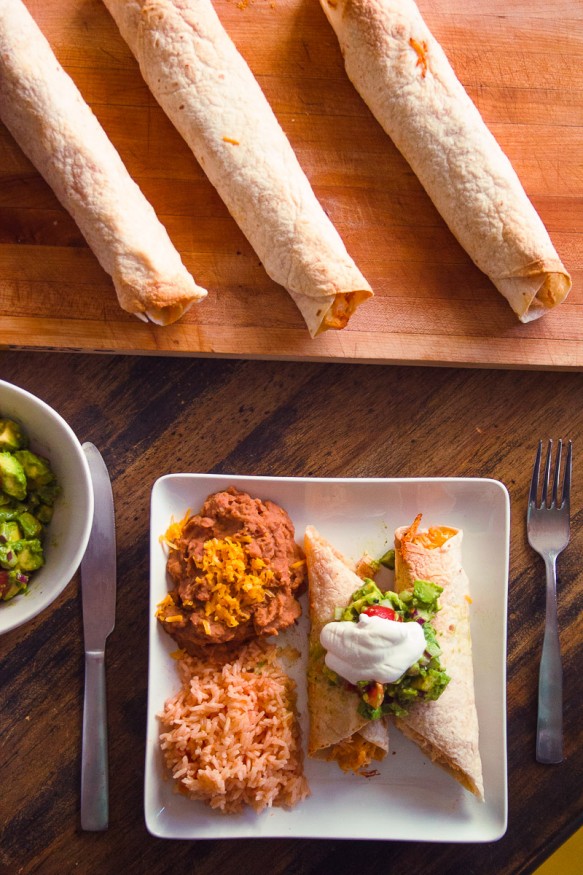 Prep
Crock Pot
If you don't have time in the morning (I have the luxury of not having to get to work super early), Throw all the chicken corck pot ingredients in the crock pot at night, store in the fridge, then throw it in the crock pot on your way out the door in the morning!
Tin foil on the baking sheet
I'm not gonna lie. I put tin foil on my baking sheet because it's in terrible condition! IF you want to save on clean up time you can use tin foil too, just be careful when taking the flautas off after they're cooked because they may take some tin foil with them.
Cooking
Baked. Not fried.
So I've fried flautas in the past and they taste great. But outside of being healthier, baking is a lot cleaner and quicker to do.
Sides
You have about 15 minutes of down time. Cook up some Quick Spanish Rice and make some Avocado Pico. You'll be glad you did!
Baked Monster Chicken Flautas
Baked Flautas with slow cooked crock pot chicken using large tortillas cuts down on prep time and makes this a great meal to make the family on a weeknight!
Print Recipe
Chicken Crock Pot Ingredietns
4

lbs

chicken breast

1

tbsp

cumin

1

tbsp

paprika

1

tbsp

chili powder

1

tsp

cayenne pepper

2

whole

bay leaves

2

tbsp

salt

2

cups

chicken broth

8

ounce

el pato tomato sauce
Flauta ingredients
4

oz

cheese

mozzarella or chedder

8

large

flour tortillas
Garnish
8

ounces

sour cream

2

cups

Avocado Pico
Add all the Chicken Crock Pot ingredients in the pot. Cook on low for 4-6 hours.

Once the chicken is done, shred with a fork. Taste it. At this point you may want to add a little more salt and a dash of chili powder, and some of the sauce from the crock pot to give it an extra boost of flavor!

Preheat oven to 425. Then on a baking sheet, lay a row of chicken across a tortilla and top it with cheese.

Roll the tortilla tightly

Repeat this until you have your baking sheet(s) lined up with flautas leaving about 1/2 inch gap in between. Bake in the oven for 10-15 minutes.

Serve it up with some beans rice or your other favorite Spanish sides and enjoy!