Bacon corn tomato salad with grilled scallops is a light and easy recipe to make for lunch or dinner. Its zesty, fresh, and full of flavor!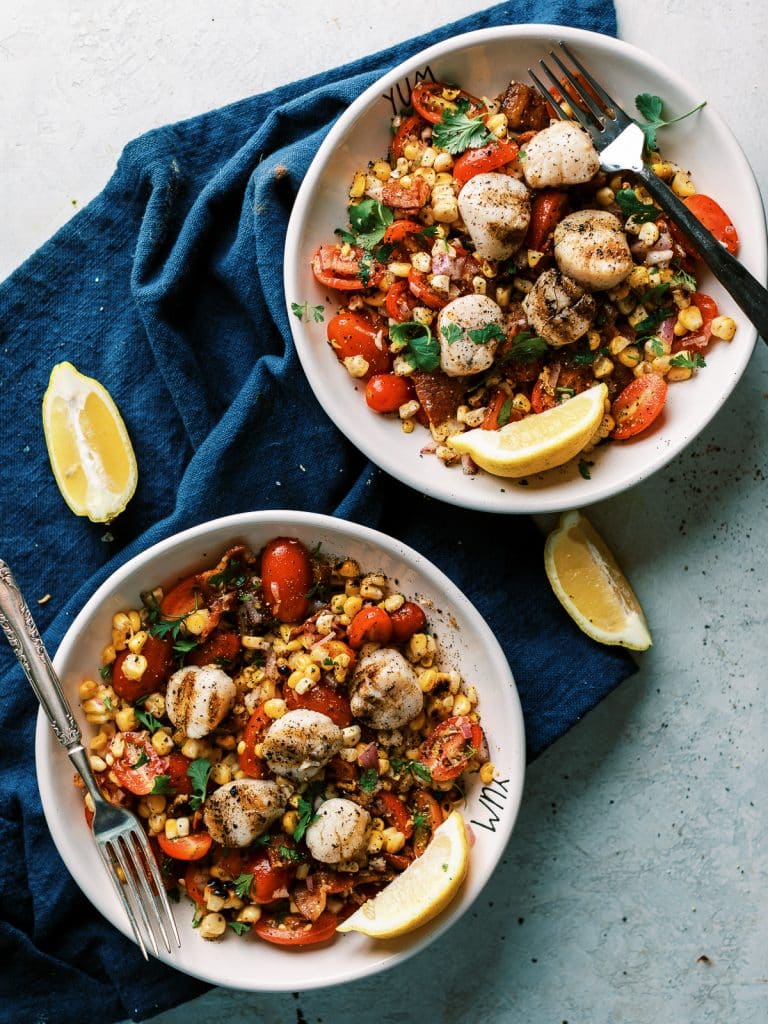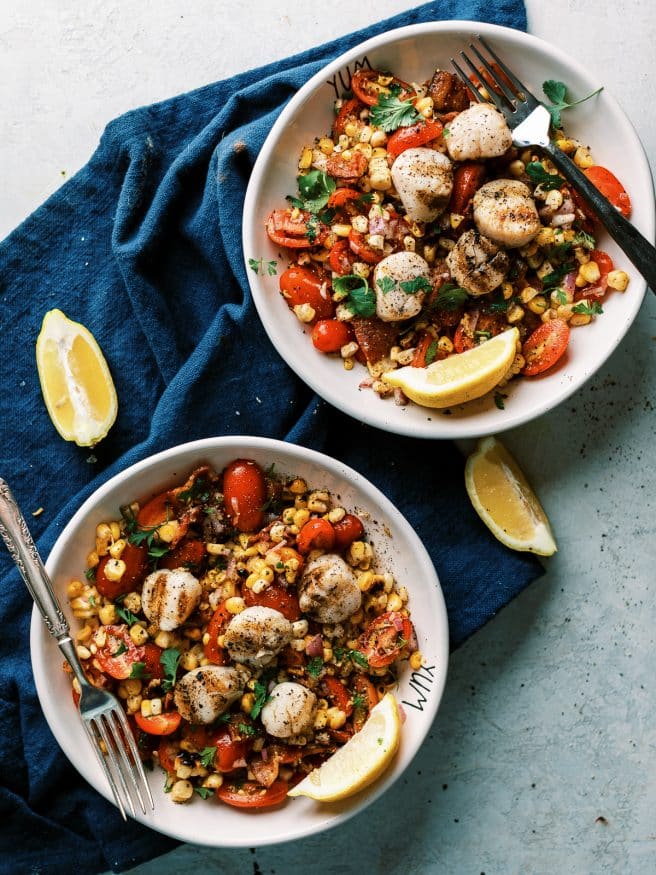 This Bacon Corn Tomato salad, is light zesty and refreshing. To turn an amazing side into an awesome dinner I'm topping it with some grilled scallops to bring it all together.
It's the perfect warm weather dinner to bring to the table!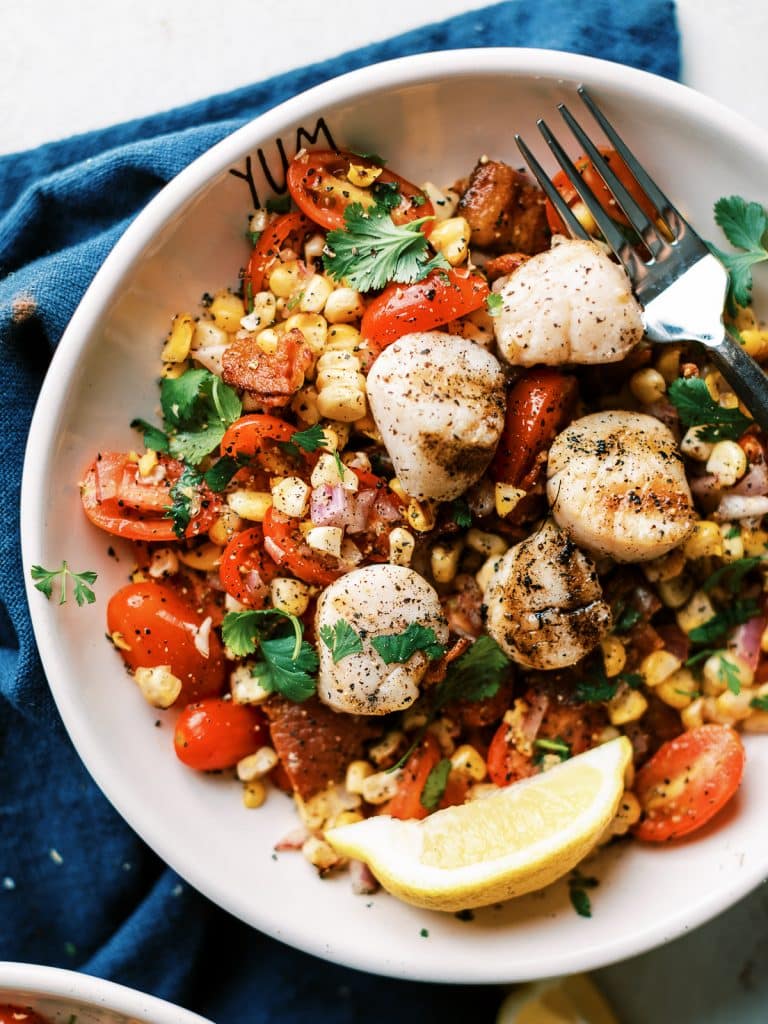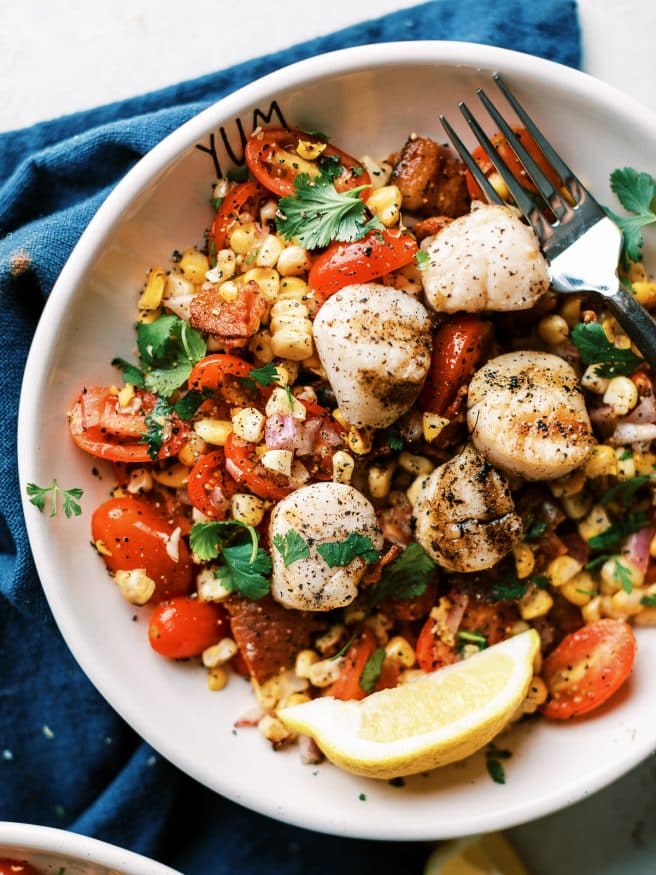 So this salad is a mixture of grilled corn, tomatoes and cilantro, and shallots. For the "dressing" I'm using a little olive oil and apple cider vinegar.
Then I added some bacon because – bacon.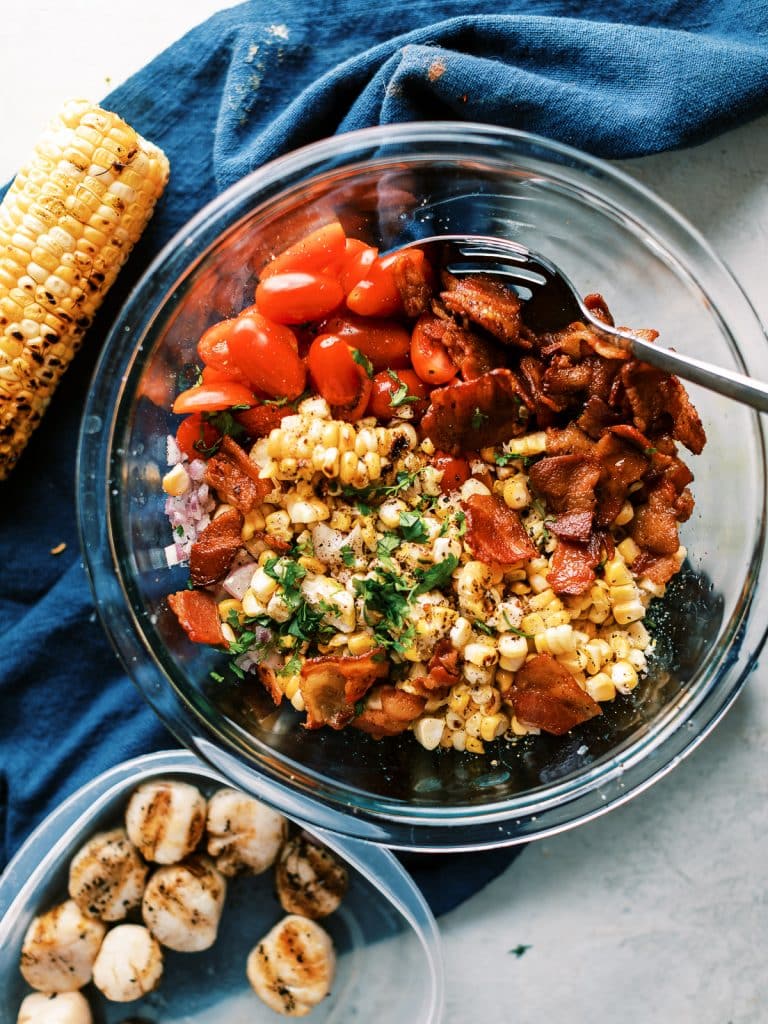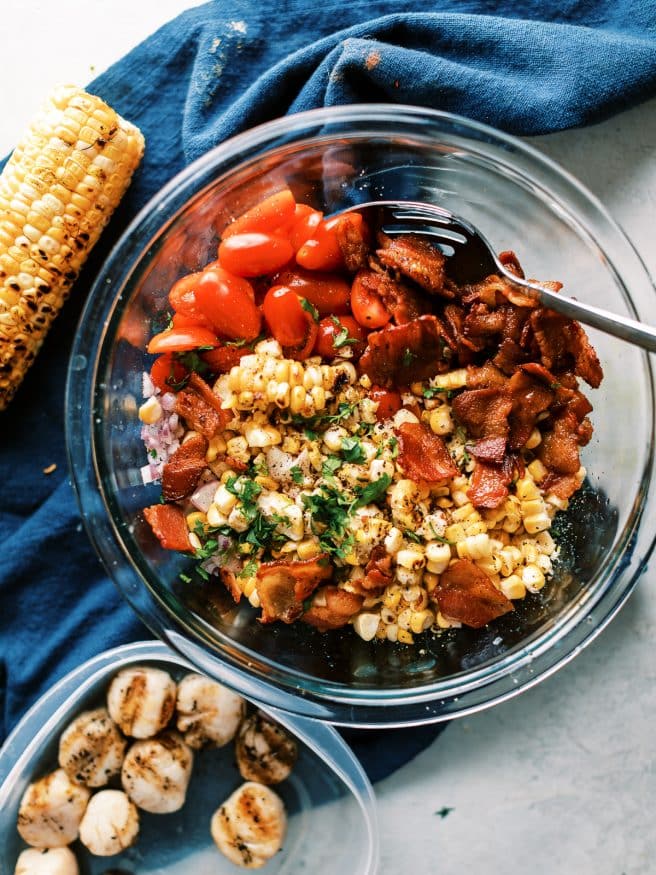 This is a quick recipe, the scallops will grill up about the same time as the corn will be done. I grilled them bother over direct high heat on the grill.
I like my corn to be charred on the outside, but not well done on the inside. It adds flavor but keeps the texture of the corn.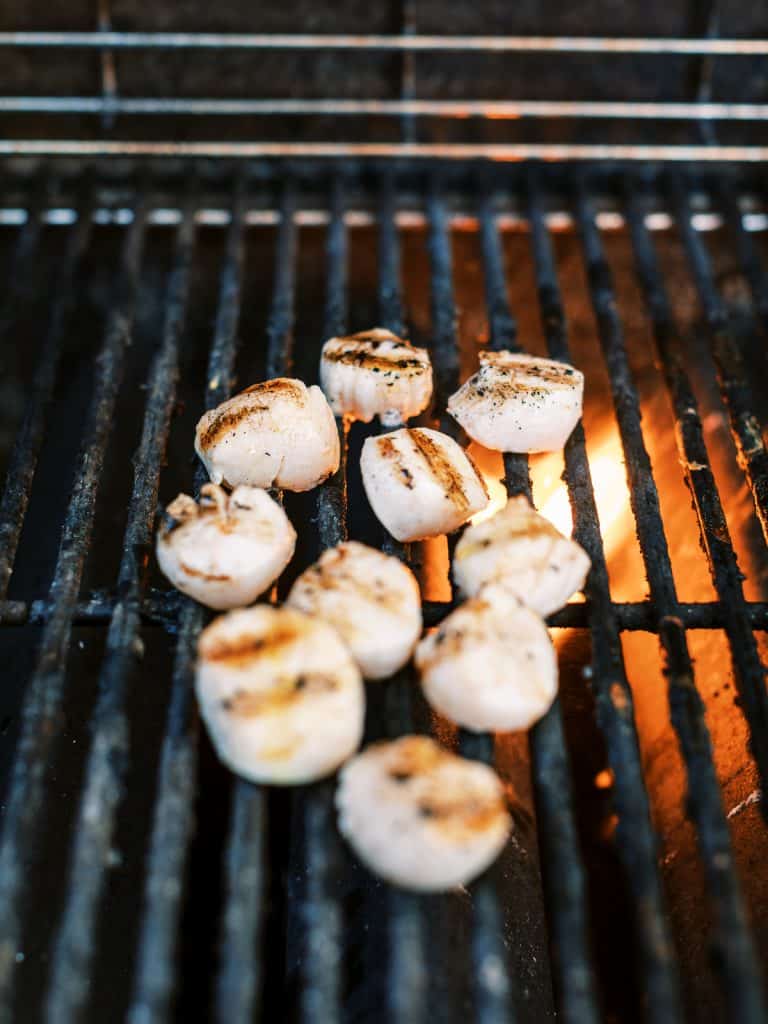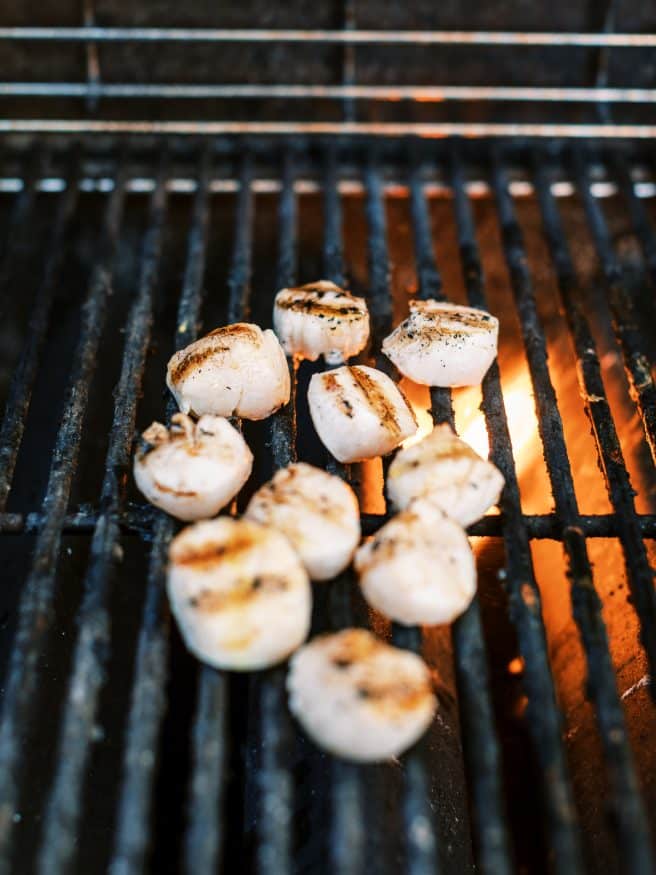 For the scallops I'm keeping them simple. lemon juice, salt and pepper. Nothing fancy since I want the flavor of the salad to be the spotlight of this recipe.
Feel free to add a little more flavor to your grilled scallops. Maybe a little cumin or crushed red pepper too to bring on the heat!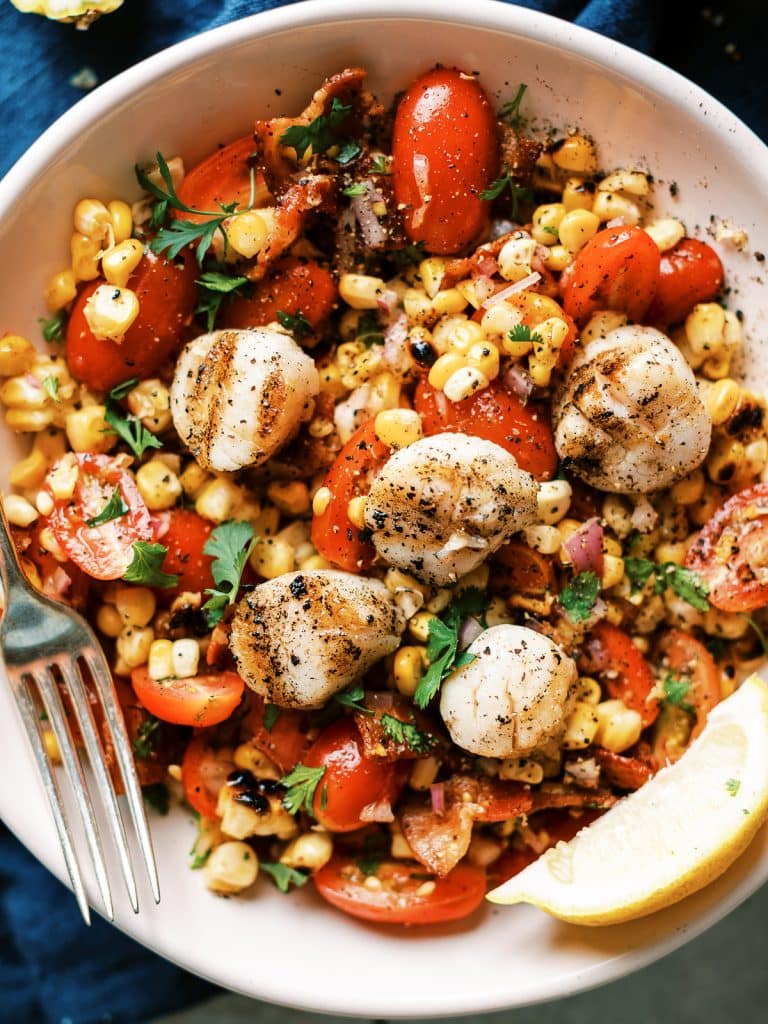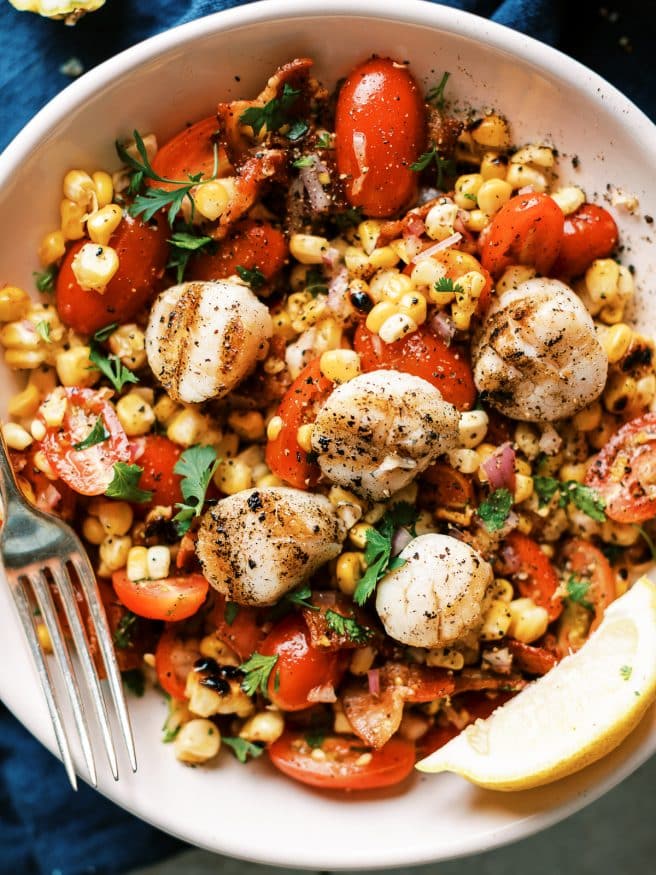 Also, I'm using cilantro, but this can be subbed out with some parsley, or even flat leaf Italian parsley to add a different flavor to your bacon corn tomato salad.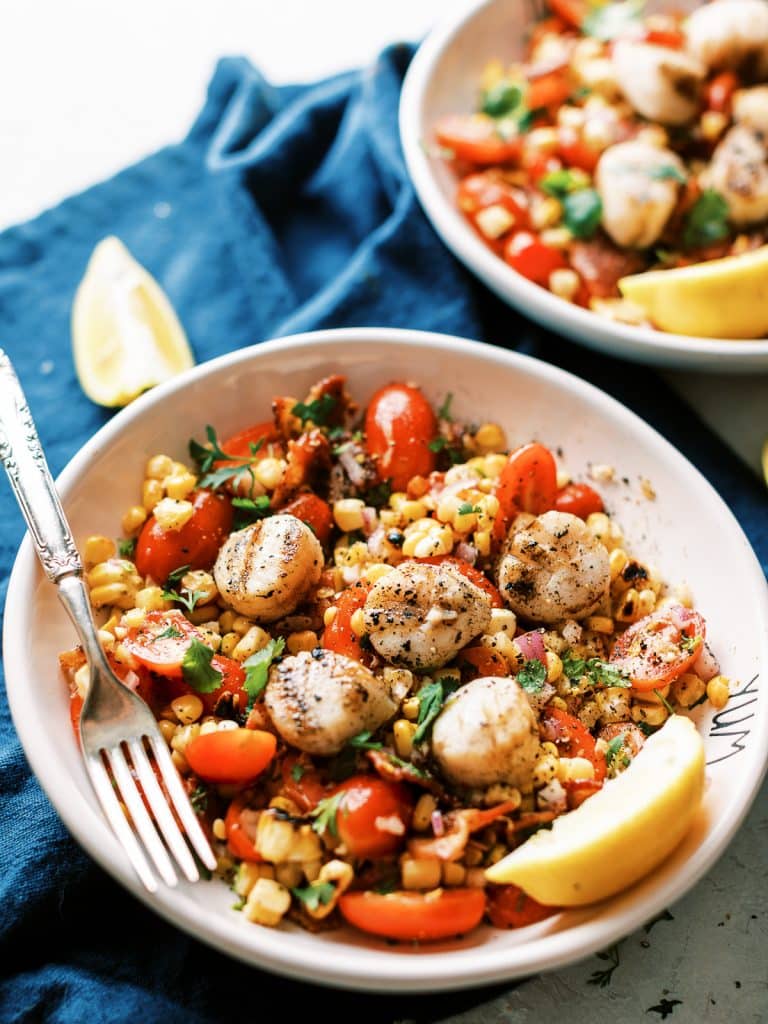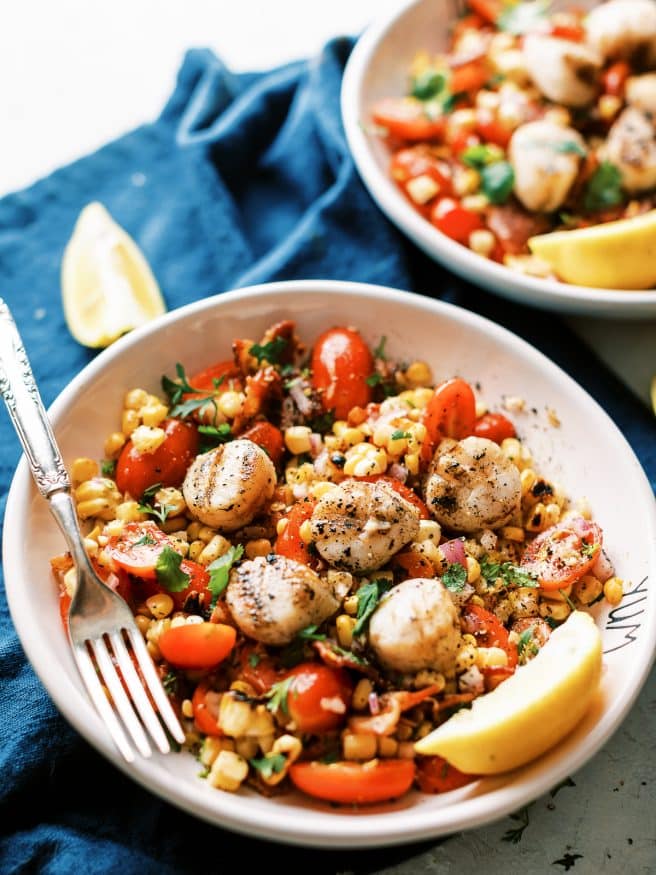 This is the type of dish I can eat for either lunch or dinner! Especially with picky kids at the table I'll sometimes make this for the wife and myself for lunch.
Because there's no way I'm getting kids to eat scallops!
I've barely just got the kids acclimated to steak. One step at a time!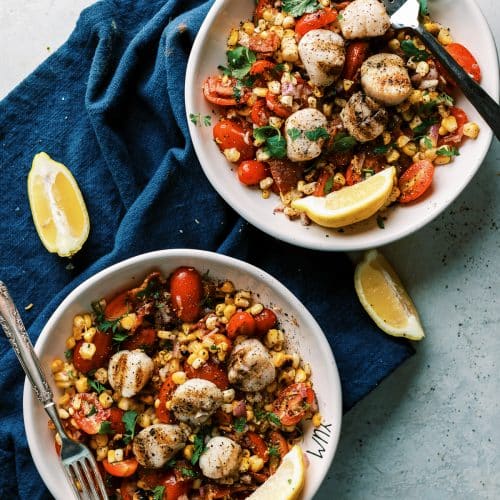 Bacon Corn Tomato Salad with Grilled Scallops
Bacon corn tomato salad with grilled scallops is a light and easy recipe to make for lunch or dinner. Its zesty, fresh, and full of flavor!
Print Recipe
8

oz

cooked bacon

1

lb

sea scallops

12

oz

cherry tomatoes

sliced

2

ears

sweet corn

1/2

tsp

kosher salt

1/2

tsp

cracked black pepper

2

tbsp

olive oil

2

tbsp

apple cider vinegar

1

whole

lemon

1

small

shallot

1/2

cup

cilantro
Chop bacon into 1 inch pieces and cook in a pan over medium heat. Drain and set aside

While the bacon is cooking, slice cherry tomatoes in half and add to a large bowl along with chopped shallots, cilantro and set aside.

For the scallops, pat dry and place in a bowl with juice from a whole lemon. let sit for about a minute or two while your grill is preheating on high heat.

Place corn and scallops on grill over direct heat. Season scallops with salt and pepper. Turn after about 5 minutes, then continue cooking until scallops are opaque all the way through. about 7-10 minutes

Your corn should be nice and charred by this time too. Pull everything off the grill and cut the kernels off the corn with a knife. Place into the bowl with the tomatoes and shallots. Add bacon, salt pepper, oil and vinegar.

Serve topped with grilled scallops and enjoy!
Calories:
859
kcal
|
Carbohydrates:
19
g
|
Protein:
68
g
|
Fat:
55
g
|
Saturated Fat:
16
g
|
Cholesterol:
166
mg
|
Sodium:
1000
mg
|
Potassium:
1470
mg
|
Fiber:
2
g
|
Sugar:
5
g
|
Vitamin A:
1144
IU
|
Vitamin C:
41
mg
|
Calcium:
46
mg
|
Iron:
3
mg