If you've never had a bowl of albondigas, you're missing out on something amazing. It's a meatball soup simmered in a tomato base broth flavored with a little cilantro. Kind of reminds me a little of a stew, but the flavor profile is insanely good!
This post is sponsored by Moink.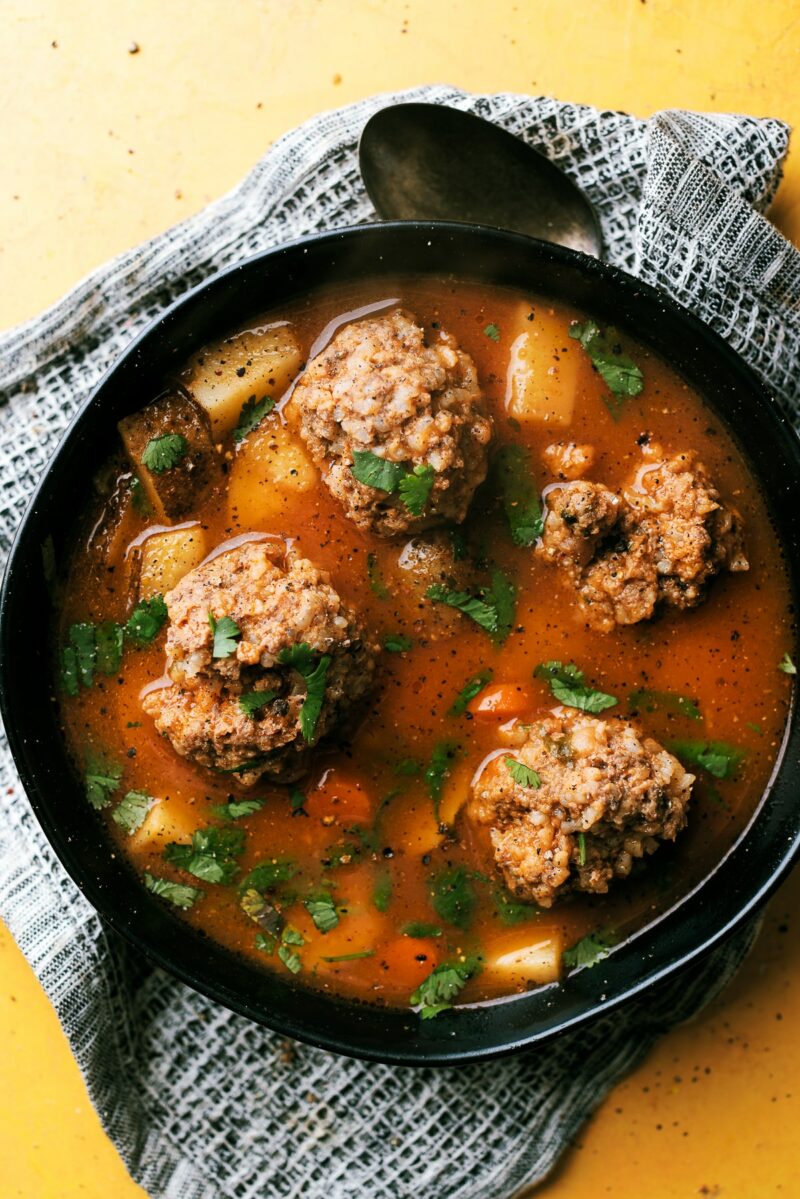 The meatballs in albondigas are to die for. Like Italian meatballs, it starts with ground beef, breadcrumbs, and eggs to get them started. But seasoned with cumin, cilantro, and mixed with rice, makes them so savory and comforting you're going to want to have a double batch of these meatballs on deck.
And while we're on the topic of these meatballs, let's talk about where I picked up the ground beef. Meat delivery is becoming quite popular these days and I'm getting really excited about the variety of boxes are out there.
Although, I'm especially excited about Moink.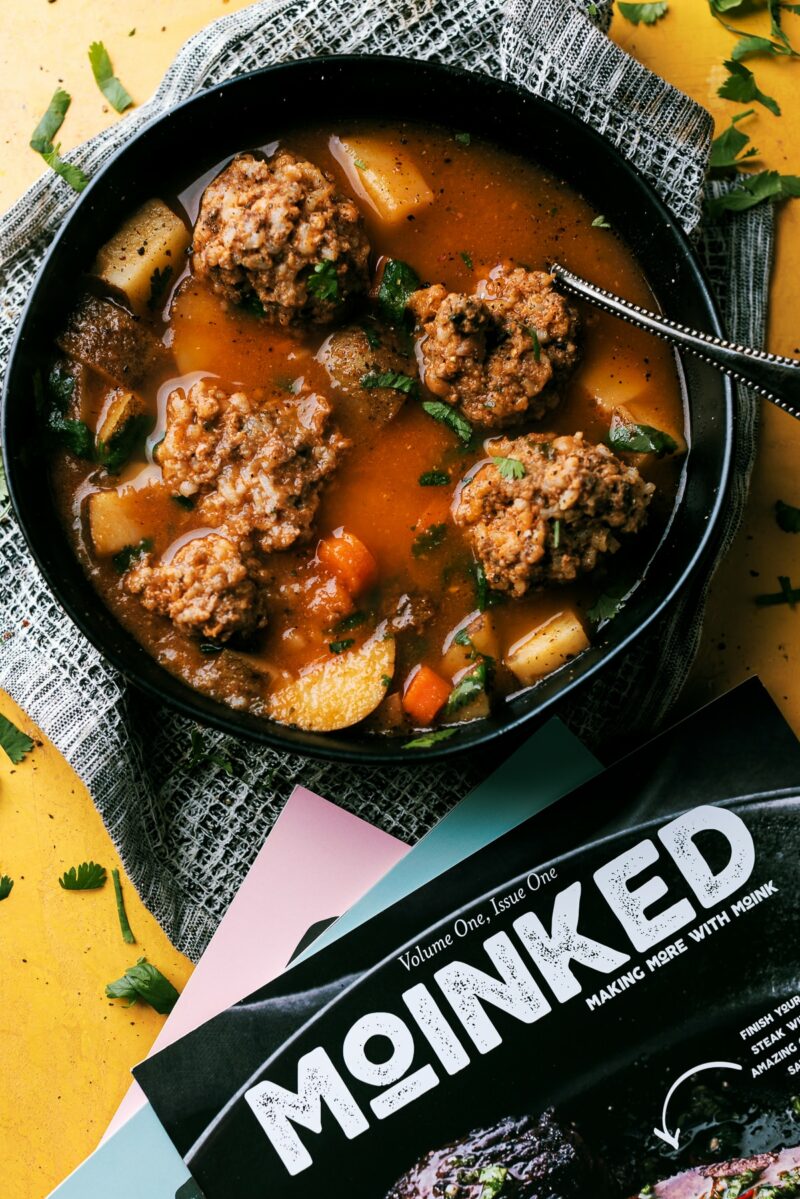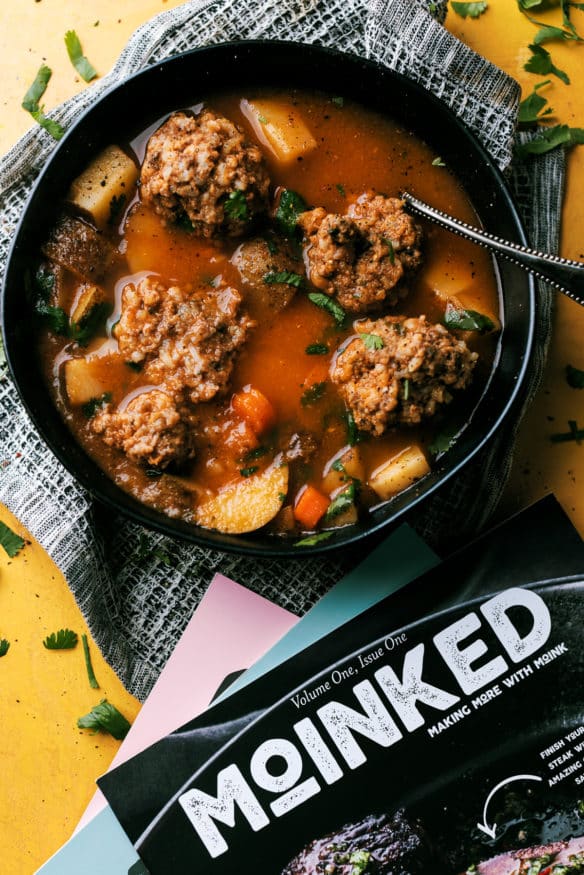 Moink is a female farmer owned company that is passionate about farmers and rural America. Moink's mission to save America's family farms is a fight I can get behind. And getting amazing quality meat that tastes amazing isn't such a bad thing either!
On top of get great quality meat and a whole variety to choose from (seriously, go check out my unboxing stories on IG) they even send you a magazine with recipes to help get those creative juices flowing in the kitchen.
Oh. And one last thing. FREE GROUND BEEF FOR A YEAR. Perfect for making loads and loads of albondigas!
So, my albondigas inspiration came from my daughters love of "meatball and rice soup" that she has at school. It took me a bit to figure out what exactly she was talking about, but once it clicked, I knew it was time to share an albondigas recipe!
I started with diced tomatoes, onion, and garlic. Let them simmer in a pan for a bit, then blend it until it's a puree. Add beef (or chicken, depends on what you like), and let it simmer with some cumin, salt pepper and a little cilantro.
Now this is where your creativity comes it. Adding the veggies. Since I'm dealing with picky eaters, I like to keep it simple with carrots and potatoes. Feel free to add in some zucchini or summer squash, maybe some corn – whatever floats your boat.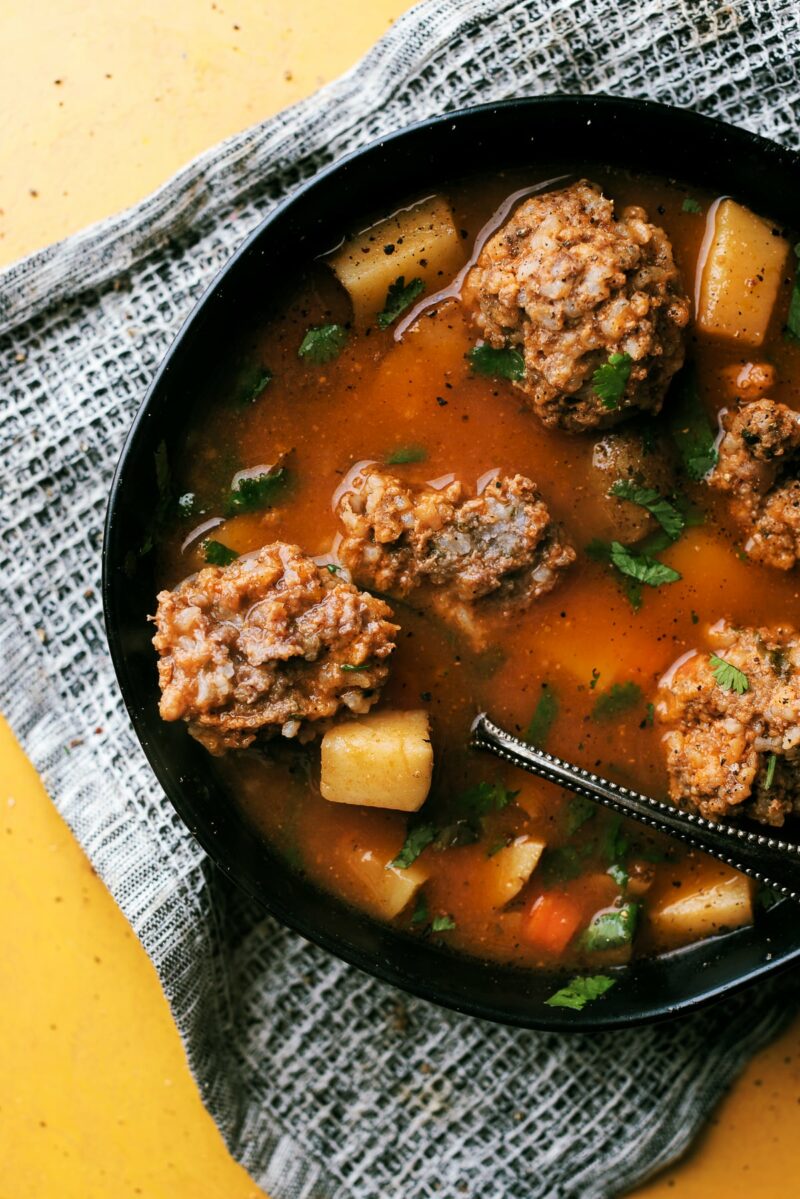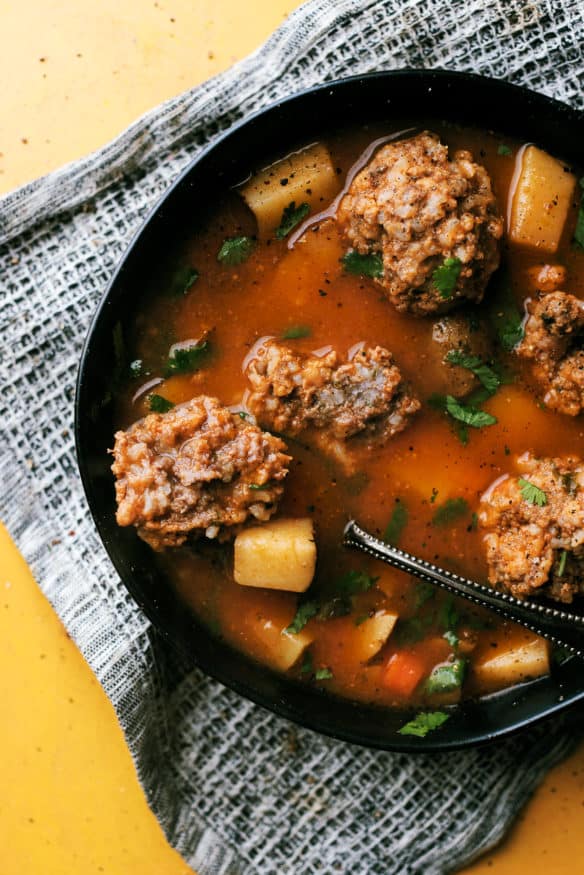 This is a great multi-tasking recipe too, since you can get your meatballs made and rolled, while the soup begins to simmer. Once your meatballs are ready just drop them in, and once they're cooked, in about 20 minutes you'll be ready to eat!
Albondigas is a hearty, soup that is loaded with flavor and oh so comforting, if you're in the mood to try something different for dinner I highly recommend!
And don't forget to check take Moink up on their free ground beef for a year offer as well!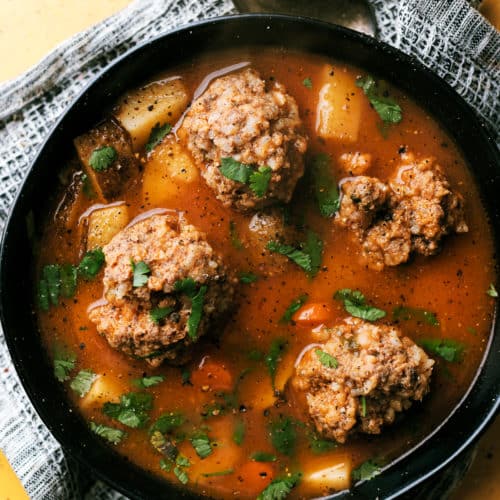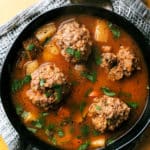 Albondigas (Meatball Soup)
Albondigas is a meatball soup simmered in a tomato base broth flavored with a little cilantro. Kind of reminds me a little of a stew, but the flavor profile is insanely good!
Print Recipe
FOR THE MEATBALLS
1

lb

Moink Ground Beef

¾

cup

bread crumbs

1

tsp

cumin

1

tsp

salt

½

tsp

pepper

1

cup

cooked rice

1

egg

scrambled

¼

cup

chopped cilantro
FOR THE SOUP
15

oz

diced tomatoes

1

onion

2

cloves

garlic

2

tbsp

olive oil

30

oz

beef or chicken broth

1

tsp

cumin

2

tsp

oregano

¼

cup

chopped cilantro

1 ½

cup

diced potatoes

1

cup

chopped carrots

1

bunch mint

optional
In a pan brown onion garlic and diced tomatoes; toss in a blender and puree.

Add puree into a stock pot and bring to a simmer with beef (or chicken) broth. Add cumin, oregano, cilantro, diced potatoes and carrots. Continue to simmer on medium low.

While the soup is simmering, mix ground beef, breadcrumbs, cumin, salt, pepper, rice, cilantro and egg until evenly incorporated. Form into palm-sized meatballs and gently drop into soup.

Cook for about 20 minutes until meatballs are thoroughly cooked. Optionally, you can add in fresh mint and let soup rest for about 10 minutes and serve!
Calories:
2143
kcal
|
Carbohydrates:
138
g
|
Protein:
105
g
|
Fat:
129
g
|
Saturated Fat:
41
g
|
Polyunsaturated Fat:
8
g
|
Monounsaturated Fat:
63
g
|
Trans Fat:
6
g
|
Cholesterol:
486
mg
|
Sodium:
3346
mg
|
Potassium:
2661
mg
|
Fiber:
13
g
|
Sugar:
20
g
|
Vitamin A:
1402
IU
|
Vitamin C:
52
mg
|
Calcium:
551
mg
|
Iron:
23
mg