An easy 15 minute marinara sauce, loaded with so much flavor it will taste like your grandma was in the kitchen all day making it. Sounds too good to be true right?
Don't worry, your secret is safe with me…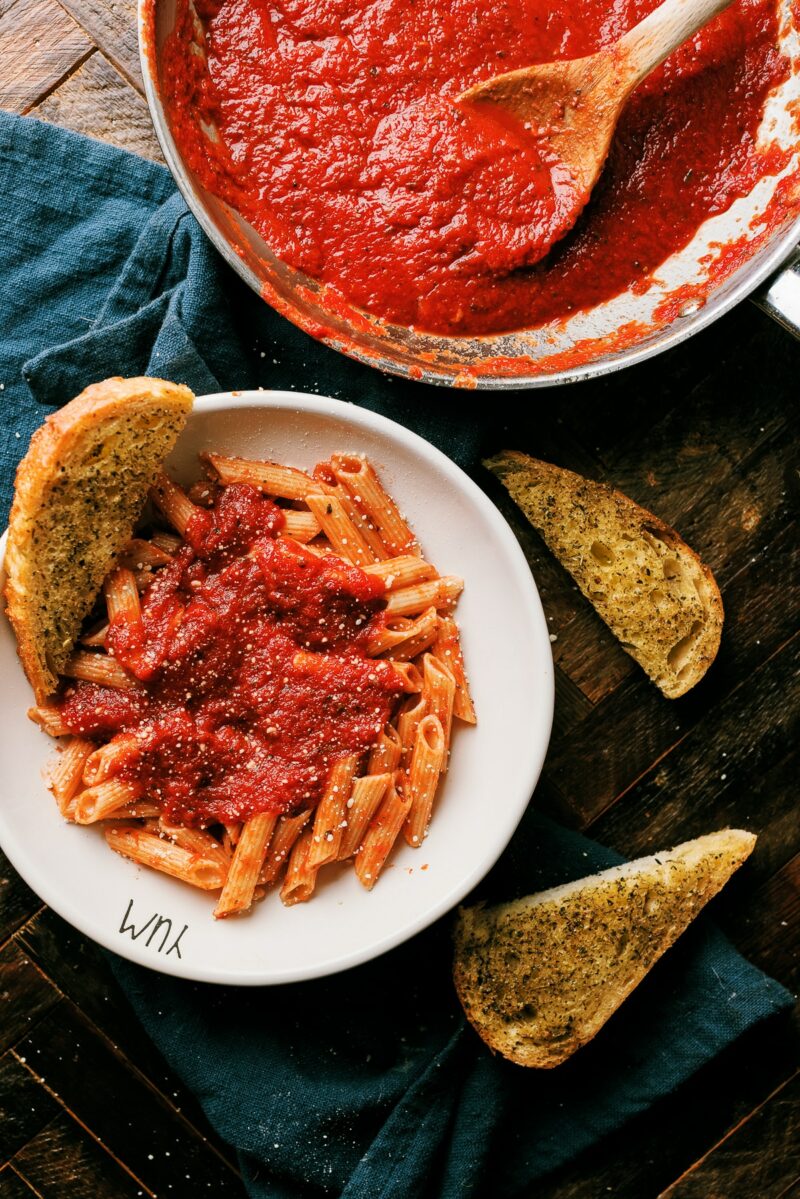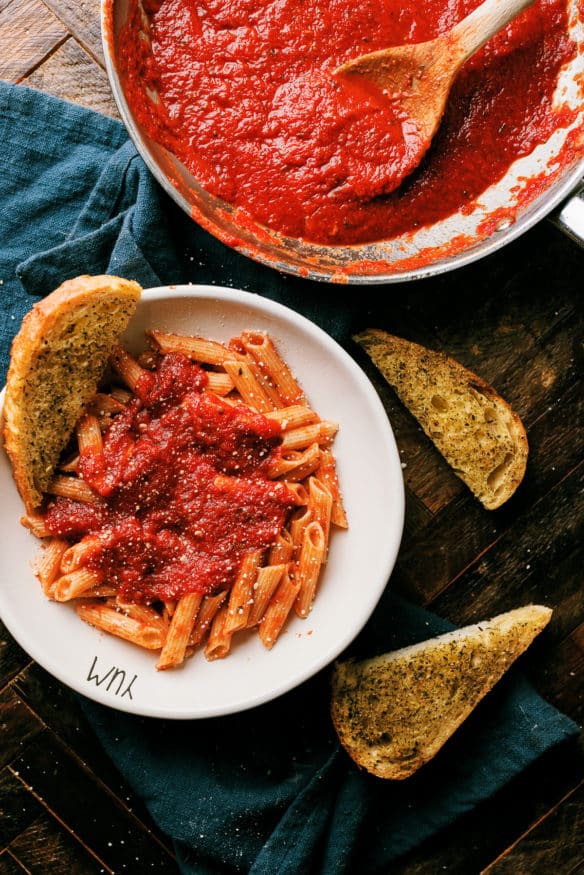 Cheaper than bottom-shelf, better than top-shelf
Spaghetti night is always an easy dinner to put on the table that I know everyone is going to eat. Never mind the arguments held over which pasta type to use…
But for a decent jar of marinara sauce off the shelf? The price is a little rediculous
And if you tell me "But Ragu!" I'm going to have an aneurism.
This recipe is not only heads and shoulders above a jar of ragu sauce in flavor. It also will head to head with a top-shelf pasta sauce (Rao's is one of my faves!) and take it to the championship rounds!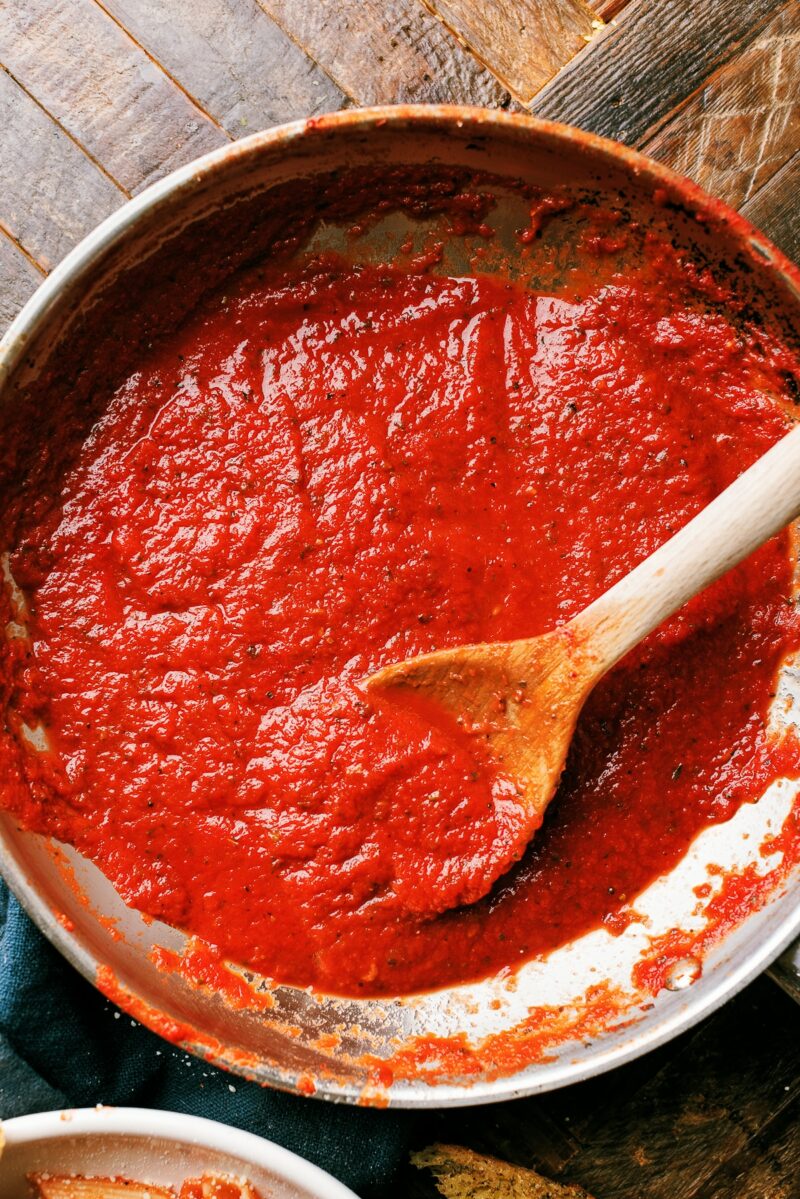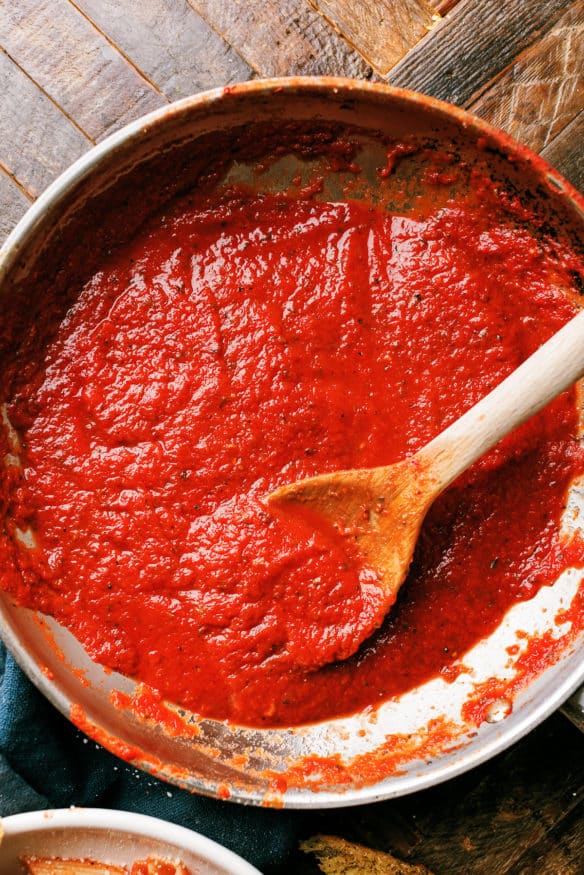 It's will be done FROM SCRATCH in the same amount of time it takes you to boil water and get your pasta cooked! It's my go-to recipe right now!
Don't get me wrong – I LOVE my slow cooked marinara recipe. But, this recipe tastes almost identical in a fraction of the time to make it a perfect weekday recipe.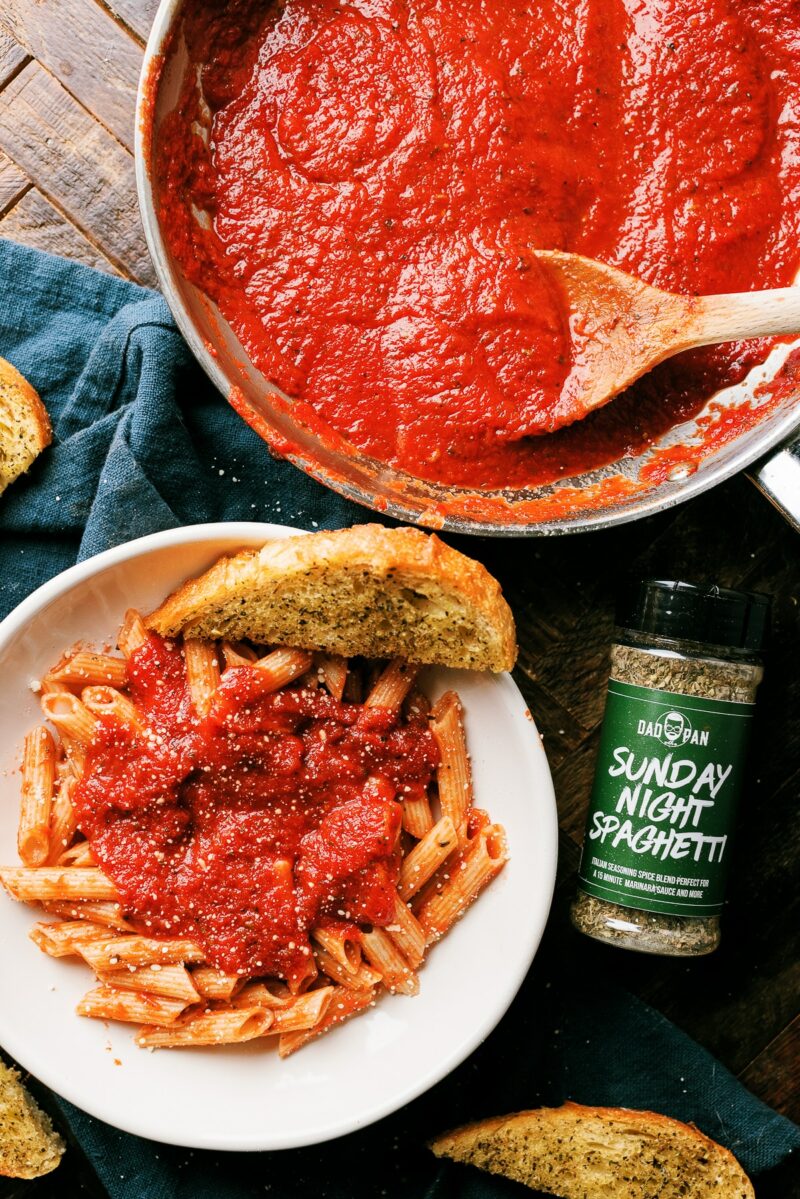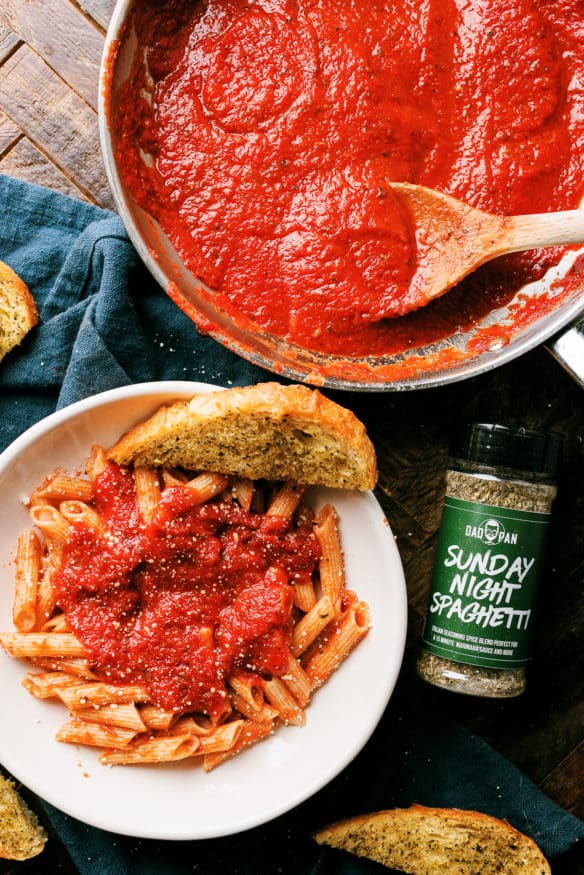 15 minute marinara in a bottle!
I'm using spices that I've grown up to know in a good marinara sauce. Oregano, basil, garlic and onion, and a hint of thyme. Feel free to spice it up with a little marjoram and fennel if you'd like.
If you're want to know the EXACT flavor I'm talking about – pick up a bottle of my Sunday Night Spaghetti spice blend.
It is perfect for this 15 minute marinara sauce recipe. It will turn your bread into an awesome garlic bread seasoning as well.
It's low in sodium so don't shy away from this seasoning.
It allows you to salt your sauce to taste.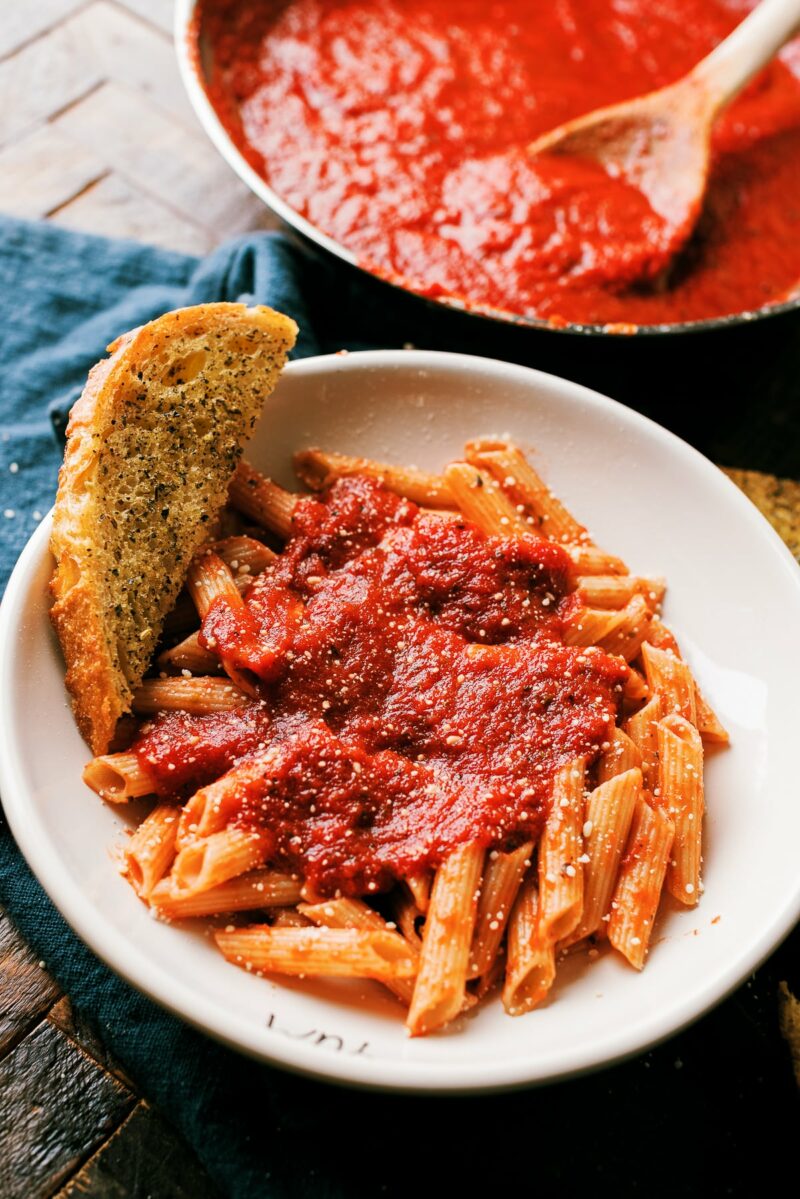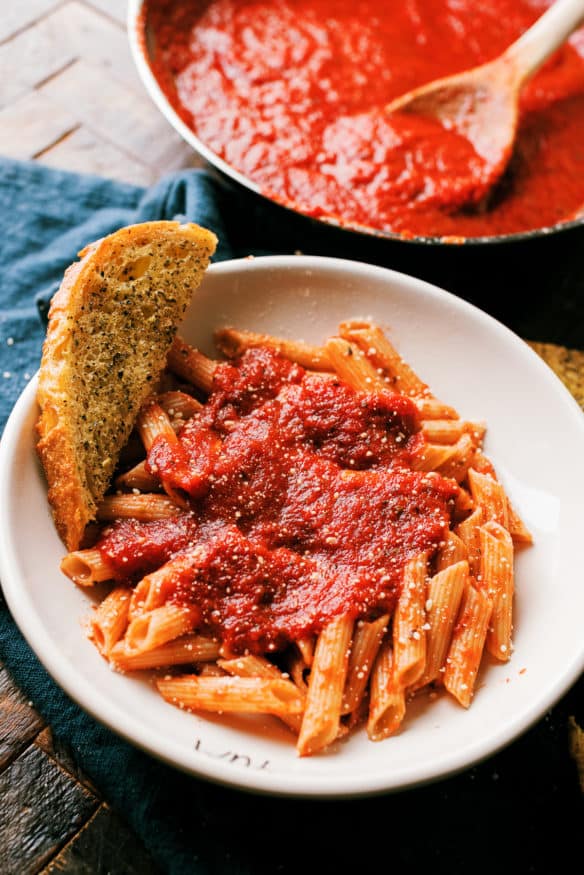 Experiment!
Feel free to experiment with tomato sauce, purree, or even crushed tomatoes for a chunkier texture.
And if it gets a little bitter, add a dash of sugar to offset the bitterness.
Also try experimenting with red wine if you'd like to for a bolder flavor profile!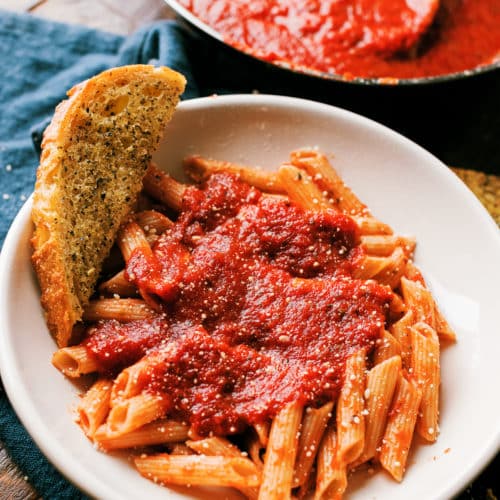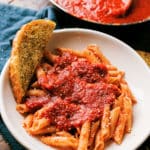 15 minute marinara recipe
This easy 15 minute marinara sauce, is loaded with so much flavor it will taste like your grandma was in the kitchen all day making it.
Print Recipe
30

oz

tomato purree

2

tbsp

sunday night spaghetti seasoning

see notes for alternative

pinch

salt

pinch

sugar
In a pan over medium heat, add tomato puree.

stir in 2 tbsp of sunday night spaghetti seasoning. let simmer for 10 minutes

add salt to taste. If bitter add a little sugar until bitterness is neutralized. Add more sunday night spaghetti seasoning if desired. Let simmer for another 5 minutes

Serve over your favorite pasta and enjoy!
For sunday night seasoning alternative try: 
1 tbsp dried oregano
1 tbsp dried basil
2 tsp garlic powder
1 tsp onion powder
1 tsp dried thyme. 
Calories:
51
kcal
|
Carbohydrates:
11
g
|
Protein:
3
g
|
Fat:
1
g
|
Saturated Fat:
1
g
|
Polyunsaturated Fat:
1
g
|
Monounsaturated Fat:
1
g
|
Sodium:
1114
mg
|
Potassium:
704
mg
|
Fiber:
3
g
|
Sugar:
9
g
|
Vitamin A:
921
IU
|
Vitamin C:
15
mg
|
Calcium:
28
mg
|
Iron:
2
mg