I found myself this morning with a bunch of buttermilk leftover from our Potato Salad, but having no butter in the house. I could have gone the grocery store, but I figured might as well make the best of it and do the recipe without any butter.
So whether butter has done something terrible to you in the past and now you have a grudge against butter, or just simply don't have any butter in the house, this is the perfect recipe for you! These No Butter Buttermilk Waffles are light, fluffy and have a lovely tanginess, which makes these waffles not only great for breakfast, but will make excellent waffle sandwiches!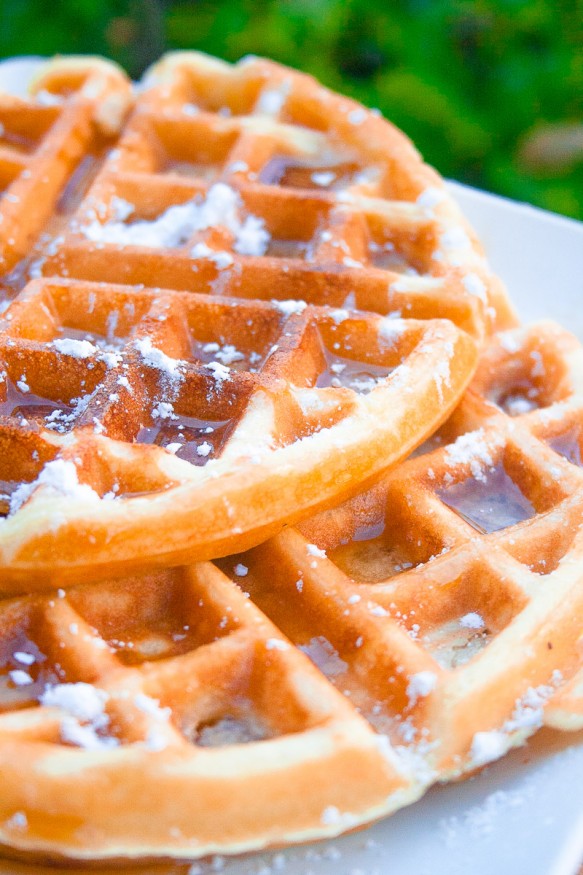 Prep
Equipment
Not much to say about the prep, this is is a pretty straightforward recipe. But in the event that you don't have a waffle iron here is what I use. I got it as a gift for Christmas about 3 years ago, it's lasted and get the job done!
On To The Recipe
No Butter Buttermilk Waffles
Light and fluffy buttermilk waffle recipe without butter. Perfect recipe to help get rid of extra buttermilk from other recipes!
Print Recipe
Dry Ingredients
2 1/2

cups

white flour

4

tsp

baking powder

1/2

tsp

salt

2

tsp

white sugar
Wet Ingredients
2

cups

buttermilk

2

large

eggs

beaten

3/4

cup

vegetable oil

1/2

tbsp

vanilla extract
Stir all the dry ingredients together. If you have a sifter, this is a perfect use for that. If you don't have one a whisk will do the trick! Also: Pink is manly. Don't run from it. Embrace it.

Beat the eggs

Add all the wet ingredients on top of the dry ingredients.

Mix/stir until its evenly incorporated, get most of those lumps out!

Take a 1/2 cup and place it onto your waffle iron. If you're a waffle iron noob, you're looking for the batter to be about 1/2-1 inch away from the edge, otherwise you'll end up with overflow and a mess to clean up!

Keep repeating the above step until you have nothing left. Serve with some powdered sugar and syrup. Enjoy!