When you have a family of eaters who have different tastes, making a breakfast skillet 3 ways (or more) is the perfect solutions.
I'm making a breakfast skillet that is a simple egg and potato for the kids. sausage and peppers for Dad, and a plant-based for Mom.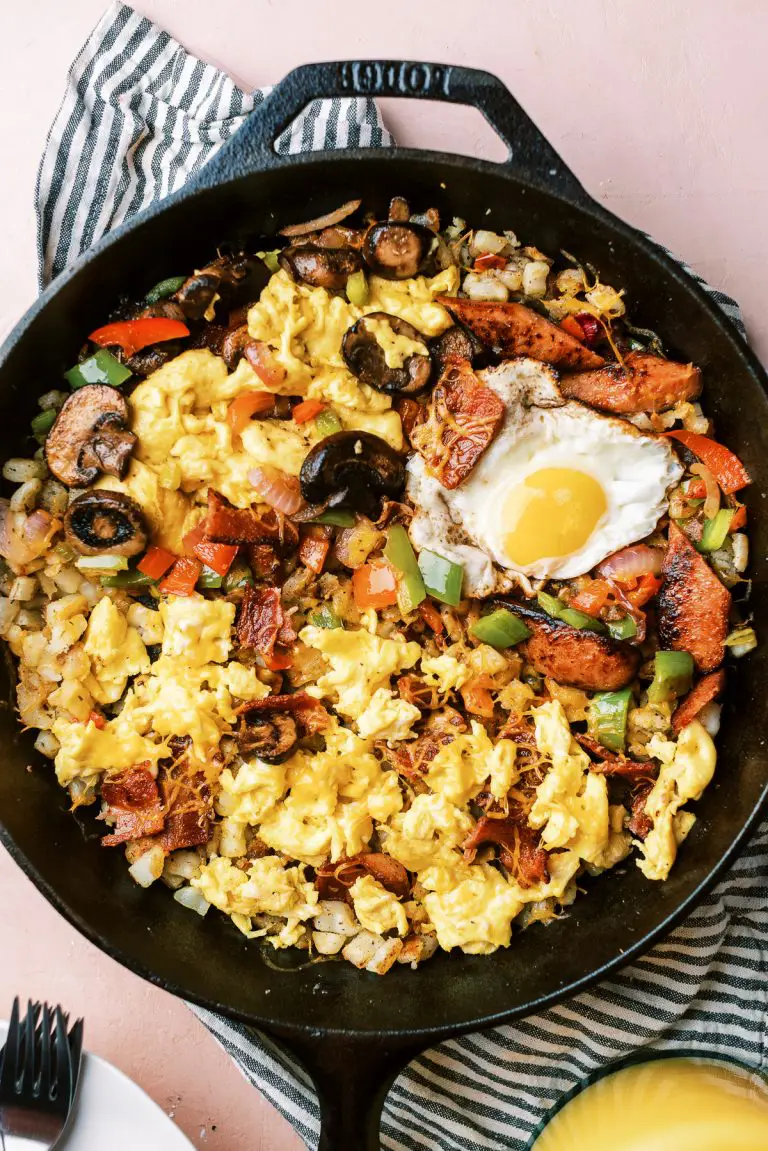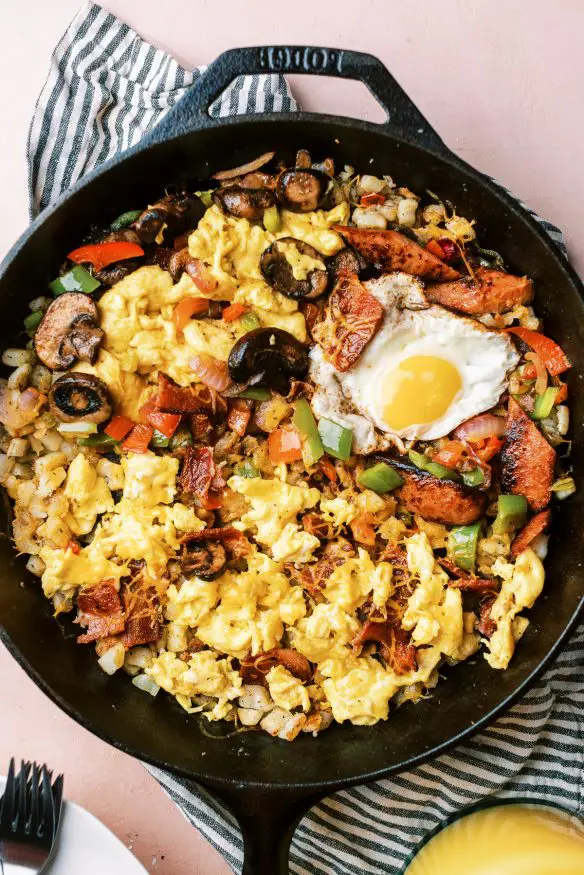 But the one love we all have in common, cheese and bacon!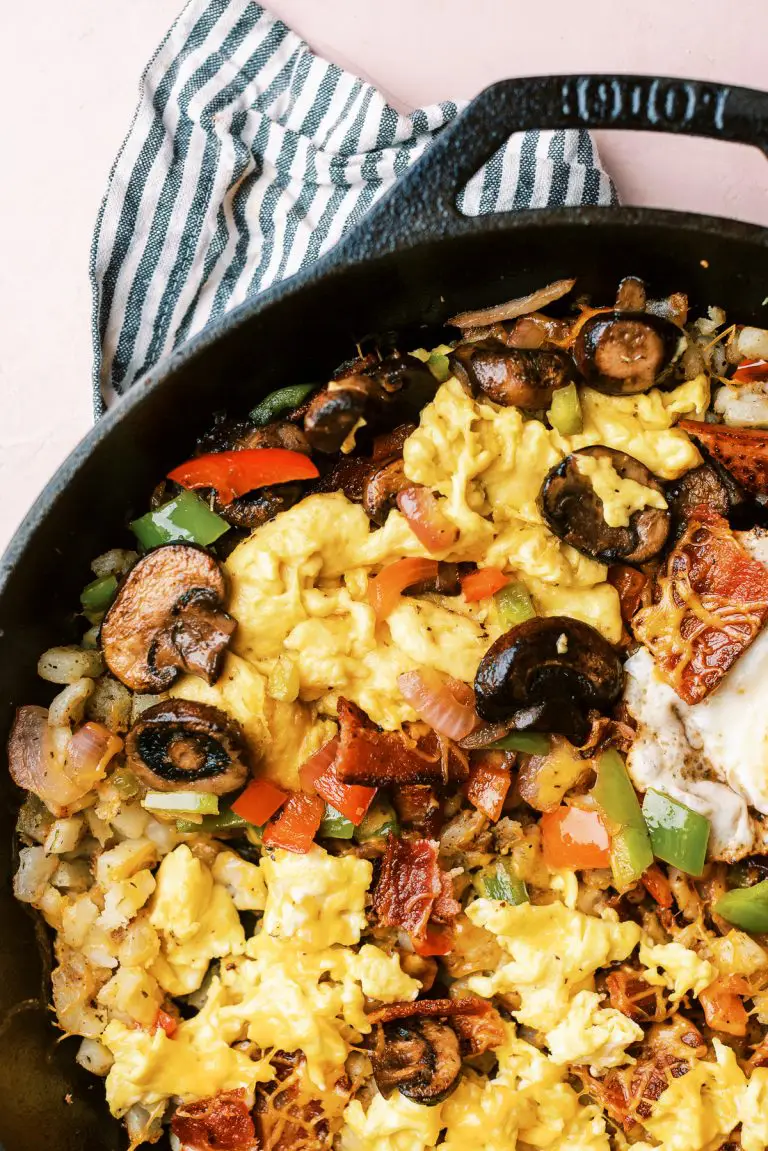 So for the wife, I put together a little plant-based heavy ingredients. She's not vegan but has a few food sensitivities and has realized eggs aren't her friend.

I've gone through a few brands, and have found JUST Eggs has the best outcome, and is the easiest for me to cook. They're pricey, but if you're like my wife and can't do regular eggs, this is the closest to the real thing I've come across.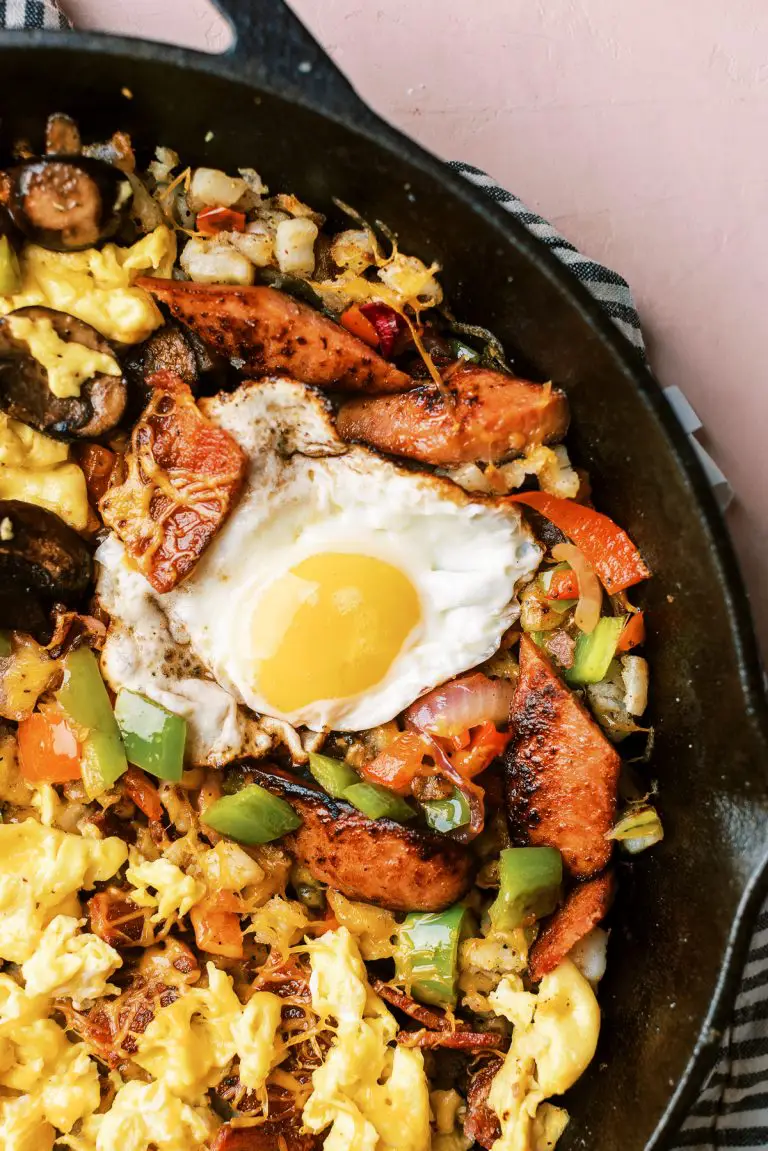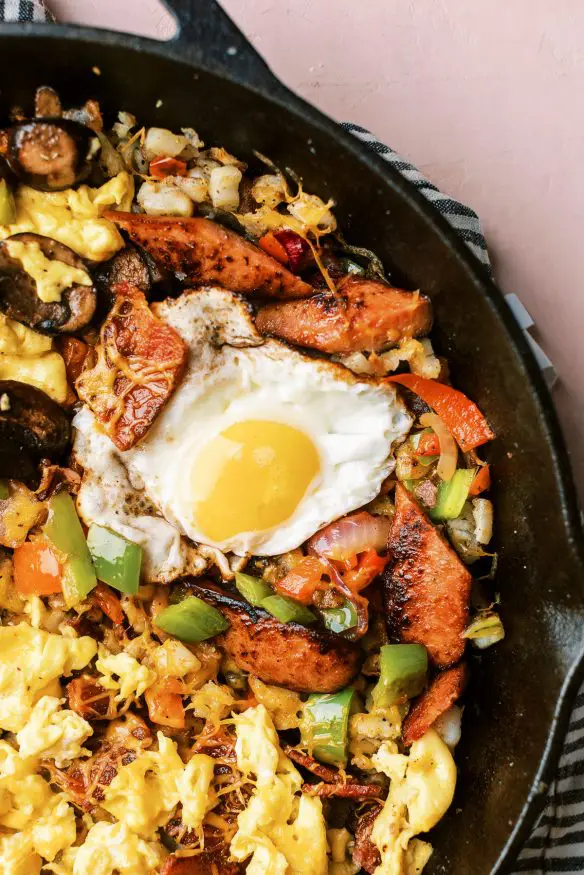 Now I've seen some recipes where you toss all this in a skillet, then let it cook in the oven, and that should work (similar to this breakfast casserole).
But I've found that letting the potatoes cook the skillet, then individually cooking the rest of the ingredients in a separate pan, helps build flavor into each ingredient.
It's all up to you of course – but its a great Sunday recipe to put your love into!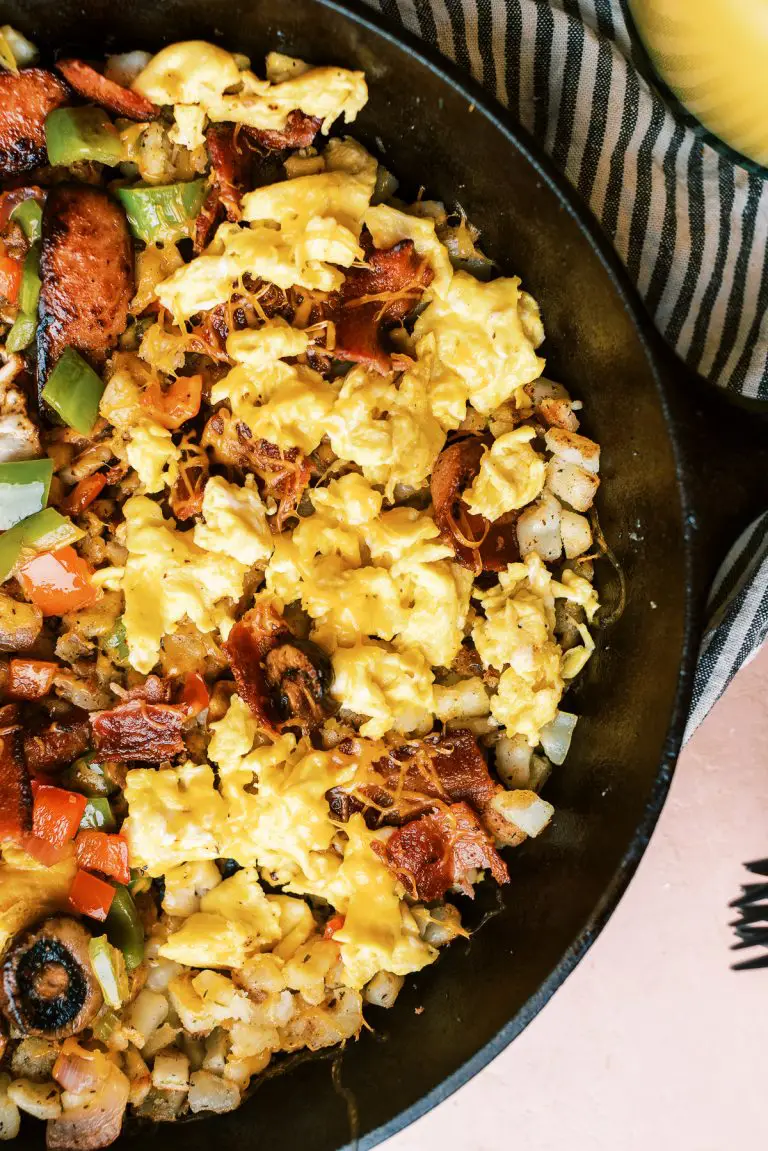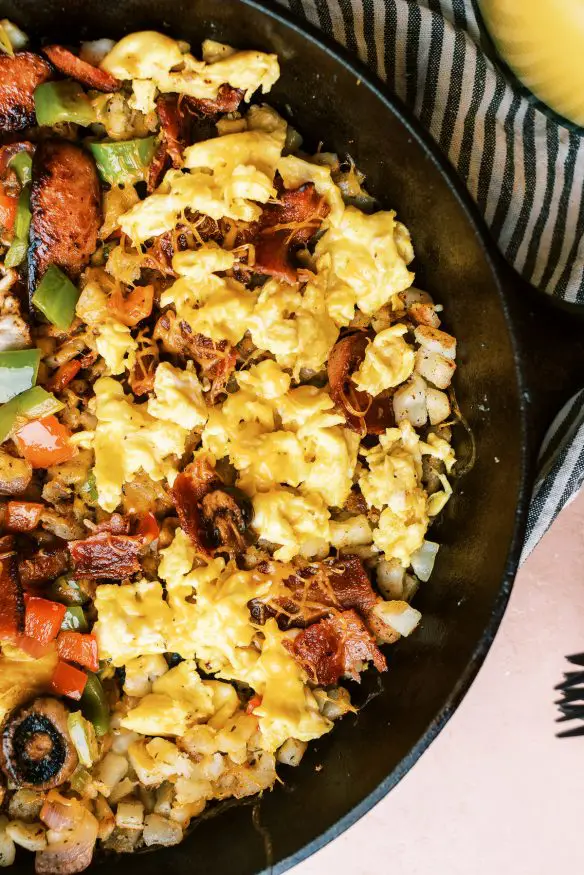 This recipe took me about 30 minutes in whole to put together, and the kids were disgusted when I put it on the table.
Until I showed them which part was theirs and then they were completely on board!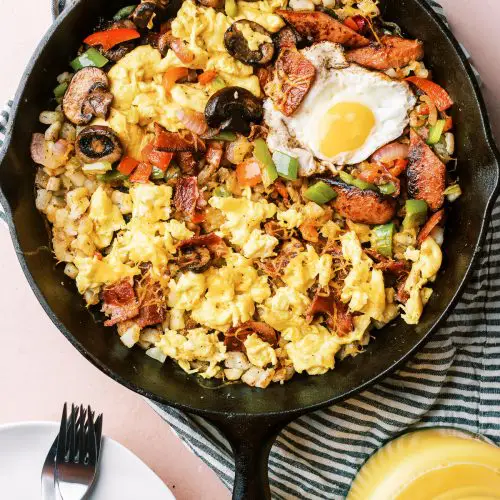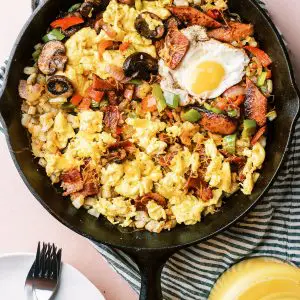 Breakfast Skillet Three Ways
Country Style Breakfast Skillet, with over easy, scrambled and plant based egg, along with different meats and veggies for Mom, Dad and the kids!
Print Recipe
FOR THE COUNTRY POTATOES
4

cups

frozen diced potatoes

plain

1

tsp

salt

more to taste

1/2

tsp

black pepper

1

tsp

thyme

1/2

tsp

cumin
In a 12 inch skillet, fry up potatoes in cooking oil over medium. Season with salt, pepper, thyme and cumin; stir occasionally.

While the potatoes are cooking, cook up bacon and set aside on a paper towel. Clean pan. Cut bacon and stir it into potatoes and reduce to medium low heat.

In the same pan Cook sausage. Cut into bite size pieces and place in a third of the skillet.

Clean off the pan you cooked the sausage in. Sautee diced pepper and onions in that pan with a tbsp of olive oil. season with salt and pepper. Place in two-thirds of the skillet.

Sautee mushroom with a little thyme and butter; place in a third of the skillet.

Scramble eggs, then add in a pan with 1 tbsp butter. Stir until coagulated then place in the bottom half of the skillet. Repeat this process with the plant based egg and place in the section of the skillet with the mushrooms.

Fry an egg until over easy and place in the section of the skillet with the sausage and bacon

Optionally top with shredded cheese and serve!
Calories:
888
kcal
|
Carbohydrates:
34
g
|
Protein:
29
g
|
Fat:
71
g
|
Saturated Fat:
22
g
|
Trans Fat:
1
g
|
Cholesterol:
259
mg
|
Sodium:
1563
mg
|
Potassium:
1171
mg
|
Fiber:
3
g
|
Sugar:
4
g
|
Vitamin A:
1081
IU
|
Vitamin C:
43
mg
|
Calcium:
89
mg
|
Iron:
4
mg